IndyCar: Qualifying Update from the Indianapolis Motor Speedway
(Update)
It's Chevy 1-2-3 for the provisional front row after a crazy day of Indy 500 Qualifying.  The weather did not interrupt the earlier schedule allowing 32 drivers to get a four-lap run before the track went yellow again at 2:14 pm for lightning and rain in the area.
At 3:34 pm, the weather hold was lifted and pit lane was open only to the cars that were in line when the rain started to fall.  The temperature had dropped to 69 degrees and the track was cloud-covered.  Rain came down heavier than before at 4 pm and concluded the PPG Armed Forces Qualifying Day 1.
Ed Carpenter Racing's Rinus VeeKay topped first day qualifying for the Indy 500 with his four-lap average speed of 233.655 mph in the No. 21 Bitcoin Racing Team with BitNile Chevrolet, with his early run at 11:06 am and kept the top position all afternoon.  He was followed by Arrow McLaren SP teammates Pato O'Ward and Felix Rosenqvist, who both also qualified in the first 15 minutes of qualifying.
O'Ward is second at 233.037 in the No. 5 Arrow McLaren SP Chevrolet, followed by Rosenqvist at 232.775 in the No. 7 Vuse Arrow McLaren SP Chevrolet.
Positions 13 through 33 are locked into the field today, with the top 12 from today advancing to two rounds of qualifying Sunday afternoon to set the rest of the starting grid, including the coveted NTT P1 Award for pole.
All five of Chip Ganassi Racing's cars are in the top 12 after their qualifying runs. Reigning NTT INDYCAR SERIES champion Alex Palou is the fastest of the Ganassi cars, fourth at 232.774 in the No. 10 NTT DATA Chip Ganassi Racing Honda.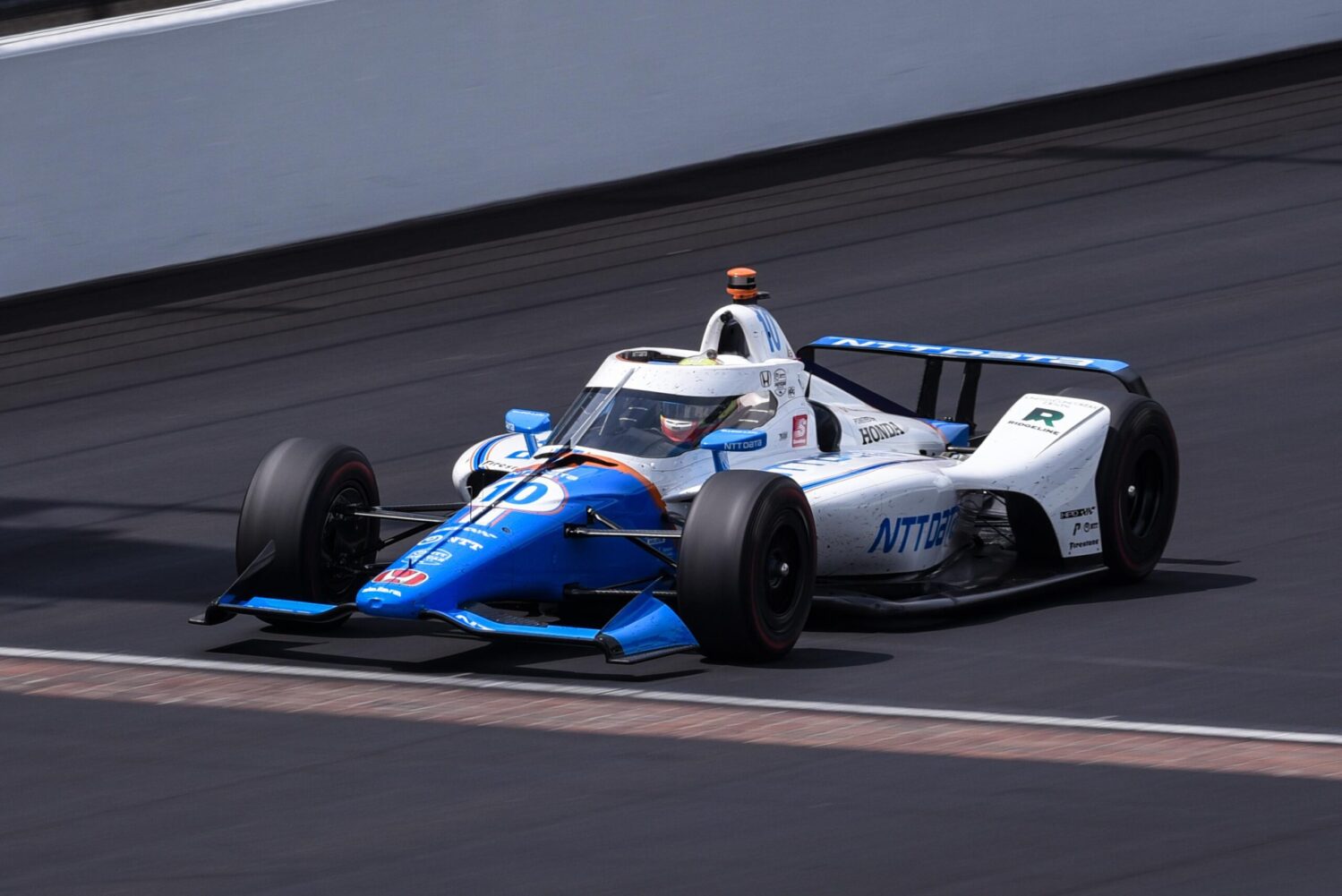 Andretti Autosport had a horrible day, getting only one car in the top-12, that being Indy rookie Romain Grosjean. The other three Andretti drivers simply were not fast enough.
The only driver to not take an attempt was Stephen Wilson, in the no 25 Palermos's Screaming Sicilian Dreyer & Reinbold Racing entry.
---
May 21, 2022
The weather is looking to mess up the start of qualifying for the Indy 500.   The first few cars are in line in the qualifying line but a sprinkle has caused a yellow flag for now.  And the safety trucks are out on the track trying their best to dry out the track.
Not all drivers took advantage of the practice session this morning.  Ed Carpenter, driver of the no 33 Alzamend Neuro Ed Carpenter Racing, posted the fastest time in the half an hour session.
Qualified when the rain hit
| | | | | | | | | | | |
| --- | --- | --- | --- | --- | --- | --- | --- | --- | --- | --- |
| Pos | No | Name | QSpeed | QLap1Speed | QLap2Speed | QLap3Speed | QLap4Speed | QStatus | Engine | Team |
| 1 | 21 | Rinus VeeKay | 233.655 | 234.702 | 233.921 | 233.353 | 232.655 | Qualified – Opening Day | Chevy | Ed Carpenter Racing |
| 2 | 5 | Pato O'Ward | 233.037 | 233.401 | 233.176 | 232.804 | 232.767 | Qualified – Opening Day | Chevy | Arrow McLaren SP |
| 3 | 7 | Felix Rosenqvist | 232.775 | 233.512 | 233.131 | 231.931 | 232.532 | Qualified – Opening Day | Chevy | Arrow McLaren SP |
| 4 | 10 | Alex Palou | 232.774 | 233.588 | 233.175 | 232.607 | 231.734 | Qualified – Opening Day | Honda | Chip Ganassi Racing |
| 5 | 1 | Tony Kanaan | 232.625 | 233.180 | 232.680 | 232.362 | 232.280 | Qualified – Opening Day | Honda | Chip Ganassi Racing |
| 6 | 48 | Jimmie Johnson | 232.398 | 233.135 | 232.428 | 232.134 | 231.897 | Qualified – Opening Day | Honda | Chip Ganassi Racing |
| 7 | 33 | Ed Carpenter | 232.397 | 232.954 | 232.792 | 232.549 | 231.299 | Qualified – Opening Day | Chevy | Ed Carpenter Racing |
| 8 | 8 | Marcus Ericsson | 232.275 | 232.728 | 232.406 | 231.973 | 231.993 | Qualified – Opening Day | Honda | Chip Ganassi Racing |
| 9 | 28 | Romain Grosjean | 232.201 | 232.596 | 232.374 | 231.955 | 231.882 | Qualified – Opening Day | Honda | Andretti Autosport |
| 10 | 9 | Scott Dixon | 232.151 | 232.750 | 232.286 | 231.980 | 231.590 | Qualified – Opening Day | Honda | Chip Ganassi Racing |
| 11 | 12 | Will Power | 231.842 | 232.485 | 232.236 | 231.665 | 230.986 | Qualified – Opening Day | Chevy | Team Penske |
| 12 | 51 | Takuma Sato | 231.708 | 232.482 | 231.890 | 231.244 | 231.221 | Qualified – Opening Day | Honda | Dale Coyne Racing w/RWR |
| 13 | 18 | David Malukas | 231.607 | 232.482 | 232.206 | 230.552 | 231.200 | Qualified – Opening Day | Honda | Dale Coyne Racing with HMD |
| 14 | 2 | Josef Newgarden | 231.580 | 233.209 | 232.333 | 231.184 | 229.623 | Qualified – Opening Day | Chevy | Team Penske |
| 15 | 3 | Scott McLaughlin | 231.543 | 232.831 | 231.897 | 231.003 | 230.458 | Qualified – Opening Day | Chevy | Team Penske |
| 16 | 23 | Santino Ferrucci | 231.508 | 232.239 | 231.729 | 231.329 | 230.741 | Qualified – Opening Day | Chevy | Dreyer & Reinbold |
| 17 | 60 | Simon Pagenaud | 231.275 | 232.189 | 231.726 | 230.688 | 230.505 | Qualified – Opening Day | Honda | Meyer Shank Racing |
| 18 | 11 | JR Hildebrand | 231.112 | 231.601 | 231.118 | 230.926 | 230.807 | Qualified – Opening Day | Chevy | AJ Foyt Enterprises |
| 19 | 20 | Conor Daly | 230.999 | 232.448 | 231.459 | 230.822 | 229.288 | Qualified – Opening Day | Chevy | Ed Carpenter Racing |
| 20 | 77 | Callum Ilott | 230.961 | 231.869 | 231.452 | 230.824 | 229.709 | Qualified – Opening Day | Chevy | Juncos Hollinger Racing |
| 21 | 27 | Alexander Rossi | 230.812 | 231.379 | 231.076 | 230.514 | 230.282 | Qualified – Opening Day | Honda | Andretti Autosport |
| 22 | 15 | Graham Rahal | 230.766 | 231.083 | 230.643 | 230.678 | 230.662 | Qualified – Opening Day | Honda | Rahal Letterman Lanigan Racing |
| 23 | 98 | Marco Andretti | 230.345 | 230.996 | 230.283 | 230.117 | 229.986 | Qualified – Opening Day | Honda | Andretti Herta Autosport w/ Marco & Curb |
| 24 | 29 | Devlin DeFrancesco | 230.326 | 231.511 | 231.228 | 230.737 | 227.865 | Qualified – Opening Day | Honda | Andretti Steinbrenner Autosport |
| 25 | 26 | Colton Herta | 230.235 | 230.613 | 230.280 | 229.844 | 230.204 | Qualified – Opening Day | Honda | Andretti Autosport |
| 26 | 06 | Helio Castroneves | 229.630 | 230.306 | 229.803 | 229.570 | 228.845 | Qualified – Opening Day | Honda | Meyer Shank Racing |
| 27 | 14 | Kyle Kirkwood | 229.406 | 230.124 | 229.728 | 229.303 | 228.476 | Qualified – Opening Day | Chevy | AJ Foyt Enterprises |
| 28 | 4 | Dalton Kellett | 228.916 | 229.673 | 229.403 | 228.538 | 228.058 | Qualified – Opening Day | Chevy | AJ Foyt Enterprises |
| 29 | 6 | Juan Pablo Montoya | 228.622 | 229.478 | 229.381 | 227.897 | 227.741 | Qualified – Opening Day | Chevy | Arrow McLaren SP |
| 30 | 30 | Christian Lundgaard | 227.053 | 227.597 | 228.507 | 226.594 | 225.537 | Qualified – Opening Day | Honda | Rahal Letterman Lanigan Racing |
| 31 | 45 | Jack Harvey | 226.851 | 230.401 | 225.447 | 228.032 | 223.640 | Qualified – Opening Day | Honda | Rahal Letterman Lanigan Racing |
| 34 | 51 | Takuma Sato | 232.196 | 232.319 | 232.558 | 232.135 | 231.775 | Failed – Opening Day | Honda | Dale Coyne Racing w/RWR |
| 35 | 27 | Alexander Rossi | 231.341 | 232.680 | 232.013 | 230.271 | 230.419 | Withdrawn | Honda | Andretti Autosport |
| 36 | 24 | Sage Karam | 229.905 | 232.555 | 231.613 | 227.324 | 228.211 | Withdrawn | Chevy | Dreyer & Reinbold |
| 37 | 06 | Helio Castroneves | 225.482 | 230.607 | 230.299 | 229.180 | 212.863 | Withdrawn | Honda | Meyer Shank Racing |
Lucille Dust reporting live from the Indianapolis Motor Speedway