IndyCar: Ericsson outduels O'Ward to win Indy 500
Former F1 driver Marcus Ericsson driving the #8 Ganassi Honda outdueled the #5 Arrow McLaren Chevy of Mexico's Pato O'Ward in a 2-lap shootout after a late red flag on lap  196 for Jimmie Johnson's crash to win the 106th running of the Indianapolis 500.  The fans were cheering when the red flag came out and the NTT INDYCAR Series gave them an exciting finish to the 200 lap race.
Another Ganassi Honda, that of veteran Tony Kanaan came home third ahead of Felix Rosenqvist.
Alexander Rossi, winner of the 100th Indianapolis 500 in 2016, rounded out the top five in the No. 27 NAPA AUTO PARTS/AutoNation Honda after starting 20th. He had nothing for the leaders on the final restart as he was not fast enough all month.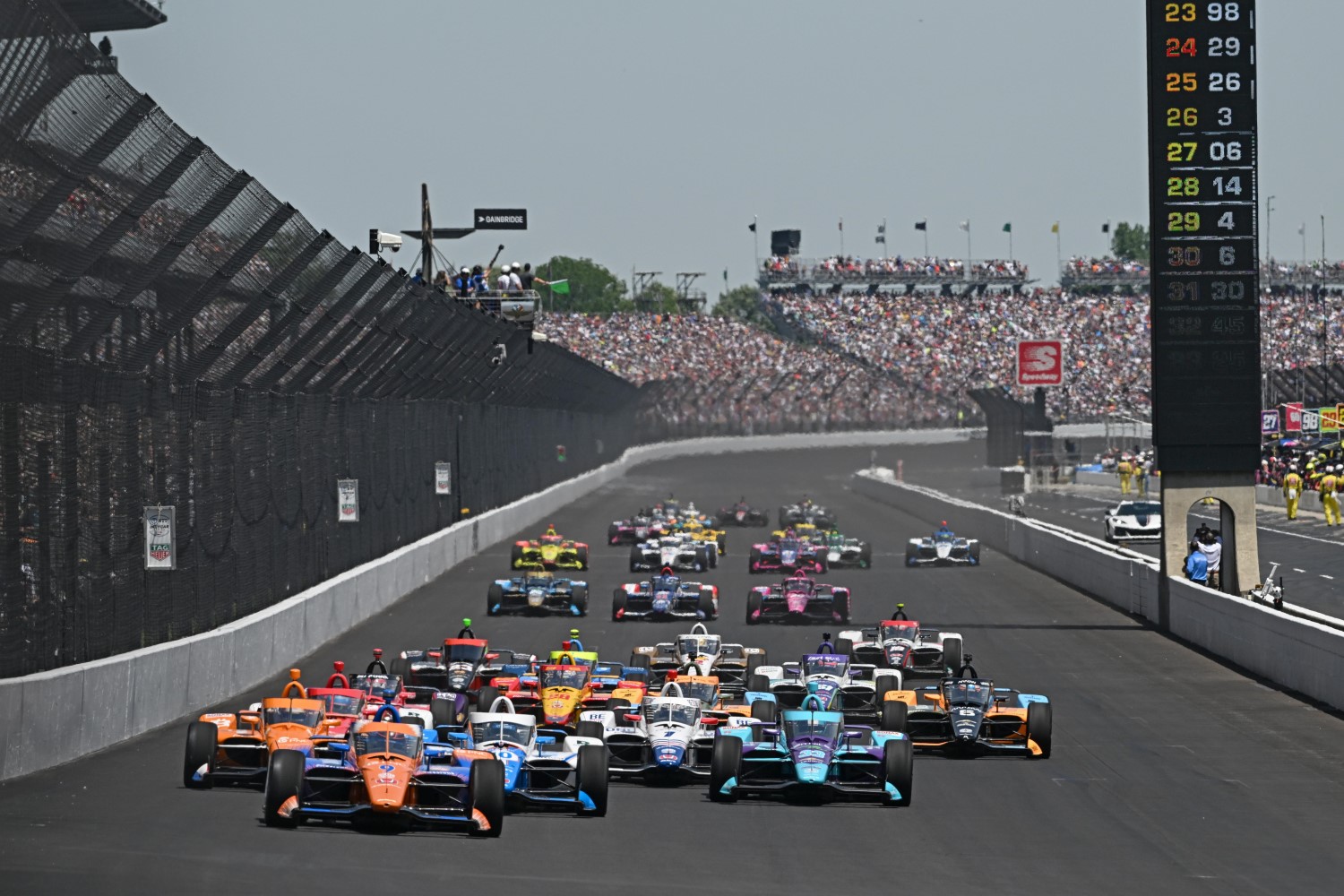 Ericsson, from Kumla, Sweden, won under caution in the No. 8 Huski Chocolate Chip Ganassi Racing Honda after Sage Karam crashed in Turn 2 on the final lap.
Ericsson and Pato O'Ward were locked in a fantastic duel for the lead after the restart with two laps to go after the red flag, but Ericsson had the race won when the caution flew on the last lap as the leaders were in Turn 3.
"I knew the Huski Chocolate car was fast enough, but it was still hard," Ericsson said. "I had to do everything there at the end to keep him behind. I can't believe it. I'm so happy."
Marcus Ericsson
Ericsson turned the fastest lap of the race on the final lap.
AR1 spoke with the optimistic and smiling  Swede before the race.
"My strategy is to getting into the rhythm, and have a good first stint.  Feel the car out and then take the race from there.  It is about executing today.  We just need to go out there and be as perfect as we can be. "
"A win is my goal today.  I have all the tools to win today.  It is going to be a long and tough race.  And a lot of good cars and good drivers.  With the sun and temperatures going up today, it might be a bit more tricky to keep the tires from overheating.  That could create some good racing."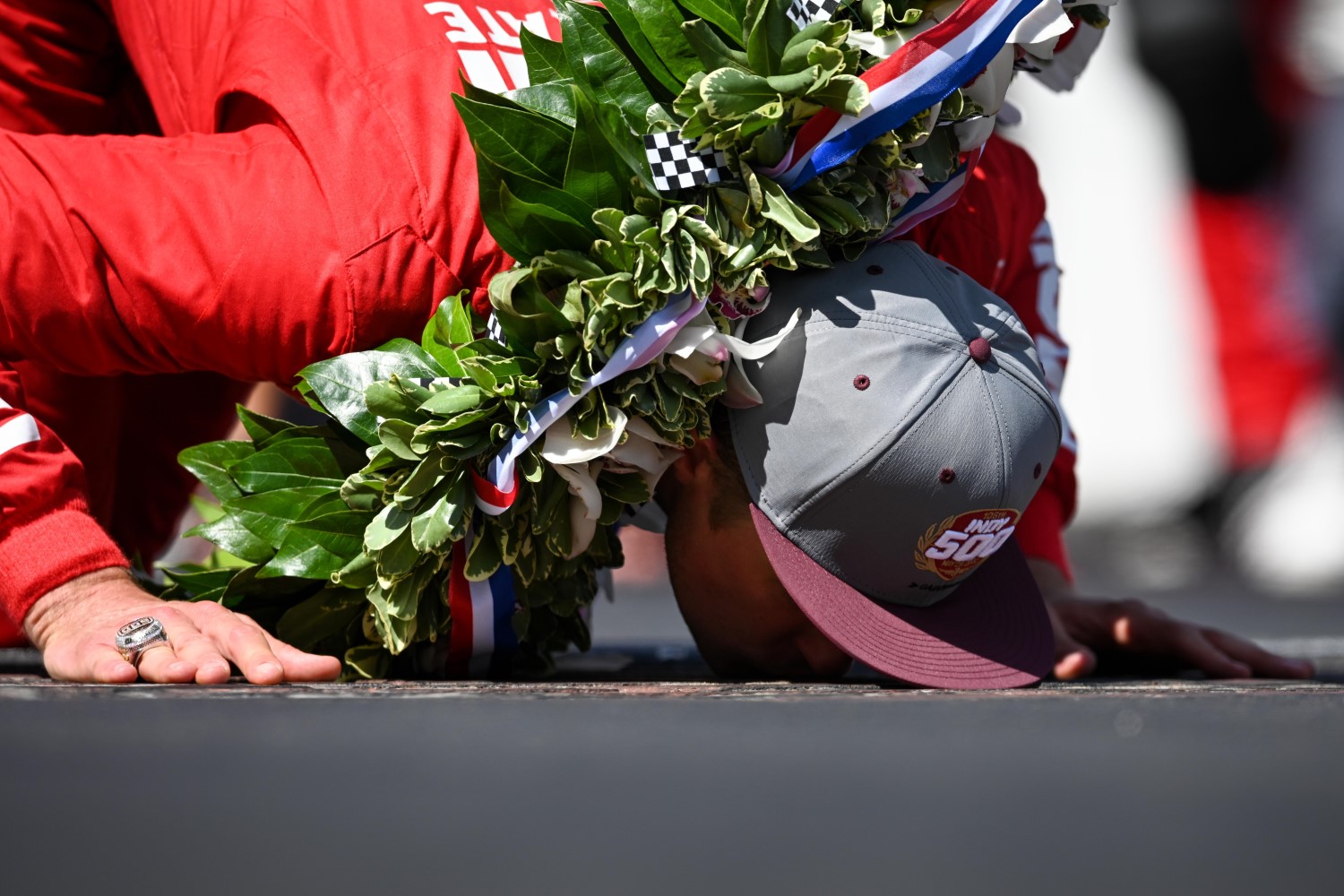 Ericsson, who started fifth, took the lead for good on Lap 190 when Jimmie Johnson made his final pit stop out of sequence with the leaders. Ericsson led O'Ward by 3.2869 seconds and he appeared to have the race won.
O'Ward chipped away over the next four laps, pulling to within 2.7 seconds. But it was not going to be enough.
Then on Lap 194 when Johnson put his left side wheel too low, touched the grass and spun into the SAFER Barrier in Turn 2. INDYCAR officials decided to red-flag the race to scrape Johnson's car off the wall in an attempt to finish under green, so all cars pulled into the pits for nearly eight minutes while the debris from Johnson's crash was cleared.
Green-flag racing resumed on Lap 199, with Ericsson snaking left and right on the front and back straightaway like a drunken grandmother on the Interstate to try and break O'Ward's aerodynamic tow. Heading toward the white flag, Ericsson dove toward the pit entrance, and came dangerously close to hitting the barrier and then back to the center of the racetrack, trying to break away from O'Ward.
The gap between the two was .0445 of a second at the flag stand with one lap to go, with O'Ward making a run toward the outside of Turn 1 on Lap 200. He pulled slightly ahead of Ericsson entering the corner, but Ericsson held the low line and O'Ward blinked.
After winning the race, Ericsson commented in victory lane to Marty Snider of NBC.
"I can't believe it. You can never take anything for granted.   I was praying so hard there wouldn't be another yellow. But I knew there'd be one. I knew the car was amazing. The 8 crew, Chip Ganassi Racing, Honda, did such an amazing job. I knew it was fast enough. To keep them behind. I can't believe it. I'm so happy. My family, my brother, my girlfriend. And my manager. I won! I can't believe it. I love (ovals) now."
Tony Kanaan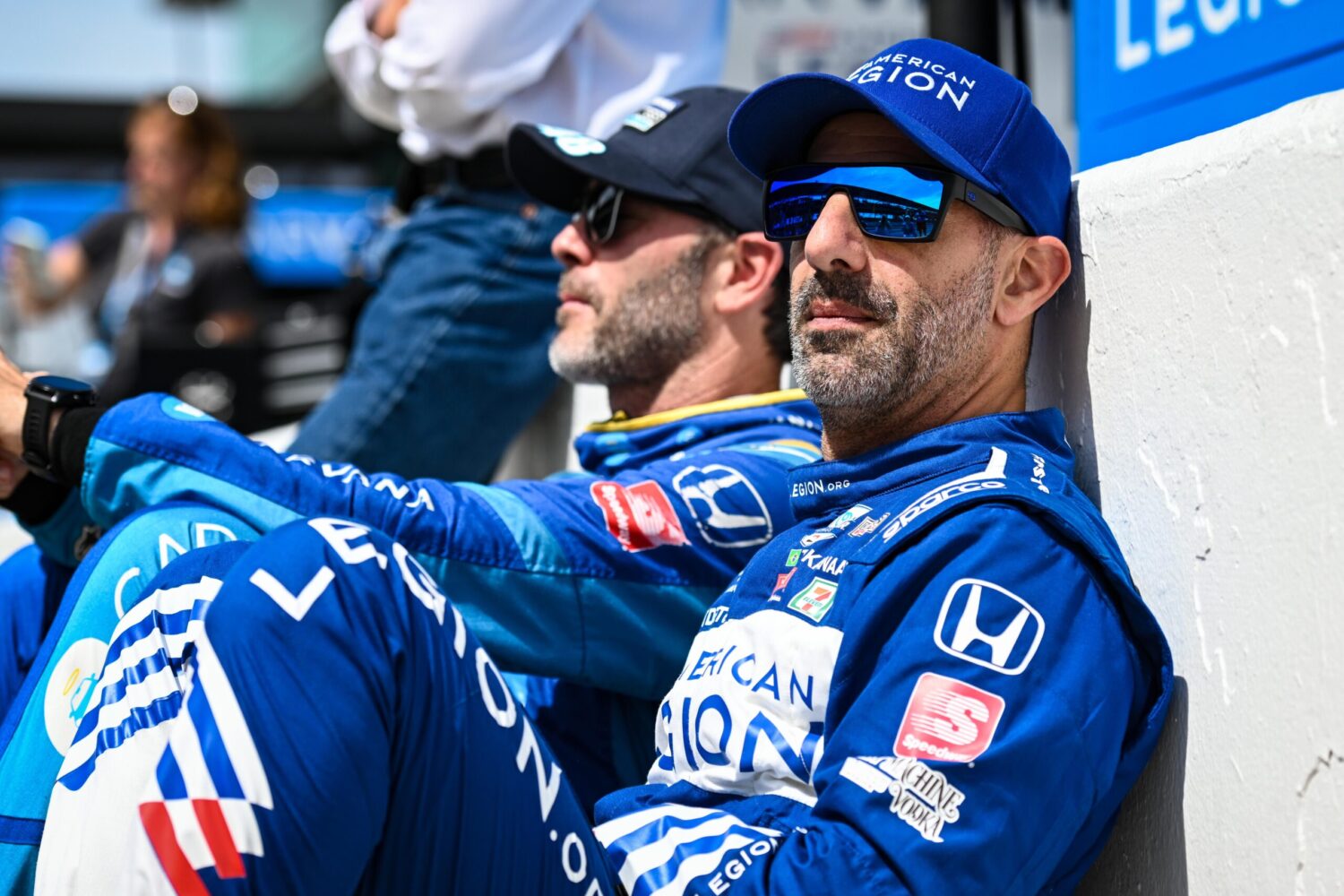 Tony Kanaan driving the no 1 American Legion Chip Ganassi Racing,  commented on his day. "I said that two days ago that I think that race, it was going to be played between my teammates. I don't know. If you're going to go and say, If Dixon didn't have the hiccup in the pits, this and that, I'm not going to sit here and say I was going to win the race. I had a car to do it for sure."
"When it was four laps to go, and we're all there, if it wasn't for that red flag, I think it was more Pato and I playing for second place than Ericsson. As a team, that's probably what I was going to have to do to make the team win. As long as we started fighting, Ericsson was going to go away."
"It went red. Well, I think I can restart this thing. I have a lot less to lose than those guys. They did a superb job. Pato (O'Ward) was really smart with Felix (Rosenqvist) and they almost got me.  From then on I knew, two laps to go, unless they had a hiccup like Dario and Takuma, it was not going to be for us. "
Pato O'Ward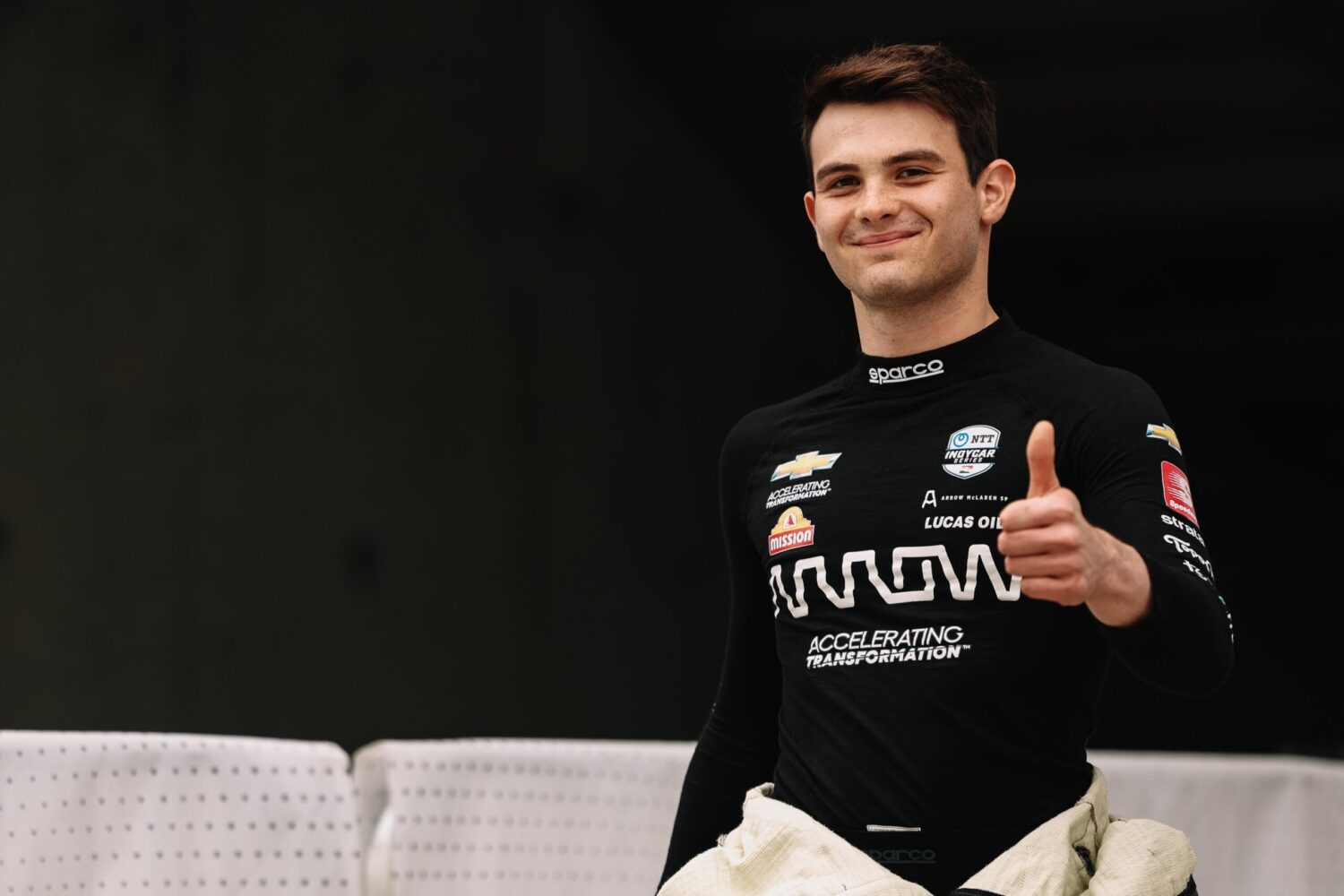 Pato O'Ward was so crushed to finish second, that he was almost in tears.  The young Mexican battled with Scott Dixon and Conor Daly for the lead from lap 105 to lap 176, when the Dixon received a pit lane speed violation.  After pit stop rotation,  O'Ward was back fighting for the lead with Ericsson on lap 190.
"Yeah, first, of really proud of the team. They gave me a really, really good car. I was so happy with the handling. We did everything perfectly. We did the fuel perfectly. No mistakes were done. We positioned ourselves perfectly to have a shot at it. "
"When we got done with that last pit stop, Felix undercut us, then when I pitted and started catching up to him, then Marcus out of nowhere just came out with insane speed. Got by me like I was standing still. Got up to Felix I think within two laps, passed him like he was standing still, left him. I got to Felix finally. I passed him. I had nothing for him. I said, I need a yellow to try and have a shot."
"Tony was also really quick coming behind me. I know he was catching me faster than what I was catching Marcus. When the restart happened, I said, I have one shot, I have to go flat, and still wasn't enough. Sadly, they have the faster car."
"We need to do a better job. We need to come back next year and give it hell again. I'm proud of the job we did today. It's my best result in the 500. It's a bit of a tough pill to swallow after such a long race, doing everything correctly."
Yellow Flags in Race 
There were 6 cautions for 33 yellow laps in the race for crashes, five in Turn 2 and one in Turn 3.
Rinus VeeKey driver of the no 21 Bitcoin Racing Team with BitNile Ed Carpenter Racing, made contact with the rear of his car in turn 2 on lap 39.  He has been released to drive.
On lap 70, another yellow was displayed when Callum Ilott, driver of the number 77 Juncos Hollinger Racing, spun and made heavy contact in turn 2.  This yellow caused Alex Palou, driving the no 10 NTT Data Chip Ganassi Racing, to be penalized for emergency service in a closed pit and ruined his chances for a win today.  Ilott was released to drive.
Another incident happened on lap 105 when Romain Grosjean, driving the no 28 DHL Andretti Autosport, spun and made contact in turn 2.  The yellow lasted for 7 laps.
Scott McLaughlin, driver of the no 3 Pennzoil Team Penske, made contact in turn 3 with the safer barrier. on lap 152.  His car continued across the short chute between turns 3 and 4 and made a secondary impact.
Jimmie Johnson, driver of the no 48 Carvana Chip Ganassi Racing, caused yet another yellow on lap 194 after his lap pit stop on lap 189.  The seven-time NASCAR Cup Series Champion, spun and made contact with the SAFER barrier in turn 2, resulting eventually in the red flag on lap 196.
On lap 198, the green flag came back out.  Ericsson had the lead and manage to keep it and take the win even though Sage Karem, driver of the AES Indiana DDR , made contact on the backstretch in lap 199.
Scott Dixon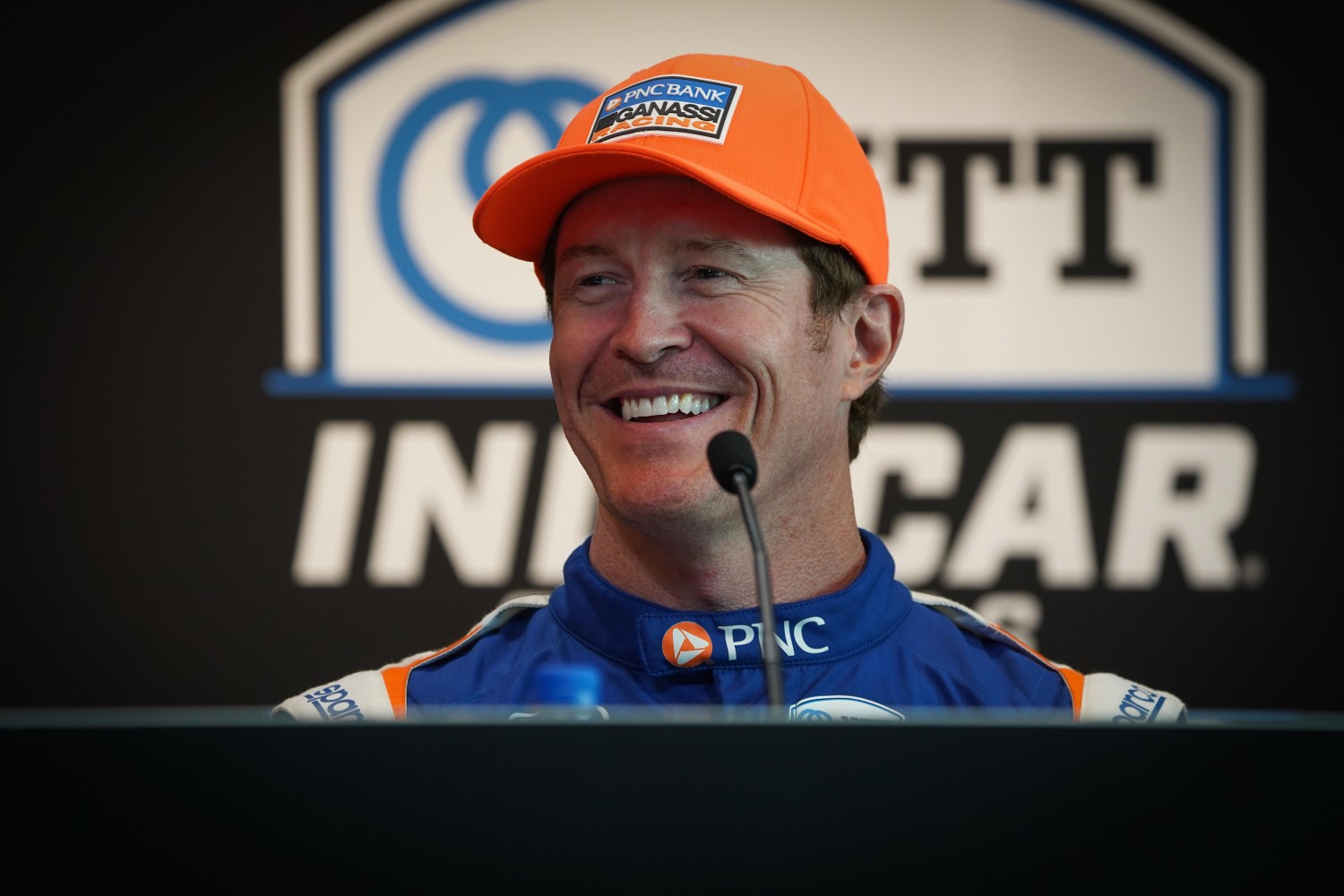 Scott Dixon, driver of the no 9 PNC Bank Chip Ganassi Racing, broke the long-held record of leading the most laps in the Indy 500, surpassing Al Unser.   Unser had 644 laps led in eleven races of  his 27 career starts.   After today, Dixon has led 665 laps in 15 races of his 20 career starts.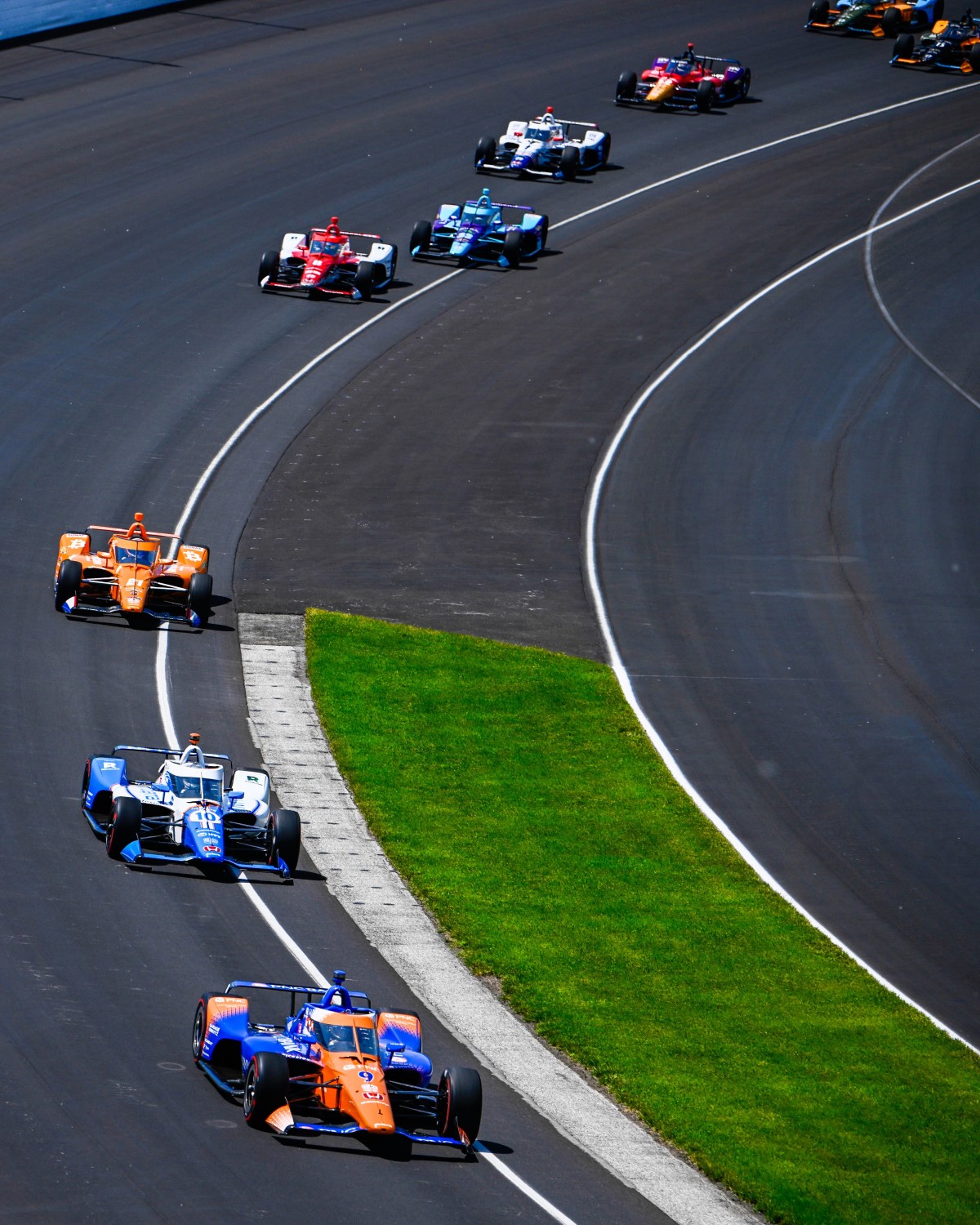 Lucille Dust reporting live from the Indianapolis Motor Speedway
Race Results
| | | | | | | | | | | | |
| --- | --- | --- | --- | --- | --- | --- | --- | --- | --- | --- | --- |
| Pos | No | Name | Laps | Diff | Gap | Led | ST | FSpeed | Engine | Points | Team |
| 1 | 8 | Marcus Ericsson | 200 | 0.000s | 0.000s | 13 | 5 | 224.852 | Honda | 226 | Chip Ganassi Racing |
| 2 | 5 | Pato O'Ward | 200 | 1.7929 | 1.7929 | 26 | 7 | 224.784 | Chevy | 213 | Arrow McLaren SP |
| 3 | 1 | Tony Kanaan | 200 | 3.5173 | 1.7244 | 6 | 6 | 222.925 | Honda | 78 | Chip Ganassi Racing |
| 4 | 7 | Felix Rosenqvist | 200 | 4.1267 | 0.6094 | 0 | 8 | 223.868 | Chevy | 154 | Arrow McLaren SP |
| 5 | 27 | Alexander Rossi | 200 | 4.9804 | 0.8537 | 0 | 20 | 222.142 | Honda | 141 | Andretti Autosport |
| 6 | 20 | Conor Daly | 200 | 5.0799 | 0.0995 | 7 | 18 | 222.036 | Chevy | 137 | Ed Carpenter Racing |
| 7 | 06 | Helio Castroneves | 200 | 6.5614 | 1.4815 | 0 | 27 | 223.286 | Honda | 123 | Meyer Shank Racing |
| 8 | 60 | Simon Pagenaud | 200 | 7.0937 | 0.5323 | 0 | 16 | 221.875 | Honda | 157 | Meyer Shank Racing |
| 9 | 10 | Alex Palou | 200 | 8.2446 | 1.1509 | 47 | 2 | 223.526 | Honda | 212 | Chip Ganassi Racing |
| 10 | 23 | Santino Ferrucci | 200 | 9.8329 | 1.5883 | 0 | 15 | 222.854 | Chevy | 62 | Dreyer & Reinbold |
| 11 | 6 | Juan Pablo Montoya | 200 | 10.7647 | 0.9318 | 0 | 30 | 221.435 | Chevy | 44 | Arrow McLaren SP |
| 12 | 11 | JR Hildebrand | 200 | 11.6554 | 0.8907 | 0 | 17 | 220.898 | Chevy | 53 | AJ Foyt Enterprises |
| 13 | 2 | Josef Newgarden | 200 | 11.8276 | 0.1722 | 0 | 14 | 222.707 | Chevy | 174 | Team Penske |
| 14 | 15 | Graham Rahal | 200 | 12.4253 | 0.5977 | 0 | 21 | 221.878 | Honda | 130 | Rahal Letterman Lanigan Racing |
| 15 | 12 | Will Power | 200 | 13.3036 | 0.8783 | 0 | 11 | 223.976 | Chevy | 202 | Team Penske |
| 16 | 18 | David Malukas | 200 | 13.6283 | 0.3247 | 0 | 13 | 222.004 | Honda | 90 | Dale Coyne Racing with HMD |
| 17 | 14 | Kyle Kirkwood | 200 | 14.5864 | 0.9581 | 0 | 28 | 222.135 | Chevy | 77 | AJ Foyt Enterprises |
| 18 | 33 | Ed Carpenter | 200 | 15.5602 | 0.9738 | 0 | 4 | 223.863 | Chevy | 51 | Ed Carpenter Racing |
| 19 | 29 | Devlin DeFrancesco | 200 | 15.8218 | 0.2616 | 0 | 24 | 219.935 | Honda | 64 | Andretti Steinbrenner Autosport |
| 20 | 30 | Christian Lundgaard | 200 | 16.3308 | 0.5090 | 0 | 31 | 222.065 | Honda | 99 | Rahal Letterman Lanigan Racing |
| 21 | 9 | Scott Dixon | 200 | 18.1238 | 1.7930 | 95 | 1 | 223.320 | Honda | 166 | Chip Ganassi Racing |
| 22 | 98 | Marco Andretti | 200 | 25.2002 | 7.0764 | 3 | 23 | 222.180 | Honda | 17 | Andretti Herta Autosport w/ Marco & Curb |
| 23 | 24 | Sage Karam | 199 | 5.3923 | 0.0025 | 0 | 22 | 222.611 | Chevy | 14 | Dreyer & Reinbold |
| 24 | 45 | Jack Harvey | 199 | 1 LAPS | 48.0710 | 0 | 32 | 219.685 | Honda | 73 | Rahal Letterman Lanigan Racing |
| 25 | 51 | Takuma Sato | 199 | 1 LAPS | 4.2856 | 0 | 10 | 223.561 | Honda | 100 | Dale Coyne Racing w/RWR |
| 26 | 4 | Dalton Kellett | 198 | 2 LAPS | 55.0425 | 0 | 29 | 219.056 | Chevy | 45 | AJ Foyt Enterprises |
| 27 | 25 | Stefan Wilson | 198 | 2 LAPS | 0.8844 | 0 | 33 | 221.091 | Chevy | 10 | DragonSpeed/Cusick Motorsports |
| 28 | 48 | Jimmie Johnson | 193 | Contact | 0.1569 | 2 | 12 | 221.221 | Honda | 71 | Chip Ganassi Racing |
| 29 | 3 | Scott McLaughlin | 150 | Contact | 2.0648 | 0 | 26 | 222.157 | Chevy | 162 | Team Penske |
| 30 | 26 | Colton Herta | 129 | Mechanical | 5 LAPS | 0 | 25 | 217.224 | Honda | 142 | Andretti Autosport |
| 31 | 28 | Romain Grosjean | 105 | Contact | 0.2606 | 0 | 9 | 221.155 | Honda | 128 | Andretti Autosport |
| 32 | 77 | Callum Ilott | 68 | Contact | 0.4762 | 0 | 19 | 221.099 | Chevy | 71 | Juncos Hollinger Racing |
| 33 | 21 | Rinus VeeKay | 38 | Contact | 0.7570 | 1 | 3 | 222.406 | Chevy | 134 | Ed Carpenter Racing |
Race Statistics
Winner's average speed: 175.428 mph
Time of Race: 02:51:00.6432
Margin of victory: Under caution
Cautions: 6 for 31 laps
Lead changes: 38 among 9 drivers
Lap Leaders:
Palou, Alex 1 – 7
Dixon, Scott 8 – 9
Palou, Alex 10 – 12
Dixon, Scott 13 – 16
Palou, Alex 17 – 21
Dixon, Scott 22 – 29
Palou, Alex 30
VeeKay, Rinus 31
Ericsson, Marcus 32
O'Ward, Pato 33 – 35
Palou, Alex 36 – 47
Dixon, Scott 48 – 50
Palou, Alex 51
Dixon, Scott 52 – 53
Palou, Alex 54 – 57
Dixon, Scott 58 – 59
Palou, Alex 60 – 68
O'Ward, Pato 69 – 72
Dixon, Scott 73 – 79
Daly, Conor 80 – 81
Dixon, Scott 82 – 83
Daly, Conor 84 – 85
Dixon, Scott 86 – 108
Daly, Conor 109 – 111
Dixon, Scott 112 – 140
O'Ward, Pato 141 – 143
Kanaan, Tony 144
Ericsson, Marcus 145
Palou, Alex 146 – 147
O'Ward, Pato 148 – 157
Dixon, Scott 158 – 160
O'Ward, Pato 161 – 164
Dixon, Scott 165 – 174
O'Ward, Pato 175 – 176
Kanaan, Tony 177 – 181
Palou, Alex 182 – 184
Andretti, Marco 185 – 187
Johnson, Jimmie 188 – 189
Ericsson, Marcus 190 – 200
NTT INDYCAR SERIES Point Standings:
Ericsson 226, O'Ward 213, Palou 212, Power 202, Newgarden 174, Dixon 166, McLaughlin 162, Pagenaud 157, Rosenqvist 154, Herta 142, Rossi 141, Daly 137, VeeKay 134, Rahal 130, Grosjean 128, Castroneves 123, Lundgaard 103, Sato 100, Malukas 90, Kanaan 78, Kirkwood 77, Harvey 73, Johnson 71, Ilott 71, Ferrucci 62, DeFrancesco 62, Hildebrand 53, Carpenter 49, Kellett 45, Montoya 44, Tatiana Calderon 41, Andretti 17, Karam 14, Wilson 10