Supercars: Van Gisbergen clean sweeps The Bend
Red Bull's Shane van Gisbergen completed a crushing weekend at the OTR SuperSprint in a wet finale that was filled with crashes and some of the best driving ever seen in the Repco Supercars Championship.
For the third time in as many starts, van Gisbergen took home all 105 points on offer.
The Kiwi's Race 23 win was his fifth in a row, 14th of the season and 68th of his career.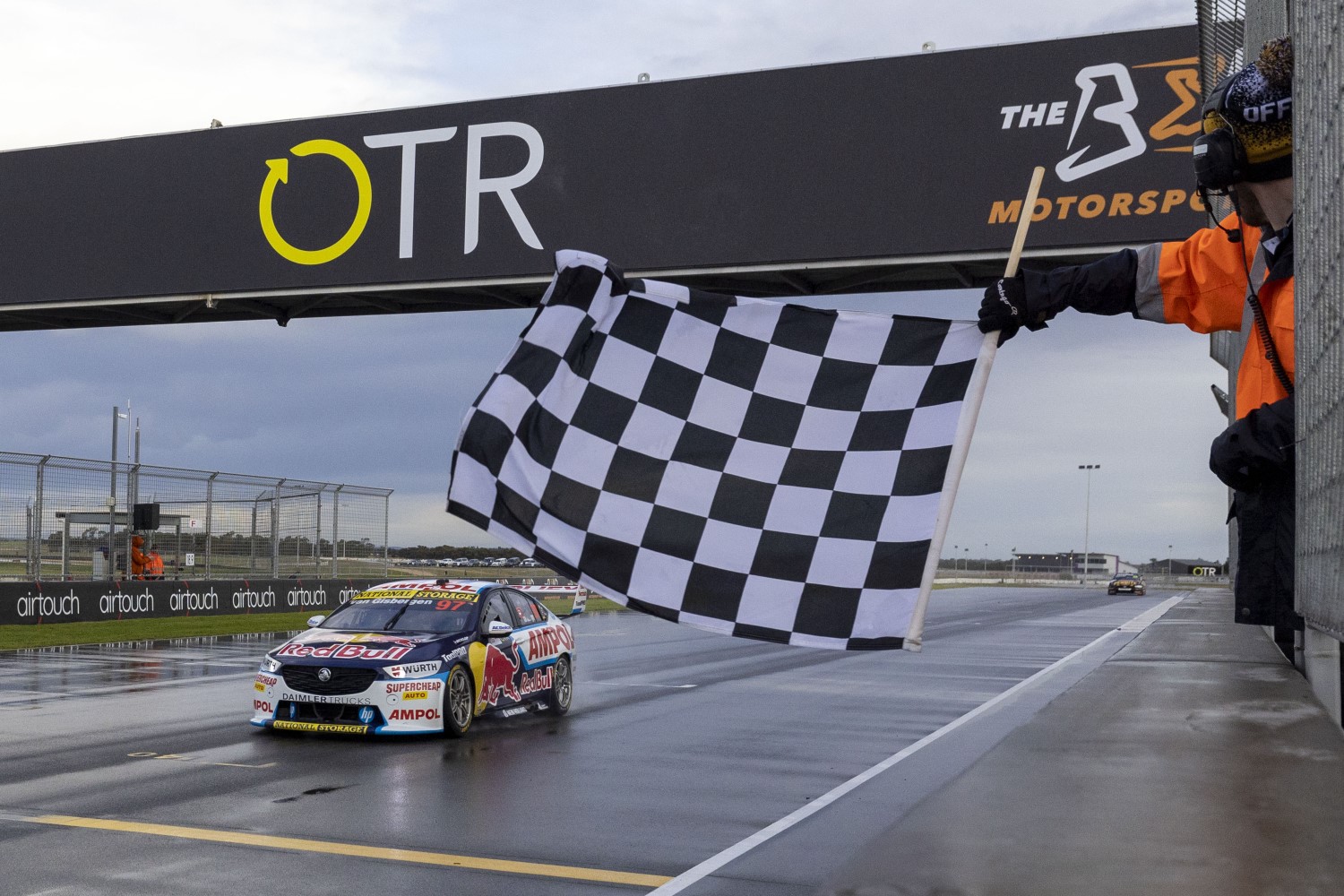 Critically, van Gisbergen gave Holden an unassailable lead in the Champion Manufacturer standings.
Cam Waters came home in second, with Boost Mobile Commodore driver Brodie Kostecki third.
Broc Feeney finished fifth ahead of Will Brown and Anton De Pasquale, who dropped behind Waters to third in the standings.
Red Bull Ampol Racing has now opened up a 121-point lead in the teams' championship.
"That was awesome, racing someone who has nothing to lose," van Gisbergen said.
"What an awesome weekend, can't thank the team enough."
A downpour before the race ensured the 24-lapper had to start behind the BP Ultimate Safety Car.
Waters led early and in one of the most entertaining displays of driving seen in recent races, the Monster Energy Mustang and Van Gisbergen swapped the race lead in the wet over and over again.
The defending Supercars Champion applied the pressure to Waters constantly, who made an error at Turn 17 and never found his way back to the front.
By the end of the race, nearly every single car in the field had suffered some kind of damage ranging from bonnets bent in half to missing pieces as they rolled back into pit lane.
Two drivers missed the final race of the event, Thomas Randle and Andre Heimgartner, who were transported to hospital for precautionary scans following a major crash in today's earlier race.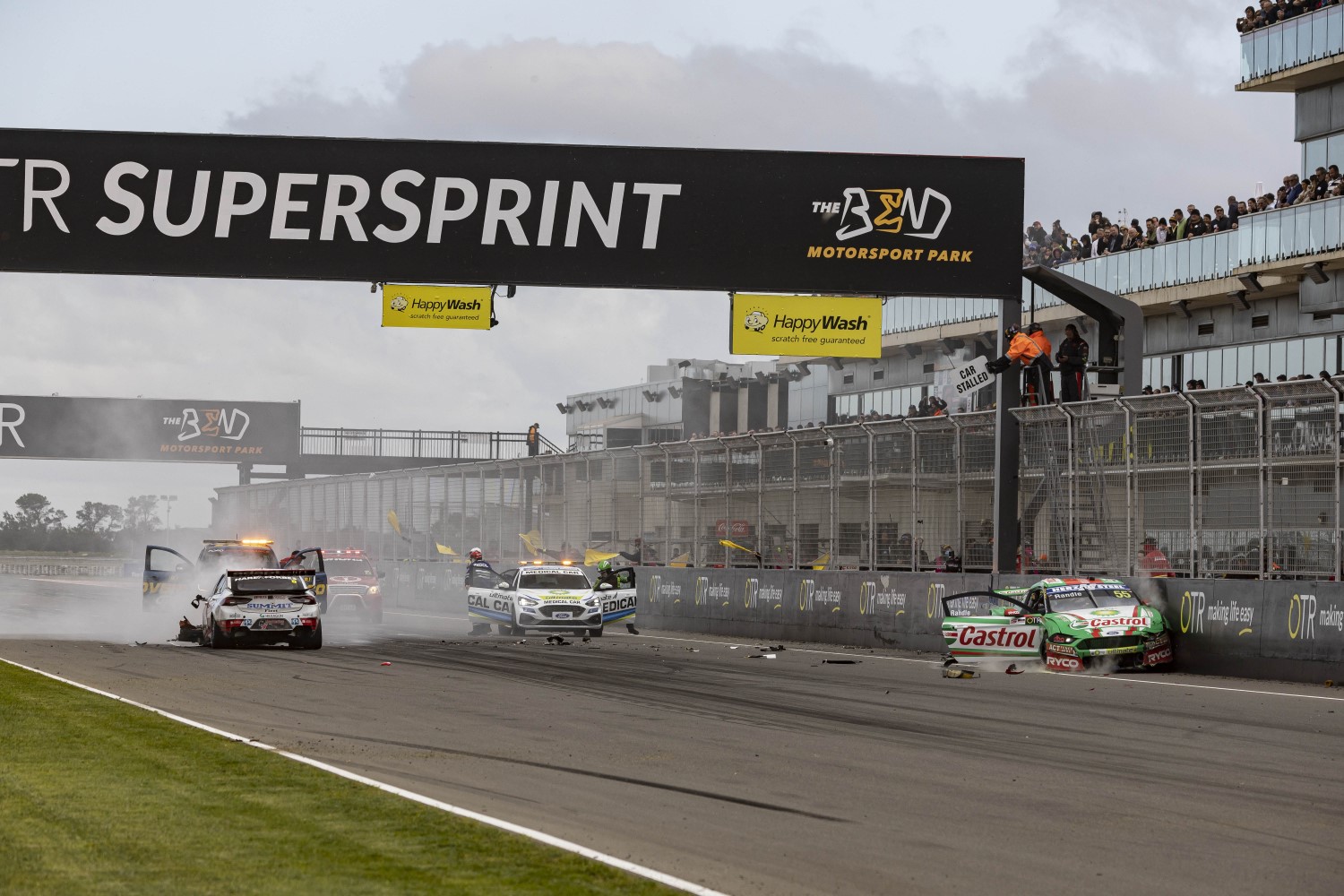 Van Gisbergen now leads Waters atop the Drivers' Championship standings by 393 points, with De Pasquale third, Will Davison fourth and Chaz Mostert rounding out the top five.
The 2022 Repco Supercars Championship will resume at the Penrite Oil Sandown SuperSprint from 19-21 August at the famous Melbourne circuit.
Race Results
| | | | | |
| --- | --- | --- | --- | --- |
| POS | NO. | DRIVER | TEAM | TIME |
| 1 | 97 | Van Gisbergen | Red Bull Holden Racing Team | 56:35.153 |
| 2 | 6 | C. Waters | Tickford Racing 1 | +8.711 |
| 3 | 99 | B. Kostecki | Penrite Racing – Erebus | +17.231 |
| 4 | 17 | Davison | Shell V-Power Racing Team | +25.505 |
| 5 | 88 | B. Feeney | Red Bull Holden Racing Team | +31.832 |
| 6 | 9 | W. Brown | Penrite Racing – Erebus | +32.631 |
| 7 | 11 | A. de Pasquale | Shell V-Power Racing Team | +32.862 |
| 8 | 25 | Mostert | WAU Racing Pty Ltd | +33.341 |
| 9 | 2 | Percat | WAU Racing Pty Ltd | +34.830 |
| 10 | 10 | Holdsworth | Penrite Racing | +38.413 |
| 11 | 3 | Slade | CoolDrive Racing | +46.510 |
| 12 | 5 | Courtney | Tickford Racing 1 | +47.408 |
| 13 | 20 | S. Pye | Team 18 | +47.889 |
| 14 | 31 | J. Golding | PremiAir Subway Racing | +49.380 |
| 15 | 18 | Winterbottom | Team 18 | +49.866 |
| 16 | 49 | J. Boys | Joss & Dynamic | +59.930 |
| 17 | 14 | B. Fullwood | Brad Jones Racing | +1:21.424 |
| 18 | 22 | C. Pither | PremiAir Coca Cola Racing | +1:45.992 |
| 19 | 4 | J. Smith | SCT Motor Sports | +1 Lap |
| 20 | 96 | M. Jones | SCT Motor Sports | +1 Lap |
| 21 | 35 | T. Hazelwood | Matt Stone Racing | +1 Lap |
| 22 | 26 | Reynolds | Penrite Racing | +4 Laps |
| NC | 56 | J. Kostecki | Tickford Racing 2 | +7 Laps |
| NC | 34 | J. Le Brocq | Matt Stone Racing | +19 Laps |
| NC | 78 | Z. Best | Tickford Racing 3 | +19 Laps |
PROVISIONAL DRIVER STANDINGS 
| | | | |
| --- | --- | --- | --- |
| Driver  | Team | Points      |  Behind |
| Shane van Gisbergen | Red Bull Ampol Racing Commodore | 2196 | -0 |
| Cam Waters | Monster Energy Mustang | 1803 | -393 |
| Anton De Pasquale | Shell V-Power Racing Mustang | 1801 | -395 |
| Will Davison | Shell V-Power Racing Mustang | 1737 | -459 |
| Chaz Mostert | Mobil 1 Optus Racing Commodore | 1540 | -656 |
| Broc Feeney | Red Bull Ampol Racing Commodore | 1463 | -733 |
| David Reynolds | Penrite Racing Commodore | 1380 | -816 |
| Brodie Kostecki | Boost Mobile Erebus Commodore | 1279 | -917 |
| Andre Heimgartner | R&J Batteries Commodore | 1210 | -986 |
| Tim Slade | CoolDrive Mustang | 1193 | -1003 |
| James Courtney | Snowy River Caravans Mustang | 1191 | -1005 |
| Mark Winterbottom | Irwin Racing Commodore | 1129 | -1067 |
| Lee Holdsworth | Penrite Racing Commodore | 1084 | -1112 |
| Will Brown | Boost Mobile Erebus Commodore | 1066 | -1130 |
| Nick Percat | Mobil 1 NTI Commodore | 1024 | -1172 |
| Todd Hazelwood | Truck Assist Commodore | 996 | -1200 |
| Jack Le Brocq | Truck Assist Commodore | 833 | -1363 |
| Bryce Fullwood | Middy's Commodore | 830 | -1366 |
| Scott Pye | Nulon Racing Commodore | 820 | -1376 |
| Macauley Jones | BJR Commodore | 803 | -1393 |
| Chris Pither | Coca Cola Commodore | 727 | -1469 |
| Jake Kostecki | Tradie Mustang | 721 | -1475 |
| Thomas Randle | Castrol Racing Mustang | 721 | -1475 |
| Jack Smith | SCT Logistics Commodore | 658 | -1538 |
| James Golding | Subway Commodore | 176 | -2020 |