F1: Verstappen beating Hamilton in Abu Dhabi was poetic justice for Silverstone
Much ado has been made about how the 2021 F1 championship was decided in Abu Dhabi when Max Verstappen schooled Lewis Hamilton on the final lap to win the race and the title after the two were dead even on points going in.
Whether Michael Masi should have let some lapped cars unlap themselves, or all of them, is immaterial.  Masi gave the fans what they wanted – a race for the championship, not a parade behind the pace car.
And Max Verstappen delivered.  He out drove Hamilton that final lap, made the pass and took the win.
Almost no one in the F1 paddock would disagree that Verstappen is the faster driver. He carries the Red Bull to victory week in and week out, leaving his teammate Sergio Perez far behind.
The Red Bull is not the fastest car on the grid – the Ferrari is, and last race the Mercedes was on pole.  Verstappen may now have the third-best car on the grid, but he finds a way to win with it.
Alex Albon called Verstappen the best he has ever raced against, and that includes Lewis Hamilton.
Hamilton no longer has the superior car, and the wins are now few and far between.
There should never have been a fight for the title in Abu Dhabi last year.  Verstappen should have already clinched it.
Polesitter at Silverstone last year, Verstappen was wrecked by Hamilton, when Hamilton purposely race wide into Stowe and rammed Verstappen's car into the barrier.
Anyone who has studied the overhead shots can see that Hamilton took a much wider line than normal to purposely take out Verstappen – his main opponent.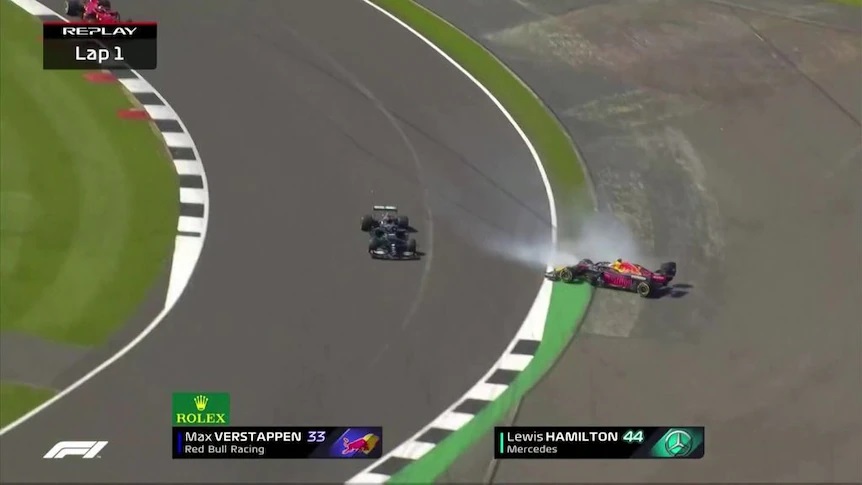 Verstappen lost all 25 points that day, and it almost cost him the title.
In the end, the result in Abu Dhabi, that gutted Hamilton, was poetic justice for what he did to Verstappen at Silverstone earlier in the year.
Max Verstappen's performances across the entirety of last season, however, made him a worthy world champion. He claimed 10 wins, 10 pole positions, and 18 podium finishes in 2021, setting a new record for podium places in a single season in the process.
In an interview with Sky Sports F1, Red Bull boss Christian Horner was asked to share his thoughts on the culmination of the 2021 World Championship battle and the conversation that has surrounded it ever since. The Briton said:
"I always tend to look forwards so Abu Dhabi already seems a long time ago. The page always turns. I can understand that if you were a Lewis [Hamilton] fan or a Mercedes fan, that you'll feel pretty aggrieved by the events of Abu Dhabi. If you're a Max [Verstappen] fan, you'll feel it was redemption for earlier in the year. That's where sport is always going to be polarizing. Last year wasn't just about Abu Dhabi, last year was about 22 races. Do I think Max deserved that championship? Absolutely. I'm not ever going to get too hung up on it."
Mark C. reporting for AutoRacing1.com