IndyCar: A look back to 1967
On April 23, 1967, Mario Andretti won the Trenton 150 at Trenton Speedway in Trenton, New Jersey.
Andretti, driving Al Dean's #1 Dean Van Lines Brawner-Ford, led all 150 laps of the USAC Championship Car Series race.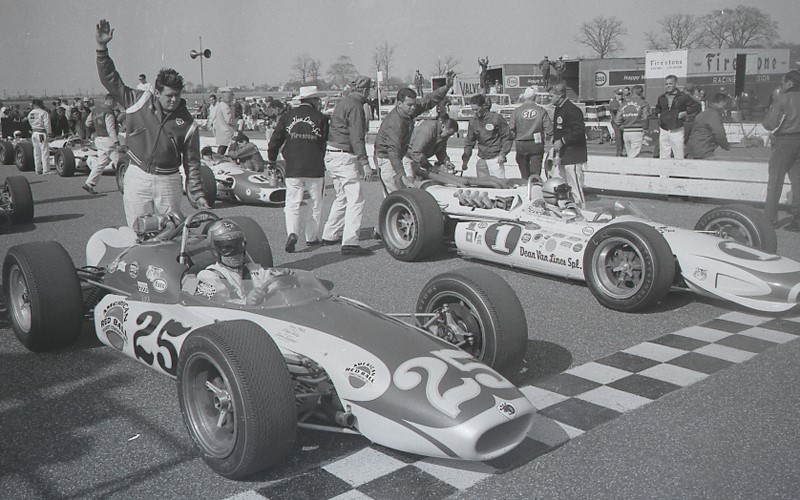 The 1967 Trenton 150 was the second race of the 1967 USAC Championship Car Season. Occurring on 23rd April at the Trenton Speedway, the race would ultimately be won by Mario Andretti in a Brawner-Ford, setting two track records in the process after leading from start to finish.
Background
The 1967 Trenton 150 was the sixth running of the event, with the annual race lasting 150 miles. It was one of two 1967 USAC Championship Car Season races to occur at Trenton Speedway, the other being the Trenton 200, which occurred on 24th September and was won by A.J. Foyt in a Coyote-Ford. Trenton would continue hosting IndyCar races until 1979 before it was dropped from the schedule and demolished in 1980.
Prior to the race, qualifying commenced with Mario Andretti winning the pole position with a record speed of 116.403 mph. He was entering a new car after his previous one was badly damaged in a crash two weeks prior.
Directly behind him was Lloyd Ruby in a Mongoose-Offenhauser, with Gerhardt-Offenhauser driver Art Pollard lining up third out of 21 competitors.
Heading into the event, it was expected that rear-engine cars were to dominate the race, as they had in previous Trenton events.
It was also known that future three-time Formula One World Champion Jackie Stewart was attempting to enter the race, but was unable to pull out of a Formula 2 commitment.
The Race
With the starting order decided, the 1967 Trenton 150 commenced on 23rd April.
Andretti held his lead from the start, and would ultimately not relinquish it for the entirety of the race.
His main challenge proved not to be the other drivers, but the wind, which caused multiple drivers to spin-off, particularly after Turn 2.
 After 15 laps, Ruby retired due to a broken turbo hose.
 Meanwhile, Lotus-Ford's A.J. Foyt climbed the order after qualifying in seventh, and was about 10 seconds behind Andretti when a suspension failure forced him to retire after 86 laps.
With Foyt out, Andretti controlled proceedings, lapping everyone bar Eagle-Ford's Roger McCluskey.
 He therefore claimed victory and $10,600 in prize money.
His average speed of 109.837 mph also set a Trenton record.
McCluskey held on to finish second, while fellow Eagle-Ford driver Bobby Unser took third.
Availability
According to IndyCar on TV, 30 minutes of highlights were televised by ABC on 29th April 1967 as part of its Wide World of Sports, along a anniversary retrospective and pocket billiards. The broadcast has yet to resurface however, and no footage of the race is currently publicly available.
Results – Trenton 150
Trenton International Speedway
1 Mile Paved Oval
150 Laps/150 Miles
April 23, 1967
| | | | | | | | | | |
| --- | --- | --- | --- | --- | --- | --- | --- | --- | --- |
| Pos | St | Driver | No. | Sponsor/Name | Chassis | Engine | Laps | Status | Points |
| 1 | 1 | Mario Andretti | 1 | Dean Van Lines | Brawner Hawk | Ford | 150 | 1:21:56.35 109.837 | 300 |
| 2 | 13 | Roger McCluskey | 12 | G. C. Murphy | Eagle | Ford | 150 | Finished | 240 |
| 3 | 14 | Bobby Unser | 6 | Rislone | Eagle | Ford | 149 | Flagged | 210 |
| 4 | 4 | Jim McElreath | 2 | Zink-Urschel-Slick | Moore | Ford | 148 | Flagged | 180 |
| 5 | 10 | Mel Kenyon | 46 | Thermo King Auto Air Conditioning | Gerhardt | Offy | 147 | Flagged | 150 |
| 6 | 20 | Gig Stephens | 71 | Atamian Ford | Halibrand | Offy | 143 | Flagged | 120 |
| 7 | 21 | Arnie Knepper | 81 | Central Excavating | Dunlop D | Offy | 142 | Flagged | 90 |
| 8 | 3 | Art Pollard | 16 | Thermo King Auto Air Conditioning | Gerhardt | Offy TC | 142 | Flagged | 75 |
| 9 | 18 | Ralph Liguori | 35 | Enterprise Machine | Flynn D | Offy | 141 | Flagged | 60 |
| 10 | 19 | Bob Tattersall | 52 | Vargo Excavating | Meskowski D | Offy | 134 | Magneto | 45 |
| 11 | 12 | Bob Harkey | 57 | Kenny Brenn | Gerhardt | Offy | 132 | Broken fuel pump | 30 |
| 12 | 6 | Al Unser | 5 | Retzloff Chemical | Lola | Ford | 128 | Engine vibration | 15 |
| 13 | 16 | Greg Weld | 96 | Harrison | Eisert | Chevy | 124 | Broken suspension | |
| 14 | 11 | Joe Leonard | 82 | Sheraton-Thompson | Lotus | Ford | 114 | Broken rear end | |
| 15 | 7 | A. J. Foyt | 84 | Sheraton-Thompson | Lotus | Ford | 86 | Broken RF suspension | |
| 16 | 15 | Larry Dickson | 22 | Vita Fresh Orange Juice | Meskowski D | Offy | 83 | Broken torsion bar | |
| 17 | 9 | Lucien Bianchi | 27 | Jim Robbins | Vollstedt | Ford | 57 | Overheated | |
| 18 | 5 | Bud Tingelstad | 10 | Federal Engineering | Gerhardt | Offy | 45 | Engine quit | |
| 19 | 17 | Ronnie Duman | 87 | California Speed & Sport Shop | Halibrand | Offy | 37 | Blown engine | |
| 20 | 8 | Gordon Johncock | 3 | Johncock Racing Team | Gerhardt | Ford | 20 | Broken half shaft | |
| 21 | 2 | Lloyd Ruby | 25 | American Red Ball | Mongoose | Offy TC | 15 | Broken turbo hose | |
| | | | | | | | | | |
| — | — | Norm Brown | 45 | Weinberger Homes | Gerhardt | Offy | — | Spun, wrecked practice | |
| — | — | Wally Dallenbach | 53 | Valvoline | Huffaker | Offy | — | Broken suspension, practice | |
| — | — | Mike Mosley | 91 | Leader Card Racers | Watson | Ford | — | Poor fuel feed, practice | |
| — | — | Al Loquasto | 52 | Vargo Excavating | Meskowski D | Offy | — | Driven by Tattersall | |
| — | — | Peter Revson | 33 | Dayton Disc Brake | Lola | Offy | — | Did not qualify | |
| — | — | Johnny Rutherford | 47 | Weinberger Homes | Eagle | Ford | — | Did not qualify | |
| — | — | Bruce Jacobi | 77 | Dayton Steel Wheel | Gerhardt | Ford | — | Did not qualify | |
| — | — | Al Miller (Krulak) | 85 | Caves Buick | Gerhardt | Offy | — | Did not qualify | |
| — | — | Lothar Motschenbacher | X | X | X | Offy | — | Did not qualify | |
| | | |
| --- | --- | --- |
| Lap Leaders | Total | Laps |
| Mario Andretti | 150 | 1-50 |