Formula E: McLaren completes 2022-23 driver line-up
The NEOM McLaren Formula E Team today announced its driver line-up for the 2022/23 ABB FIA Formula E World Championship.
The team announced that Jake Hughes completes the team's driver line-up, driving alongside René Rast, who has previously been announced as a team driver for Season 9.
Jake, from Birmingham, UK, brings over 10 years' experience in single-seater competition to the team for its first season in the series. During this time, Jake became the inaugural BRDC Formula 4 champion. Then, he completed a two-year stint in several Formula Renault Championships, finishing second in Formula Renault 2.0 Alps in 2015.
Jake went on to secure numerous Formula 3 race wins between 2016 and 2020 before graduating to Formula 2 for the 2022 season. In addition to racing in Formula 2, he held a reserve and development driver role in Formula E during Season 7 and Season 8 with the Mercedes-EQ Formula E Team, being instrumental to the team's successes during those seasons. Now, he will compete in Formula E on a full-time basis with the NEOM McLaren Formula E Team.
René, from Minden, Germany, has an impressive resume including being the 2017, 2019 and 2020 DTM champion. He has also claimed overall wins at the 2012 and 2014 24 Hours of Spa, 2014 24 Hours of Nürburgring and class wins at the 2012 and 2016 24 Hours of Daytona.
Additionally, René has previous experience in Formula E, competing in a number of rounds between 2016 and 2021, in which he scored two podiums, with a highest place finish of second.
The NEOM McLaren Formula E Team will be in action later this year for the first time as official testing begins (13 – 16 December 2022, in Valencia, Spain) ahead of the first round, the Mexico City E-Prix, on 14 January 2023.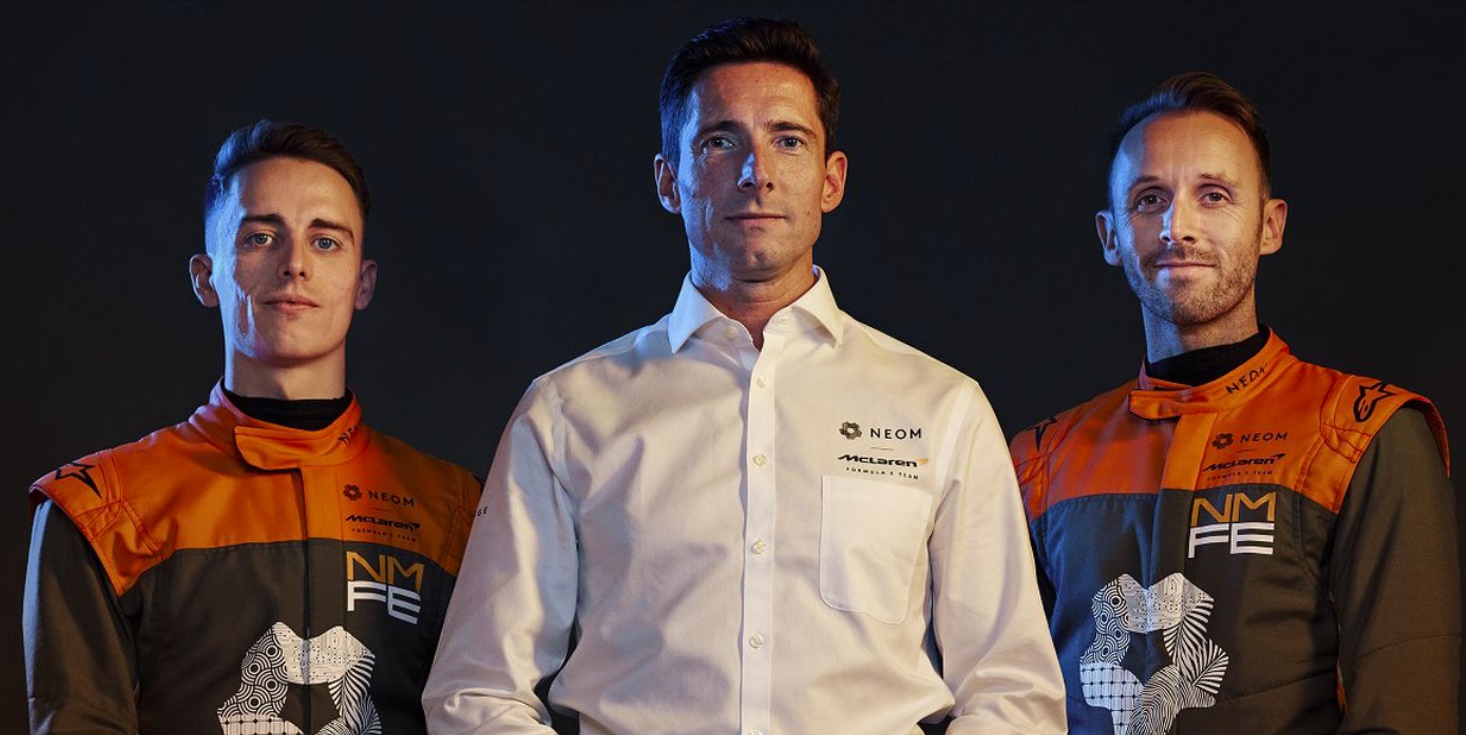 Ian James, Managing Director, NEOM McLaren Electric Racing & Team Principal, NEOM McLaren Formula E Team, said:
"Today's announcement feels like a long time coming. Since May this year, when we first announced McLaren Racing's entry into Formula E, we have been working tirelessly to get in place the best possible team and structure for sustainable success. On the one hand, we have been working on the retention of the amazing talent that already was in place before going into the transitional phase. I'm proud to say I think we've done a great job on that front. On the other hand, we have been focusing on putting in place new processes and new talent – and the latter includes the drivers."
"I'm excited to work together with René and Jake this upcoming season. They are both incredibly talented people, and I think they will both bring something different to the mix. René has shown his race craft over and over again in every series he has competed in to date. He is not only extremely fast, but also consistent, and has valuable previous experience in Formula E, which will be of great help both to the team and himself."
"Jake is an exciting talent, who we have worked with before as our Reserve and Development driver. Over the years, the team and Jake have built a relationship, and that, combined with his sheer talent, will be what can give us an edge going into this season. We've given Jake a chance to prove himself on the big stage in Season 9, and his story is a perfect example of the talent development that we believe in as a team."
Zak Brown, CEO, McLaren Racing, said:
"I am delighted to announce our full driver line-up for our inaugural season in Formula E. A hugely exciting prospect in single seater competition, Jake also has a history with the team as a development and reserve driver. Alongside René, who is particularly skilled in a wide range of series, which includes previous experience in Formula E, I believe that this pairing will be crucial in helping us hit the ground running in our first season in the series as the NEOM McLaren Formula E Team."
Jake Hughes, Driver, NEOM McLaren Formula E Team, said:
"First and foremost, I'm very proud and feel very privileged to become part of the McLaren Racing family, being given the chance to represent such a prestigious brand. Growing up, McLaren was one of the teams that inspired me to start racing. To now go full circle, representing the team myself in Formula E feels incredible. I've obviously been with the Formula E team in a different guise before and we have already achieved great results. It's good to have that relationship and I know what's expected of me."
"Coming in at a time where a new generation car is introduced in the series excites me. It feels like a good opportunity and chance, especially being a rookie in Season 9. It's set to be a great year and I can't wait to kick off the journey ahead!"
René Rast, Driver, NEOM McLaren Formula E Team, said:
"I am delighted to join the NEOM McLaren Formula E Team. As a racing fan, McLaren has always had huge appeal. It's an iconic name in motorsport with a rich history, so I feel privileged and proud to be able represent McLaren in Formula E next season. I've done a season in Formula E before, it was a great experience, and I felt after that year I wasn't done yet. I'm excited that I am now getting the opportunity to continue that journey. I'm extremely motivated and have no doubt we will create something great together. I can't wait to get started!"