F1: Hamilton 'no longer number 1' at Mercedes
(GMM) Lewis Hamilton has lost his de-facto status as Mercedes' 'number 1' driver in Formula 1.
That is the view of Sascha Roos, the long-time commentator for Sky Deutschland's coverage of the sport.
For 2022, Mercedes replaced Hamilton's teammate of the previous five years – Valtteri Bottas – with the younger charger George Russell.
"I didn't think Russell would score more points than Hamilton in his first year," 50-year-old Roos said.
"I expect more from Hamilton in 2023 but I put it in pencil whether he is the undisputed number 1. I think it's a similar situation at Mercedes now as in the time when Nico Rosberg was next to Hamilton," he added.
Ultimately, the Hamilton-Rosberg situation descended into the destruction of their personal friendship as the latter went on to win the 2016 title.
"In the end last season, it was a clear story in Russell's favor and I think Mercedes handled it very fairly."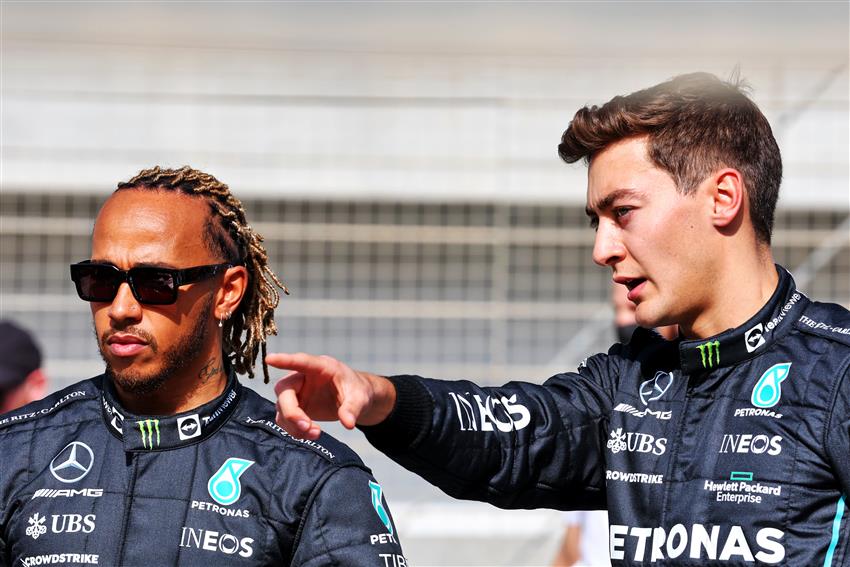 However, 37-year-old Hamilton and Mercedes intend to ink a new contract beyond 2023, with team boss Toto Wolff declaring this week: "Lewis is part of the team and the team is part of Lewis.
"There is no reason for that to not continue."
Roos agrees that Hamilton should be offered a new contract for 2024 and beyond.
"He's motivated," he said. "But I don't think there will be a situation between Hamilton and Russell as there was between Hamilton and Rosberg.
"At that time, to the outside world, it was always emphasized that Rosberg and Hamilton were on equal footing. But internally, Hamilton was preferred. In my opinion.
"When Valtteri Bottas came in, Hamilton was the clear number 1 to the outside. But Russell is not Bottas. Russell is more likely to enjoy Rosberg's status."
—
After beating Lewis Hamilton in his first season, George Russell has stated his belief that with the right car beneath him, he can beat any driver, including Hamilton.
"I never doubted myself," he said as per The Race. "I always believed in myself. But if you go with the mindset 'I'm going to beat Lewis Hamilton 95% of the time', you'll come away disappointed.
"I learned how I need to go about it when he is extraordinarily fast.
"I still need to continue to focus on myself because I still maintain the belief that if I've got the car beneath me, and the set-up and the tires in the right place, working how I want it to work, I can beat him and I can beat anyone else on this grid. And that's the belief you have to take."
Even with this belief, Russell felt the pressure when Hamilton was finishing ahead of him but stated that he believes those races were decided by fine margins.
"Equally I look at those races and I think if little things went slightly differently, I could have been ahead," said Russell. "He out qualified me in Montreal, but if I stayed on wets, I probably would have been ahead and then would have finished on the podium.
"It was Austria where I had a small collision with Checo [Sergio Perez], I probably would have been on the podium instead of Lewis there. Silverstone, who knows what could have happened, it was very tight there.
"It was just quite interesting how everything sort of seemed to flow in my direction at the start of the year, then it was probably that mid-phase where sort of things probably flowed more in his direction. Things sort of balanced out a little bit.
"But I look back on those times and I needed them to learn more about myself and see how I can further improve.
"That's why I'm so happy having Lewis as my team-mate because I feel like I'm at a really strong level, but he's pushing me to be even better."