IMSA: Honda HPD not expecting to ever design another new ICE
After IndyCar announced they have abandoned their 2.4L twin turbo internal combustion engine (ICE), HPD president David Salters told Motorsport.com his team had been given "a lot of freedom" and took "quite a lot of risk" in the 2.4-liter design they did for IMSA, which is paired with the first electrical hybrid system in top-class American racing.
HPD was already testing the 2.4L version for IndyCar when the series pulled the plug. Based on Salter comments below, it sounds like he does not expect to ever design a new engine for IndyCar.
"In the back of our mind, we thought this might be the last one that we really make for racing, I don't know," said Salters. "Among the brief I gave our boys and girls, it was 'let's do the best we can because it may be the last one we put pen to paper on for real racing' – it'll be interesting to see what happens.
"It was always in our mind that we wanted to celebrate all the efforts and learnings that we'd gathered and try to put it all together. A very wise team owner once told me that two years is a very long time in motorsport, so it could all change, and the world is changing very quickly.
"And these cars certainly look like the future, which is quite amazing."
"The easy thing would've been to lift the DPi engine and plonk it in the back of our LMDh, but that's not why we do this," he said. "I feel fortunate to work for Honda and Acura, we have our own factory with 200-odd people who deal with all sorts of programs, and we do this to challenge ourselves.
"We sat there with the rulebook and we asked ourselves what we could do to make the best racing car we can. My head of simulation spent the Christmas holidays two years ago doing loads of simulation and came back with a 100-page report on January 2 to say: 'This looks good!'
"We spent time looking around at what we might do, and what we may make, to make the best engine and package to go in that car. It turned out to be a lot of work, but it's been great fun.
"We gave our boys and girls a lot of freedom in the packaging and, honestly speaking, we took quite a lot of risk to try and make the nicest-packaged engine we could and I think we're very proud of that. We basically tried to make our lives as difficult as humanly possible, and off we went!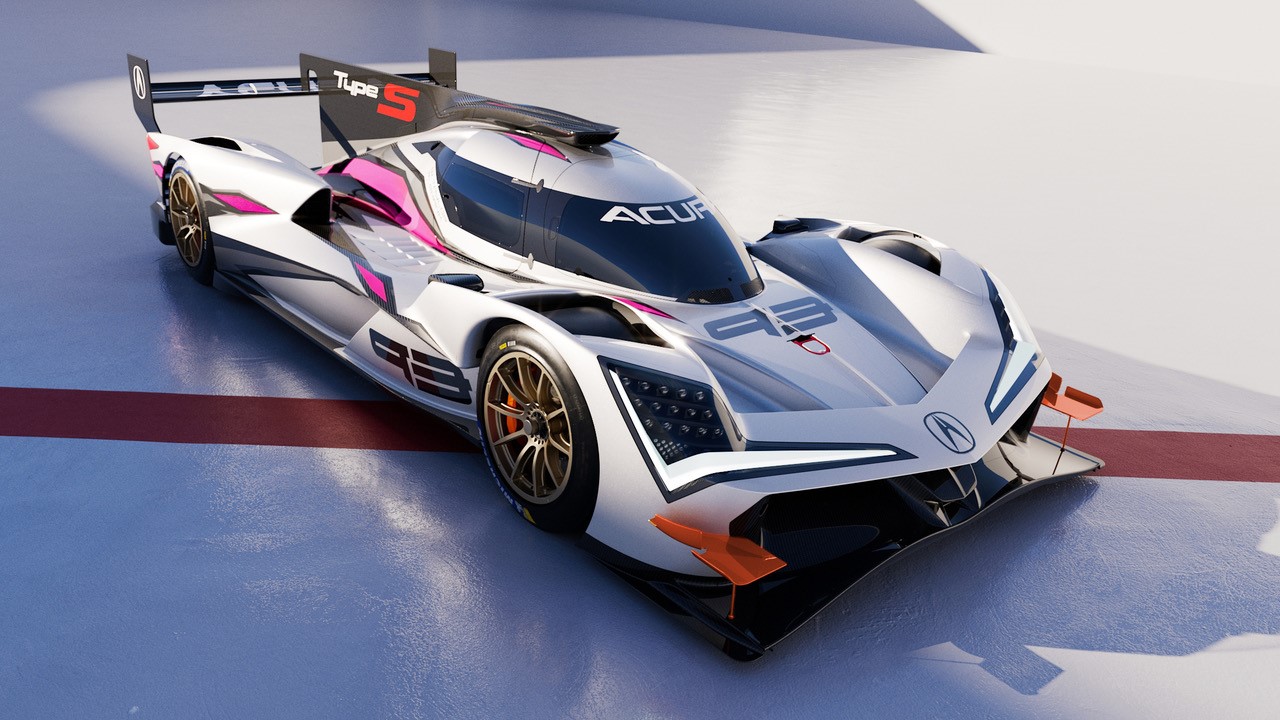 Powertrain
The Acura AR24e power unit was developed by Honda Performance Development to bring electrification to the Precision Crafted Performance of Acura's endurance sports car racing program.  The complete hybrid power unit is based around the Acura AR24e internal combustion engine (ICE), an all-new bespoke 2.4-lliter, twin-turbocharged direct injection racing V6 that was designed, developed and manufactured by HPD.
At 2.4 liters, this is the smallest displacement ICE conceived by HPD for endurance racing, yet still meets the performance target of 500 kW as measured at the rear axle by torque meters.  It features a 90-degree V-angle to reduce its center of gravity and polar moment of inertia. In addition, the combustion chamber has been designed to run on sustainable low-carbon fuel.
The hybrid power plant includes an IMSA-specified electric Bosch Motor Generator Unit (MGU) and Williams Advanced Engineering battery pack.  The MGU is contained in a common transmission casing and gearbox internals provided by Xtrac.  The battery, within the chassis survival cell, is built by Williams Advanced Engineering. The HPD Electrical Group completed both hardware and software development to best match the spec MGU and battery pack to the Acura ICE.
"We've taken the challenge presented by this new rule package from IMSA, and developed what we believe is a very competitive solution," said Pierre Descamps, who led HPD's powertrain design team for the ARX-06.  "We've gone in a new direction for HPD in the design of the ICE.  It is still a V6, which of course for Honda is well-known, but we have incorporated several new elements which we believe will make best use of the electric MGU and battery pack. Our new engine will rev to the maximum 10,000 rpm set by the rules, so it also makes a wonderful sound!"