Dakar Stage 5: Al-Attiyah and Price master grueling Stage
Nasser Al-Attiyah came out on top in a thrilling three-way scrap with Stéphane Peterhansel and Sébastien Loeb who crashed near the end to win stage five of the Dakar Rally.
The Toyota Gazoo Racing driver, alongside navigator Mathieu Baumel completed the second loop stage around Ha'il nearly two minutes clear of Peterhansel's Audi team-mate Carlos Sainz to extend his overall lead.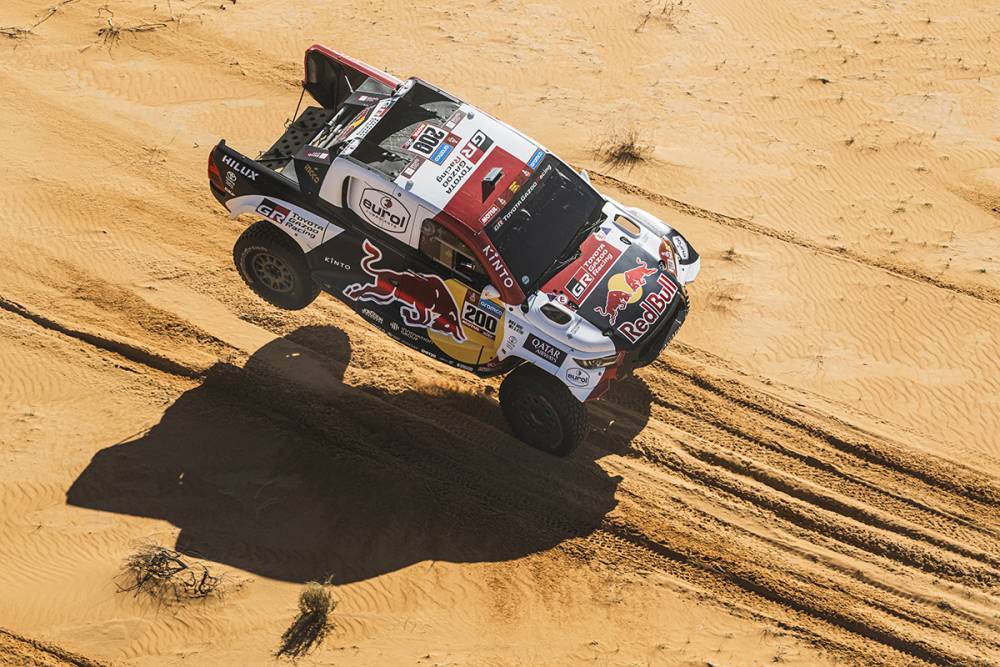 Peterhansel has now leapfrogged Overdrive Racing's Yazeed Al Rajhi to lie second to Al-Attiyah, although he and Edouard Boulanger are some 22 minutes adrift after what he described as "one of the hardest stages of my life".
The 52-year-old Qatari said: "It was a very tough stage. We tried to push like crazy and took a lot of risk. Now we're tired after pushing so much."
Loeb's challenge came to an abrupt end when he and Fabian Lurquin crashed 20km from the end of the stage, costing them 20 minutes following repairs.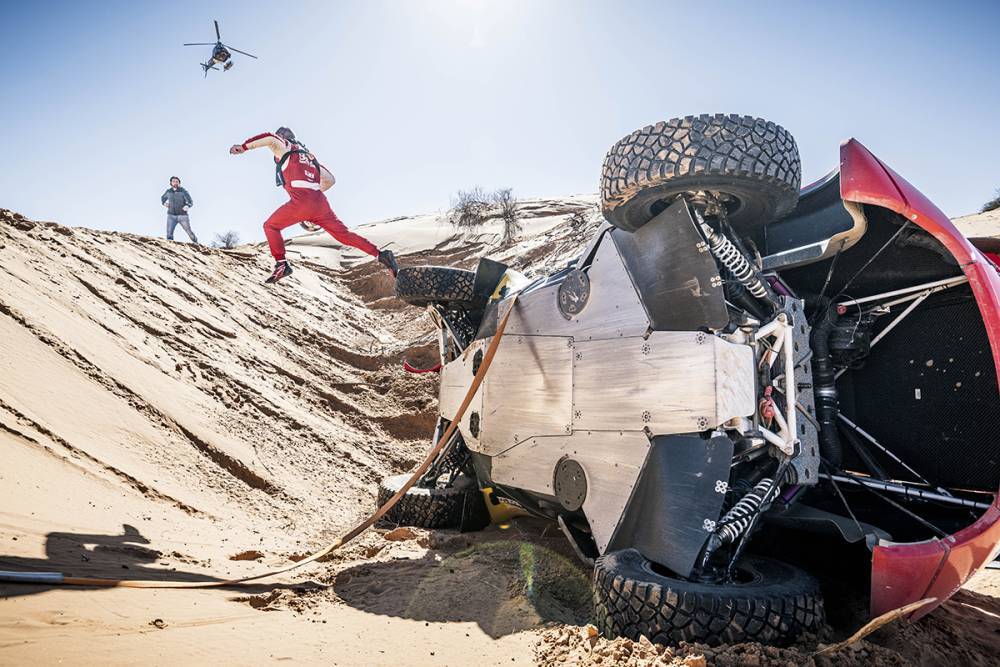 "Behind a blind dune, there was a hole behind it and when we arrived, because when we get to these kinds of dunes, you don't see anything behind it until you're on it, it was like 'woah', and we hit the left-front and it just sent us onto our side. I think we were doing a good stage, but I made a mistake when I get a big camel grass, so we lost some time," Loeb explained.
"It was horrible, physically it was really hard, violent event. There's a lot of stress in the neck and it really gets to you.
"There's a lot of camel grass; the bikes cut it down a bit and the first cars make a trace through, but we don't always go through it. It hits you from all sides, left and right, you go through the dips, double dips and then the camel grass."
Loeb's error allowed Sainz to move into second on the stage, having jumped past Peterhansel at the penultimate waypoint and eventually secure the runner-up position at the finish, despite suffering a slight neck injury after a heavy compression.
"It was a really demanding stage for the body," said Sainz. "I think I injured my neck a little bit in a compression, I hope it's not too bad tomorrow.
"We need to keep pushing, there's still a long way to go, so I hope we can carry and keep going until the end."
Bikes
American Skyler Howes is the new overall leader of the Dakar Rally in the Bikes after Adrien Van Beveren won the stage and Daniel Sanders lost well over 20 minutes.
Red Bull GasGas's Sanders went from top spot at the conclusion of Stage 4 to now sit eighth in the overall classification, 13:18s off the pace being set by the Husqvarna Factory Racing rider.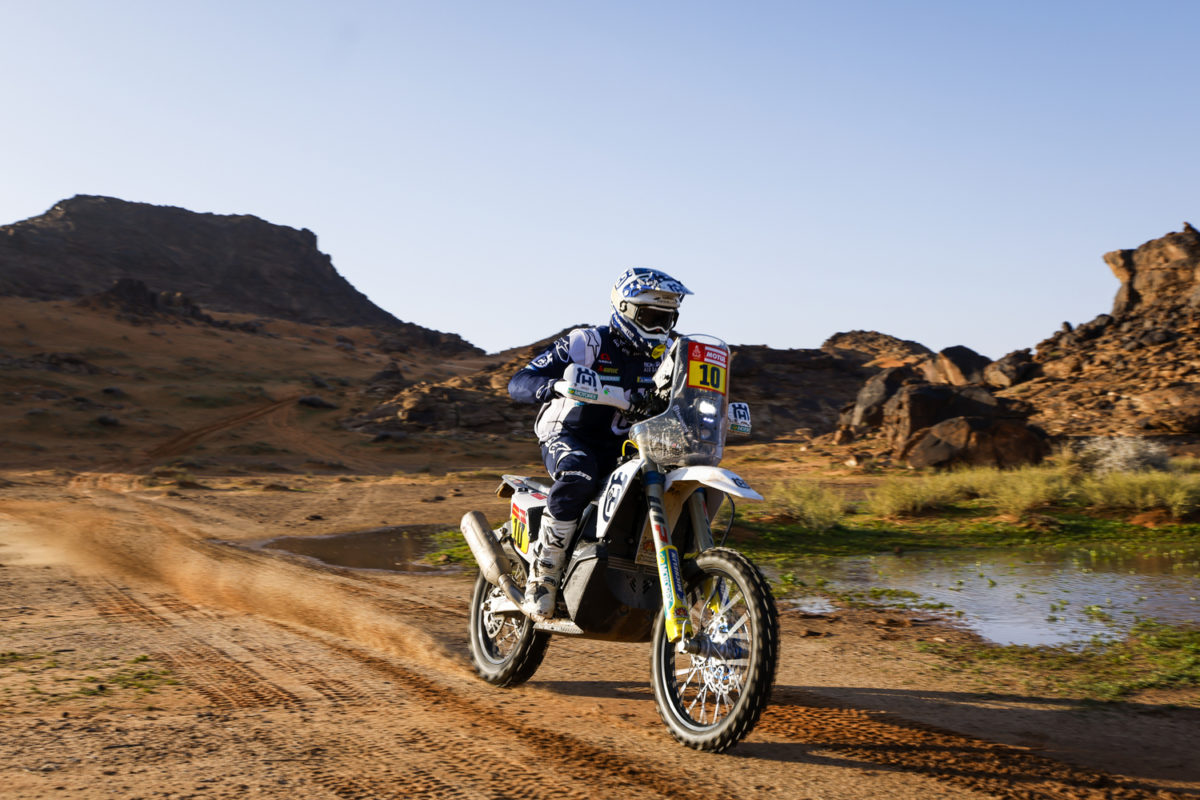 Only 2:20s covers a top four of Howes, Red Bull KTM's Kevin Benavides, BAS World KTM's Mason Klein, and Red Bull KTM's Toby Price, with Van Beveren's stage win moving the Monster Energy Honda pilot up to fifth overall.
Cars Standings Overall After Stage 5
| | | | | |
| --- | --- | --- | --- | --- |
| Pos | Driver | Co-driver | Team | Time/Gap |
| 1 | Nasser Al-Attiyah | Mathieu Baumel | Toyota Gazoo Racing | 20:47:36 |
| 2 | Stéphane Peterhansel | Edouard Boulanger | Team Audi Sport | +0:22:36 |
| 3 | Yazeed Al Rajhi | Dirk von Zitzewitz | Overdrive Racing | +0:27:01 |
| 4 | Carlos Sainz | Lucas Cruz | Team Audi Sport | +0:34:52 |
| 5 | Henk Lategan | Brett Cummings | Toyota Gazoo Racing | +0:57:58 |
| 6 | Lucas Moraes | Timo Gottschalk | Overdrive Racing | +1:01:43 |
| 7 | Giniel De Villiers | Dennis Murphy | Toyota Gazoo Racing | +1:07:57 |
| 8 | Mattias Ekstrom | Emil Bergkvist | Team Audi Sport | +1:35:56 |
| 9 | Martin Prokop | Viktor Chytka | Orlen Benzina Team | +1:52:05 |
| 10 | Romain Dumas | Max Delfino | Rebellion Racing | +1:52:10 |
Bikes Standings Overall After Stage 5
| | | | | |
| --- | --- | --- | --- | --- |
| Pos | Rider | Nat | Team | Time/Gap |
| 1 | Skyler HOWES | USA | Husqvarna Factory Racing | 23:16:37 |
| 2 | Toby PRICE | AUS | Red Bull KTM Factory Racing | +0:02:07 |
| 3 | Kevin BENAVIDES | ARG | Red Bull KTM Factory Racing | +0:05:16 |
| 4 | Mason KLEIN | USA | BAS World KTM Racing Team | +0:06:12 |
| 5 | Adrien VAN BEVEREN | FRA | Monster Energy Honda Team | +0:08:54 |
| 6 | Joan BARREDA BORT | ESP | Monster Energy JB Team | +0:09:24 |
| 7 | Pablo QUINTANILLA | CHI | Monster Energy Honda Team | +0:10:26 |
| 8 | Daniel SANDERS | AUS | Red Bull GASGAS Factory Racing | +0:17:50 |
| 9 | Jose Ignacio CORNEJO FLORIMO | CHI | Monster Energy Honda Team | +0:22:04 |
| 10 | Luciano BENAVIDES | ARG | Husqvarna Factory Racing | +0:25:03 |