Dakar Stage 8: Loeb wins after Sainz Sr. penalized
Sebastien Loeb inherited victory from Carlos Sainz Sr. in Stage 8 of the 2023 Dakar Rally on Sunday, while Nasser Al-Attiyah consolidated his lead at the top of the standings.
Sainz had looked like he was going to win today's stage held between Al Duwadimi and Riyadh in Saudi Arabia, finishing 1m39s ahead of Loeb.
However, Sainz was handed a five-minute time penalty for speeding, stripping him of first place.
Thus Loeb won his 2nd stage of the 2023 Dakar Rally following his previous triumph on Wednesday.
Loeb finished 2m11s ahead of the Toyota of Al-Attiyah who maintains the overall lead.
The victory lifted Loeb to fourth overall but he remains almost two hours behind overall leader Nasser Al-Attiyah.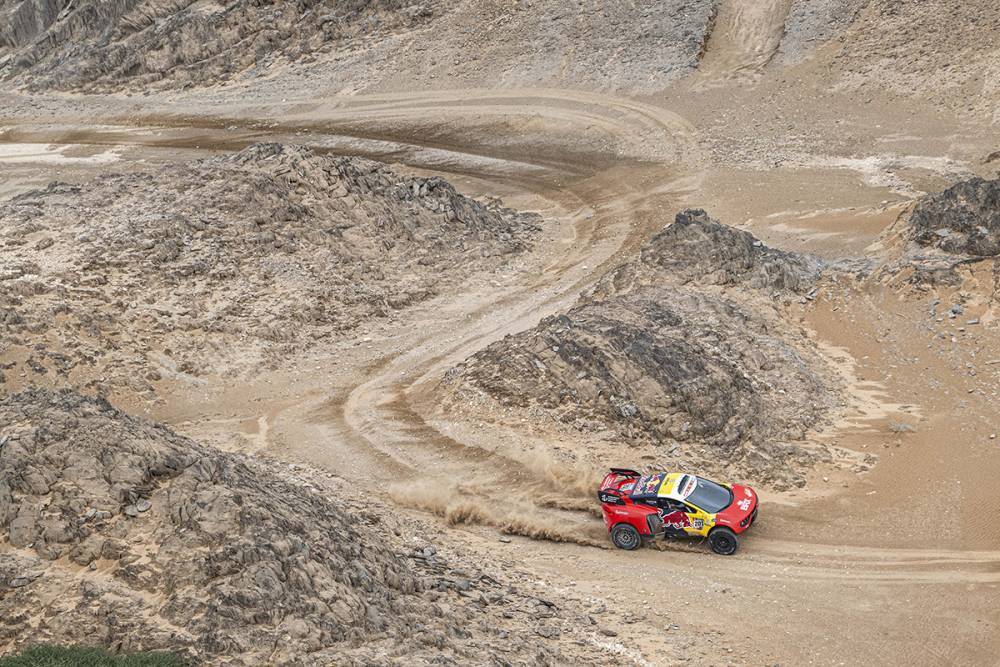 Henk Lategan was fourth in a Toyota at 4min 53sec to tighten his grip on second place but the South African fell 1hr 3min 46sec behind the leader.
Brazilian Lucas Morais is third in another Toyota at 1:20.22 with Loeb fourth, 1:52.06 off first.
Bikes
In the Bikes category, American Mason Klein was demoted from the motorbikes overall lead after his own penalty for speeding.
Fellow American Skyler Howes regained the overall lead, and Klein was now tied for second with Kevin Benavides, just 13 seconds behind.
Klein was penalized for speeding on a road section and dropped to third, 18 seconds behind Daniel Sanders.
The penalty also cost Klein the overall lead and handed the Stage 8 victory to Ross Branch.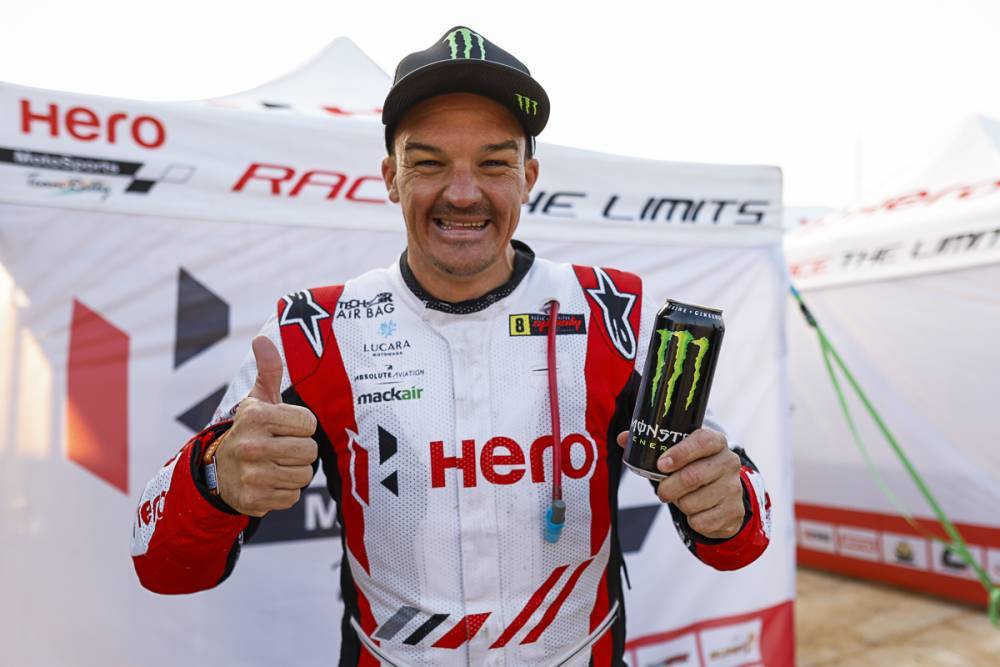 Howes, 17th on the stage, was awarded the lead for a fourth straight day, but only 73 seconds ahead of Klein and Benavides, the 2021 champion.
Two-time champion Toby Price, two-time runner-up Pablo Quintanilla and Adrien van Beveren, fourth last year, were all within four minutes of Howes.
Rest Day
Monday is a rest day for all competitors
Car Overall Standings after Stage 8:
| | | | |
| --- | --- | --- | --- |
| Pos | Driver | Car | Time/Behind |
| 1 | Nasser Al-Attiyah | Toyota | 31hr02m58s |
| 2 | Henk Lategan | Toyota | +1hr03m46s |
| 3 | Lucas Moraes | Toyota | +1hr20m22s |
| 4 | Sebastien Loeb | Prodrive | +1hr52m06s |
| 5 | Giniel de Villiers | Toyota | +2hr04m20s |
| 6 | Romain Dumas | Rebellion | +2hr27m11s |
| 7 | Martin Prokop | Benzina | +2hr37m00s |
| 8 | Brian Baragwanath | Century | +2hr42m06s |
| 9 | Wei Han | SMG | +3hr15m03s |
| 10 | Juan Cruz Yacopini | Toyota | +3hr40m22s |
Bikes Overall Standings after Stage 8
| | | | | |
| --- | --- | --- | --- | --- |
| Pos. | No. | Rider | Team | Time/Behind |
| 1 | 10 | (USA) Skyler Howes | Husqvarna Factory Racing | 30h 34m16s |
| 2 | 47 | (Arg) Kevin Benavides | Red Bull KTM Factory Racing | +0h 00m13s |
| 3 | 9 | (USA) Mason Klein | Bas World KTM Racing Team | +0h 00m13s |
| 4 | 8 | (AUS) Toby Price | Red Bull KTM Factory Racing | +0h 01m58s |
| 5 | 7 | (CHL) Pablo Quintanilla | Monster Energy Honda Team | +0h 02m45s |
| 6 | 42 | (FRA) Adrien Van Beveren | Monster Energy Honda Team | +0h 02m49s |
| 7 | 18 | (AUS) Daniel Sanders | Red Bull Gasgas Factory Racing | +0h 07m03s |
| 8 | 5 | (ESP) Joan Barreda Bort | Monster Energy JB Team | +0h 07m21s |
| 9 | 11 | (CHL) Jose Ignacio Cornejo Florimo | Monster Energy Honda Team | +0h 19m32s |
| 10 | 52 | (AUT) Matthias Walkner | Red Bull KTM Factory Racing | +0h 22m35s |