Dakar Stage 10: Loeb wins again, Nasser Al-Attiyah maintains lead
Sebastien Loeb completed a superb hat-trick of stage wins for Bahrain Raid Xtreme Wednesday as the Dakar Rally 2023 ventured into the Empty Quarter in Saudi Arabia for the first time.
Loeb and Fabian Lurquin took their BRX Prodrive Hunter to a third successive victory on the 114km tenth stage from Haradh to Shaybah, with a mARGin of 3 mins 4 secs from the Audi of Mattias Ekstrom and Emil Bergkvist.
Loeb's 20thrDakar stage success was his fourth so far in this year's event and the fifth for BRX, coming just 24 hours after an impressive 1-2-3 finish by the Prodrive Hunters.
The result strengthened his grip on third place overall, as Nasser Al Attiyahrclocked the fourth fastest time on the day to finish it holding an outright lead of 1 hr 21 mins 34 secs in his Toyota over Brazil's Lucas Moraes.
Withra gap of less than 16 minutes to the Toyota of Moraes, Loeb will certainly have his sights on securing a second successive runner up spot in the Dakar over the four remaining stages.
While Al Attiyah is untouchable barring a major disaster, nine-time World Rally Champion Loeb will be looking to build on the current lead he holds in the 2023 World Rally-Raid Championship with more wins and maximum stage points before Saturday's finish in Dammam.
Bikes
Ross Branch won for the second time during stage 10 of the 2023 Dakar Rally. Unfortunately, Branch has lost so much time in previous stages that he has no hopes of winning the overall for the Hero Motorsports team. The main contenders played a cat and mouse game in a short stage where there was little to be gained, but much to lose. Skyler Howes took it easy and gave the provisional lead to Kevin Benavides. Howes now will start 18th on the Marathon stage tomorrow.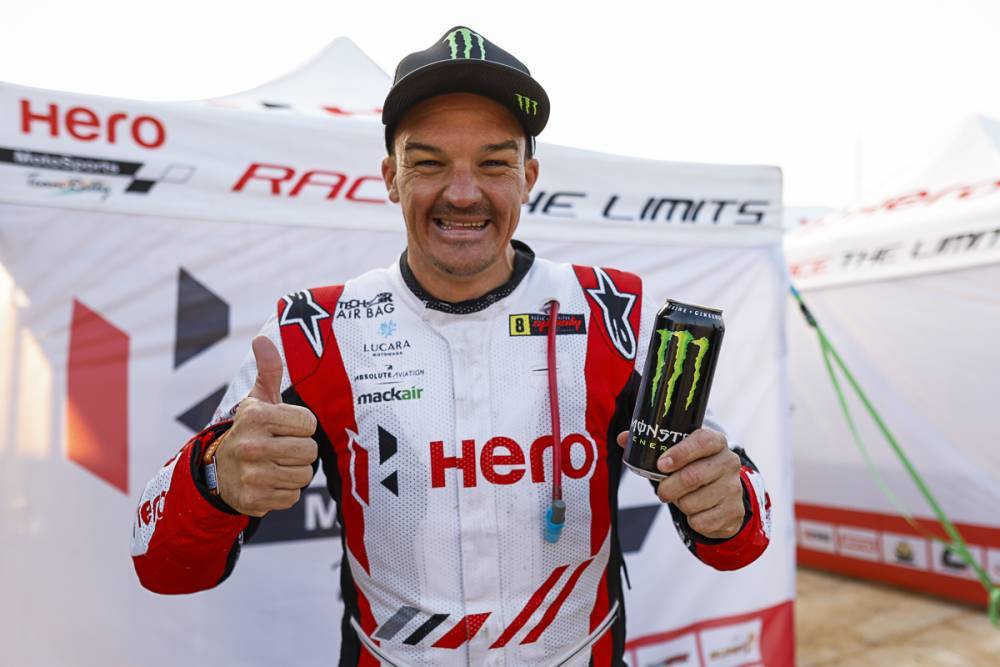 Skyler Howes: "Yeah, we knew what we were getting into coming into the Empty Quarter with all the dunes. But today, with the special being so short, I wanted to make sure I was in a good position to push on tomorrow's marathon stage. I took things a little easier today to get a feel for the dunes and just took things a little conservatively. I did have one awesome moment where I put on some style for the helicopter but messed up the landing. All was good though and now we have a much longer day of more dunes tomorrow – I'm looking forward to it."
Overall Cars Standings after Stage 10
| | | | |
| --- | --- | --- | --- |
| Pos | Driver | Car | Time/Behind |
| 1 | Nasser Al-Attiyah | Toyota | 36hr13m37s |
| 2 | Lucas Moraes | Toyota | +1hr21m34s |
| 3 | Sebastien Loeb | Prodrive | +1hr37m23s |
| 4 | Henk Lategan | Toyota | +1hr48m37s |
| 5 | Giniel de Villiers | Toyota | +2hr10m56s |
| 6 | Romain Dumas | Rebellion | +2hr45m24s |
| 7 | Martin Prokop | Benzina | +2hr50m02s |
| 8 | Brian Baragwanath | Century | +2hr56m28s |
| 9 | Wei Han | SMG | +3hr43m22s |
| 10 | Juan Cruz Yacopini | Toyota | +4hr00m35s |
Bikes Overall Standings after Stage 10
| | | | | |
| --- | --- | --- | --- | --- |
| Pos. | No. | Rider | Team | Time/Behind |
| 1 | 47 | (ARG) Kevin Benavides | Red Bull KTM Factory Racing | 35hr46m 06s |
| 2 | 10 | (USA) Skyler Howes | Husqvarna Factory Racing | +0hr01m 29s |
| 3 | 8 | (AUS) Toby Price | Red Bull KTM Factory Racing | +0hr02m 10s |
| 4 | 42 | (FRA) Adrien Van Beveren | Monster Energy Honda Team | +0hr09m 52s |
| 5 | 7 | (Chl) Pablo Quintanilla | Monster Energy Honda Team | +0hr14m 58s |
| 6 | 9 | (USA) Mason Klein | Bas World KTM Racing Team | +0hr15m 38s |
| 7 | 11 | (Chl) Jose Ignacio Cornejo Florimo | Monster Energy Honda Team | +0hr20m 42s |
| 8 | 77 | (ARG) Luciano Benavides | Husqvarna Factory Racing | +0hr21m 44s |
| 9 | 18 | (AUS) Daniel Sanders | Red Bull Gasgas Factory Racing | +0hr23m 40s |
| 10 | 52 | (Aut) Matthias Walkner | Red Bull KTM Factory Racing | +0hr39m 49s |