Dakar Stage 13: Loeb wins 6th straight, Al-Attiyah cruising at the front
Sebastien Loeb became the first driver in Dakar Rally history to score six consecutive stage wins after winning Stage 13 Saturday in Saudi Arabia. Sunday is the final stage.
Since winning Stage 8 Loeb has been untouchable in the cars category
Stage 13 was a short 96-mile special between Shaybah and Al-Hofuf.
Loeb's winning margin over overall leader Nasser Al-Attiyah was an impressive 5m28s because Al-Attiyah has an over 1-hour lead over Loeb and is stroking it to the finish, making sure he does not break his Toyota.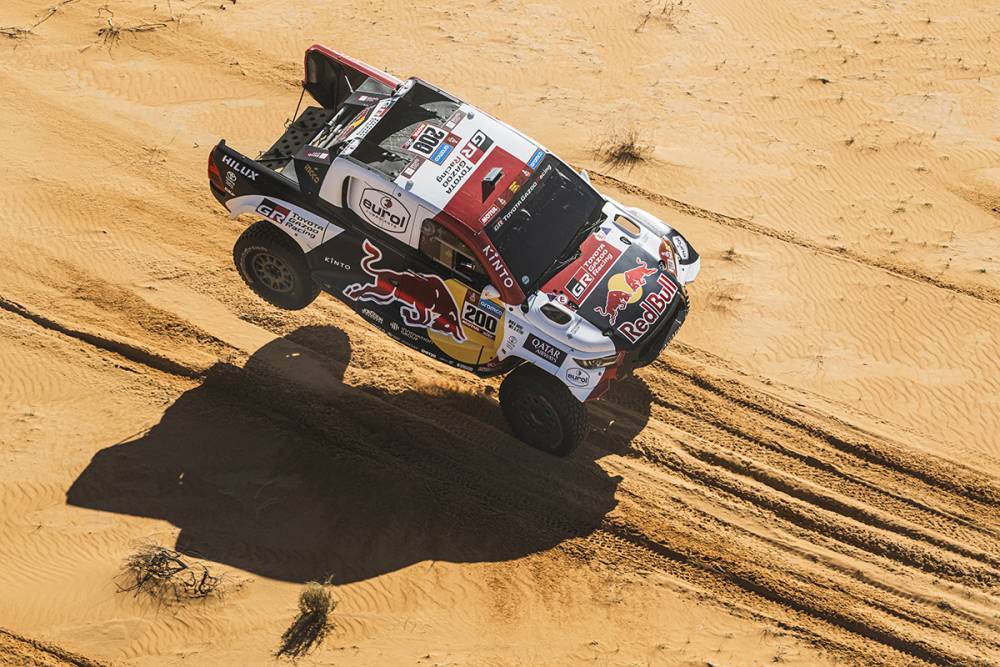 Bikes
Kevin Benavides won Stage 13 on his Red Bull KTM bike while Toby Price was 5th to keep his overall lead.
In addition to rising to first place on the day, the Red Bull KTM Factory Racing rider also moved up to second place in the overall standings.
Matthias Walkner was out of the race following a crash. At the time, he was fighting for the top five of the day, which he started ninth overall.
According to the official website of the Dakar, the Austrian from Red Bull KTM crashed at 55km of the timed section, remaining conscious. However, when the medical team arrived to assist him, he complained of back pain.
Cars Overall Standings after Stage 13
POS.
N0.
DRIVER/NAVIGATOR
TEAM
TIME/BEHIND
1
200
(QAT) NASSER AL-ATTIYAH

(FRA) MATHIEU BAUMEL

TOYOTA GAZOO RACING
43H 48′ 10"
2
201
(FRA) SEBASTIEN LOEB

(BEL) FABIAN LURQUIN

BAHRAIN RAID XTREME
+ 01H 21′ 42"
3
230
(BRA) LUCAS MORAES

(DEU) TIMO GOTTSCHALK

OVERDRIVE RACING
+ 01H 35′ 50"
4
205
(ZAF) GINIEL DE VILLIERS

(ZAF) DENNIS MURPHY

TOYOTA GAZOO RACING
+ 02H 30′ 44"
5
217
(ZAF) HENK LATEGAN

(ZAF) BRETT CUMMINGS

TOYOTA GAZOO RACING
+ 02H 38′ 20"
6
210
(CZE) MARTIN PROKOP

(CZE) VIKTOR CHYTKA

ORLEN BENZINA TEAM
+ 03H 39′ 13"
7
220
(ARG) JUAN CRUZ YACOPINI

(ESP) DANIEL OLIVERAS CARRERAS

OVERDRIVE RACING
+ 04H 25′ 42"
8
224
(CHN) WEI HAN

(CHN) MA LI

HANWEI MOTORSPORT TEAM
+ 04H 26′ 01"
9
209
(FRA) MATHIEU SERRADORI

(FRA) LOIC MINAUDIER

CENTURY RACING FACTORY TEAM
+ 04H 28′ 31"
10
212
(ARG) SEBASTIAN HALPERN

(ARG) BERNARDO GRAUE

X-RAID MINI JCW TEAM
+ 04H 46′ 26"
Bikes Overall Standings after Stage 13
| | | | | |
| --- | --- | --- | --- | --- |
| POS. | NO. | RIDER | TEAM | TIME/BEHIND |
| 1 | 8 | (AUS) TOBY PRICE | RED BULL KTM FACTORY RACING | 43H 11′ 51" |
| 2 | 47 | (ARG) KEVIN BENAVIDES | RED BULL KTM FACTORY RACING | + 00H 00′ 12" |
| 3 | 10 | (USA) SKYLER HOWES | HUSQVARNA FACTORY RACING | + 00H 01′ 31" |
| 4 | 42 | (FRA) ADRIEN VAN BEVEREN | MONSTER ENERGY HONDA TEAM | + 00H 15′ 51" |
| 5 | 7 | (CHL) PABLO QUINTANILLA | MONSTER ENERGY HONDA TEAM | + 00H 15′ 59" |
| 6 | 77 | (ARG) LUCIANO BENAVIDES | HUSQVARNA FACTORY RACING | + 00H 18′ 29" |
| 7 | 18 | (AUS) DANIEL SANDERS | RED BULL GASGAS FACTORY RACING | + 00H 22′ 34" |
| 8 | 11 | (CHL) JOSE IGNACIO CORNEJO FLORIMO | MONSTER ENERGY HONDA TEAM | + 00H 28′ 28" |
| 9 | 15 | (ESP) LORENZO SANTOLINO | SHERCO FACTORY | + 01H 10′ 28" |
| 10 | 33 | (ARG) FRANCO CAIMI | HERO MOTOSPORTS TEAM RALLY | + 01H 30′ 12" |