Dakar Final Stage: Qatar's Al-Attiyah wins Dakar for fifth time
In what was already a foregone conclusion in the Car category, Qatar's Nasser Al-Attiyah won the Dakar Rally car crown for the fifth time on Sunday while Argentine KTM rider Kevin Benavides triumphed on two wheels to take his second title in Saudi Arabia.
Al-Attiyah, the reigning champion for Toyota with co-driver Mathieu Baumel, finished the final 14th stage to Dammam on the Gulf coast with a lead of an hour and 20 minutes over France's nine-times world rally champion Sebastien Loeb.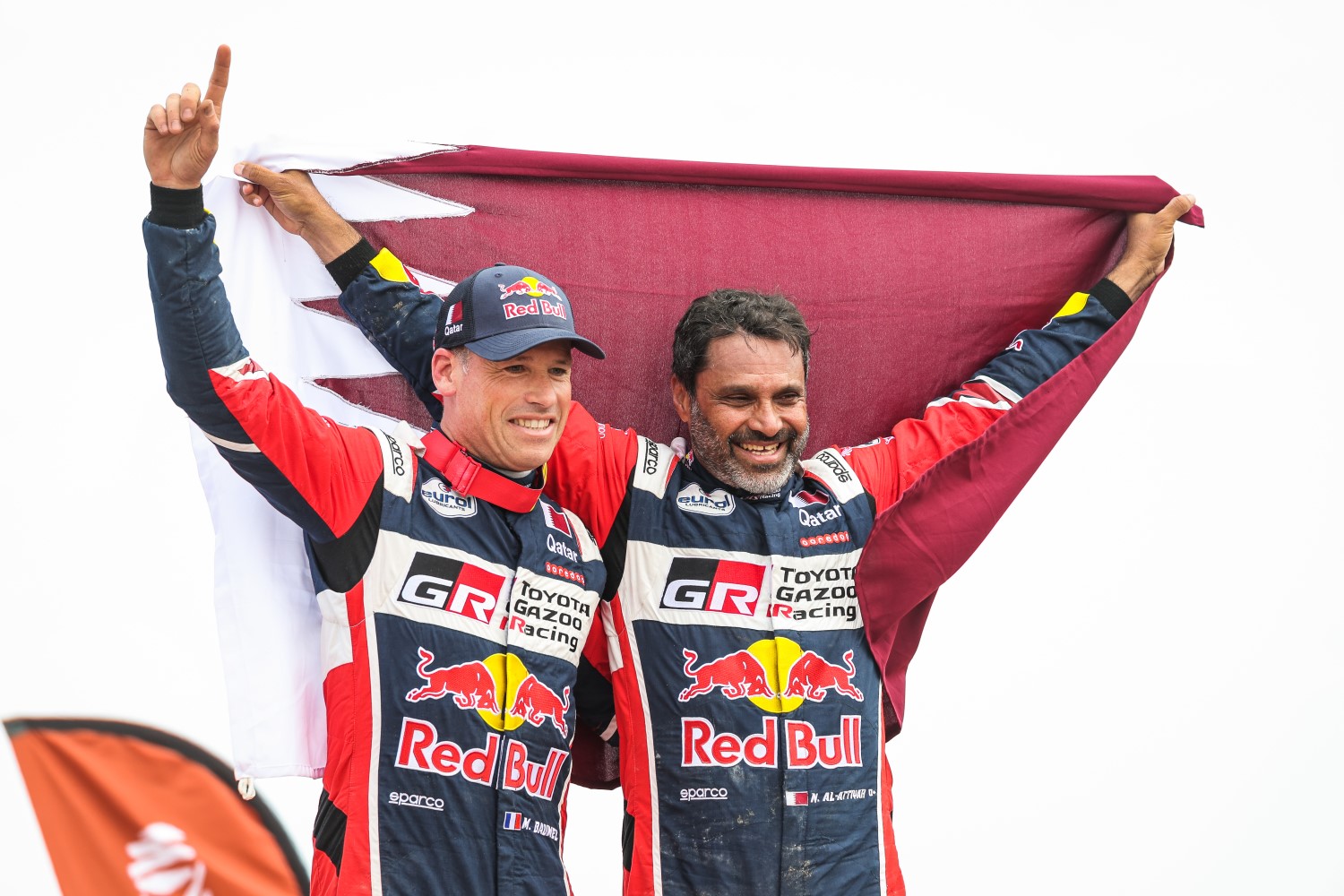 The Qatari, who led from stage three as rivals hit trouble, now ranks second in the list of all-time winners in the car category behind eight times champion Stephane Peterhansel of France.
Audi driver Guerlain Chicherit won the final stage 14 after his Audi teammate Sebastian Loeb had won the previous six stages in a row.
Benavides beat Australian Toby Price, also a double Dakar champion who had started the day 12 seconds clear, by 43 seconds after winning the final sprint to victory.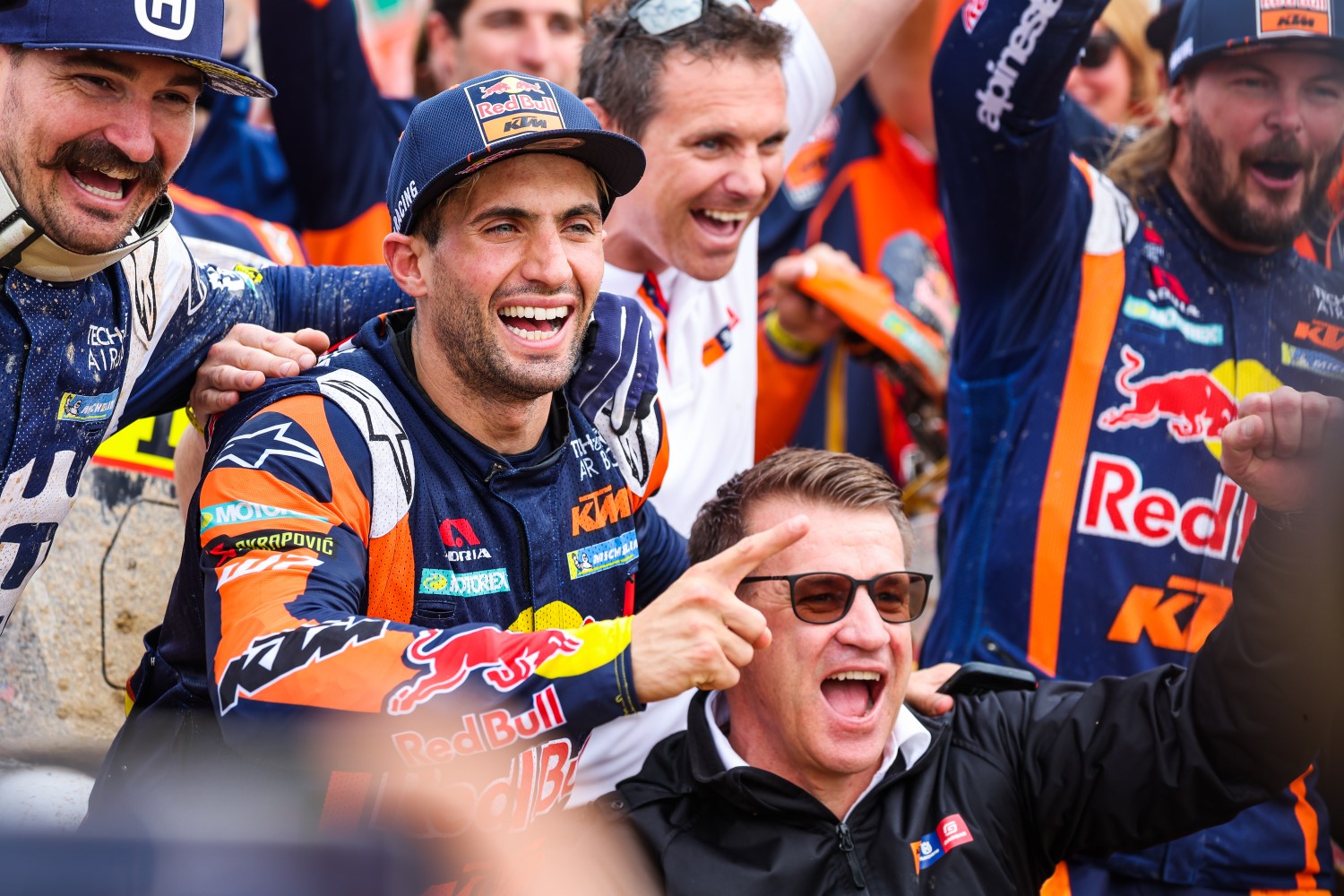 American Skyler Howes finished third overall for the Husqvarna factory team.
"The first point is disappointment. We've come so far, but look, Kevin's done a great job," said Price, who had to turn back for two missed waypoints that cost him the race.
"Hard to take at the moment, but at the end of the day I'm going home in one piece and we got a Dakar trophy. It hurts a little bit."
Frenchman Alexandre Giroud won the quadbike title for the second year in a row.
Car Category Final Top-10 Standings
| | | | |
| --- | --- | --- | --- |
| Pos | Driver | Car | TimeBehind |
| 1 | Nasser Al-Attiyah | Toyota | 45hr03m15s |
| 2 | Sebastien Loeb | Prodrive | +1hr20m49s |
| 3 | Locas Moraes | Toyota | +1hr38m31s |
| 4 | Giniel de Villiers | Toyota | +2hr31m12s |
| 5 | Henk Lategan | Toyota | +2hr36m23s |
| 6 | Martin Prokop | Benzina | +3hr40m44s |
| 7 | Juan Cruz Yacopini | Toyota | +4hr27m09s |
| 8 | Wei Han | SMG | +4hr29m38s |
| 9 | Sebastian Halpern | Mini | +4hr42m38s |
| 10 | Guerlain Chicherit | Prodrive | +5hr22m10s |
Bike Category Final Top-10 Standings
| | | | | | |
| --- | --- | --- | --- | --- | --- |
| Pos. | No. | Nat | Drive-Team | Team | Time/Behind |
| 1 | 47 | (ARG) | Kevin Benavides | Red Bull KTM Factory Racing | 44h 27m 20s |
| 2 | 8 | (AUS) | Toby Price | Red Bull KTM Factory Racing | +0hr00m 43s |
| 3 | 10 | (USA) | Skyler Howes | Husqvarna Factory Racing | +0hr05m 04s |
| 4 | 7 | (CHL) | Pablo Quintanilla | Monster Energy Honda Team | +0hr19m 02s |
| 5 | 42 | (FRA) | Adrien Van Beveren | Monster Energy Honda Team | +0hr20m 30s |
| 6 | 77 | (ARG) | Luciano Benavides | Husqvarna Factory Racing | +0hr22m 42s |
| 7 | 18 | (AUS) | Daniel Sanders | Red Bull Gasgas Factory Racing | +0hr25m 57s |
| 8 | 11 | (CHL) | Jose Ignacio Cornejo Florimo | Monster Energy Honda Team | +0hr51m 21s |
| 9 | 15 | (ESP) | Lorenzo Santolino | Sherco Factory | +1h 17m 53s |
| 10 | 33 | (ARG) | Franco Caimi | Hero Motosports Team Rally | +1h 38m 04s |