Automotive: Honda surpasses 30 million vehicles produced in USA
Honda began U.S. auto production 40 years ago at the Marysville Auto Plant (MAP) in Ohio
Eight Honda auto facilities in the U.S. have contributed to the 30 million production milestone
Honda has invested $16 billion in its U.S. auto manufacturing facilities, employing almost 17,000 associates
After 40 years of manufacturing* automobiles in the U.S., Honda today marked the 30 million vehicle production milestone at the company's auto manufacturing facilities in Alabama, Georgia, Indiana and Ohio.
Honda began production of the Honda Accord at the Marysville Auto Plant (MAP) in Ohio on November 1, 1982, the first Japanese automaker to produce cars in the U.S.  Since that time, Honda has invested $16 billion in Honda manufacturing facilities in the U.S. that support auto production and, in 2022, over two-thirds of all Honda and Acura vehicles sold in America were made in the U.S.
"We recently celebrated 40 years of manufacturing autos in the U.S. and reaching this 30 million milestone is the direct result of our associates, past and present, who made this significant achievement possible," said Bob Schwyn, senior vice president of Honda Development & Manufacturing of America, LLC. "This accomplishment reflects the commitment of Honda associates to serve our customers, who spur our creativity to make the high-quality products we know they will love."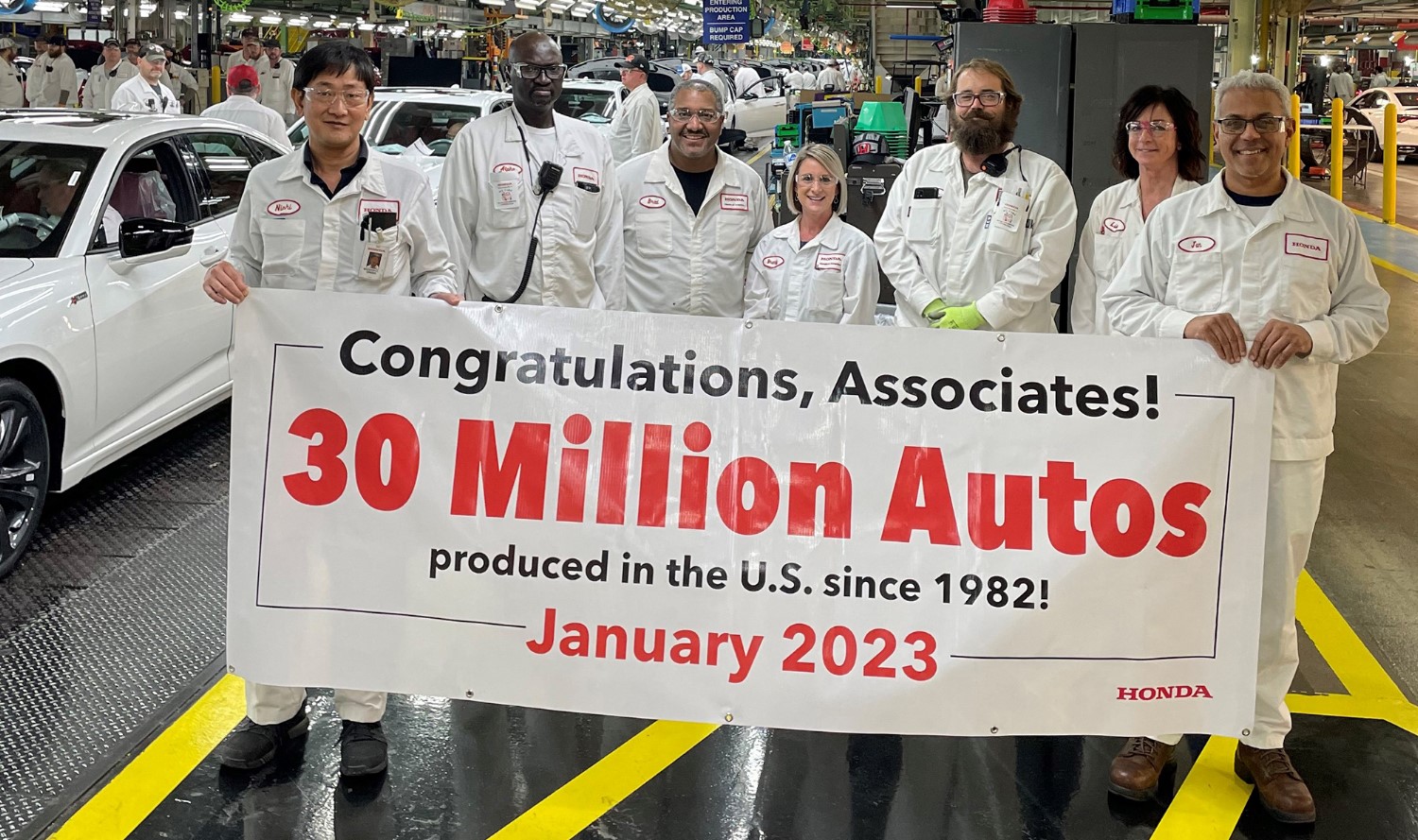 Twelve Honda and Acura cars and light trucks, including hybrid versions of the Honda Accord and CR-V, are currently produced at the company's five auto plants in Alabama, Indiana and Ohio. The engines, transmissions and two-motor hybrid systems that power these vehicles are produced in Ohio, Alabama and Georgia. Honda employs almost 17,000 associates at the eight production facilities that contribute to the annual production capacity of 1.3 million vehicles.
Looking toward the electrified future, Honda recently announced two major investments to establish an "EV Hub" in Ohio, including $700 million to re-tool several of its existing auto and powertrain plants for production of electric vehicles and a $3.5 billion joint investment with LG Energy Solution (LGES) to establish a joint venture battery facility in Ohio.
The $700 million investment will transform Honda's Marysville Auto Plant (MAP), East Liberty Auto Plant (ELP) and Anna Engine Plant (AEP) for the electrified future, including the creation of over 300 new jobs. These Honda facilities, along with the new EV battery plant, will serve as a new EV hub in Ohio, and play a key role in developing the company's knowledge and expertise in EV production that will be shared across Honda's North American auto production network in the coming years.
Honda also recently announced plans to produce fuel cell electric vehicles at the company's Performance Manufacturing Center in Ohio.
As part of its goal to achieve carbon neutrality for all products and corporate activities by 2050, Honda announced a vision to make battery-electric and fuel cell electric vehicles represent 100% of its vehicle sales by 2040 in North America.
Honda Auto Manufacturing Plants in the U.S.
The following is a look at each Honda auto production facility in the U.S.:
Plant

Production Started

Models Produced

Investment

Employment

Annual Capacity

Alabama Auto Plant

2001

Honda Odyssey, Passport, Pilot, Ridgeline and Engines

$3 billion

4,500

340,000 vehicles
340,000 engines

Anna Engine Plant (Ohio)

1985

Engines

$2.8 billion

2,300

1,180,000
engines

East Liberty Auto Plant (Ohio)

1989

Honda CR-V and CR-V hybrid and Acura RDX and MDX

$1.9 billion

2,500

240,000

Indiana Auto Plant

2008

Honda Civic Hatchback and CR-V

$1.3 billion

2,500

250,000

Marysville Auto Plant (Ohio)

1982

Honda Accord, Accord hybrid Acura TLX and Type S and Integra

$5.4 billion

3,500

440,000

Performance Manufacturing Center (Ohio)

2016

Acura TLX Type S PMC Edition

$70 million

100

Build-to-Order

Transmission Plant Georgia

2006

Transmissions

$475 million

400

375,000
automatic
transmissions

Transmission Plant Ohio

1996

Transmissions and two-motor hybrid unit

$1 billion

1,000

1 million
transmissions
198,000 hybrid power systems
Honda Manufacturing in America
Honda has been producing automobiles in America for over 40 years, beginning in November 1982 with the start of automobile production at the Marysville Auto Plant.
In 2022, over two-thirds of all Honda and Acura automobiles sold in the U.S. were made in America, using domestic and globally sourced parts. Honda's cumulative auto production in America now exceeds 30 million vehicles.
Honda established manufacturing operations in America in 1979 with the start of motorcycle production in Marysville, Ohio, and today has one of the largest and most diverse U.S. manufacturing footprints of any international company. The company's 12 plants employ more than 22,000 associates in America, supporting operations that have an annual capacity of more than 1.27 million automobiles, 1.52 million engines, 500,000 power equipment products and 300,000 powersports products, as well as the HondaJet advanced light jet and GE Honda HF120 turbofan engines.
Cumulatively, Honda has invested $19 billion in its U.S. manufacturing operations, including more than $3.2 billion over the past five years alone. The company also works with over 600 U.S. original equipment suppliers, with U.S.-sourced parts purchases of $23.1 billion in 2021 and approximately $470 billion since 1979.