IMSA: Meyer Shank Acura tops opening test session for Rolex 24
The No. 60 Meyer Shank Racing Acura ARX-06 of Colin Braun led the way in the opening session at the Roar Before the Rolex 24.
Braun reeled off a quick lap of 1:35.635 to edge out the No. 7 Porsche Penske Motorsport Porsche 963 of Felipe Nasr by 0.141 seconds in the 90-minute session at Daytona International Speedway.
Ricky Taylor made it two Acuras in the top three, thanks to a 1:35.803 lap in the No. 10 Wayne Taylor Racing with Andretti Autosport entry, which was just 0.005 seconds quicker than Nick Yelloly in the No. 25 BMW M Team RLL entry.
LMP2 was led by the No. 52 PR1/Mathiasen Motorsports Oreca 07 Gibson of Alex Quinn, who recorded a 1:39.167 lap while Cameron Shields was quickest in LMP3 in the No. 38 Performance Tech Motorsports Ligier JS P320 Nissan.
Aston Martin Vantage GT3s went 1-2-3 in GTD Pro.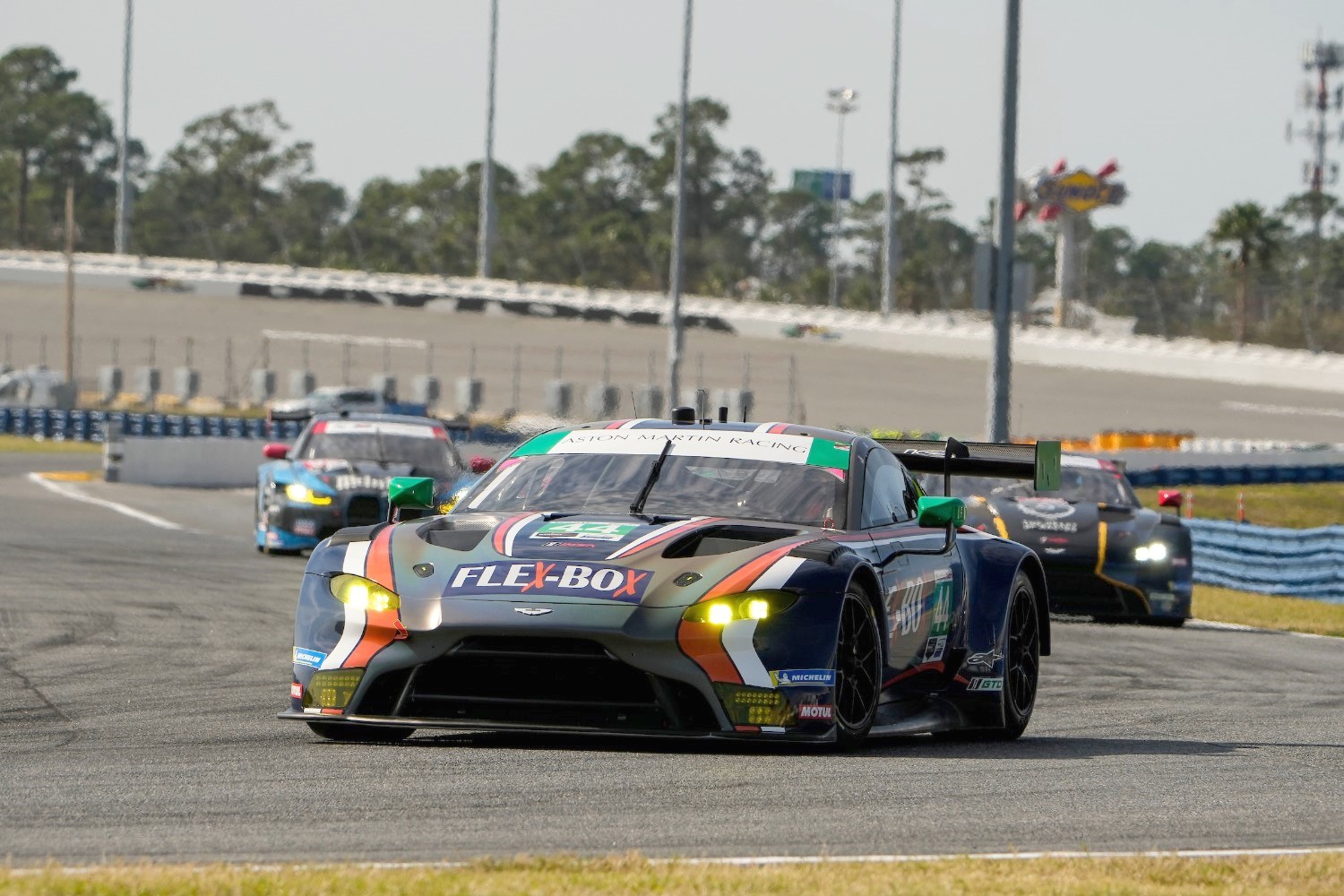 The second and final WeatherTech Championship session of the day gets underway at 4:15 p.m. ET and runs through 6 p.m.
Test Session 1 Results
Pos

Pic

No.

Class

Drivers*

Team

Car

Time

Gap Mph

1

1

60

GTP

T. Blomqvist / C. Braun

H. Castroneves / S. Pagenaud

Meyer Shank Racing w/ Curb Agajanian

Acura ARX-06

1:35.635

– – 134.009

2

2

7

GTP

M. Campbell / F. Nasr

M. Christensen

Porsche Penske Motorsports

Porsche 963

1:35.776

+0.141 +0.141 133.812

3

3

10

GTP

R. Taylor / F. Albuquerque

L. Deletraz / B. Hartley

Konica Minolta Acura ARX-06

Acura ARX-06

1:35.803

+0.168 +0.027 133.774

4

4

25

GTP

C. De Phillippi / N. Yelloly

S. van der Linde / C. Herta

BMW M Team RLL

BMW M Hybrid V8

1:35.808

+0.173 +0.005 133.767

5

5

6

GTP

M. Jaminet / N. Tandy

D. Cameron

Porsche Penske Motorsports

Porsche 963

1:35.907

+0.272 +0.099 133.629

6

6

24

GTP

P. Eng / A. Farfus

M. Wittmann / C. Herta

BMW M Team RLL

BMW M Hybrid V8

1:36.283

+0.648 +0.376 133.107

7

7

02

GTP

E. Bamber / A. Lynn

R. Westbrook

Cadillac Racing

Cadillac V-LMDh

1:36.684

+1.049 +0.401 132.555

8

8

01

GTP

S. Bourdais / R. van der Zande

S. Dixon

Cadillac Racing

Cadillac V-LMDh

1:36.929

+1.294 +0.245 132.220

9

1

52

LMP2

B. Keating / P. Chatin

A. Quinn / N. Lapierre

PR1 Mathiasen Motorsports

ORECA LMP2 07

1:39.167

+3.532 +2.238 129.236

10

2

18

LMP2

D. Merriman / R. Dalziel

C. Rasmussen / O. Jarvis

Era Motorsport

ORECA LMP2 07

1:39.351

+3.716 +0.184 128.997

11

3

8

LMP2

J. Farano / S. McLaughlin

J. Newgarden / K. Simpson

Tower Motorsports

ORECA LMP2 07

1:39.594

+3.959 +0.243 128.682

12

4

51

LMP2

E. Lux / D. Defrancesco

A. Cindric / P. Fittipaldi

Rick Ware Racing

ORECA LMP2 07

1:40.346

+4.711 +0.752 127.718

13

5

55

LMP2

Poordad / F. Pizzi / J. Allen

Bruni

Proton Competition

ORECA LMP2 07

1:40.353

+4.718 +0.007 127.709

14

6

35

LMP2

F. Heriau / G. van der Garde

J. Pierson / J. Van Uitert

TDS Racing

ORECA LMP2 07

1:40.548

+4.913 +0.195 127.461

15

7

20

LMP2

D. Andersen / E. Jones

A. Fjordbach / R. Marciello

High Class Racing

ORECA LMP2 07

1:40.720

+5.085 +0.172 127.244

16

8

11

LMP2

S. Thomas / M. Jensen

S. Huffaker / R. VeeKay

TDS Racing

ORECA LMP2 07

1:40.814

+5.179 +0.094 127.125

17

9

88

LMP2

F. Perrodo / M. Vaxiviere

J. Canal / N. Nielsen

AF Corse

ORECA LMP2 07

1:40.923

+5.288 +0.109 126.988

18

10

04

LMP2

G. Kurtz / B. Hanley

M. McMurry / E. Gutierrez

Crowdstrike Racing by APR

ORECA LMP2 07

1:42.449

+6.814 +1.526 125.096

19

1

38

LMP3

J. DeAngelis / C. Allen

C. Bloum / C. Shields

Performance Tech Motorsports

Ligier JS P320

1:43.486

+7.851 +1.037 123.843

20

2

33

LMP3

L. Willsey / J. Barbosa / N. Pino

D. Soufi

Sean Creech Motorsport

Ligier JS P320

1:43.811

+8.176 +0.325 123.455

21

3

17

LMP3

A. Mantella / W. Boyd

N. Varrone / T. Merrill

AWA

Duqueine D08

1:43.853

+8.218 +0.042 123.405

22

4

13

LMP3

O. Fidani / M. Bell / L. Kern

M. Kranz

AWA

Duqueine D08

1:43.906

+8.271 +0.053 123.342

23

5

36

LMP3

J. Andretti / G. Chaves

D. Dickerson / R. Lindh

Andretti Autosport

Ligier JS P320

1:44.019

+8.384 +0.113 123.208

24

6

87

LMP3

Y. Kanamaru / A. Serravalle

N. Boulle / J. Vance

FastMD Racing

Duqueine D08

1:44.527

+8.892 +0.508 122.609

25

7

85

LMP3

T. Bechtolsheimer

T. van der Helm / L. Mars

M. Filippi

JDC Miller MotorSports

Duqueine D08

1:45.029

+9.394 +0.502 122.023

26

1

44

GTD

J. Potter / A. Lally / S. Pumpelly

N. Thiim

Magnus Racing

Aston Martin Vantage GT3

1:47.004

+11.369 +1.975 119.771

27

1

23

GTDPRO

R. Gunn / A. Riberas / D. Pittard

Heart of Racing Team

Aston Martin Vantage GT3

1:47.064

+11.429 +0.060 119.704

28

2

64

GTDPRO

T. Giovanis / H. Plumb

M. Plumb / O. Trinkler

TGM/TF Sport

Aston Martin Vantage GT3

1:47.228

+11.593 +0.164 119.521

29

3

14

GTDPRO

J. Hawksworth / B. Barnicoat

M. Conway

Vasser Sullivan

Lexus RC F GT3

1:47.308

+11.673 +0.080 119.432

30

2

93

GTD

A. Harrison / D. Formal

K. Marcelli / R. Briscoe

Racers Edge Motorsports with WTR

Acura NSX GT3

1:47.402

+11.767 +0.094 119.327

31

3

57

GTD

R. Ward / P. Ellis / I. Dontje

L. Auer

Winward Racing

Mercedes-AMG GT3

1:47.436

+11.801 +0.034 119.289

32

4

75

GTD

F. Schiller / A. Jefferies

Sun Energy 1

Mercedes-AMG GT3

1:47.566

+11.931 +0.130 119.145

33

5

12

GTD

A. Telitz / F. Montecalvo

K. Kirkwood / P. Thompson

VasserSullivan

Lexus RC F GT3

1:47.730

+12.095 +0.164 118.964

34

6

32

GTD

M. Skeen / M. Grenier / K. Koch

M. Goetz

Team Korthoff Motorsports

Mercedes-AMG GT3

1:47.733

+12.098 +0.003 118.960

35

7

21

GTD

S. Mann / L. Perez Companc

M. Molina / F. Castellacci

AF Corse

Ferrari 296 GT3

1:47.788

+12.153 +0.055 118.900

36

8

023

GTD

O. Triarsi / C. Scardina

A. Rovera / A. Bertolini

Triarsi Competizione

Ferrari 296 GT3

1:47.852

+12.217 +0.064 118.829

37

4

3

GTDPRO

A. Garcia / J. Taylor / T. Milner

Corvette Racing

Chevrolet Corvette C8.R GTD

1:47.954

+12.319 +0.102 118.717

38

9

19

GTD

R. Giammaria / F. Perera

C. Schiavoni / R. Ineichen

Iron Lynx

Lamborghini Huracan GT3 EVO2

1:47.988

+12.353 +0.034 118.680

39

5

95

GTDPRO

B. Auberlen / C. Hull

B. Spengler / J. Edwards

Turner Motorsport

BMW M4 GT3

1:48.102

+12.467 +0.114 118.554

40

6

63

GTDPRO

A. Caldarelli / M. Bortolotti

J. Pepper / R. Grosjean

Iron Lynx

Lamborghini Huracan GT3 EVO2

1:48.117

+12.482 +0.015 118.538

41

10

27

GTD

R. De Angelis / M. Sorensen

I. James / D. Turner

Heart of Racing Team

Aston Martin Vantage GT3

1:48.133

+12.498 +0.016 118.520

42

11

78

GTD

M. Goikhberg / L. Spinelli

B. Hites / M. Mapelli

US RaceTronics

Lamborghini Huracan GT3 EVO2

1:48.387

+12.752 +0.254 118.243

43

8

43

LMP3

S. Alvarez / A. Vogel

G. de Oliveira / D. Frost

MRS GT-Racing

Ligier JS P320

1:48.673

+13.038 +0.286 117.931

44

12

66

GTD

S. Monk / K. Legge

M. Farnbacher / M. Miller

Gradient Racing

Acura NSX GT3

1:48.905

+13.270 +0.232 117.680

45

13

42

GTD

D. Yount / J. Conwright / K. Li

A. Deledda

NTE Sport

Lamborghini Huracan GT3 EVO2

1:48.909

+13.274 +0.004 117.676

46

14

70

GTD

B. Iribe / F. Schandorff

O. Millroy / M. Kirchhofer

Inception Racing

McLaren 720S GT3

1:48.921

+13.286 +0.012 117.663

47

15

1

GTD

B. Sellers / M. Snow / C. Lewis

M. Martin

Paul Miller Racing

BMW M4 GT3

1:48.954

+13.319 +0.033 117.627

48

7

9

GTDPRO

Bachler / P. Pilet

Vanthoor

Pfaff Motorsports

Porsche 911 GT3 R (992)

1:49.080

+13.445 +0.126 117.491

49

16

96

GTD

P. Gallagher / R. Foley

M. Dinan / J. Klingmann

Turner Motorsport

BMW M4 GT3

1:49.229

+13.594 +0.149 117.331

50

9

74

LMP3

G. Robinson / F. Fraga

J. Burdon / G. van Berlo

Riley

Ligier JS P320

1:49.285

+13.650 +0.056 117.271

51

17

83

GTD

R. Frey / S. Bovy / M. Gatting

D. Pin

Iron Dames

Lamborghini Huracan GT3 EVO2

1:49.346

+13.711 +0.061 117.206

52

18

92

GTD

D. Brule / A. Udell / A. Davis

J. Bleekemolen

Kellymoss with Riley

Porsche 911 GT3 R (992)

1:49.851

+14.216 +0.505 116.667

53

19

53

GTD

M. Kvamme / T. Estep

J. Magnussen / J. Hart

MDK Motorsports

Porsche 911 GT3 R (992)

1:50.210

+14.575 +0.359 116.287

54

20

80

GTD

P. Hyett / S. Priaulx

G. Jeannette / H. Tincknell

AO Racing

Porsche 911 GT3 R (992)

1:50.282

+14.647 +0.072 116.211

55

8

79

GTDPRO

C. MacNeil / D. Juncadella

J. Gounon / M. Engel

WeatherTech Racing

Mercedes-AMG GT3

1:54.971

+19.336 +4.689 111.471

56

21

47

GTD

R. Lacorte / G. Sernagiotto

A. Fuoco / A. Balzan

CETILAR RACING

Ferrari 296 GT3

1:55.919

+20.284 +0.948 110.560

57

22

91

GTD

A. Metni / K. van Berlo

J. Evans / J. Andlauer

Kellymoss with Riley

Porsche 911 GT3 R (992)

1:59.119

+23.484 +3.200 107.590

58

23

16

GTD

R. Hardwick / J. Heylen

Z. Robichon / D. Olsen

Wright Motorsports

Porsche 911 GT3 R (992)

59

9

31

GTP

P. Derani / A. Sims / J. Aitken

Whelen Engineering Racing Cadillac V-LMDh

Cadillac V-LMDh