IMSA: Q&A with the Ganassi Cadillac team at Daytona
Cadillac Racing enters a new era of prototype sports car racing with the competition debut of the Cadillac V-LMDh in the Rolex 24 At Daytona. Three Cadillac V-LMDh race cars will attempt to secure the pole Jan. 22 for the 61st edition of the race on Jan. 28-29.
Chip Ganassi Racing owner Chip Ganassi, managing director Mike Hull, global director of operations Mike O'Gara, and drivers of the Nos. 01 and 02 Cadillac V-LMDh cars Sebastien Bourdais, Renger van der Zande, Scott Dixon, Earl Bamber, Alex Lynn and Richard Westbrook met the media at Daytona International Speedway.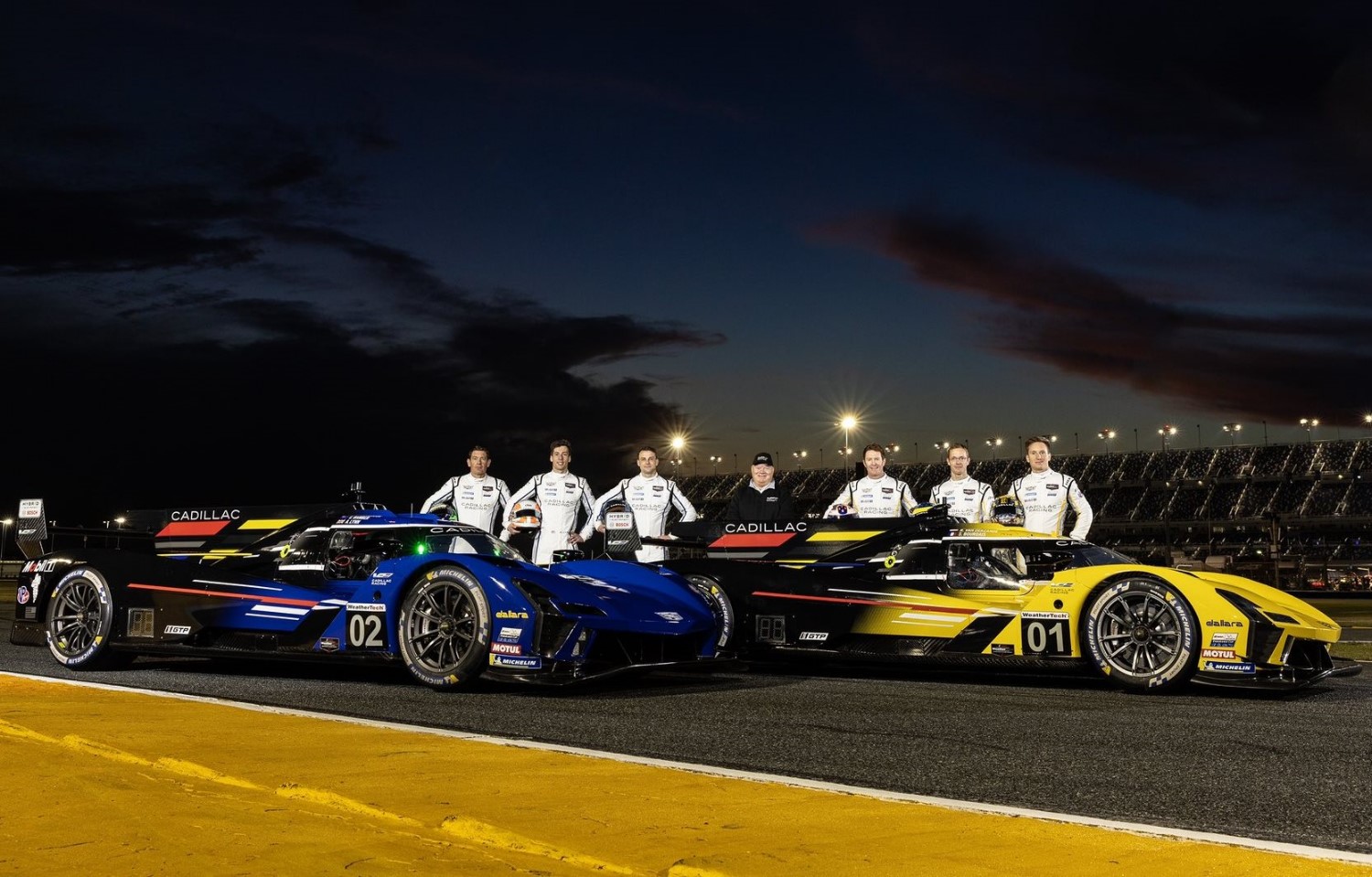 WHY HAS YOUR TEAM HAD SO MUCH SUCCESS HERE AT THE ROLEX 24 AND WHAT'S IT GOING TO TAKE TO ADD TO THAT NEXT WEEK?
Chip Ganassi: "I think when I look back on all of the wins we've had here, it's a combination of great people, great drivers, great cars, good people screwing the cars together, good people engineering them, good people, having the complete program. It's worked well for us over the years. This is obviously a new endeavor for a lot of people on pit lane this year. Everyone's having to change their way of thinking a little bit, the way they approach these practice sessions, the way we approach things like just understanding how to get the most out of the car with the little time you have in practice. These cars are very complex."
MIKE, CAN YOU SPEAK TO SOME OF THE COMPLEXITIES AND WHAT IT HAS BEEN LIKE FOR YOU TO WORK THROUGH THAT?
Mike Hull: "If we need to speak to the complexities, there's too many to mention. It's terrific to be racing in this category, GTP. The open wheel racing in the United States and closed wheel racing, sports car racing, in America, went through this period of time where there were two factions. They've come back together. IndyCar is starting to come out of the dilemma it was in finally, and sports car racing certainly is doing the same thing in a very positive way globally. I think what we're seeing here at Daytona is exactly what's going to happen for the future. This is like the down payment, what we're seeing this year. By 2025 or 2026, not only are you going to be fighting for 61 positions in the garage area and in pit lane, but the quality of the teams are going to be way, way higher than it is today. The complexity that we're dealing with today will be standard fare by then. Anytime that you start with a new race car, you forget all the things that you have to do to make it run. And so that's what we're all going through in any category that that happens.
"More importantly to that, and Chip said it, the two of us and Chip, and the drivers here, what we represent are 150 or 160 people that are working to make this a success at Daytona. It's all about those people, it always has been and always be at Chip Ganassi Racing. We're really happy about that. That's what creates results and goes back to what you said at the beginning about winning here multiple times. We've won with different people doing the same jobs. We've had one goal in common and that is to work together to win."
A COMPLEX PROGRAM FOR BOTH THE TEAM HERE AND IN THE UNITED STATES AS WELL AS FIA WORLD ENDURANCE CHAMPIONSHIP, MIKE, TALK ABOUT WHAT YOU GUYS ARE LOOKING AT AND WHAT YOU HAVE TO DO TO MANAGE THAT.
Mike O'Gara: There's loads of stuff to do right now. As we're here trying to focus on today, and the next ten days really, there are also bulletins and requests and things coming in to prepare for Sebring for the first WEC race. We have one-and-a-half eyes on Daytona and half an eye right now on making sure we don't miss anything for the WEC. We're trying to learn as much as we can about the car and what will be common between the two series, but also at the same time figuring out what's going to be unique for the WEC series. There may be some electronics, some aero bits, some things like that. We're trying to learn as much as we can. Every time we're on the racetrack, we're learning. This morning we took it slow a bit. One car was literally brand new, one car had just a few laps on it. We're really taking things bit by bit and making sure we do everything right and that we're prepared for Daytona. We just keep building on that for Sebring. Obviously, we will have two cars there, one in each paddock, then we sort of go our separate ways for the next race and join again later in the year. We're just trying to take it all in and make sure we have the right people in place to build on this thing for the next few years."
SCOTT, WHAT DO YOU ENJOY MOST ABOUT THIS RACE AND WHAT DOES IT TAKE TO WIN ONE OR MORE WATCH?
Scott Dixon: "I think it's always been an extremely fun race. I think for a lot of us, especially on the IndyCar side with slightly longer off-seasons, this year especially with all of the testing and prep with the new GTP car, it's been a lot of fun. For me, just this race. All of us are racecar drivers and once you get to race weekend and the 24-hour race, you're in the car and driving. That's the most fun part for me. Even from the start back in 2004, it was a very wet race. I think about 18 hours was going in the rain and we had like a stick with the wiper because we didn't have a defroster. Then we didn't have wipers, so a lot has changed since that first race. For me, to work with this group of people is always a lot of fun. I've got to thank Chip every year for allowing me to come along."
RENGER, TALK ABOUT THE DEVELOPMENT PROCESS AND WHAT THAT'S BEEN LIKE WITH THE NEW CAR?
Renger van der Zande: "It's a long offseason from the last race to Daytona but it's very short at the same time for the team, especially for building the car. I think all of the manufacturers would have said it would have been nice to start the year earlier than we did because you're still chasing stuff. As drivers, you're updated about it and give your feedback but at the same time you're just getting ready as a normal season. When you're sweating in a basement on a bad weather day and you're turning your laps in doing Daytona to get ready, those are the moments that where it really starts to come alive to say, 'let's go and try and win this one again.' It's the start of a season. It's a full season in IMSA again. This time it's nine races, and this the first race. You want to win the biggest one of the year but at the same time you want to focus on getting the season started nicely. Last year we didn't have a great first three races and we caught up many points and good results on the way to still finish third in the championship. I think it's going to be about reliability in this race and managing the package as a team, trying to get the most out of the package. Hopefully a reliable package, and then you can come a long way."
SEB, YOU'RE STARTING YOUR SECOND YEAR HERE WITH RENGER SHARING A CAR. TALK ABOUT THE RELATIONSHIP YOU GUYS ARE ABLE TO PUT TOGETHER STARTING LAST YEAR, AND WHAT THAT MEANS AS YOU HEAD INTO THIS YEAR?
Sebastien Bourdais: "We've had a really good run. We obviously had an up and down year last year. It was kind feast or famine, but with some really good runs and really good times. We very much enjoyed the whole relationship with Cadillac and bringing them those wins. We're just looking for a bit more consistency and really hoping that this year is the year. There has been a ton of work leading up to that moment here in Daytona to get ready and get the cars there. Every time there's a regulation change like that, you show up at Daytona, the hardest race of the year, it's a 24-hour race, and it's in January. Nobody feels ready, but you've got a job ahead and you have to make the best of it. Thanks for all of the efforts the team has done whether at Cadillac or at Ganassi. Looking forward to a great season, and it starts today."
EARL, YOU'VE WON LE MANS A COUPLE OF TIMES OVERALL. NOW YOU'RE IN A POSITION WITH THIS CAR TO WIN HERE OVERALL. WHAT WOULD THAT MEAN TO YOU?
Earl Bamber: "I think it's a really exciting opportunity to be able to come here and fight for overall wins. It's one race that's eluded me personally. Chip managed to beat us quite a few times for this one back in the day. It's amazing to be able to join this organization. Obviously, the most successful team on the grid to win these races, and to be able to come here and do it with Cadillac. I think what we're looking forward to as well in the WEC season, to go back to Le Mans with Cadillac to challenge for the overall victory is going to be something really, really special, and I think everyone's eyes are on that big race. I think it will be the first time for an American manufacturer to, if we can achieve our ultimate goal, the first time for an American manufacturer and I think that's what everyone wants to achieve with this program. We've got 160 people at the shop all with that common goal, so we're looking forward to it."
ALEX, WHAT DO YOU ENJOY MOST ABOUT THE ROLEX 24 HOURS AS YOU PREPARE FOR THE WEC SEASON ALSO?
Alex Lynn: "This is only my second one, but it has always been one I've really wanted to do for numerous reasons. The prestige of this race is what has always attracted me to it. What it represents in racing's history. If you can add a win here to your CV, it's another big rubber stamp on what you want. From my side, it's one I'm really motivated to win for many reasons, but certainly this one here in GTP would be really cool."
TALK ABOUT HOW EXCITED YOU ARE TO BE BACK WITH CHIP GANASSI RACING
Richard Westbrook: "I always felt like there was unfinished business with the team. When Chip called me back, I actually thought he butt-dialed me when I saw his name on my phone and it was ringing. It's just so good to be back. It felt natural to come back, and like I said, it felt like there was unfinished business. The program that we did before, it just felt too short. It was such a good time that we had. I'm back where I feel like I belong, and also back with General Motors (GM). I obviously had five successful years with GM, the Corvette GT program, and the Corvette DP program. Exciting times, and I can't wait to get going."
EVERYBODY'S DOUBLE-STINTING TIRES IN GTP THIS YEAR. CAN YOU TALK ABOUT THE SIGNIFICANCE OF THAT AND HOW DOES THAT CHANGE THINGS FROM A STRATEGY STANDPOINT?
Sebastien Bourdais: "We're looking at it. We tried to see what the tire evolution was like at the test in December. I don't think it's very different from what we had to do in DPi to be honest. We had to double-stint tires in DPi as well. We're in a very similar scenario because the stints are a bit longer with the fuel that we have on board. Although we have less tires, the number of stints that you're going to have to double-stint are going to be probably fairly similar. We're, I'd say, a long ways off determining exactly where we need to be to make the tires last and optimize everything. There are quite a few things that have to happen before that. I don't think it will be a major problem. Most of this race is survive, survive, survive and make it through the night, and then set yourself up the best way possible for the last couple of hours shootout. At that point you'll be done with double-stinting tires."
ON THE EVOLUTION OF THE TIRE, IS IT A BIG DIFFERENCE COMPARED TO THE DPi OR IS IT HARD TO TELL ON THE DIFFERENT PLATFORMS?
Sebastien Bourdais: "It is different. It's the best of the best that Michelin has. There are many differences between the fact that the car is heavier, it has a lot less downforce, it has more power. It's much harder on tires. So comparing the two with different tires, there's not a single thing that lines up to be able to have a fair comparison. We just know that Michelin is doing their best to give us the best product possible, and give us the most grip, and sustainable performance level. That's all we can ask for, and it's a very safe tire. I'm feeling pretty good about that."
WHAT IS YOUR FAVORITE THING YOU LOVE ABOUT THE NEW GTP CARS
Chip Ganassi: "I personally like the sound of our car. I think the V8 says a lot. My first outing this morning with all of the other cars, it's nice because you know when it's coming by. I like that."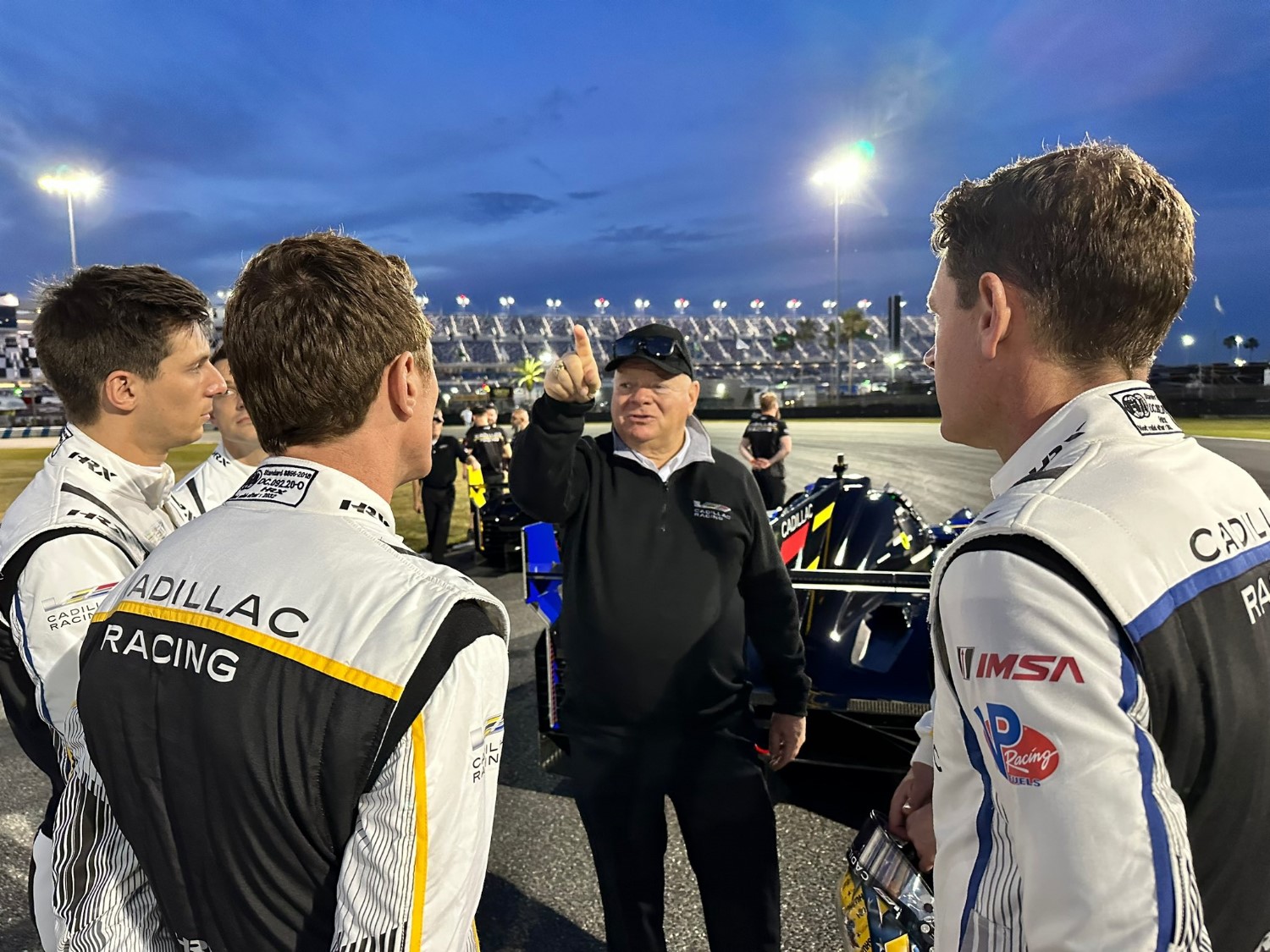 Mike Hull: "What I like about where we're racing now with this category of car, the GTP car, is the technology that it represents going forward. Going forward, we need to embrace alternate technologies if we want to continue racing cars and have manufacturers help us do that. That's a big deal. The cars are complex. The reality is the complexity is secondary to the message. That's what I like about it."
Mike O'Gara: "The technology is my most and least favorite thing about them. I started at CGR in 2004 as a race engineer. The engineer in me loves the new technology and trying to figure that out. Now that means more people, more computers, more wires, so that adds a level of complexity. One thing we've done over the 30-plus years that Chip Ganassi Racing has existed is figure things out better than everyone else. That's a good challenge for us is to we just have to be a little bit better than everyone and we're working hard to do that in every way on this car. The technology is what definitely intrigues me the most about it."
IMSA DRAWS SUCH AN INTERNATIONAL FLAIR OF DRIVERS, FANS, MANUFACTURERS. WHAT IS IT ABOUT IMSA THAT MAKES IT SO SPECIAL AND SO APPEALING TO EVERYONE TO WANT TO BE IN THIS SPORT?
Sebastien Bourdais: "I think everybody just loves racing. Coming to Florida in January when no other series has started is kind of the appeal. There's no conflict on schedules, everybody knows that. No matter what you race, where you race, you know you'll be available, and you can commit to it. There's obviously a big number of cars which provides opportunities. We're all racers, we all love going around racetracks and fighting each other. There's plenty of really cool cars to drive. It's a great challenge, a very historical race to try and win. A nice watch at the end if you did the job, so why not?"
YOU'VE REPRESENTED CADILLAC IN IMSA. WHAT IS THE ENERGY LIKE FROM PARTNERS AT CADILLAC WITH THIS NEW GTP EFFORT?
Chip Ganassi: "I think, obviously, they're interested in all of the races, but certainly when you add Le Mans into the equation, that's something they've mentioned in the first two or three sentences of getting together, I can tell you. While the eye is on that prize as well, there are plenty of races before that, including this one, that we want to win."
TO FOLLOW UP ON WHAT CHIP WAS SAYING ABOUT THE COMPLEXITY OF THE CAR AND APPROACHING THE PRACTICE SESSION DIFFERENTLY, HOW DID THE FIRST SESSION GO, AND DID YOU MAYBE APPROACH IT DIFFERENTLY?
Mike O'Gara: "For today, like I said earlier, both cars are virtually new so it's a lot of in and out laps and checking sensors, checking calibrations. This car depends a lot more on the data that it is generating itself to run itself. So, things like tire pressures, brake sensors, brake pressures-things that were important before are critical now. They are mission critical, so we have to make sure all those basic things work before all the other systems like the hybrid system, the electronic brake bias… We have to have those basic things right before those other things work properly. So, this morning with two new cars, we were just making sure all of that worked right, so this afternoon, and the rest of the weekend, we can just start pushing. There is a mountain of work and a mountain of data for all of our folks to look at just to make sure all of that is functioning properly before we can start pushing on the rest of the systems in the car."
IS THERE A DRIVER IN PARTICULAR THAT MIGHT WANT TO ADDRESS THEIR IMPRESSIONS?  I KNOW YOU'VE BEEN IN THE CAR BEFORE, BUT HERE IN AN OFFICIAL SESSION HERE AT DAYTONA HOW DID IT FEEL AND IF THERE WERE ANY SURPRISES?
Sebastien Bourdais: "It was very busy this morning that is for sure.  With 61 cars, everyone was trying to find their references and it did feel a bit like a gymkhana in heavy traffic which is a little scary because everybody is really scarce on spare parts and we all got the message loud and clear. You are already finding yourself in situations you do not want to be in because you can't afford to damage anything, so that is going to be a consideration for sure."
THIS IS SUCH AN IMPORTANT ENDEAVOR FOR THE MANUFACTURERS, WHAT WERE THE BIGGEST CHALLENGES GETTING TO THIS POINT IN DEVELOPING THE CAR, AND GETTING IT TO WHERE CADILLAC WAS PLEASED?
Mike O'Gara: "Again, from my perspective it goes back to technology. Not just technology, but also getting the right people. I have to look after who we employ, that is one big portion of my job.  Making sure we have the right people with the right backgrounds so they can help us make the right decisions and tune that car. We are lucky enough to carry several people over from our DPi program and some from our INDYCAR program.  Those are engineers and people who know how to use and operate the last car. Now we are looking at systems engineers and hybrid engineers and battery specialists and things like that. So for me, it is a big challenge, aside from learning the car, is making sure we have the right people in place because once the race season starts, it's hard to find good people is difficult. It's easier in the off season and I think we are really close there. I think we have a few of the WEC staff here with us for sort of on-the-job training.  We have a pretty wide range of experience and personalities to mesh and learn how to work together."
CAN YOU TALK ABOUT THE COLLABORATION BETWEEN THE TEAMS AND MANUFACTURERS FROM NOT ONLY CADILLAC AND TEAMS, BUT OTHERS?
Chip Ganassi: "For us, we are obviously working closely with Action Express and their people. But, more importantly something for people to understand is that GM is making a big effort at this obviously.  They have taken a lot of their championship people from Corvette program over on to this program, and with our experience of our team and the Action Express team, we have plenty between the two teams, Action Express has a  lot of Dpi championships as well, it's the meshing of three championship winning companies coming together, working together coming together-us, Action Express and GM-coming together, working together and learning best practices as you will. Simple things like how to communicate with one another. People like to communicate differently and how to understand what to do.  Here we are in a race situation, and that is what we are excited and what we like to do. It's all coming together this weekend."
WHAT SORT OF CHALLENGES DID YOU FACE IN THE DEVELOPMENT PROCESS?
Renger van der Zande: "I think developing of the car is coming from the people and the companies like Dallara, GM, Ganassi, that cooperation of putting things together. Bosch with systems, Williams with the engine, electronics. It's a lot of people from different companies that suddenly have to work together and find solutions if things are not working. Going testing as a driver is a lot of waiting, doing a few laps, and waiting a long time because you want to make sure everything is correct and doesn't blow up. If you blow up something, then it takes even longer. It's a mix of trying to do as many laps as you can, trying to get a feel for the systems in the cars, at the same time doing it systematically with the group of people that tries to work together. This is a human sport. If you have the right people, the good people, that's when things are successful. That's the game. Trying to get everyone connected and make the most out of what they bring to the table. As a driver, there's a lot of waiting. Once the car is running, for example, at Sebring we did a 24-hour test. It's beautiful to do so many laps with so many people in the garage working one goal. As a driver being a part of that, giving feedback of what's wrong, basically, they're trying put the best car on the track and the first thing they ask you is 'what's wrong?' So it's kind of a weird thing as a driver. You want to give compliments but you have to tell them what's wrong. That's how you move forward, with the critics and how to get better. As a driver, it's really cool to be a part of that."