IMSA: Porsche tops wet final test session before Rolex 24 quals
Porsche's Nick Tandy set the pace during Saturday night's rain-affected final Roar before the 24 IMSA test session.
The Brit posted a time of 1:46.206 in the No. 6 Porsche 963 to go quickest; however, the numbers were unrepresentative due to wet conditions and the fact not cars ventured out for fear of wrecking their cars.
The night session was the final track outing before qualifying for the Rolex 24 at Daytona, which gets underway at 1:25 p.m. ET on Sunday.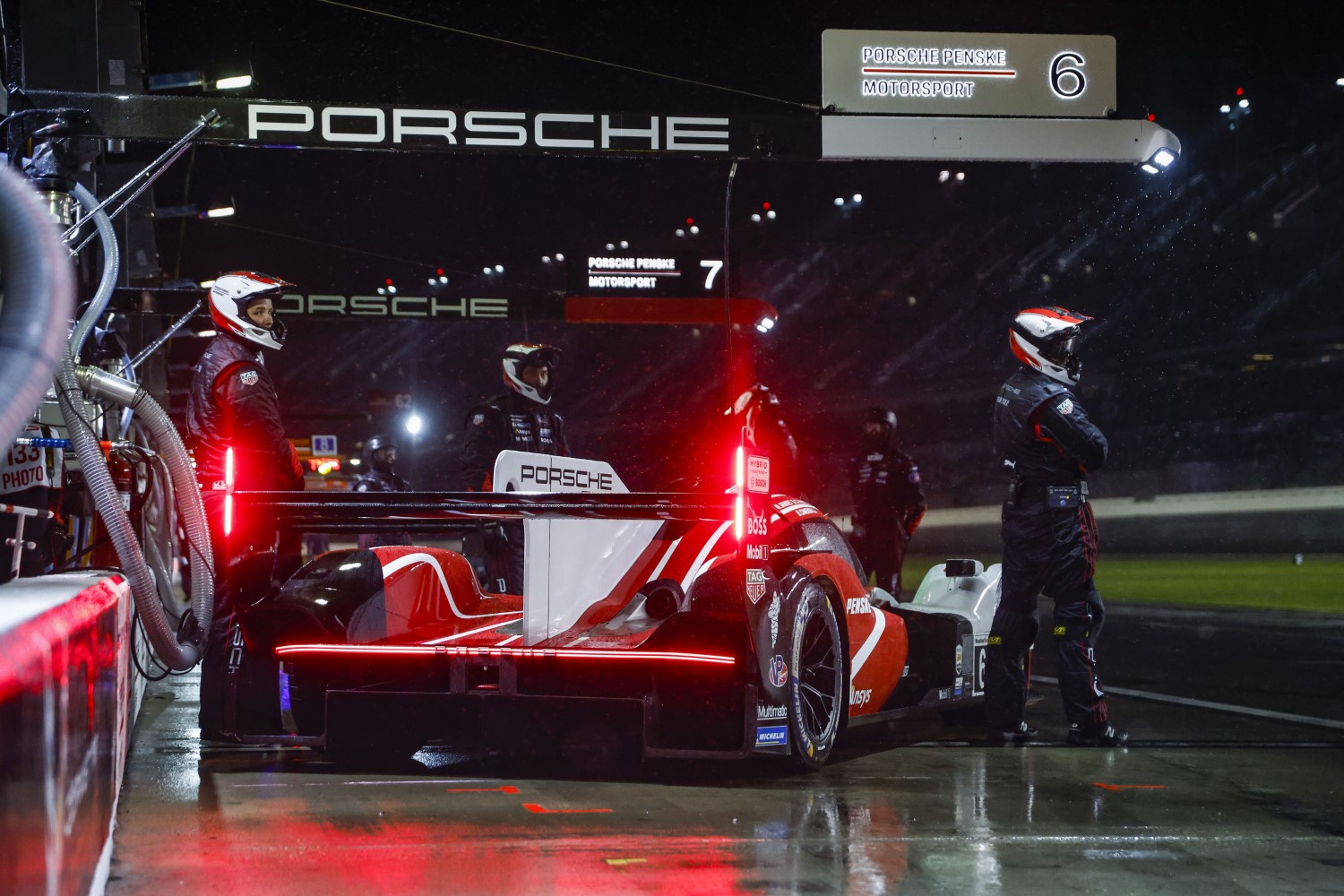 Cadillac Teams still learning
Every test session is a learning opportunity with the new Cadillac V-LMDh race car.
Full fuel runs and work on incremental performance gains were among the main points of the test program on the second day of the Roar Before the Rolex 24 as Cadillac Racing continued preparations for the 61st Rolex 24 At Daytona.
The three Cadillac V-LMDh race cars combined for 209 laps in the three test sessions totaling 270 minutes in changeable weather conditions on the 3.56-mile, 12-turn Daytona International Speedway road course. With a drying circuit under the lights, the No. 31 Whelen Engineering Cadillac V-LMDh was among the four cars in the Grand Touring Prototype (GTP) class to venture onto the track in the two-hour session and turned 18 laps.
We starting to get more and more prepared each run, each session with driver changes, refueling, getting used to all the cars around and test the car in the rain," said Earl Bamber, co-driver of the No. 02 Cadillac V-LMDh. "I think session by session we feel better about qualifying on Sunday."
"We did a really long run. It was nice to do a full stint all the way through, then stop and fill up the tank and see that difference between the first fuel fill with a new set of tires and fuel fill and a used set," said Alexander Sims, co-driver of the No. 31 Whelen Engineering Cadillac V-LMDh after the late afternoon session. "Useful information. It's just a test session but so many cars on track there is stuff happening all the time, which is useful for running in traffic during the race."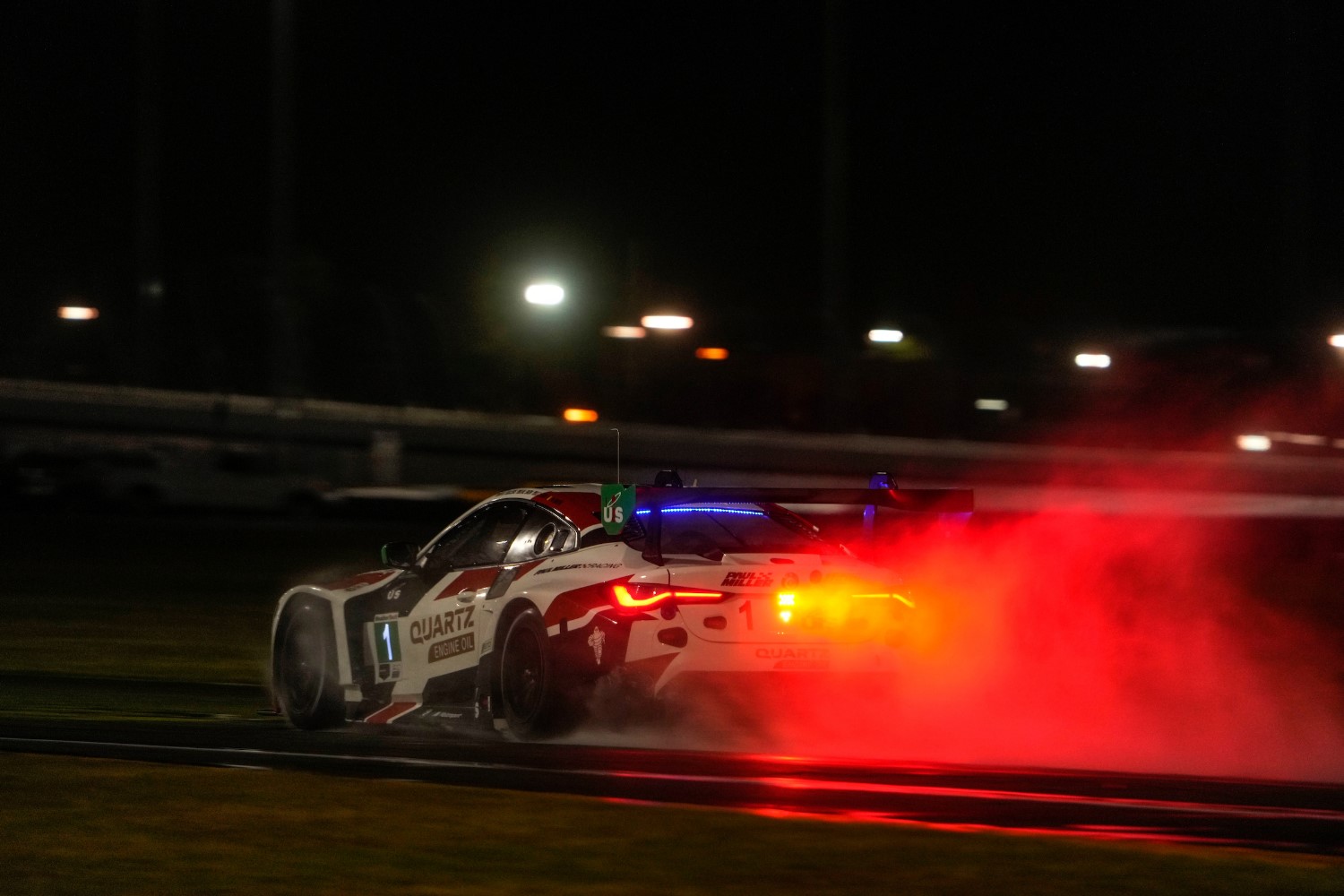 IMSA Specs for GTP cars
As an example of the specifications all the GTP cars must meet, the electrified Cadillac prototype features an all-new Cadillac 5.5-liter DOHC V8 engine developed by GM's Performance and Racing propulsion team based in Pontiac, Michigan, with a seven-speed sequential gearbox. IMSA has specified the power output at 670 horsepower, including the hybrid system; weight at 1,030kg without fuel and driver; and a maximum of 8,800 RPM.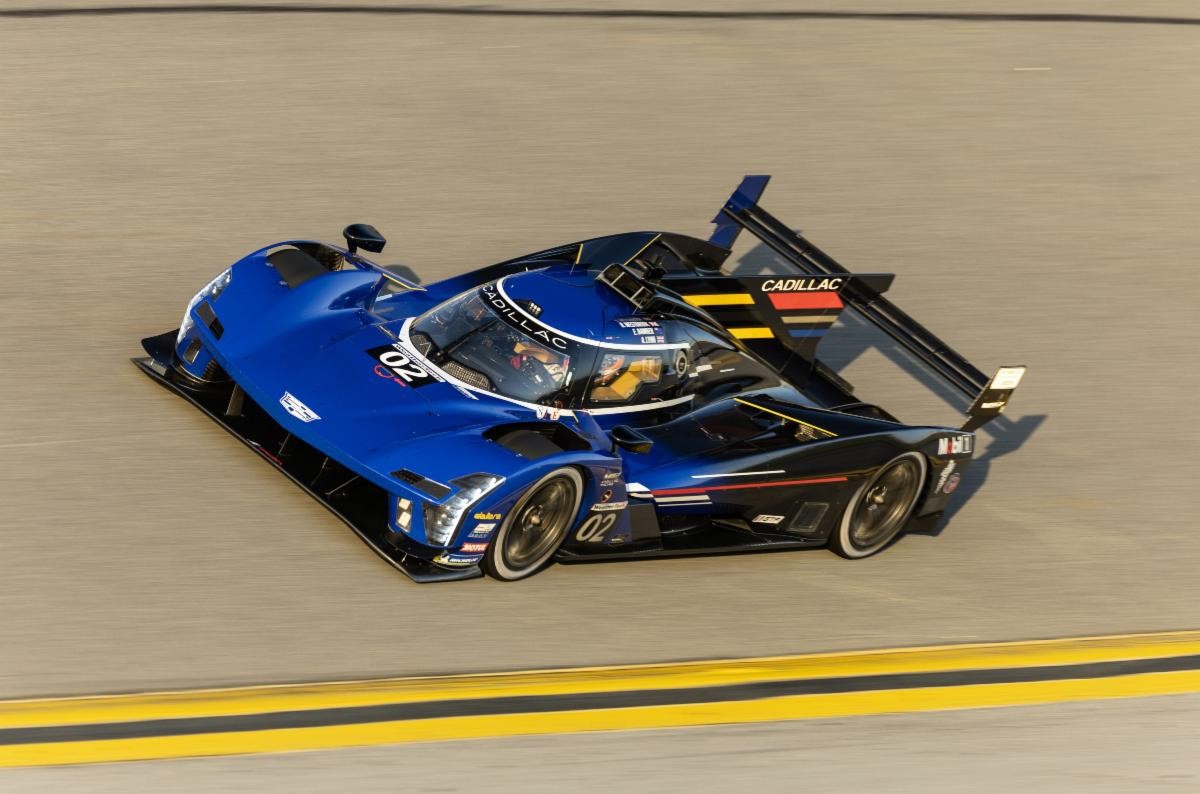 Session 5 Results
Pos

Pic

No.

Class

Drivers*

Team

Car

Time

Gap Mph

1

1

6

GTP

M. Jaminet / N. Tandy

D. Cameron

Porsche Penske Motorsports

Porsche 963

1:46.206

– – 120.671

2

2

31

GTP

P. Derani / A. Sims / J. Aitken

Whelen Engineering Racing Cadillac V-LMDh

Cadillac V-LMDh

1:48.804

+2.598 +2.598 117.790

3

1

18

LMP2

D. Merriman / R. Dalziel

C. Rasmussen / O. Jarvis

Era Motorsport

ORECA LMP2 07

1:50.756

+4.550 +1.952 115.714

4

2

8

LMP2

J. Farano / S. McLaughlin

J. Newgarden / K. Simpson

Tower Motorsports

ORECA LMP2 07

1:51.960

+5.754 +1.204 114.469

5

3

51

LMP2

E. Lux / D. Defrancesco

A. Cindric / P. Fittipaldi

Rick Ware Racing

ORECA LMP2 07

1:51.978

+5.772 +0.018 114.451

6

4

88

LMP2

F. Perrodo / M. Vaxiviere

J. Canal / N. Nielsen

AF Corse

ORECA LMP2 07

1:52.213

+6.007 +0.235 114.211

7

5

04

LMP2

G. Kurtz / B. Hanley

M. McMurry / E. Gutierrez

Crowdstrike Racing by APR

ORECA LMP2 07

1:52.293

+6.087 +0.080 114.130

8

6

52

LMP2

B. Keating / P. Chatin

A. Quinn / N. Lapierre

PR1 Mathiasen Motorsports

ORECA LMP2 07

1:52.604

+6.398 +0.311 113.814

9

7

35

LMP2

F. Heriau / G. van der Garde

J. Pierson / J. Van Uitert

TDS Racing

ORECA LMP2 07

1:52.691

+6.485 +0.087 113.727

10

1

87

LMP3

Y. Kanamaru / A. Serravalle

N. Boulle / J. Vance

FastMD Racing

Duqueine D08

1:55.387

+9.181 +2.696 111.069

11

2

43

LMP3

S. Alvarez / J. French

G. de Oliveira / D. Frost

MRS GT-Racing

Ligier JS P320

1:56.585

+10.379 +1.198 109.928

12

1

79

GTDPro

C. MacNeil / D. Juncadella

J. Gounon / M. Engel

WeatherTech Racing

Mercedes-AMG GT3

1:57.084

+10.878 +0.499 109.460

13

1

70

GTD

B. Iribe / F. Schandorff

O. Millroy / M. Kirchhofer

Inception Racing

McLaren 720S GT3

1:57.353

+11.147 +0.269 109.209

14

2

3

GTDPro

A. Garcia / J. Taylor / T. Milner

Corvette Racing

Chevrolet Corvette C8.R GTD

1:58.104

+11.898 +0.751 108.514

15

3

63

GTDPro

A. Caldarelli / M. Bortolotti

J. Pepper / R. Grosjean

Iron Lynx

Lamborghini Huracan GT3 EVO2

1:58.394

+12.188 +0.290 108.248

16

2

19

GTD

R. Giammaria / F. Perera

C. Schiavoni / R. Ineichen

Iron Lynx

Lamborghini Huracan GT3 EVO2

1:58.623

+12.417 +0.229 108.039

17

4

9

GTDPro

Bachler / P. Pilet

Vanthoor

Pfaff Motorsports

Porsche 911 GT3 R (992)

1:58.631

+12.425 +0.008 108.032

18

3

47

GTD

R. Lacorte / G. Sernagiotto

A. Fuoco / A. Balzan

CETILAR RACING

Ferrari 296 GT3

1:58.705

+12.499 +0.074 107.965

19

4

1

GTD

B. Sellers / M. Snow / C. Lewis

M. Martin

Paul Miller Racing

BMW M4 GT3

1:58.759

+12.553 +0.054 107.916

20

5

44

GTD

J. Potter / A. Lally / S. Pumpelly

Magnus Racing

Aston Martin Vantage GT3

1:58.798

+12.592 +0.039 107.880

21

6

80

GTD

P. Hyett / S. Priaulx

G. Jeannette / H. Tincknell

AO Racing

Porsche 911 GT3 R (992)

1:58.913

+12.707 +0.115 107.776

22

7

83

GTD

R. Frey / S. Bovy / M. Gatting

D. Pin

Iron Dames

Lamborghini Huracan GT3 EVO2

1:59.482

+13.276 +0.569 107.263

23

8

77

GTD

A. Brynjolfsson / T. Hindman

M. Root / K. Estre

Wright Motorsports

Porsche 911 GT3 R (992)

1:59.712

+13.506 +0.230 107.057

24

9

21

GTD

S. Mann / L. Perez Companc

M. Molina / F. Castellacci

AF Corse

Ferrari 296 GT3

2:01.073

+14.867 +1.361 105.853

25

5

62

GTDPro

A. Pier Guidi / J. Calado

D. Serra / D. Rigon

Risi Competizione

Ferrari 296 GT3

2:03.342

+17.136 +2.269 103.906

26

10

16

GTD

R. Hardwick / J. Heylen

Z. Robichon / D. Olsen

Wright Motorsports

Porsche 911 GT3 R (992)

2:03.420

+17.214 +0.078 103.840

27

3

24

GTP

P. Eng / A. Farfus

M. Wittmann / C. Herta

BMW M Team RLL

BMW M Hybrid V8

2:07.700

+21.494 +4.280 100.360

28

4

01

GTP

S. Bourdais / R. van der Zande

S. Dixon

Cadillac Racing

Cadillac V-LMDh

29

5

02

GTP

E. Bamber / A. Lynn

R. Westbrook

Cadillac Racing

Cadillac V-LMDh

30

6

7

GTP

M. Campbell / F. Nasr

M. Christensen

Porsche Penske Motorsports

Porsche 963

31

7

10

GTP

R. Taylor / F. Albuquerque

L. Deletraz / B. Hartley

Konica Minolta Acura ARX-06

Acura ARX-06

32

8

11

LMP2

S. Thomas / M. Jensen

S. Huffaker / R. VeeKay

TDS Racing

ORECA LMP2 07

33

11

12

GTD

A. Telitz / F. Montecalvo

K. Kirkwood / P. Thompson

VasserSullivan

Lexus RC F GT3

34

3

13

LMP3

O. Fidani / M. Bell / L. Kern

M. Kranz

AWA

Duqueine D08

35

6

14

GTDPro

J. Hawksworth / B. Barnicoat

M. Conway

Vasser Sullivan

Lexus RC F GT3

36

4

17

LMP3

A. Mantella / W. Boyd

N. Varrone / T. Merrill

AWA

Duqueine D08

37

9

20

LMP2

D. Andersen / E. Jones

A. Fjordbach / R. Marciello

High Class Racing

ORECA LMP2 07

38

12

023

GTD

O. Triarsi / C. Scardina

A. Rovera / A. Bertolini

Triarsi Competizione

Ferrari 296 GT3

39

7

23

GTDPro

R. Gunn / A. Riberas / D. Pittard

Heart of Racing Team

Aston Martin Vantage GT3

40

8

25

GTP

C. De Phillippi / N. Yelloly

BMW M Team RLL

BMW M Hybrid V8

41

13

27

GTD

R. De Angelis / M. Sorensen

I. James / D. Turner

Heart of Racing Team

Aston Martin Vantage GT3

42

14

32

GTD

M. Skeen / M. Grenier / K. Koch

M. Goetz

Team Korthoff Motorsports

Mercedes-AMG GT3

43

5

33

LMP3

L. Willsey / J. Barbosa / N. Pino

D. Soufi

Sean Creech Motorsport

Ligier JS P320

44

6

36

LMP3

J. Andretti / G. Chaves

D. Dickerson / R. Lindh

Andretti Autosport

Ligier JS P320

45

7

38

LMP3

J. DeAngelis / C. Allen

C. Bloum / C. Shields

Performance Tech Motorsports

Ligier JS P320

46

15

42

GTD

D. Yount / J. Conwright / K. Li

A. Deledda

NTE Sport

Lamborghini Huracan GT3 EVO2

47

16

53

GTD

M. Kvamme / T. Estep

J. Magnussen / J. Hart

MDK Motorsports

Porsche 911 GT3 R (992)

48

10

55

LMP2

Poordad / F. Pizzi / J. Allen

Bruni

Proton Competition

ORECA LMP2 07

49

17

57

GTD

R. Ward / P. Ellis / I. Dontje

L. Auer

Winward Racing

Mercedes-AMG GT3

50

9

60

GTP

T. Blomqvist / C. Braun

H. Castroneves / S. Pagenaud

Meyer Shank Racing w/ Curb Agajanian

Acura ARX-06

51

8

64

GTDPro

T. Giovanis / H. Plumb

M. Plumb / O. Trinkler

TGM/TF Sport

Aston Martin Vantage GT3

52

18

66

GTD

S. Monk / K. Legge

M. Farnbacher / M. Miller

Gradient Racing

Acura NSX GT3

53

8

74

LMP3

G. Robinson / F. Fraga

J. Burdon / G. van Berlo

Riley

Ligier JS P320

54

19

75

GTD

L. Stolz / K. Habul / F. Schiller

A. Jefferies

Sun Energy 1

Mercedes-AMG GT3

55

20

78

GTD

M. Goikhberg / L. Spinelli

B. Hites / M. Mapelli

US RaceTronics

Lamborghini Huracan GT3 EVO2

56

9

85

LMP3

T. Bechtolsheimer

T. van der Helm / L. Mars

M. Filippi

JDC Miller MotorSports

Duqueine D08

57

21

91

GTD

A. Metni / K. van Berlo

J. Evans / J. Andlauer

Kellymoss with Riley

Porsche 911 GT3 R (992)

58

22

92

GTD

D. Brule / A. Udell / A. Davis

J. Bleekemolen

Kellymoss with Riley

Porsche 911 GT3 R (992)

59

23

93

GTD

A. Harrison / D. Formal

K. Marcelli / R. Briscoe

Racers Edge Motorsports with WTR

Acura NSX GT3