Why did NASCAR leave Iowa Speedway?
Except for their minnow ARCA series, no longer does NASCAR hold events at Iowa Speedway. When COVID-19 struck during the 2020 season, NASCAR chose not to return, which disappointed many Iowa race fans who adore the sport.
The NASCAR-owned track had the chance to excel. The Shore Lunch 150 might have had a fantastic racing performance with a crowded audience cheering at a short track, with a reported seating capacity of 30,000 with the grandstands opened to full capacity.
Instead, the crowd's reaction reflected that of the race, which Gibbs won after leading 149 of the 150 laps: yawn.
Nonetheless, considering the recent change in Iowa's sports betting legislation, which you can find out more about here, wouldn't it be profitable for NASCAR to return to Hawkeye state?
A little bit of history of the Iowa Speedway
A 7/8-mile paved oval racetrack called Iowa Speedway is located near Newton, Iowa, in the United States, about 30 miles east of Des Moines. Rusty Wallace had an effect on the design of the track, which was modeled after Richmond Raceway, a race track where Wallace enjoyed great success. It includes more than 25,000 fixed seats and a distinctive multi-tiered RV viewing area along the backstretch.
The USAR Hooters Pro Cup Four Champions playoff's Soy Biodiesel 250, won by Woody Howard, marked the track's debut in September 2006. On June 24, 2007, the Indy Racing League announced the Iowa Corn Indy 250, a race that was won by Dario Franchitti when he narrowly edged off Marco Andretti at the finish line.
In 2009, the track was given a NASCAR Nationwide Series and NASCAR Camping World Truck Series race.
The track has occasionally been mentioned as a potential location for a NASCAR Cup Series race, and in 2013, a measure to permit $8 million in improvements to the speedway in that direction started making its way through the Iowa senate.
In November 2013, NASCAR acquired the facility after learning about financial troubles at the track.
Additionally, the site organizes a number of driving schools throughout the year, including the Rusty Wallace Racing Experience and The Formula Experience, where guests can experience the speedway while seated in a race car.
Today at Iowa Speedway
Due to the COVID-19 epidemic, the NASCAR-sanctioned events at Iowa for the 2020 Xfinity and Truck seasons were postponed until April 2020. Only the IndyCar and ARCA Menards Series races took place in July, and only a very small number of spectators attended.
Following the events, it was announced that the track would be put up for sale after the 2020 campaign. In the 2021 seasons, Iowa Speedway hosted the ARCA Menards Series but not an IndyCar, NASCAR Xfinity Series, or NASCAR Camping World Truck Series race. The return of IndyCar in 2022 was announced in August 2021.
As a result of the potential track closure, Governor Reynolds contacted Edeker and Newton Mayor Michael L. Hansen.
Reynolds argued that the Iowa Speedway IndyCar Series race needed to be saved.
It was revealed in August 2021 that IndyCar had signed a multi-year lease at the Newton, Iowa, 0.875-mile short oval. Due to a multi-year arrangement with Hy-Vee to act as the race's sponsor, IndyCar is the promoter even though NASCAR owns the track.
Last year Hy-Vee brought in some big names for concerts and the IndyCar weekend was a big hit, not to see the races but to see the rock stars.  Better to have full grandstands than 2/3rds empty grandstands.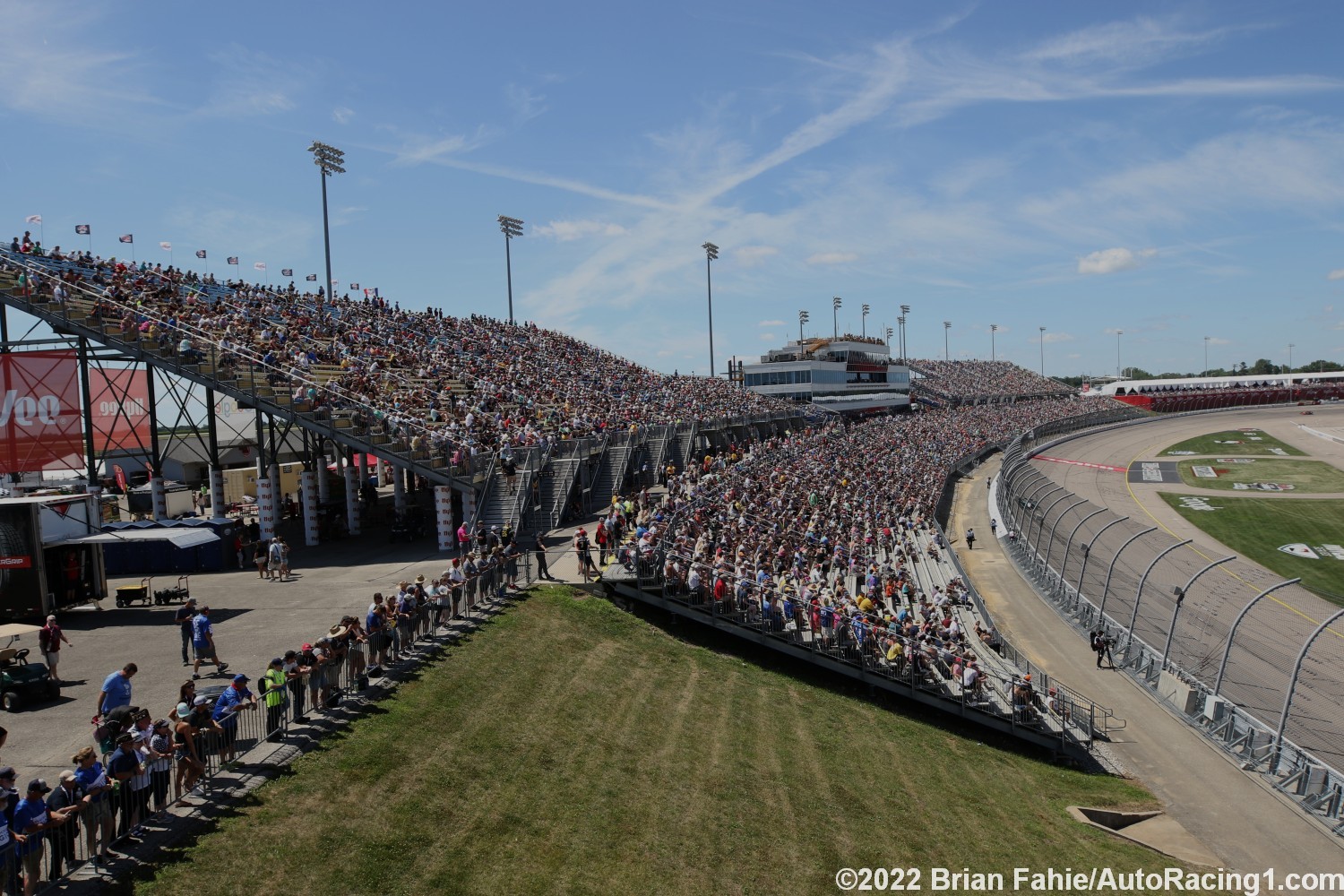 Iowa Speedway in the future
It is true that NASCAR as a business must support track promotion if Iowa is to continue to be successful. When there is silence, it is challenging to become passionate about or an advocate for something.
NASCAR has made major changes to its Cup schedule, adding a street race in Chicago, more road courses, a race in the LA Coliseum (a football stadium) and they even cover Bristol Motor Speedway with dirt once a year – any gimmick they can think of to attract new fans…..while avoiding a track they own in Iowa.