NASCAR: Cabo Wabo Tequila becomes first official tequila sponsor
Cabo Wabo, an unquestionably Mexican tequila made with an undeniable American attitude, is now officially a NASCAR partner.
NASCAR and Campari America announced today that Cabo Wabo Tequila is the first-ever "Official Tequila Sponsor of NASCAR." As part of a wide-ranging, multiyear agreement, Cabo Wabo Tequila becomes the Official Tequila of Daytona International Speedway, Kansas Speedway, Michigan International Speedway and Talladega Superspeedway.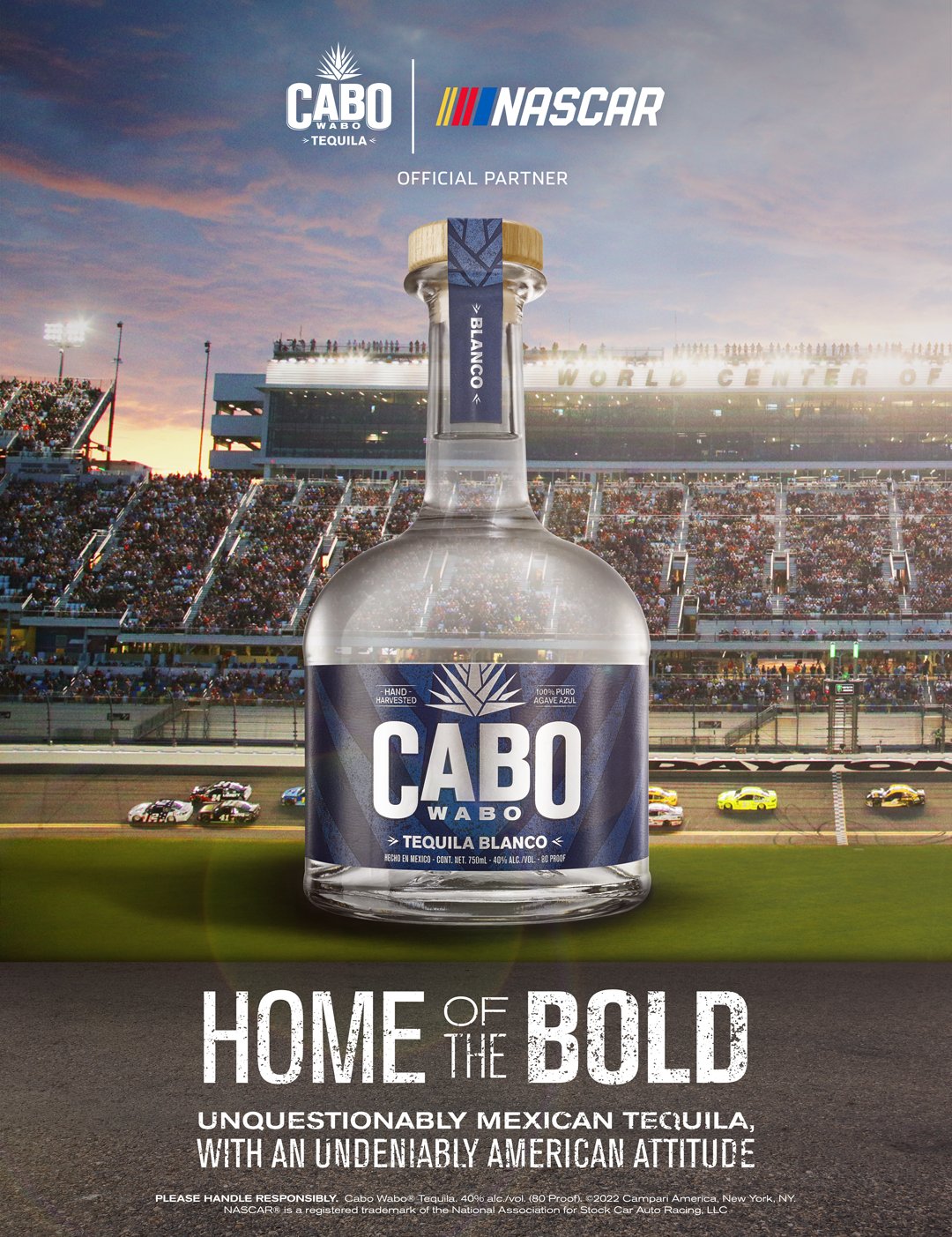 "Cabo Wabo's reputation for doing things bigger, bolder and better perfectly aligns with the spirit of our sport," said NASCAR Senior Vice President and Chief Sales Officer Jeff Wohlschlaeger. "We welcome Cabo Wabo Tequila to the NASCAR family as we begin the celebration of our 75th Anniversary season."
For Cabo Wabo Tequila, celebration isn't possible without its unmatched commitment to excellence. A super-premium tequila born in the agave fields of Mexico and praised in bars and backyard barbecues across America, Cabo Wabo is Thick Cut tequila made using 100% Blue Weber Agave. Each sip evokes full-on agave flavor thanks to the purposefully thicker cut distillate of agave used to deliver a more unfiltered, raw agave-forward taste. It's this unmistakable taste that goes with an unmistakable American attitude — one that cuts no corners and makes no apologies, inspiring all to revel in the good life.
"NASCAR fans are known for the same brand loyalty as our beloved Cabo Wabo Tequila fans," said Campari America's Vice President of Marketing Andrea Sengara. "Like our tequila, NASCAR fans live unapologetically and expect nothing but greatness from their race day, and their race day drinks. With this partnership, we're delivering on both and giving fans a new way to bring the bold to their favorite sport."
Fans will quickly notice Cabo Wabo's bold attitude at some of NASCAR's biggest events, including the DAYTONA 500. Throughout the season, the brand will activate via branded on-site experiences, presenting sponsorships of concerts, a consumer sweepstakes, racing-themed digital and social media content, and more.
Cabo Wabo is all about living, working and playing hard. That's why the brand is giving fans 21 and older a new way to level up their race watching experience either at the track, or from the comfort of their own home with a Cabo Wabo Smokeshow. The Cabo Wabo Smokeshow combines the bold flavors of Cabo Wabo Blanco Tequila with smokiness of Montelobos Espadin Mezcal and is served over ice with a lime wheel garnish.
The NASCAR season begins Sunday, Feb. 5, with the Busch Light Clash at the Coliseum, an exhibition featuring the sport's biggest stars and performances by international superstars Cypress Hill and Wiz Khalifa. Two weeks later, on Feb. 19, the regular season begins with the DAYTONA 500. Both races will air live on FOX. Whether watching a race on TV, or live at the track, Cabo Wabo reminds you to always drink responsibly. The brand recognizes that sometimes the boldest thing we can do is take our foot off the gas. It is encouraging fans to downshift every once in a while and hydrate in between drinks with a "Make the Pitstop" onsite experience featuring complimentary water and co-branded reusable water bottles.
To learn more about Cabo Wabo Tequila, click here.