NASCAR: Zane Smith wins rain-shortened Daytona Truck Race
Rain got the better of Daytona International Speedway-and that was perfectly all right with reigning NASCAR Craftsman Truck Series champion Zane Smith. NASCAR called Friday night's NextEra Energy 250 after 79 of a scheduled 100 laps, making Smith the winner when the fifth rain shower of the evening thwarted track-drying efforts.
Smith won the season opener for the second straight year, having taken the lead for the final time on Lap 65.
The race would feature only four more green-flag laps after that, as rain continued to interrupt the proceedings.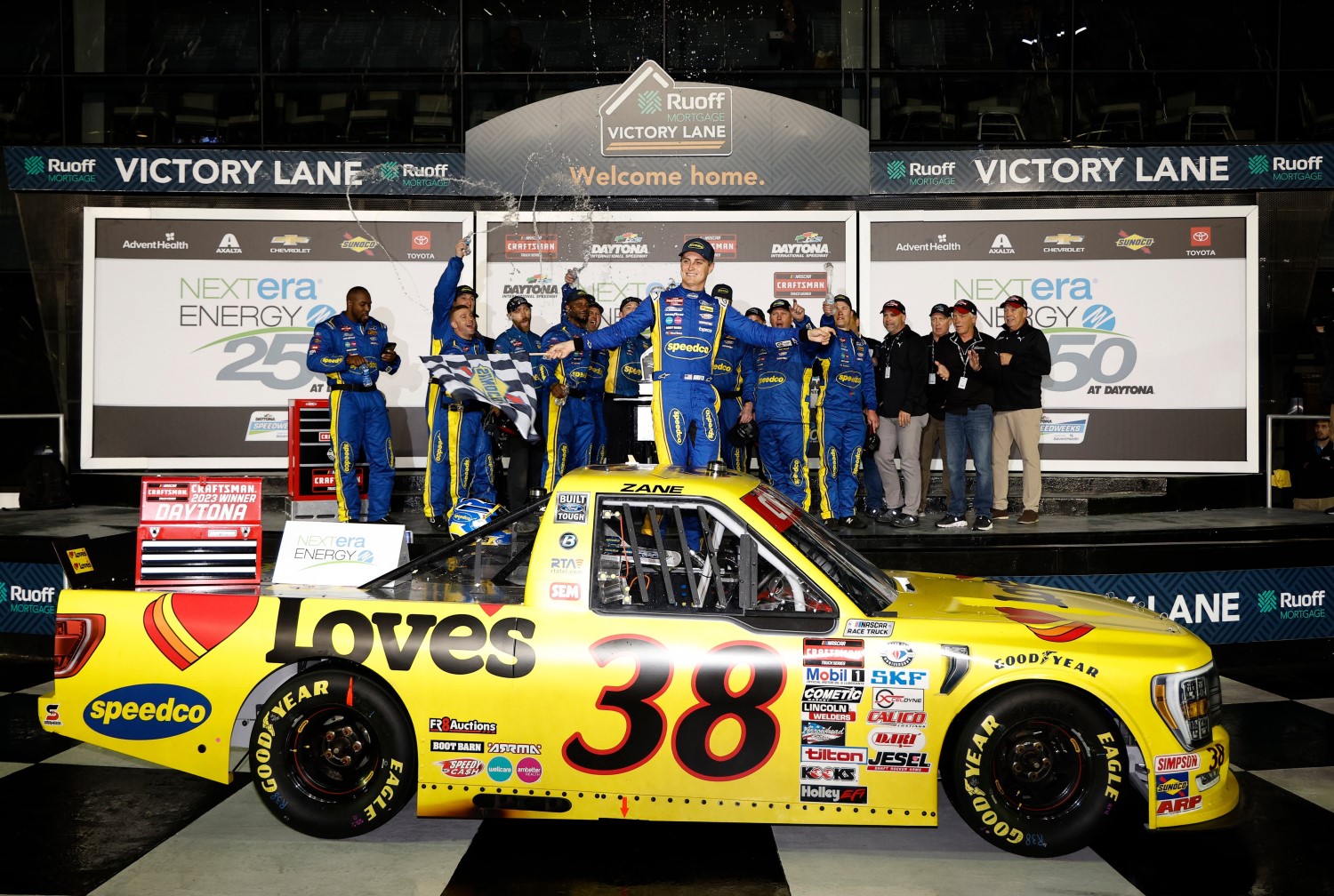 "I tried to play that race as smart as possible," said Smith, who will race in the Daytona 500 for the first time on Sunday. "When it was getting really aggressive, I was getting out of it. I knew these patches of rain were a thing in our Ford meeting earlier in the day. I didn't think it would stick around for this long.
"I just wanted to be there after Stage 2 was over. You never know what can happen. A huge, huge shoutout to all the race fans. I apologize so much that we couldn't go back racing for you all. Hopefully, we'll give you guys a good show tomorrow (in Saturday's NASCAR Xfinity Series race), and I'll be out there Sunday-so super excited about that."
Despite suffering minor damage in two multicar wrecks, Tanner Gray was second when the race was stopped. Christian Eckes earned a third-place finish, with Colby Howard and Grant Enfinger completing the top five. For Howard, it was his first career top-five finish.
"Obviously, with the way our night was going, second is a good night for us," said Gray, whose finish was a career-best in 72 starts. "Not as smooth of a race as we'd like-I got caught up in about every wreck there was.
"All in all, came out with a good finish. That's all we can ask for."
Racing for the newly-minted TRICON Garage team, Gray said his Toyota had suffered damage to the front splitter during the two earlier incidents.
On Lap 58 of a scheduled 100, the No. 24 GMS Racing Chevrolet of Rajah Caruth broke loose and applied the coup de grace to the Silverados of Matt DiBenedetto and Daniel Dye, whose trucks had escaped serious harm in earlier incidents.
Smith surged into the lead after a restart on Lap 65 and held the top spot when rain slowed the race for the fourth time. On Lap 74, NASCAR brought the trucks to pit road and halted 6the action. After track drying, the field ran five more laps under caution before rain struck again.
With 12 laps left in the second stage, the No. 84 Toyota of Clay Greenfield spun sideways near the entry to the tri-oval and ignited a seven-car wreck that ruined the ThorSport Racing debut of Hailie Deegan, who No. 13 Ford was severely damaged in the melee.
The trucks of DiBenedetto, Dean Thompson, Gray, Daniel Dye and Bret Holmes also suffered varying degrees of damage in the incident.
"I saw the 84 (Greenfield) sideways, and that was pretty much that," Deegan said after her truck was towed to the garage. "I saw him going down the track, so I went up. It was a split-second decision.
"You just go right or left, and they ended up bouncing back up off another truck, so it is what it is. We know that Daytona is one of those races where you either finish in the top 10 or you end up on the trailer home."
Moments after NASCAR called the fourth caution of the race because of the wreck, rain interrupted the proceedings for the third time, after having caused two short earlier cautions for light sprinkles-first in Turns 1 and 2 and later in Turns 3 and 4 on the massive property.
After the action resumed, the No. 99 Ford of Ben Rhodes turned the No. 52 Toyota of Stewart Friesen into the outside wall on the final lap of Stage 2, with Friesen, who was running at the front of the outside lane, admitting he threw a late block that went awry.
The trucks of Codie Rohrbaugh, Howard, Parker Kligerman and Holmes also sustained damage, as Tyler Ankrum won the stage under caution.
Eckes won the first stage, which was twice put under caution because of the rain.
Inspection in the NASCAR CRAFTSMAN Truck Series garage is complete. All clear.
The Truck Series will take next weekend off and return to action at Las Vegas Motor Speedway on Friday, March 3
Q. It's a lot of excitement down here, Zane Smith just now getting the word, back-to-back at Daytona. How does this one feel compared to last year?
ZANE SMITH: I know there's about a million ways to get one at Daytona, but we're proving that. Obviously wanted to go back racing there, somewhat, to duke it out with good friends of mine actually, but hey, we'll take a win at Daytona any day we can get it. Just a huge shout-out to everyone at Front Row Motorsports. This whole group, I've said it over and over again, they work their guts out, and they prove it. Locked into the playoffs, it's like a repeat of last year.
Q. Are you going to carry this umbrella all the way through until Sunday? This thing has been like your security blanket.
ZANE SMITH: I love it. I love it. Never know what could happen at this Daytona 500. I can't wait for Sunday. This whole week has just turned into something special. Just loving life right now.
Race Results
| | | | | |
| --- | --- | --- | --- | --- |
| POS | CAR | DRIVER | MANUF | LAPS |
| 1 | 38 | Zane Smith | | 79 |
| 2 | 15 | Tanner Gray | | 79 |
| 3 | 19 | Christian Eckes | | 79 |
| 4 | 9 | Colby Howard | | 79 |
| 5 | 23 | Grant Enfinger | | 79 |
| 6 | 98 | Ty Majeski | | 79 |
| 7 | 16 | Tyler Ankrum | | 79 |
| 8 | 11 | Corey Heim | | 79 |
| 9 | 88 | Matt Crafton | | 79 |
| 10 | 35 | Chase Elliott(i) | | 79 |
| 11 | 99 | Ben Rhodes | | 79 |
| 12 | 42 | Carson Hocevar | | 79 |
| 13 | 41 | Travis Pastrana(i) | | 79 |
| 14 | 17 | Sammy Smith(i) | | 79 |
| 15 | 1 | Jason A White | | 79 |
| 16 | 56 | Timmy Hill | | 79 |
| 17 | 4 | Chase Purdy | | 79 |
| 18 | 20 | Derek Kraus | | 79 |
| 19 | 22 | Josh Reaume | | 79 |
| 20 | 25 | Matt DiBenedetto | | 79 |
| 21 | 34 | Jason M White | | 79 |
| 22 | 02 | Kris Wright | | 79 |
| 23 | 7 | Corey LaJoie(i) | | 79 |
| 24 | 33 | Mason Massey | | 79 |
| 25 | 30 | Chris Hacker | | 79 |
| 26 | 2 | Nick Sanchez # | | 79 |
| 27 | 51 | Jack Wood | | 79 |
| 28 | 52 | Stewart Friesen | | 74 |
| 29 | 24 | Rajah Caruth # | | 57 |
| 30 | 43 | Daniel Dye # | | 57 |
| 31 | 32 | Bret Holmes # | | 49 |
| 32 | 75 | Parker Kligerman(i) | | 45 |
| 33 | 97 | Codie Rohrbaugh | | 39 |
| 34 | 84 | Clay Greenfield | | 28 |
| 35 | 13 | Hailie Deegan | | 28 |
| 36 | 5 | Dean Thompson | | 28 |
# DENOTES ROOKIE
(i) NOT ELIGIBLE FOR POINTS
(*) REQUIRED TO QUALIFY ON TIME