NASCAR: Kyle Busch wins Pala Casino 400 at Fontana in RCR Chevy
by Mark Cipolloni
In only his 2nd start for Richard Childress Racing, Kyle Busch out dueled Chase Elliott and Ross Chastain to win the Pala Casino 400 NASCAR Cup race in the final race on the 2-mile oval in Fontana, California.
"Welcome to RCR, baby," the No. 8 radio reported as Busch crossed the line. "First of many."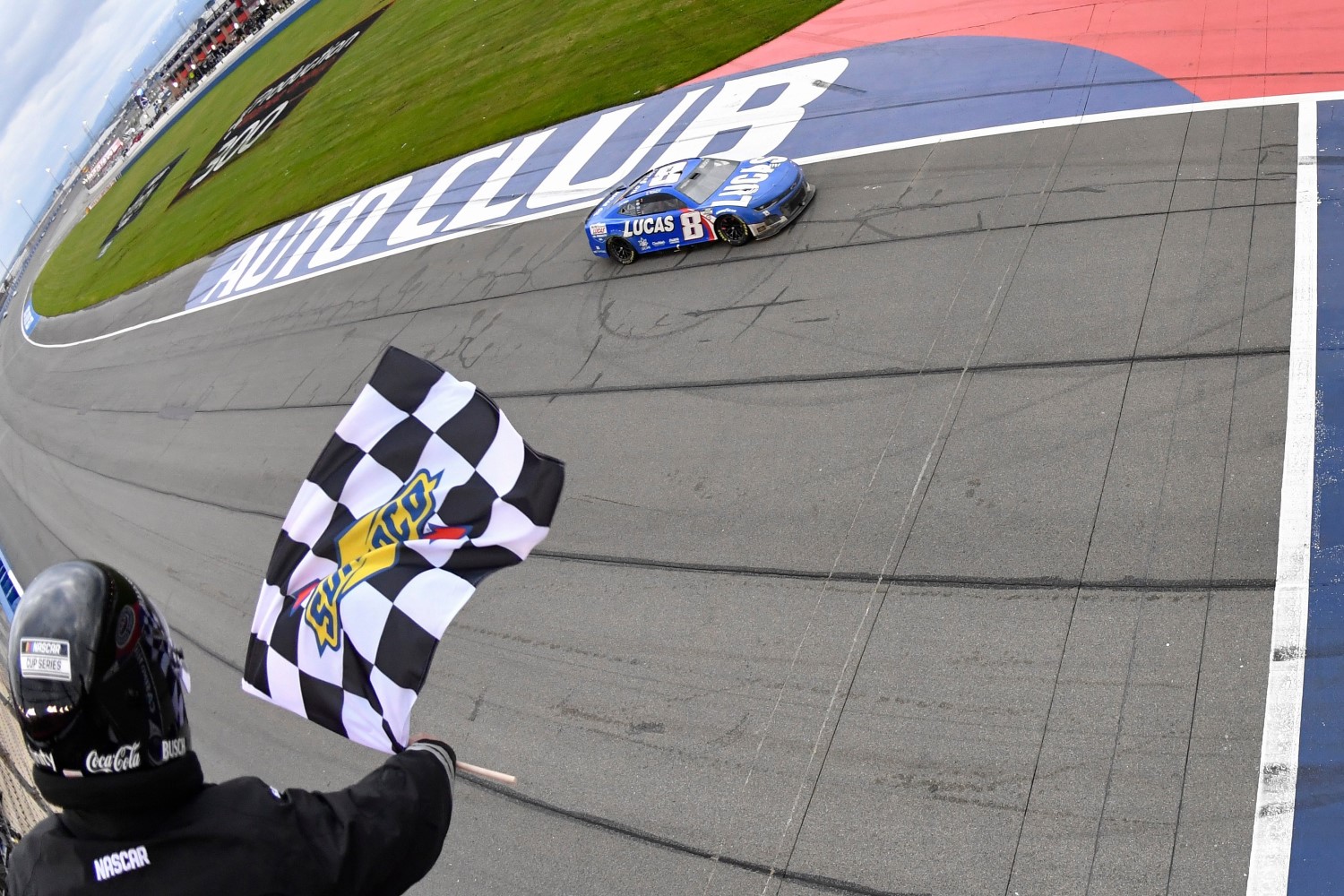 It was a Chevy 1-2-3-4 and one has to wonder if #8 Busch gave Joe Gibbs the middle finger 'Bird' as he drove down pitlane to Victory Lane after Gibbs let Busch go (after so many victories and championships together) to make room for his little Grandson Ty Gibbs.
Nepotism at its worse.
On the day when Auto Club Speedway's two-mile oval took a final lap into Inland Empire racing history, Busch set the all-time NASCAR record for most consecutive seasons with a victory (19), breaking a tie for the record with Richard Petty.
The plan is to reduce the track from two miles to a half-mile and modernize the speedway so that races appeal to a broad demographic, not just hardcore NASCAR fans. Details are scarce so far — and it's possible NASCAR could abandon the project (see related story).
It was the 61st career Cup win for Busch and his 5th at Fontana and now the series moves to Las Vegas, Busch's home track.
Coincidentally, Busch claimed the first Cup win of his career at Auto Club, the bulk of whose property was recently sold – with plans to replace the 2-mile speedway with a short track.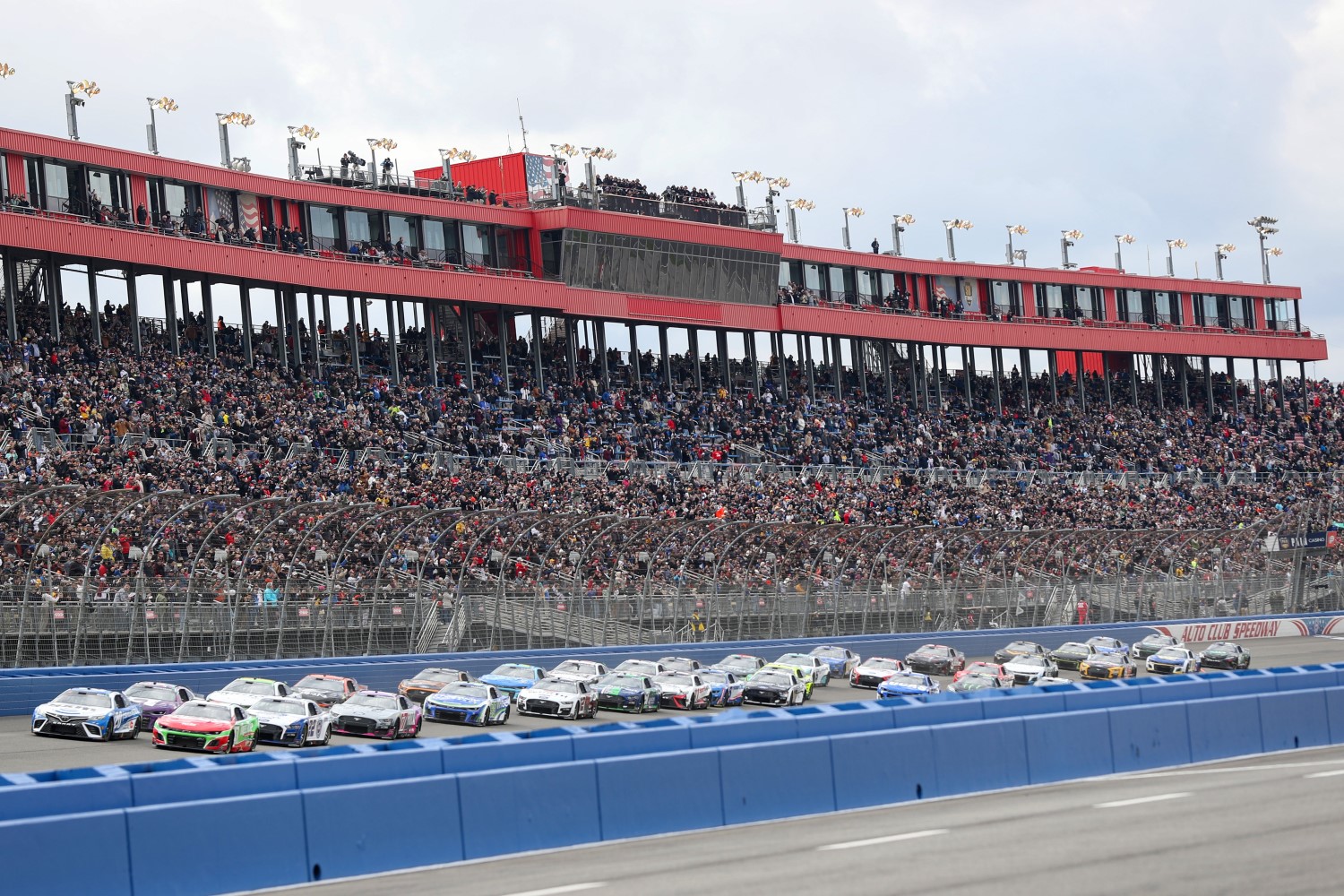 Busch was asked where this win ranks on his all-time list after being sacked by Joe Gibbs after last season.
"It ranks high. Just to the fact that I can do it. I never doubted myself, but sometimes you do … It's not about me always winning, but it's about the guys. I've been with some great people who have given me an opportunity to win races."
"I can't thank Richard and Judy (Childress) enough," said Busch. "I can't thank Austin (Dillon) enough for calling me and getting me this opportunity to be able to come over here to RCR; and be a part of Chevrolet and be able to race this Lucas Oil Camaro today."
"Yeah, just really proud of our team," 2nd place Chase Elliott said. "We obviously didn't run very good there toward the end of the year last year, and just everybody really went to work hard over the winter to try and get better. Obviously, I think we still have some work to do, but it was really nice to just see a lot of that hard work pay off and have the car driving like we were wanting it to do. So that's always a good thing. …
"Congratulations to Kyle. For him to leave and then to go get the job done like that is pretty cool. He's always been really good to me, so happy for them and looking forward to getting to Vegas and hopefully competing for some more wins."
Chastain led a race-high 91 laps to Busch's 27 and finished third after sweeping the first two stages, the second by 6.673 seconds. Chastain's Trackhouse Racing teammate, Daniel Suárez ran fourth, followed by Kevin Harvick in his 750th consecutive Cup Series start. Denny Hamlin, Brad Keselowski, Alex Bowman, Austin Dillon and Joey Logano completed the top 10.
When the green flag flew on Lap 86 of a scheduled 200 in the Pala Casino 400, the middle of the pack jammed up behind Joey Logano's No. 22 Ford, sending several cars skidding on the frontstretch. Eliminated were the No. 10 Ford of Aric Almirola, the No. 41 Mustang of Stewart-Haas Racing teammate Ryan Preece, the No. 45 Toyota of 23XI Racing's Tyler Reddick and pole-starter Christopher Bell's No. 20 Joe Gibbs Racing Toyota.
Other drivers sustaining damage were Ryan Blaney, Justin Haley, Todd Gilliland, Cody Ware and Ty Dillon.
Kyle Larson's No. 5 Hendrick Motorsports Chevrolet slowed on Lap 13 of the scheduled 200 laps in Sunday's Pala Casino 400 for the NASCAR Cup Series. He brought the car to pit road, where his crew raised the hood to assess the issue. They eventually returned to the race, but could not keep a competitive pace. After a competition caution period at Lap 15, the No. 5 Chevy was pushed behind the wall to the garage for repairs.
Larson, a two-time Cup Series winner at the 2-mile Fontana, California, track, returned to the track 15 laps off the leader.
Race Winner Quotes
Kyle, the well-documented move to Richard Childress Racing, you've been up front every time in this car; it only took two points races until you get your first win with these guys.
"Yeah, coulda-shoulda-woulda, right, last week. But no, I think it's just phenomenal. I can't thank Richard and Judy enough. I can't thank Austin for calling me and getting me talking and getting me this opportunity to be able to come over here to RCR; and be a part of Chevrolet and be able to race this Lucas Oil Camaro today. To be able to put it up front like that, man.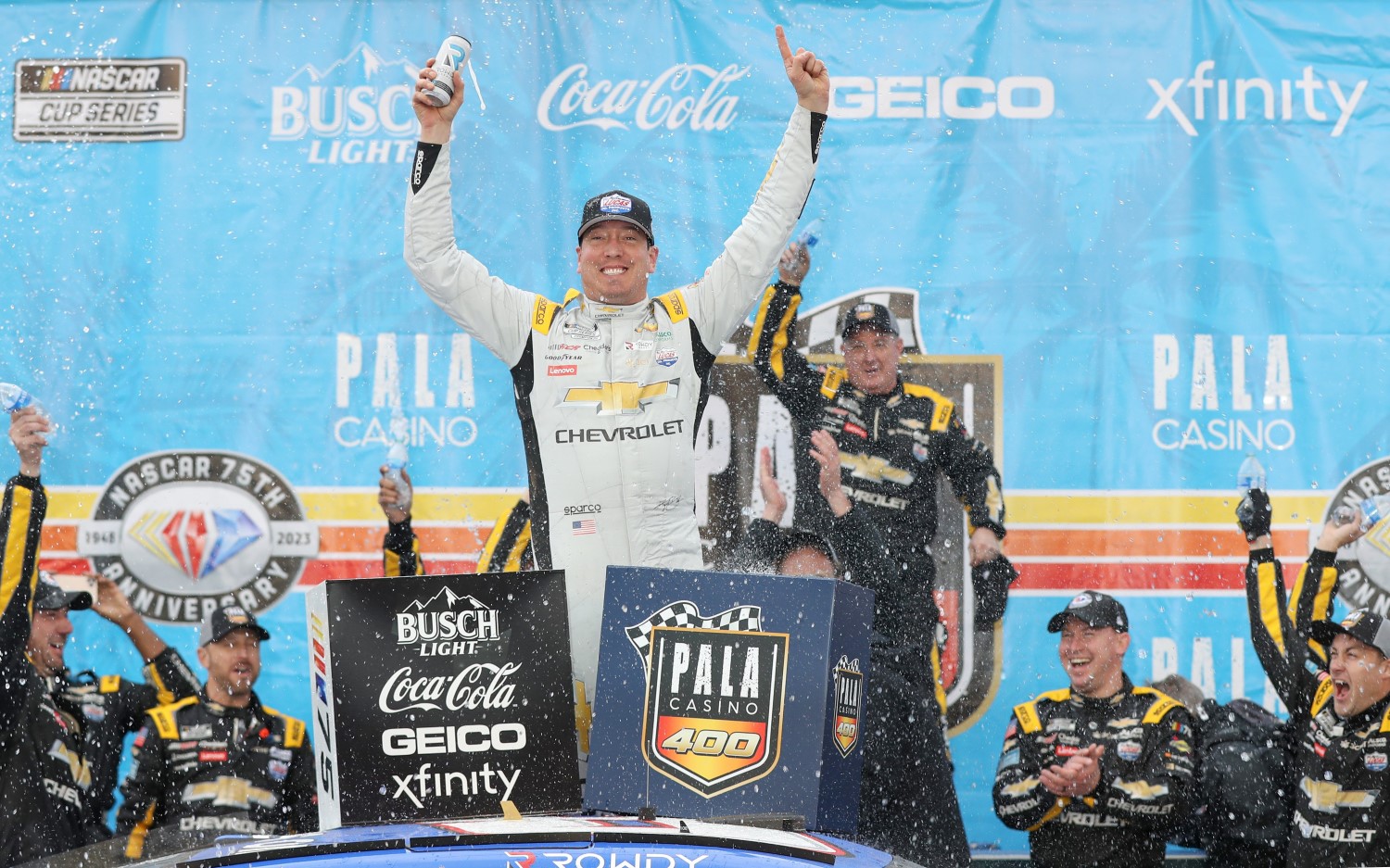 The guys did a great job, Randall (Burnett, crew chief), everybody that has worked so hard during the off-season. We've done a lot of sim stuff; we've done a lot of testing in general just with trying to get up to speed, systems and all that sort of stuff. But man, there's nothing more rewarding than being able to go to Victory Lane.
Want to give a shout-out to my wife and son and daughter back at home. I miss you guys, I'll see you back at home tonight, and also Rowdy Energy, appreciate them. I need some 3CHI for my hands; I death gripped that wheel throughout the second half of that race. We held on, man, we got it today."
You've won a lot of big races through your career, but given everything that went in with the move and the change in teams, where does this one rank?
"I think it ranks high just because it ranks to the fact of I can do it. I never doubted myself, but sometimes you do. You kind of get down on it, you wonder what's going on and what's happening and you put yourself in a different situation and you're able to come out here and reward your guys. It's not about me always winning but it's about the guys. I've been with a lot of great people that have given me a lot of great opportunities in my career, so it's awesome to be able to reward them.
I'm going to enjoy it for sure, and hopefully there's many more left to go."
Race Results
| | | | | | |
| --- | --- | --- | --- | --- | --- |
| POS | CAR | DRIVER | MANUF | BEHIND | LAPS |
| 1 | 8 | Kyle Busch | | — | 200 |
| 2 | 9 | Chase Elliott | | 2.998s | 200 |
| 3 | 1 | Ross Chastain | | 7.353s | 200 |
| 4 | 99 | Daniel Suarez | | 11.866s | 200 |
| 5 | 4 | Kevin Harvick | | 13.268s | 200 |
| 6 | 11 | Denny Hamlin | | 13.296s | 200 |
| 7 | 6 | Brad Keselowski | | 13.541s | 200 |
| 8 | 48 | Alex Bowman | | 16.289s | 200 |
| 9 | 3 | Austin Dillon | | 16.795s | 200 |
| 10 | 22 | Joey Logano | | 17.013s | 200 |
| 11 | 19 | Martin Truex Jr | | 17.105s | 200 |
| 12 | 47 | Ricky Stenhouse Jr | | 23.231s | 200 |
| 13 | 17 | Chris Buescher | | 24.082s | 200 |
| 14 | 7 | Corey LaJoie | | 29.296s | 200 |
| 15 | 21 | Harrison Burton | | 34.796s | 200 |
| 16 | 54 | Ty Gibbs # | | 36.726s | 200 |
| 17 | 38 | Todd Gilliland | | 36.869s | 200 |
| 18 | 34 | Michael McDowell | | 41.379s | 200 |
| 19 | 43 | Erik Jones | | 42.406s | 200 |
| 20 | 14 | Chase Briscoe | | 43.955s | 200 |
| 21 | 31 | Justin Haley | | -1 Lap | 199 |
| 22 | 42 | Noah Gragson # | | -1 | 199 |
| 23 | 15 | JJ Yeley | | -1 | 199 |
| 24 | 78 | BJ McLeod | | -1 | 199 |
| 25 | 24 | William Byron | | -2 | 198 |
| 26 | 12 | Ryan Blaney | | -4 | 196 |
| 27 | 51 | Cody Ware | | -5 | 195 |
| 28 | 2 | Austin Cindric | | -6 | 194 |
| 29 | 5 | Kyle Larson | | -15 | 185 |
| 30 | 23 | Bubba Wallace | | -28 | 172 |
| 31 | 77 | Ty Dillon | | -60 | 140 |
| 32 | 20 | Christopher Bell | | -112 | 88 |
| 33 | 41 | Ryan Preece | | -113 | 87 |
| 34 | 45 | Tyler Reddick | | -113 | 87 |
| 35 | 10 | Aric Almirola | | -114 | 86 |
| 36 | 16 | AJ Allmendinger | | -125 Laps | 75 |
# DENOTES ROOKIE
(i) NOT ELIGIBLE FOR POINTS
(*) REQUIRED TO QUALIFY ON TIME