F1: Red Bull as dominant as Mercedes was – Wolff
(Update)
–by Mark Cipolloni–
Proving Lewis Hamilton was blowing smoke up the media's posterior when he said, "When we were fast, we were not that fast. It is the fastest car I have seen, ESPECIALLY COMPARED TO THE REST."
Using historic Bahrain Qualifying data (1st race of season) then Aldo Costa's W05, W07, W11 and W06 designed cars were more dominant packages vs the rest, than the RB19.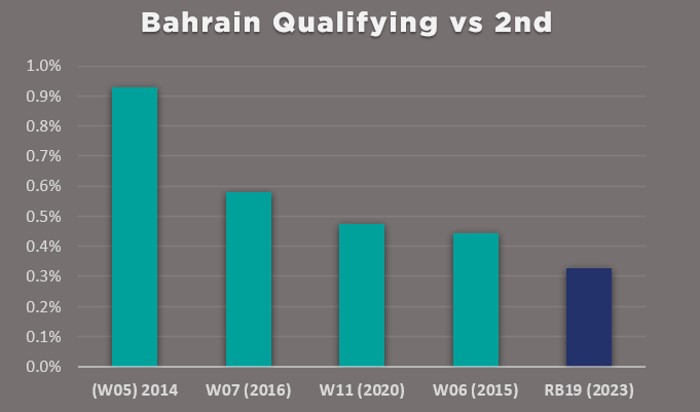 ---
March 21, 2023
–by Mark Cipolloni–
Mercedes team principal Toto Wolff says Red Bull are as dominant as his team was when  the V6 hybrid turbo era began in 2014.
Mercedes became F1's dominant force when the current V6 hybrid turbo power unit regulations were introduced in 2014. Over the first three years under the rules Mercedes won 51 races out of a possible 59.
Lewis Hamilton has a very short memory.  He claimed he never saw a car as fast as the current Red Bull, which of course is complete BS given Mercedes dominance in years gone by.
"I think we've had those years when we were as strong," Wolff admitted.
"It's a meritocracy, this sport. Even if it's not great for the show that the same guys win all the time, it's because they've done a good job and we haven't.
"So we all hope for a good entertainment factor, and it's our duty with all we have to catch up and fight these guys."
"I remember hearing voices like that in 2014, '15, '16, '17, '18, '19, '20. And what makes the sport so special that you need to work hard to win, and you deserve it, as a matter of fact.
"Of course we will try to do everything in our powers to fight back, and we will look at areas of weaknesses that they may have. But entertainment follows sport, and that's maybe not good from the commercial side, but it is what makes Formula 1 so special."
"The direct competitor is very far away in terms of performance and that's not something that's going to be easy to catch," he admitted. "But today we've seen that directionally with our development it's heading into the way that we wanted it to head.