F1: Australian GP Post-Qualifying Press Conference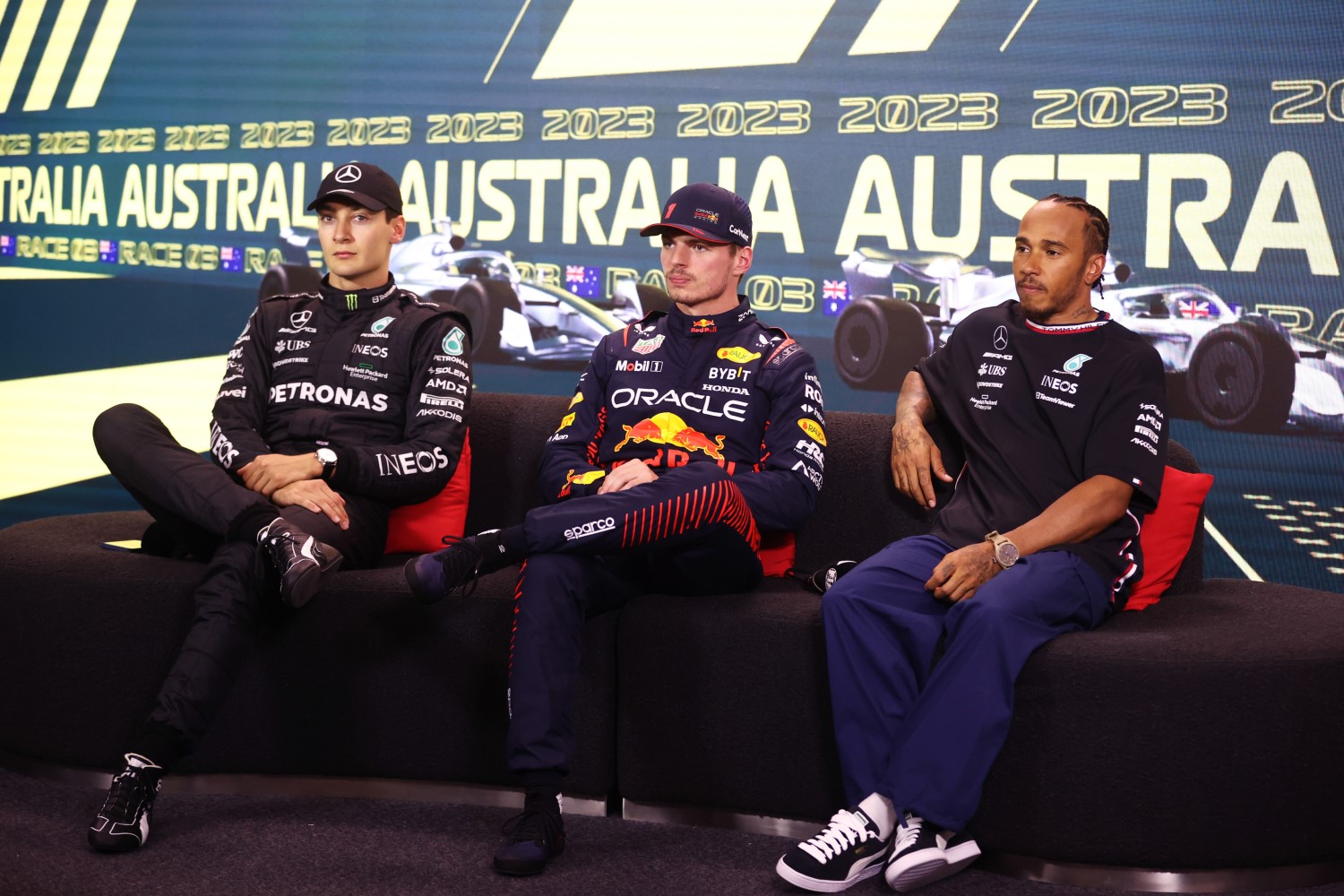 DRIVERS
1 – Max VERSTAPPEN (Red Bull Racing) 
2 – George RUSSELL (Mercedes)
3 – Lewis HAMILTON (Mercedes)
TRACK INTERVIEWS
(Conducted by Naomi Schiff) 
Q: Max, congratulations, your first pole position here in Australia. It's never been a great one for you. But today, it was enough. How was the lap for you?
Max VERSTAPPEN: Yeah, I think the last run was very good. I mean, the whole weekend has been very tough to get the tires in the right window, to push straight away. But it all worked out in Q3. So yeah, very happy with the lap. And of course, very happy to be in pole position. And yeah, already looking forward to tomorrow, really.
Q: Now, you had some challenges in that session. We heard you complaining about downshifts, as well as the battery. Is reliability a concern for you in tomorrow's race?
MV: No, normally not. I think we always try to fine tune and we'll continue to do that.
Q: Now, tomorrow you're going to have a lot of challenges ahead of you. As you said, the track was very tricky out there, there was even some wildlife for you to contend with out there today.
MV: Yeah, almost hit a bird! Luckily, that didn't happen. Yeah, that happens sometimes on the street circuit, but I think tomorrow we will have a good race car. But again, it's quite tricky on the tires to keep them alive and stuff. So it's going to be an interesting race for sure.
Q: So are you confident that you have the package tomorrow to get revenge here in Australia and finally take home the win?
MV: I have been on the podium once but I want to be on a different step this time.
Q: George, congratulations, front-row start for you. How are you feeling?
George RUSSELL: We wasn't (sic) expecting that, that's for sure! Yeah, a lot of hard work going on back at a factory and here in Melbourne. And wow, what a session for us. You know, the car felt alive. The lap at the end was right on the limit. And I've got to be honest, I was a little bit disappointed that we didn't get pole position. It's one of those things, how your expectations change so quickly in this sport. We probably would have been happy with a top four, top five yesterday, but the car felt awesome. And it goes to show we've definitely got potential still to come.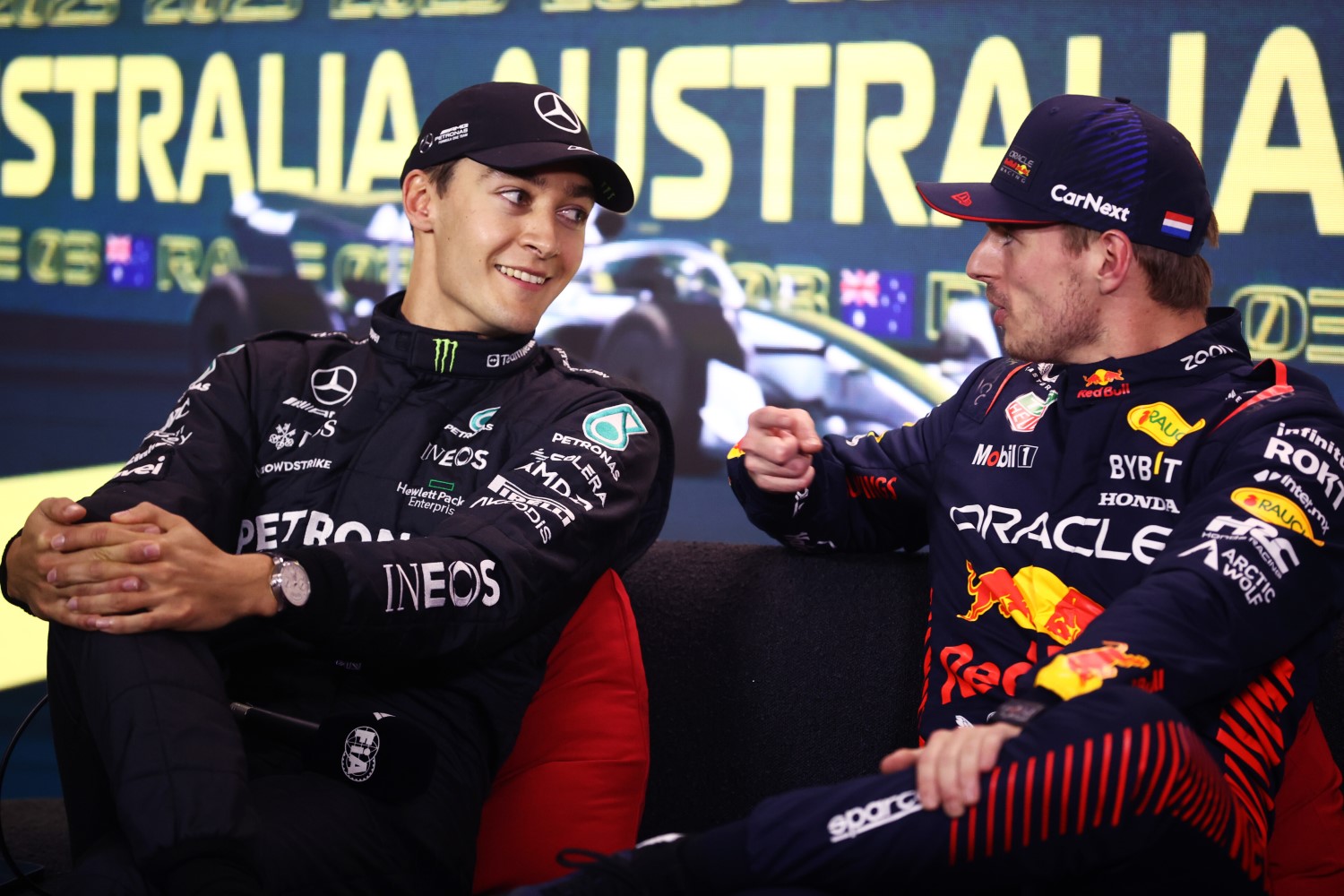 Q: Well, as you say, it's quite a surprise to everyone that you guys are on the front row today. You haven't brought a lot of changes to the car this weekend. But clearly there's been a big step forward.
GR: It must be the jet lag program we're doing! Something's got to be right! I don't know. I don't know. So yeah, we've got to understand obviously, when you have good days and bad days, but we'll take it. We'll take it and we're excited for tomorrow. It's going to be tough against Max, but definitely very, very happy to be lining up in P2.
Q: Fantastic. Wish you the best of luck. Lewis, congratulations. The crowd is loving you here. You hoped for some rain, it didn't happen today, but it looked pretty good today anyway?
Lewis HAMILTON: Oh, yeah. I'm so happy with this. What's up Melbourne? How are you doing? This is totally unexpected. I'm really, really proud of the team. George did a fantastic job today, so for us to be up on the two front rows is honestly a dream for us. We're all working as hard as we can to get right back up the front and to be this close to the Red Bull is honestly incredible. So I hope tomorrow we can give them a bit of a run for their money. And we hope the weather is good.
Q: Your first fast lap, you put it on pole to begin with, and there was a massive roar from the crowd. But we saw that in your second run, you had a little bit of an issue with traffic. Did that affect your second run?
LH: The second lap wasn't as good as obviously the first one. I did get a little bit further ahead in the last sector, but ultimately, yeah, I lost out a little bit at the beginning. But I'm not disappointed. I'm super grateful for this position and I'm just going to work as hard as I can to try and move forward tomorrow.
Q: Well, you've got Fernando on the grid next to you tomorrow. Is that a challenge for you tomorrow? What is your goal?
LH: To get to first! Yeah, I'm going to try and see… I'll be hoping for a day like the first year, 2007, Turn 1 here, that would be awesome. I don't know if anyone here remembers but yeah, that'd be awesome if we can do that.
PRESS CONFERENCE 
Q: Max, very well done to you. Point two-five ahead of the field. Just how good was that final lap?
MV: Yeah, the last lap was pretty decent. Up until then it was just really tricky to find the grip and to try to nail it on one lap. I think you could see everyone was doing either like a build or were going faster on the second attempt. But yeah, I only had time in that last run to go out and just go for that first time. But this time, yeah, it worked out. So yeah, very happy with that.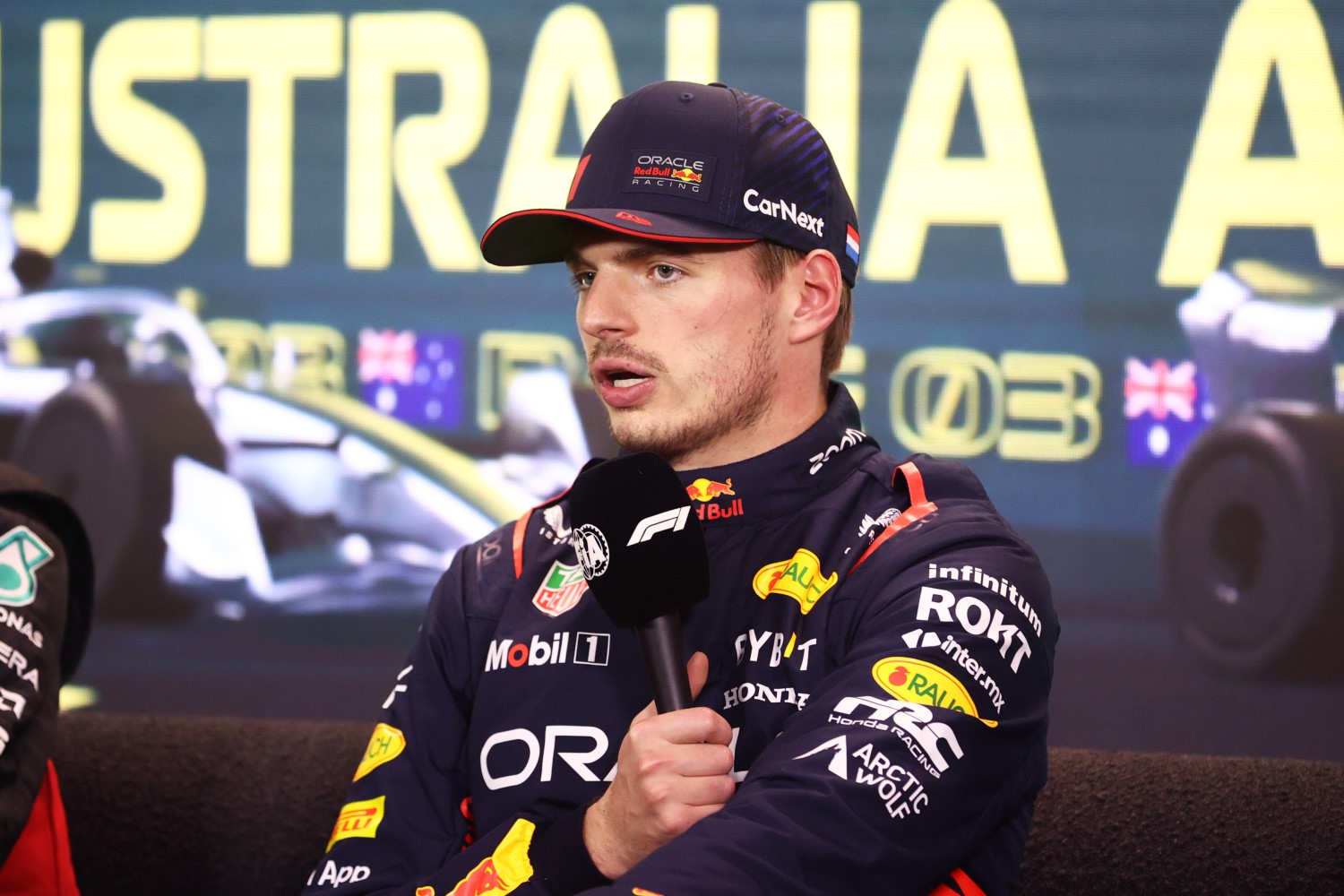 Q: So, disrupted practice sessions here at Albert Park. Just can you talk to us about the session as a whole and how you feel it went from Q1 through to Q3.
MV: I think overall, it was going quite well. You know, Q1, Q2, Q3. But like I said, just very tough to get the tires to work in Turn 1, you know, to get that comfortable feeling through that corner. I think that has been a bit the story again the whole week. And I also think it wouldn't have mattered if we had full running in FP1 and FP2, just on the performance lap, but it seems very tricky with this new tarmac around here since last year.
Q: And with that disruption to practice, how is tomorrow going to play out? Do you feel a little bit undercooked as we go into the race? Have you done all of the homework that you need to do?
MV: Yeah, I mean, I did a long run in in FP3. So I had a bit of a read on the tires. And yeah, I don't think it's a straightforward race with the tires. But I think what we've shown so far this year, I think the car normally is good in the race.
Q: And Max, are you surprised to have these two guys sat next to you?
MV: I'm a little bit surprised, maybe they are also a little bit surprised! But I guess it's a good thing. But again, it's all about just having the tires in the right window, and I guess they did a good job with that as well.
Q: George, coming to you, then. How much of a surprise is this result?
GR: Yes, it is a surprise, there's no doubt about it. I think we're learning more and more about this car. We know it's not where we want it to be. But it's probably evolved, just with the set-up, since Bahrain to Jeddah, to here. We've seen that performance improvement with the exact same car. For sure tires played a big part this weekend, as Max alluded to, and the pace on that final lap was quite surprising. Really pleased to be just two and a half tenths off, when you know, we were a second off on other occasions. So yeah, let's see what tomorrow brings.
Q: You say the set-up has evolved from race to race, just how much better does the car feel here than either of the first two races?
GR: I think the feeling of the car is not the limitation, to be honest. The car feels pretty decent. It's probably the best F1 car I've ever driven, or raced, sorry – probably excluding the obvious 2020 experience with Mercedes. But we're just lacking a bit of downforce. We know we've made some huge gains over the past two or three weeks in the wind tunnel, and hopefully we'll be bringing that to the track sooner rather than later. But, you know, this result today is going to give us a huge amount of confidence, regardless of what tomorrow brings, over the course of the next four weeks, because if we can deliver a performance like this with a car that is definitely quite a bit off the pace, it shows good promise for when we bring our first upgrade.
Q: How has this Qualifying session changed your ambitions for the race tomorrow?
GR: We've got to go for it, haven't we? We've got to go for a win. Max is going to be extremely fast, there's no hiding that. I think it's difficult to overtake around this circuit, so the start, lap one, is going to be vital – but the Red Bull has extraordinary top speed. So, it's going to be very difficult to fight with Max. But let's see. Let's see how we get on. We've got to do our own race. If the opportunity is there, we will go for it.
Q: Lewis, great to have you back up here as well. George said this is unexpected. How do you explain the turnaround at Mercedes? 
LH: I think it's perhaps track-specific, but I think ultimately there's no one in the team that's had their heads down, in terms of giving up, everyone's been working incredibly hard to try to squeeze the most out of what we currently have. We are, as George mentioned, a little bit down on downforce, where we really want to be. But everything came together today. So I mean, it feels amazing to be up here, either side of Max. And I really hope that tomorrow, we can somehow hold on to him. He might pull away into the distance like he has done in the past, but we'll give it our best shot.
Q: Just how realistic is it for us to think you could challenge for the win? 
LH: I think it's difficult to say. I mean, I haven't even done a long run. So tomorrow, going into the race, will be the first time I do so. And I've not seen where we tally up compared to them. But I mean, I think they generally have… we have to expect they're going to be a quarter of a second, half a second, at least, quicker than us. But maybe in the tow, maybe we can just about hold on; maybe the fact that there's two of us and only one Red Bull, maybe with strategy, maybe we can apply some pressure to them. So, we'll see.
Q: And Lewis, at one point in that session, you were top of the timesheets, probably doing a little rain dance at that moment. Did you dare to dream at that point that that ninth pole position at the same racetrack could have been on? 
LH: Yeah, honestly, that felt like a great lap. And it was very, very surreal to see us at the top for a second. And then obviously, I saw Max was finishing his lap, so just about lost it. But then the last lap just wasn't really that great. Unfortunately, as Max mentioned, just difficult to get the tires working. Yeah, left plenty of performance on the table, just in the sense of just couldn't get the tires really working. So, the second lap was a bit average. But still, I managed to get it up there for the team. And tomorrow I will do better.
QUESTIONS FROM THE FLOOR
Q: (Alex Kalinauckas – Autosport) Question to Max, please. Max. It was obviously a bit of a notable jump in time from earlier Q3 laps to that final one that got pole. We also heard you on the radio, mentioning some issues with the gear shifts, things like that. Was there a problem with the car? What was going on there? And did that sort itself out for the final run? 
MV: No, it's not an issue, it's just not good. I mean, it's something I always want improved. And I think also my first run in Q3 was slower than Q2, so the laps were not amazing at that time.
Q: (Alex Kalinauckas – Autosport) Question to Lewis this time, please. We saw you behind the Haas, I think it was Hülkenberg, ahead of those final corners, ahead of your last run in Q3. Did that cost you early-on in the start of the lap, having to go extra slow on that last warm-up lap – and without it, might you have been able to get a bit close to George and Max? 
LH: It definitely was a little bit confusing and definitely wasn't an optimum way of starting your lap. Normally, you need to try and keep pace up in that last sector. But there was a lot going on. So it wasn't as good as the start of the previous lap. So I think we did lack a little bit of temperature, and it picked up towards the end of the lap and my last sector, I think, was a little bit better. But yeah, that's how it goes sometimes.
Q: George, can I bring you in. Lewis thought this might be track-specific. Do you think the pace of the Mercedes will translate to other race tracks? 
GR: For sure, we maximized the job today, no doubt about it, but we had a good qualifying last week in Jeddah. I didn't put my lap together in the last run in Jeddah, and was only a tenth off P3. So no, I don't think it's necessarily track specific. I do think we're making some improvement with the understanding of the car. Yeah, I don't really know. But for sure the tires play a big factor. You know, when you get those tires in the sweet spot, you make a big jump, and I think even I improved four-tenths maybe on my last, my last run in Q3. So unfortunately, it's all tires, tires, tires.
Q: (Tom Cary – Daily Telegraph) We heard Lewis say just then that with two Mercedes at the front and only one Red Bull, they could maybe gang up on Max, whatever. We saw Max come through in Saudi from a long way back. Do you think that Checo is still a factor? It's a question for all three of you really. Can he still do something? Would it require Safety Cars – obviously very track-specific.
MV: Normally, not for me.
Q: But how far do you think your team-mate can get tomorrow? 
MV: I don't know. I think this track is a bit tricky to pass but that extra DRS zone will help, for sure. But again, it's just really difficult to say. I mean, it depends also, how the pace of the other cars are in the race, if they have tire deg, or if you're better on deg. A lot of factors come into play.
George?
GR: I think it'll be challenging around here. For sure he will come through to the top 10. But I don't think, on a circuit like this, you'd be able to fight it towards the front.
LH: Same.
Q: (Phil Duncan – PA) I know it's very early days and only one qualifying session but George, in Bahrain, you said you expect Red Bull to win every race this year. Does this change your mind? Do you and Lewis – and this is to Lewis as well – do you guys think that you can actually get in the mix? I know it's only one qualifying session but does it give you hope, I suppose? 
GR: Obviously, after a frustrating Qualifying, like the one we had in Bahrain, you say some things in the heat of the moment, I do still think Red Bull are a class ahead of everybody else and for sure Lewis and I got the most out of it today. And by the sounds of what Max is saying, there was probably still a little bit more in the locker. And we're talking that three-tenths is a little bit. Normally, they're a second ahead. Now, they're three-tenths ahead. That's still a huge amount in the world of F1. So, you know, we're not going to give up, we're going to keep on pushing. And I think, right now we'll have to reassess when we bring some upgrades to the car. And that will be the first time when we truly know if they work as we expect and if we can fight them. But yeah, why not?
LH: Same. I can't even remember what the question was. What's the question?
Q: Does this change your view of the rest of the season?
LH: No, but I think, like you said, I think this gives everyone in the team a boost and a glimpse of hope and this will spur everyone on and will inspire everyone to continue to push. We know that if we can just bring a little bit of performance we can close the gap to the front. Still, there are going to be places where the gap is a lot bigger, so today, whilst the gap looks small, in other places, as I said, you look at the last race, it was a bit of a bigger gap. So yeah, I think if we just try to stay consistent, we've got great reliability then we can continue to apply the pressure, bag those points and then when the car is right, maybe we can start fighting for wins. That'd be incredible.
Q: (Alex Kalinauckas – Autosport) To all three drivers, please. Ahead of this weekend the FIA has decided it's going to quite strictly enforce the rule that means if you guys finish on the podium tomorrow, your mechanics can't come and climb the pit wall fences and celebrate with you. I know they can't really do it here because there's glass paneling, but at other tracks that won't be possible anymore. What was your reaction to that? Do you think it's a bit of a shame or does safety trump everything?
GR: Initially, when I read that, I was a little disappointed, because I think that's part of the sport. Then I heard it's only about climbing the fences, they can still stand on the pit wall and I think some of the older circuits we go to, we stand on those fences, they do wobble and if you've got 20, 30 big guys on there – I know, we've got some big boys in our team – you'd never want to see something like that happen. So yeah, I guess it's a shame in some ways but I don't know, if we saw something like that fall in when the cars are passing that'd be pretty horrific.
MV: George explained it well.
LH: Nothing to add.
Q: (Andrew Benson – BBC Sport) This is particularly to George and Max, because I know you've been talking about this this weekend but Lewis, I'd like your opinion too on the Sprint race format change proposals. What do you think about them all?
GR: What is the proposal?
Q: (Andrew Benson – BBC Sport) The options are changing for Baku, maybe one lap qualifying, maybe a shorter qualifying on Saturday morning before the Sprint, etc.
GR: When the Sprint race was introduced in the beginning I wasn't a fan. After doing nine of them, I've become more in favor. I don't think a one-lap qualifying would ever go ahead and from the things I've heard that wouldn't be on the cards. I trust in what Stefano and F1 are doing. It's difficult to see, in the beginning, the prospects, but we've got to keep on evolving. I do think, globally, qualifying and the Grand Prix work very well, but I'm open to change, review, and going again but as I said, I trust them and I'll back them whatever they believe is right.
Q: What changed your opinion on the Sprint?
GR: I think having the action on the Friday. Arriving to the track, having action every single day, also for fans in the crowd, I think just watching cars circulating in practice, I don't think it's as exciting as when you have a qualifying session like this or a Sprint race. So I think it's exciting for us, for the teams, and for the fans. So yeah, probably that.
MV: Yeah, I'm not a fan of it at all. But also, I think when we're going to do all that kind of stuff, the weekend becomes even more intense and we're already doing so many races. So I think that is not the right way to go at it. I understand, of course, they want to have basically every day exciting, but then I think maybe it's better to just reduce the weekend, only race on Saturday and Sunday and make those two days exciting because we're heading into seasons where you have at one point 24/25 races, because that's where we're going to head into, and if we then start adding even more stuff, it's not worth it for me anyway. I'm not enjoying that. And for me, a Sprint race is all about surviving, it's not about racing. For me, when you have a quick car, there's nothing to risk. I prefer to just keep my car alive and make sure that you have a good race car for Sunday. And even if you change the format, I don't find it's the DNA of Formula 1 to do these kinds of Sprint races. F1 is about getting the most out of it in qualifying and then having an amazing Sunday, good long race distances. That's the DNA of the sport and I don't understand or I don't know why we should change that because I think the action has been good. And how do you get even more action is about getting the cars closer, getting more teams able to fight for the win. And I think naturally the show will be great. If we have six, seven teams already fighting for a win, that will be insane. Then you really don't need to change anything.
LH: I've not read them so I don't know what the rule is exactly, but I do think we constantly need to be evolving and assessing what we're doing. And I think the changes with the Sprint races has been positive in some places. Baku, we couldn't do a one-lap qualifying because these tires don't work after one lap, and especially if we've got no blankets, then we'll be doing more laps. So I don't know. But I'm open to changes, to continue to make it more inclusive and more engaging for the fans. I quite like the Friday of a Sprint weekend so far. I'd love to have more qualifying because that's always super fun. And I just think it should… different. Perhaps we can just apply just slightly small changes to different races, specific for those places where if a race where you can't overtake like Monaco, what else can we do there to make it more exciting. Yeah, that's about it.
Q: (Alex Kalinauckas – Autosport) Max, it's quite a different qualifying session to what we normally see with you guys doing lots and lots of laps all through qualifying. I just wonder, could you talk us through that, how different is it to be able to peak right at the right times to get the pole as you did today?
MV: Yeah, it was but then of course at the end in Q3, I still did only one lap. But like I said, it's just been really hard to get the tires to work especially in the first sector after just an out lap and yeah, it has something to do with the time like around here where… get the tires in the right working range initially. And with all these 90 degree corners, if you have a tiny moment, you lose immediately a lot of momentum. So yeah, it's the same for everyone. We have to deal with it. In the race normally, of course it all stabilizes after one lap, and then it's not a problem but it definitely makes it a bit more tricky to get the most out of it in qualifying whereas some other tracks you at one point understand a bit what you have to do more or less on an out lap and then you nail it on one lap. But yeah, here it's a little bit more complicated.