Rumor: South African GP back on for 2024, but then Spa would be axed?
(4th Update)
–by Mark Cipolloni–
This rumor is downgraded to 'false' today. A race in South Africa is not going to happen in 2024.
While there are reports out there that it was because of South Africa's relationship with Russia, the real reason is that Kyalami was unable to come up with the money to host an F1 race. Period.
Other countries have a relationship with Russia (example Azerbaijan, Singapore, China) so do not believe the BS that it is because of Russia.
Rumors of an F1 race in other African countries are still out there, but have the same issue as South Africa – money – as in a $50-$55 million per year sanction fee any new race promoter must pay F1 for a flyaway race.
The good news is that Spa may now ink a new 3-year deal.  Spa should never lose its F1 race because of a race in South Africa.
Spa is loved by everyone. To remove that from the F1 schedule would have been a travesty.
---
May 3, 2023
–by Mark Cipolloni–
South Africa has missed their April 30th deadline to sign an agreement to host an F1 race.
However, F1 has yet to give up on it totally, despite a race the sport does not really need for all the reasons previously stated.
As a result, Spa remains in limbo.
To not race at Spa for a race in South Africa that will have little to no staying power makes little sense whatsoever. Incomes in Africa cannot support high F1 ticket prices, hence the race will always be a money loser and will eventually die when whoever is funding it decides they have had enough.
One would hope F1 comes to its senses and realizes it does not need a race in South Africa.
Gross National Income (GNI) per capita in Africa in 2020, by country

(in U.S. dollars)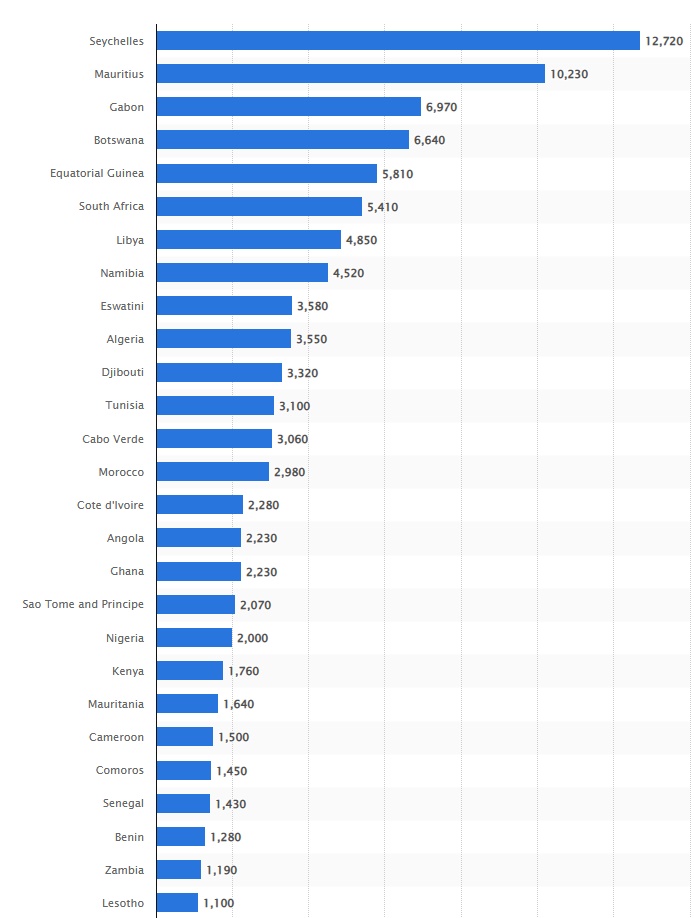 ---
April 24, 2023
–by Mark Cipolloni–
This rumor is downgraded to 'speculation' today.
Hearing reports that the likelihood of a South African race making the 2024 calendar has diminished.
There are no South African drivers in F1 so what would be the attraction for South African race fans who earn meager wages to shell out a lot of money for an F1 race ticket?
Unless the government wants to use F1 to help put Johannesburg, South Africa back on the 'world stage' and are willing to sign a long-term commitment, those in power question – does the race make much sense?
The relatively short 2.8-mile circuit affords, maybe one overtaking straight, and even that is questionable. Drivers are almost always turning. Hence, would the race just be a parade and eventually die away a slow death?
As I have written previously, other than F1 being able to say "we race on every continent," what does a race in Africa bring to F1?
More sponsors? Nope!
More Manufacturers? Nope!
Big TV Viewership Numbers? Nope!
Africans able to watch their hero race? Nope, Lewis Hamilton is British!
A chance for the next South African hero -Jody Scheckter? Nope, his 42-year-old son Tomas no longer races!
And any notion that Spa should be axed for a race in South Africa is pure folly.
We have said it once, and we will say it again – a 4th race in the USA makes far more sense than a race in South Africa, Vietnam, or a return to Malaysia.
The USA market, manufacturers, sponsors, teams, drivers and motorsports history is a market F1 needs to continue to exploit in a big way.
---
April 10, 2023
–by Mark Cipolloni–
So it would seem that the popular 'Spa' race will be the sacrificial lamb should F1 sign a deal with South Africa.
Spa does not have a contract past 2023, and it is a fan, driver and team favorite.  Losing it for a race on the Kyalami track where passing will be near impossible is going to piss off countless people.
A new deal for Spa in 2024 would depend on the South African Grand Prix. F1 would like to return to Kyalami, but there are delays again.
Spa, meanwhile, is waiting to hear about whether South Africa will be on the 2024 calendar or not, but has faith in a happy ending. "A delegation from the F1 Group came by this month," Vanessa Maes, head of organization at Francorchamps, told Het Laatste Nieuws. According to the Belgians, the F1 summit was very upbeat, making for an optimistic mood at Spa.
Should Kyalami again fail to get the finances in place for a GP in South Africa, Spa-Francorchamps is aiming for a two-year deal with F1.
---
April 10, 2023
–by Mark Cipolloni–
In the Albert Park paddock in Melbourne, there were many meetings to discuss possible changes to the F1 calendar for next year – 25 races, the maximum allowed by the Concorde Agreement, are supposedly on the docket.
It is now rumored that the organizers of the South African Grand Prix will finally go ahead, paid for by the government.
Last year Liberty Media was told that some private investors would pay the $50 million sanction fee but when they ran the numbers are realized they would lose their shirt, they backed out. The issue is the average ticket price will be too low to make the numbers work.  The fans there cannot afford high ticket prices.
After the planned race for 2023 fell through, government officials stepped up. Now everything indicates that the agreement will go ahead with $50 million dollars from the public budget that will be allocated so that F1 returns to Kyalami next year after 31 years.
The last time a Grand Prix was held at that circuit was in 1993, with Alain Prost's victory ahead of Ayrton Senna and with only 5 cars crossing the finish line.
The economic study that has been submitted to the Government for this investment shows an economic impact in the area close to $250 million.
We already put together a possible 25-race F1 calendar for 2024.  It did not include South Africa. So if South Africa signs a deal, another race has to drop. The only race contract that expires after 2023 is Spa, so to fit in South Africa, either Spa or China would likely be dropped.