McLaughlin and Percat claim wins on two-race day in Sydney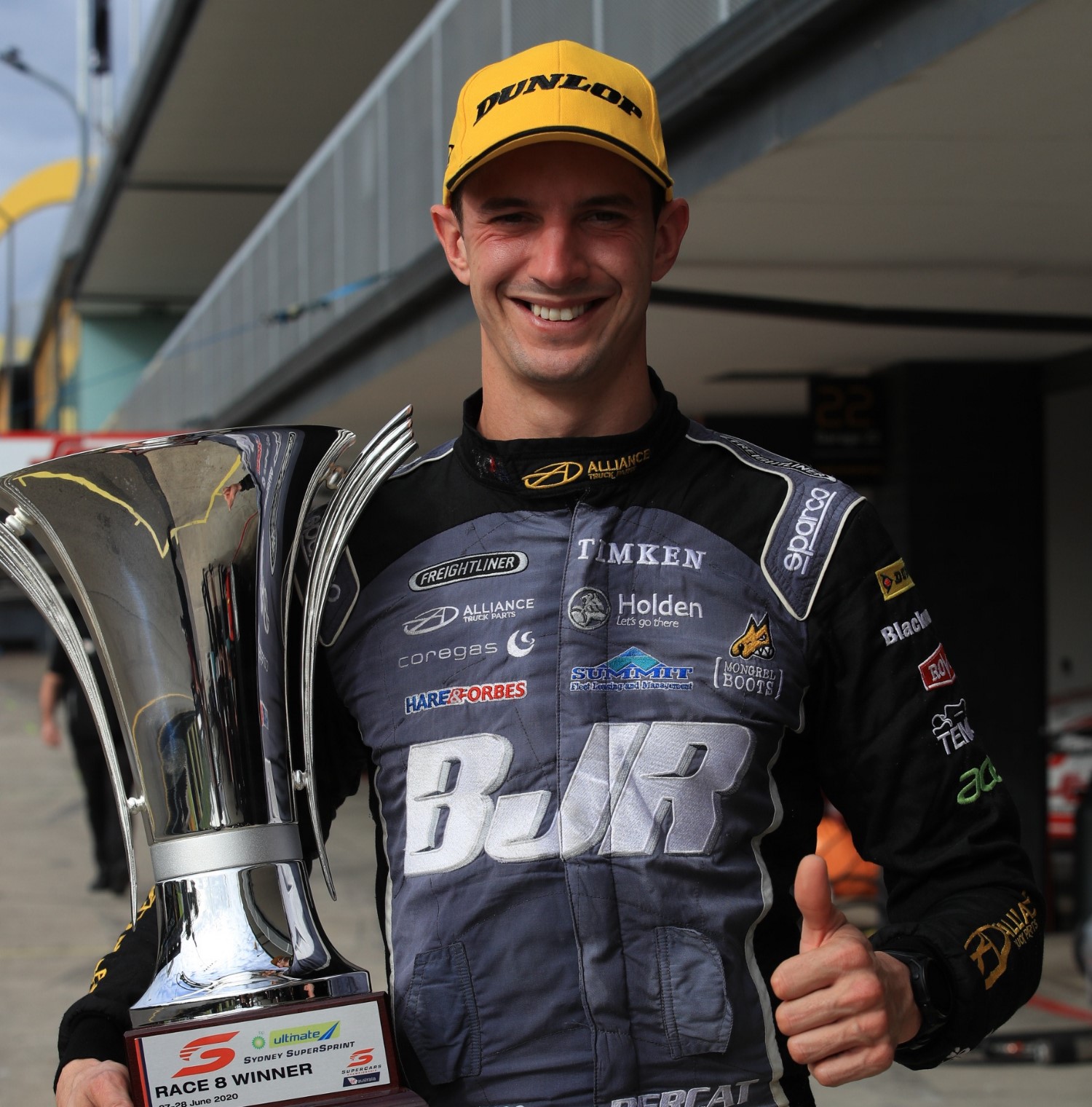 Nick Percat
Supercars roared back to life in a big way this weekend and Nick Percat and Scott McLaughlin spoiled Jamie Whincup's 500th race party, claiming victories Sunday.
In a new-look three race format re-introduced as part of changes forced by COVID, Percat broke a four-year winless drought by overtaking Whincup in the dying stages of today's opening race.
In the opening race of the day, both Percat and Whincup were celebrating milestones: Whincup's career race 500 and Percat's career race 200.
The win also broke a four year winless drought for Percat's Albury-based team, Brad Jones Racing.
McLaughlin extended his Virgin Australia Championship lead with victory in the second and final race of the day at the BP Ultimate Sydney SuperSprint.
After starting from pole, McLaughlin held off Whincup heading into turn one and opened an unassailable lead, with a perfect tire strategy allowing the two-time defending Supercars Champion to run away for his third race win of 2020.
It capped off a successful weekend for McLaughlin, who ended with two ARMOR ALL Pole Positions, two race victories and a third placing behind Percat and Whincup.
Behind McLaughlin on the podium in this afternoon's race was Ford's Lee Holdsworth, Whincup was third.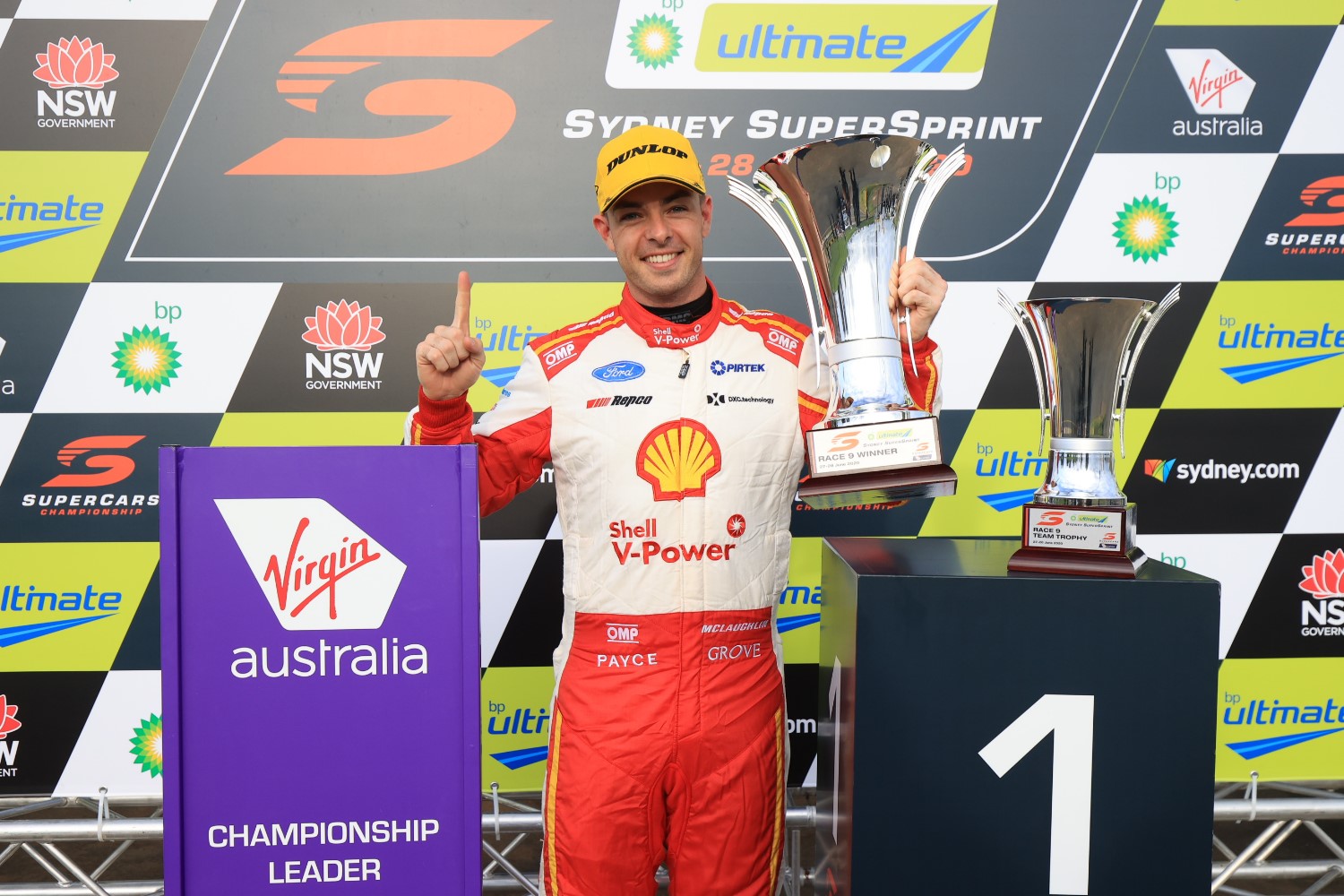 McLaughlin notches another win in final race of weekend
Today's weekend capped off a successful return to racing for Supercars after 15 weeks' out of action.
There were no major crashes and the new-look format proved a winner with teams, who were limited to relying on engineering data between races.
The only driver who had a major issue today was McLaughlin's Shell V-Power teammate Fabian Coulthard, who's Mustang broke down in the dying stages of this afternoon's race.
Percat stopped and transported Coulthard back to pit lane.
The results of this weekend mean McLaughlin now leads the Virgin Australia Supercars Championship by 49 points heading into next month's next round.
MCLAUGHLIN QUOTE:
"Overall, it was a solid day and the outcome was exactly what we wanted. Our qualifying pace was right there all weekend, and I felt really comfortable with the car. We just had to make it better across the race run compared to yesterday, which we did.
"I think we did a really good job with the car with regards to tyres. I couldn't really look after them that well yesterday but we put a few thought processes into it and it went well today. The car was an absolute dream to drive in that last race."
Results Sunday Race 2
| | | | | | |
| --- | --- | --- | --- | --- | --- |
| POS | # | DRIVER | TEAM | TIME | POINTS |
| 1 | 8 | Percat | Dunlop Super Dealer Racing | 50:14.125 | 100 |
| 2 | 88 | Whincup | Red Bull Holden Racing Team | +3.181 | 92 |
| 3 | 17 | McLaughlin | Shell V-Power Racing Team | +16.447 | 86 |
| 4 | 25 | Mostert | Mobil 1 TM Appliances Online | +19.769 | 80 |
| 5 | 9 | Reynolds | Penrite Racing | +21.962 | 74 |
| 6 | 6 | C. Waters | Monster Energy Racing | +23.046 | 68 |
| 7 | 97 | Van Gisbergen | Red Bull Holden Racing Team | +23.503 | 64 |
| 8 | 18 | Winterbottom | IRWIN Racing | +24.372 | 60 |
| 9 | 44 | Courtney | Boost Mobile Racing | +28.984 | 56 |
| 10 | 7 | Heimgartner | NED Whisky Racing | +33.570 | 52 |
| 11 | 20 | S. Pye | DEWALT Racing | +37.596 | 48 |
| 12 | 99 | A. de Pasquale | Penrite Racing | +38.526 | 46 |
| 13 | 5 | Holdsworth | Truck Assist Racing | +39.181 | 44 |
| 14 | 55 | J. Le Brocq | Supercheap Auto Racing | +39.362 | 42 |
| 15 | 12 | Coulthard | Shell V-Power Racing Team | +43.012 | 40 |
| 16 | 3 | M. Jones | Team CoolDrive | +49.858 | 38 |
| 17 | 19 | A. Davison | Local Legends Racing | +53.312 | 36 |
| 18 | 14 | T. Hazelwood | Brut Military Grade | +54.060 | 34 |
| 19 | 15 | R. Kelly | Castrol Racing | +56.802 | 32 |
| 20 | 2 | B. Fullwood | Mobil 1 TM Middy's Racing | +57.582 | 30 |
| 21 | 35 | G. Jacobson | Yellow Cover Racing | +1:00.121 | 28 |
| 22 | 22 | C. Pither | Team SYDNEY | +1:05.837 | 26 |
| 23 | 4 | J. Smith | SCT Motor Sports | +1:13.797 | 24 |
| 24 | 34 | J. Kostecki | UNIT Racing | +1 Lap | 22 |
Results Sunday Race 3
| | | | | | |
| --- | --- | --- | --- | --- | --- |
| POS | # | DRIVER | TEAM | TIME | POINTS |
| 1 | 17 | McLaughlin | Shell V-Power Racing Team | 50:20.268 | 100 |
| 2 | 5 | Holdsworth | Truck Assist Racing | +1.520 | 92 |
| 3 | 88 | Whincup | Red Bull Holden Racing Team | +11.251 | 86 |
| 4 | 9 | Reynolds | Penrite Racing | +24.428 | 80 |
| 5 | 18 | Winterbottom | IRWIN Racing | +25.647 | 74 |
| 6 | 97 | Van Gisbergen | Red Bull Holden Racing Team | +26.517 | 68 |
| 7 | 99 | A. de Pasquale | Penrite Racing | +26.950 | 64 |
| 8 | 14 | T. Hazelwood | Brut Military Grade | +27.129 | 60 |
| 9 | 8 | Percat | Dunlop Super Dealer Racing | +27.997 | 56 |
| 10 | 2 | B. Fullwood | Mobil 1 TM Middy's Racing | +28.749 | 52 |
| 11 | 55 | J. Le Brocq | Supercheap Auto Racing | +31.859 | 48 |
| 12 | 20 | S. Pye | DEWALT Racing | +35.647 | 46 |
| 13 | 6 | C. Waters | Monster Energy Racing | +36.859 | 44 |
| 14 | 44 | Courtney | Boost Mobile Racing | +37.462 | 42 |
| 15 | 7 | Heimgartner | NED Whisky Racing | +40.623 | 40 |
| 16 | 25 | Mostert | Mobil 1 TM Appliances Online | +43.754 | 38 |
| 17 | 15 | R. Kelly | Castrol Racing | +46.657 | 36 |
| 18 | 4 | J. Smith | SCT Motor Sports | +47.015 | 34 |
| 19 | 35 | G. Jacobson | Yellow Cover Racing | +48.063 | 32 |
| 20 | 3 | M. Jones | Team CoolDrive | +49.400 | 30 |
| 21 | 19 | A. Davison | Local Legends Racing | +49.829 | 28 |
| 22 | 34 | J. Kostecki | UNIT Racing | +50.596 | 26 |
| 23 | 22 | C. Pither | Team SYDNEY | +1:17.383 | 24 |
| NC | 12 | Coulthard | Shell V-Power Racing Team | +39.137 | 0 |