IndyCar: Palou wins pole for Indy 500, Rahal bumped out
Chip Ganassi Racing's Alex Palou became the first Spaniard to ever win the pole position for the Indy 500 with a 4-lap average of 234.217mph in his Honda to just beat the Chevy of Rinus Veekay, who averaged a tick slower at 234.211 mph.
Palou set the fastest pole speed in the history of "The Greatest Spectacle in Racing. Only Arie Luyendyk's mighty run of 236.986, set on the second day of qualifying in 1996 and not eligible for pole, is faster.
"It means the world to me now," Palou said. "It was really tight, but the 10 car crew did an amazing job. Super proud of the work they did all month, all year to get to this point. We knew we had to go aggressive, to trim the car a lot to get a good first lap and try to be consistent. The fourth lap was really tough to keep it flat, but we did it. I knew it was one chance only."
The 0.0040 of a second gap between Palou and VeeKay broke the record for the closest time margin between the top qualifiers, 0.01 between pole sitter Al Unser and Johnny Rutherford in 1970.
Felix Rosenqvist will start on the outside of the front row for the 107th running of the Greatest Spectacle in Racing with a 4-lap average of 234.114 mph in his Arrow McLaren Chevy.
Chip Ganassi Racing is the first team to win three consecutive poles at the historic race since 1991. This is the eighth all-time pole position won by the team (2022; 2021; 2017; 2015; 2008; 2002; 1993).
"We worked hard and never gave up. We had plenty of opportunities to quit but that's not what we do here," said Chip Ganassi. "That is exactly what this team is all about."
Santino Ferrucci continued a magical month for AJ Foyt Racing by qualifying fourth at 233.661 in the No. 14 Homes For Our Troops Chevrolet. Pato O'Ward was fifth at 233.158 in the No. 5 Arrow McLaren Chevrolet, and six-time series champion Scott Dixon rounded out the Firestone Fast Six and second row at 233.151 in the No. 9 PNC Bank Chip Ganassi Racing Honda.
Alex Palou
The 26-year-old driver was screaming when he learned he had secured the pole.  His teammates Dixon and Ericsson came over to congratulate him.
"It's been amazing for the 10 car, honestly. This start of the season, especially the month of May, couldn't be better with the GMR Grand Prix win and obviously the Indy 500 pole today."
"We knew we had a fast car since the beginning. We had to take advantage of that. Yeah,
enjoying my time here. Last year, as I said, we were really close, learned how we could go be more aggressive if we were in that position again, and lucky if we were in that position again today, we took it."
"You could see on every mechanic, every engineer, even Julian, my engineer, that — he's really quiet — when we win, he's normally like yeah, that was a good race, good job. But he was super excited today. It means a lot. It's a big deal. It's the pole for the Indy 500."
Harvey Bumps Rahal to make the race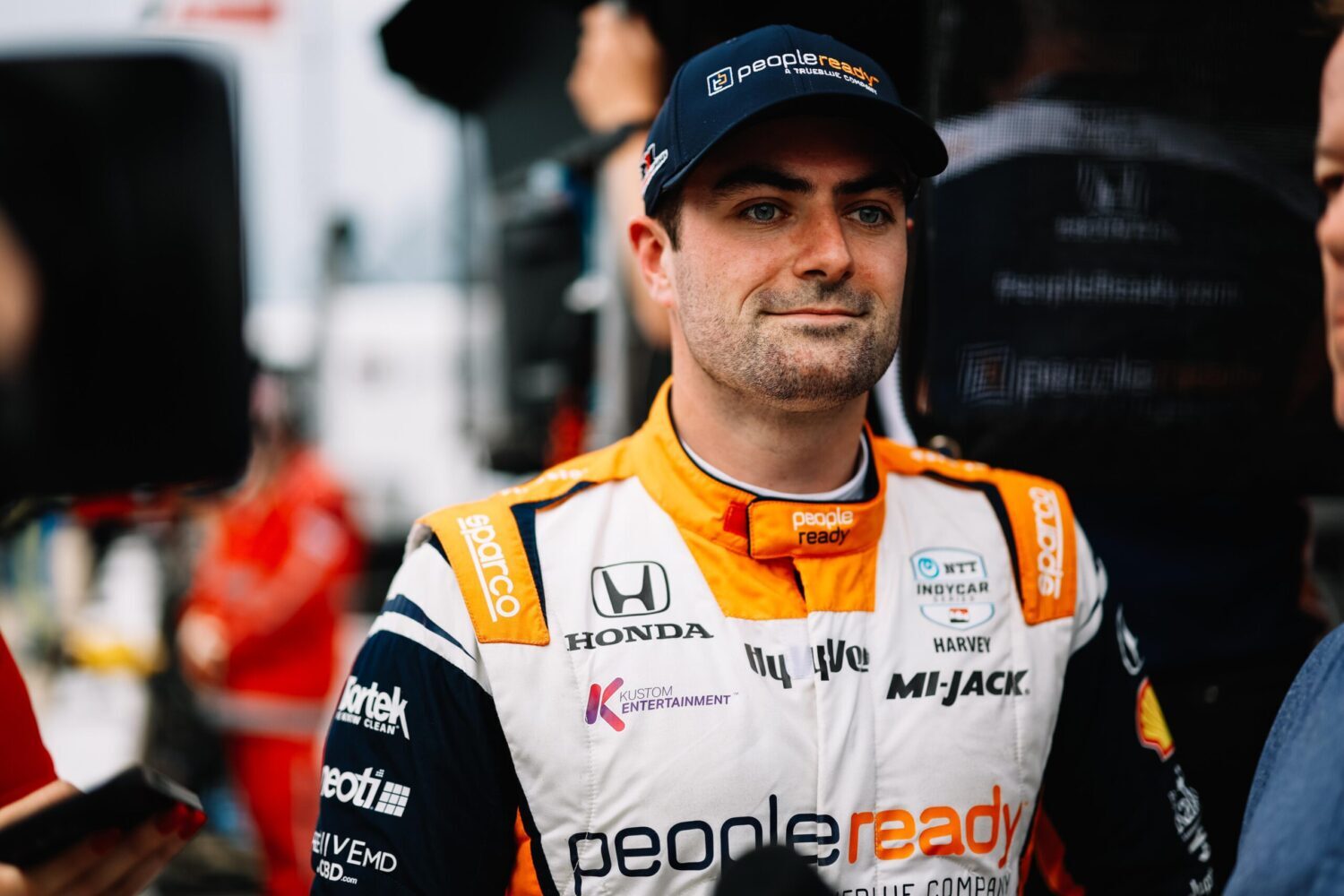 On the other end of the grid, Graham Rahal was bumped out of the Indy 500 by his Rahal Letterman Lanigan teammate Jack Harvey, the only driver that will sit out the 500.  Harvey made three attempts to put his No 30 People Ready Honda back into the race.
An emotional Rahal was in tears after learning he would not be making his 16th start in the season's biggest race.  He was comforted by his wife Courtney and his two daughters in pit lane when the realization sunk in.
Harvey commented on his qualifying runs which bumped his teammate.
" We had done two attempts. Neither of them seemed to be enough to get it done, and actually on the final one, I said to the guys, do you even think we can do this. The car is hot, engine is hot, and they said, yeah, you've got to try, it's the Indy 500."
"It's not a good feeling, to be honest with you.  It's not a moment necessarily for celebration. As a team we're going to be starting 30th, 31st and 33rd, and I hated it today, felt like we were in the Hunger Games with our own team."
"But of the four people driving, three of them are in. I know it's not great odds and it's not a great feeling. To be honest, it's unbelievable relief.  've got to be honest with you.  It's actually quite hard to process it."
"There's a lot of emotions. Like massively grateful to be in the race, massively sad that we bumped out a teammate because I know what that means for the entire team."
"Graham and I chatted about it beforehand.  We kind of felt like it would be me or him that gets knocked out, and obviously everyone knows it's not personal. He wants to be in the race, I want to be in the race, and the tradition of this place is tradition for a reason."
Final Indy 500 Qualifying Results
Pos
No
Name
4-Lap Avg.
QLap1
QLap2
QLap3
QLap4
Status
Engine
Team
1
10
Alex Palou
234.217
235.131
234.399
233.930
233.415
Qualified – Fast 6
Honda
Chip Ganassi Racing
2
21
Rinus VeeKay
234.211
235.019
234.403
233.982
233.444
Qualified – Fast 6
Chevy
Ed Carpenter Racing
3
6
Felix Rosenqvist
234.114
234.602
234.233
233.930
233.693
Qualified – Fast 6
Chevy
Arrow McLaren
4
14
Santino Ferrucci
233.661
234.332
233.778
233.288
233.249
Qualified – Fast 6
Chevy
AJ Foyt Enterprises
| | | | | | | | | | | |
| --- | --- | --- | --- | --- | --- | --- | --- | --- | --- | --- |
| 5 | 5 | Pato O'Ward | 233.158 | 233.756 | 233.490 | 232.962 | 232.430 | Qualified – Fast 6 | Chevy | Arrow McLaren |
| 6 | 9 | Scott Dixon | 233.151 | 234.184 | 233.135 | 232.808 | 232.483 | Qualified – Fast 6 | Honda | Chip Ganassi Racing |
| 7 | 7 | Alexander Rossi | 233.110 | 234.041 | 233.559 | 233.013 | 231.840 | Qualified – Top 12 | Chevy | Arrow McLaren |
| 8 | 11 | Takuma Sato | 233.098 | 233.907 | 233.411 | 232.817 | 232.262 | Qualified – Top 12 | Honda | Chip Ganassi Racing |
| 9 | 66 | Tony Kanaan | 233.076 | 234.001 | 233.543 | 232.967 | 231.806 | Qualified – Top 12 | Chevy | Arrow McLaren |
| 10 | 8 | Marcus Ericsson | 232.889 | 233.825 | 233.272 | 232.529 | 231.940 | Qualified – Top 12 | Honda | Chip Ganassi Racing |
| 11 | 55 | Benjamin Pedersen | 232.671 | 233.137 | 232.869 | 232.657 | 232.026 | Qualified – Top 12 | Chevy | AJ Foyt Enterprises |
| 12 | 12 | Will Power | 232.635 | 233.297 | 232.518 | 232.640 | 232.089 | Qualified – Top 12 | Chevy | Team Penske |
| 13 | 33 | Ed Carpenter | 232.689 | 233.628 | 232.396 | 232.605 | 232.133 | Qualified – Opening Day | Chevy | Ed Carpenter Racing |
| 14 | 3 | Scott McLaughlin | 232.677 | 232.914 | 232.783 | 232.508 | 232.506 | Qualified – Opening Day | Chevy | Team Penske |
| 15 | 27 | Kyle Kirkwood | 232.662 | 233.476 | 233.062 | 232.391 | 231.726 | Qualified – Opening Day | Honda | Andretti Autosport |
| 16 | 20 | Conor Daly | 232.433 | 233.129 | 232.703 | 232.153 | 231.752 | Qualified – Opening Day | Chevy | Ed Carpenter Racing |
| 17 | 2 | Josef Newgarden | 232.402 | 232.640 | 232.379 | 232.401 | 232.189 | Qualified – Opening Day | Chevy | Team Penske |
| 18 | 23 | Ryan Hunter-Reay | 232.133 | 232.445 | 232.338 | 232.008 | 231.741 | Qualified – Opening Day | Chevy | Dreyer & Reinbold Racing |
| 19 | 28 | Romain Grosjean | 231.997 | 232.580 | 232.099 | 231.758 | 231.554 | Qualified – Opening Day | Honda | Andretti Autosport |
| 20 | 06 | Helio Castroneves | 231.954 | 232.343 | 231.970 | 231.832 | 231.672 | Qualified – Opening Day | Honda | Meyer Shank Racing |
| 21 | 26 | Colton Herta | 231.951 | 232.469 | 231.873 | 231.753 | 231.708 | Qualified – Opening Day | Honda | Andretti Autosport w/Curb-Agajanian |
| 22 | 60 | Simon Pagenaud | 231.878 | 231.916 | 231.984 | 231.970 | 231.643 | Qualified – Opening Day | Honda | Meyer Shank Racing |
| 23 | 18 | David Malukas | 231.769 | 232.433 | 232.046 | 231.508 | 231.094 | Qualified – Opening Day | Honda | Dale Coyne Racing with HMD |
| 24 | 98 | Marco Andretti | 231.682 | 232.331 | 231.999 | 231.202 | 231.198 | Qualified – Opening Day | Honda | Andretti |
| 25 | 24 | Stefan Wilson | 231.648 | 232.238 | 232.036 | 230.939 | 231.383 | Qualified – Opening Day | Chevy | Dreyer & Reinbold Racing |
| 26 | 29 | Devlin DeFrancesco | 231.353 | 232.151 | 231.932 | 231.440 | 229.904 | Qualified – Opening Day | Honda | Andretti Steinbrenner Autosport |
| 27 | 78 | Agustin Canapino | 231.320 | 232.514 | 231.615 | 230.832 | 230.330 | Qualified – Opening Day | Chevy | Juncos Holling Racing |
| 28 | 77 | Callum Ilott | 231.182 | 232.470 | 232.014 | 230.903 | 229.367 | Qualified – Opening Day | Chevy | Juncos Hollinger Racing |
| 29 | 50 | RC Enerson | 231.129 | 231.966 | 231.433 | 230.899 | 230.224 | Qualified – Opening Day | Chevy | Abel Motorsports |
| 30 | 44 | Katherine Legge | 231.070 | 231.596 | 231.380 | 230.679 | 230.627 | Qualified – Opening Day | Honda | Rahal Letterman Lanigan Racing |
| 31 | 45 | Christian Lundgaard | 229.649 | 230.325 | 229.776 | 229.371 | 229.129 | Qualified – Last Chance Qualifier | Honda | Rahal Letterman Lanigan Racing |
| 32 | 51 | Sting Ray Robb | 229.549 | 230.064 | 229.561 | 229.514 | 229.058 | Qualified – Last Chance Qualifier | Honda | Dale Coyne Racing w/RWR |
| 33 | 30 | Jack Harvey | 229.166 | 229.435 | 229.082 | 229.176 | 228.971 | Qualified – Last Chance Qualifier | Honda | Rahal Letterman Lanigan Racing |