IndyCar: Graham Rahal to replace injured Stefan Wilson in Indy 500
(Update)
Dennis Reinbold confirmed that Graham Rahal's #24 backup car is the same car Oriol Servia finished 4th with in the 2012 Indy 500.
Yes, folks, the current Dallara IndyCars are that old – relics. A few more years and perhaps they can carry antique car plates and be used in parades.
---
May 24, 2023
DRR owner Dennis Reinbold, Cusick Motorsports owner Don Cusick announced that Graham Rahal, who was bumped from the Indy 500 on Sunday, will replace the injured Stefan Wilson in the Indy 500 Sunday.
Longtime Honda driver, Rahal got the release from Honda to drive a Chevy powered car in the 500.
Wilson was ruled out of "The Greatest Spectacle in Racing" on Monday evening after suffering a vertebrae fracture in a two-car crash during practice Monday afternoon in the No. 24 DRR Cusick CareKeepers Chevrolet. Wilson qualified 25th during PPG Presents Armed Forces Qualifying on Saturday with a four-lap average speed of 231.648 mph.
Rahal, from New Albany, Ohio, will make his 16th career start in the Indy 500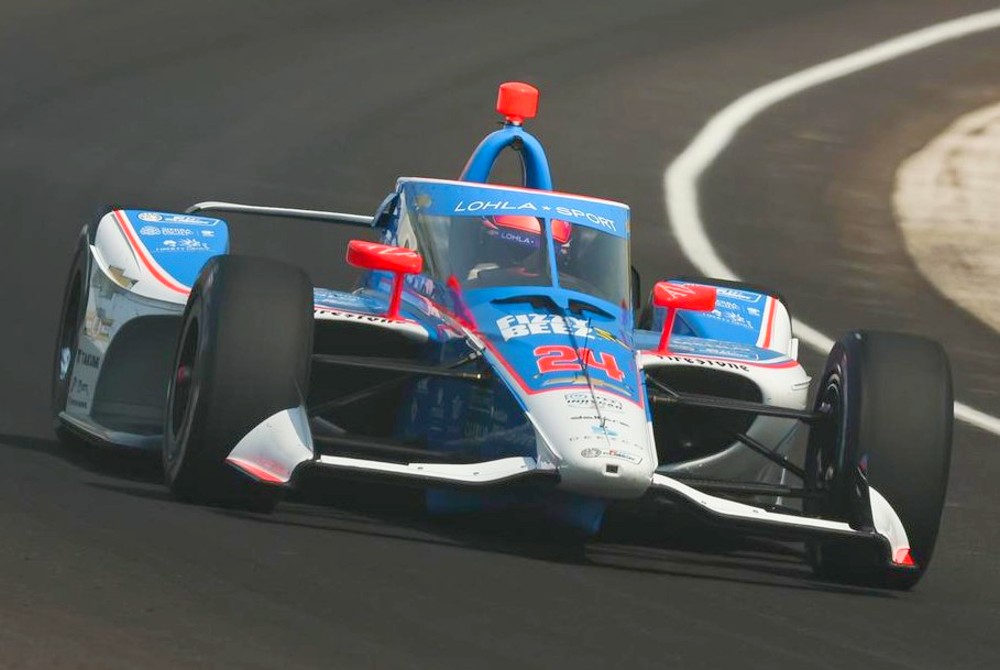 "I'll admit it was a very tough weekend for me and the United Rentals/Fifth Third Bank/RLL team," Rahal said. "We tried everything, and we just didn't have the speed. I'm very sad that Stefan was injured in practice on Monday. I wish him a quick recovery. I want to thank Dennis (DRR owner Dennis Reinbold) and Don (Cusick Motorsports owner Don Cusick) for giving me this opportunity in the No. 24 car. I'm anxious to work with the team and prepare for the greatest race in the world, the Indianapolis 500."
"We are very sad that Stefan was injured Monday and now is unable to compete this Sunday in the No. 24 Dreyer & Reinbold Racing/Cusick Motorsports/CareKeepers Chevrolet," Reinbold said. "Stefan put so much effort into this race that it is just heartbreaking for this to have happened. We have known Graham for over a decade as he drove our car in 2010 at Iowa Speedway. He suffered through a tough weekend here, but we believe Graham can perform very well this Sunday.
"And I want to thank Bobby Rahal and his entire Rahal Letterman Lanigan team for granting us the opportunity to have Graham join us this week. We also want to thank everyone in the INDYCAR SERIES garage area for offering their assistance after Stefan's unfortunate incident on Monday. So many people came to us and asked if we needed anything yesterday. It shows the camaraderie within the NTT INDYCAR SERIES. We are anxious to get Graham on the track now in the No. 24 machine."
The DRR/Cusick team is preparing a backup car for Rahal, who is scheduled to drive the No. 24 car during the final two-hour practice Friday on Miller Lite Carb Day. Rahal's partners Fifth Third Bank and United Rentals will join the team's Indy 500 effort.
"First and foremost, the only thing that matters is that Stefan is doing well considering the circumstances," Cusick said. "We are completely gutted for Stefan and now will miss his favorite racing event, the legendary Indy 500. We wouldn't be here without him, and we are committed to supporting him every step on the way to recovery and beyond. Dreyer & Reinbold Racing and our partners have been nothing but supportive, and I couldn't be more thankful. I am happy that we could fill the seat of the No. 24 DRR/Cusick Motorsports/CareKeepers Chevy with a quality replacement in Graham Rahal. Graham knows the Indianapolis Motor Speedway oval very well and we wish him the best this Sunday in 'The Greatest Spectacle in Racing.'"
Rahal Letterman Lanigan Co-Owner Bobby Rahal Statement
"First, I feel bad for Stefan that he is hurt. I'm sure he was very excited after qualifying for the race and had done a great job all month. It's a real shame that this happened. I wish him the best and hope he has a speedy recovery. I'm sure we will see him again.
"I have to say this came out of the blue. I've known Dennis for years personally. I have always liked and respected him as a fellow racer and also a car dealer. When Dennis called, we went to work to make this happen.
"The most amazing thing is how all these different groups, out of respect for the sport and the Indy 500, agreed to agree and go forward even though it may have been somewhat of a difficult decision.
"The fact that everyone pulled together to make this happen for Dennis, and also for Graham, makes us very thankful. I am also thankful that Dennis asked Graham to join him and his team and appreciate the commitment and excitement from Mike, Dave, United Rentals and Fifth Third Bank to see this happen. We wish them the best in the race."