F1: Canadian GP Saturday Press Conference
PART ONE – TEAM REPRESENTATIVES
Pierre WACHÉ (Red Bull Racing), James ALLISON (Mercedes), Dan FALLOWS (Aston Martin)
Q: Pierre, why don't we start with you. Now, what a season you guys are enjoying: seven races; seven wins. Did you believe that the car was capable of this before the start of the season?
Pierre WACHÉ: Honestly I think when you make the car, you try to make it as quick as possible. As quick a car as possible. And after, the success is also depending not only on you but also on the others. Then yeah, the difference is bigger than what we expected.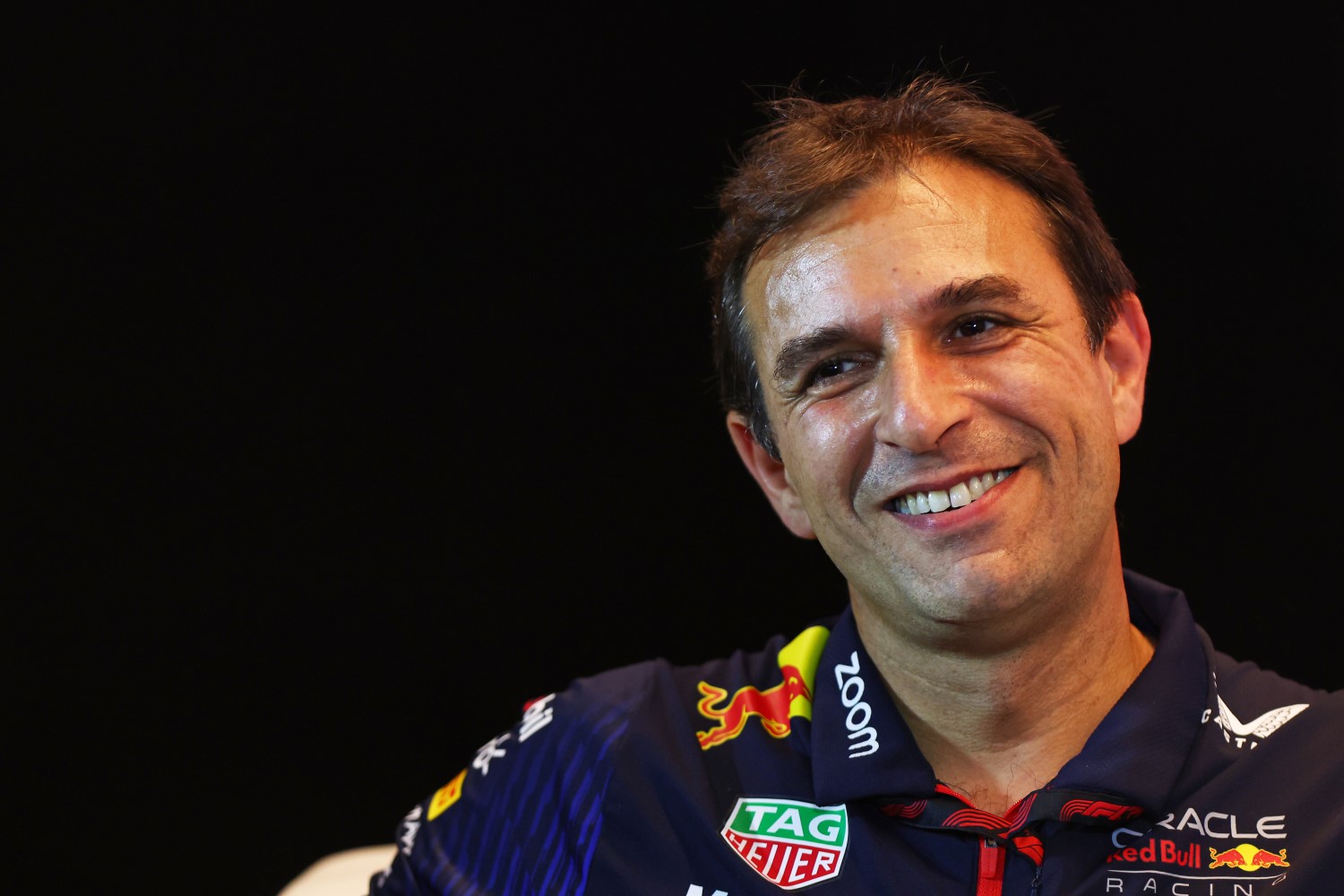 Q: What is RB19's greatest strength?
PW: The efficiency, I would say. On different tracks we are able to produce downforce without massive drag. That I think is the main strength, yeah.
Q: It's clearly an incredible car. How frustrated were you when you saw Checo's car being hoisted into the air and giving all your rivals a chance to look underneath?
PW: It was not the fact that we see the floor: the frustration was more that the car was in the wall – I think the main frustration. But yeah, it's how it is – and it happened to our competitor also. The car was in the air.
Q: But Pierre, how revealing was it for your competitors – what they were able to see?
PW: They see some detail on the floor but I am sure you can ask them what they see and if they were to learn something. But I think they already had some pictures from the garage, and saw some detail of it before.
Q: Now, as you say, the gap to the opposition is big. Have we actually seen what the car is completely capable of – or have you been masking it a bit. In Max's hands in particular, is there still more potential that you haven't had to use yet?
PW: Not really. In Quali for sure, we are pushing. After, during the race, as everybody, we are saving the tire, or managing the tire to increase the stint lengths or give more choice in strategy – but like everybody is doing. No, I think we are as everybody.
Q: Christian said after the race in Barcelona that the pack is still 24 seconds behind us at the flag. Do you feel that the chasing pack is getting closer?
PW: You see that in Quali for sure they are every time closer, in terms of pure performance. After, in terms of management of pace during the race, we have some advantage – but I'm sure they can unlock, and you see some update coming from our competitor here and, for sure, it will be closer.
Q: Just a quick word from you on Checo. He's had a tough couple of races and he said yesterday that he struggled to get the car in the right window in Spain. Can you tell us a bit more about the problems he's having?
PW: Well, I think every weekend, on this type of track, you are chasing between driver control and overall performance of the car. Then, with the number of sessions we had with difficult conditions, it was difficult for him at this time. I think during the race he showed that he was able to achieve something interesting. But when you are not comfortable with the car for Quali, it was more difficult because he didn't find something comfortable during FP3. That is something we have to work on with him.
Q: Dan, thank you for joining us. You're running some significant upgrades here. You didn't get many laps in FP1 – but the ones that you did do, what did you learn?
Dan FALLOWS: As you've alluded to, not a great deal. It was a very curtailed session. We got enough data to go through – that's about all we can say really – but so far we haven't really learned a great deal at all.
Q: In what areas are you hoping to have improved performance?
DF: I think the main focus for us – and obviously we want to put more performance on the car in general – but we've seen over the last couple of events particularly, that our car has… there are some circuits that suit it more and some circuits that don't suit it quite as much. So, we've looked at concentrating on broadening that operating window of the car, and that's particularly what we're focussed on with these updates.
Q: Interesting that you've bought such a big upgrade to one race rather than rolling it out over several races.
DF: Visibly, it's probably the biggest update that we've produced but, in truth, we have been trying to produce updates for the majority of the races. We have this idea of continual improvement and that's what we're aiming at really. So, we have focused on other areas of the car before but yeah, from the visual, I suppose the actual physical size of it, this is physically our biggest update, yes.
Q: Pierre says you've got closer in Qualifying. The stats would prove that – but when you look at in the race conditions and look at the whole seven races we've had so far, do you feel you've closed the gap to Red Bull – and in what areas?
DF: I think that is a little difficult to say, precisely because what I've said in terms of the behavior of the car. Obviously in Monaco we were very close; in Spain, less so. I think in truth, we clearly see that there is a gap to Red Bull, there has been all season – but I think what's really important for us is how nip and tuck it is with Mercedes and Ferrari. I think that's exciting on the one hand, I suppose, but it's particularly great for the fans to see that kind of battle going on for the second place at the moment. But really, from our point of view, we have to focus on our own performance, making sure the car is as performant as possible at every track that we go to.
Q: Let's talk about the drivers: Lance Stroll said recently that he was only back to full fitness after his unfortunate start to the year, in Monaco. Have you seen an upturn in performance since then from him?
DF: Well the first thing to say is that it's extraordinary that he managed to get into the car in Bahrain and put in the performance that he did. And then, in subsequent races, yes, I mean he's obviously been struggling a little bit with that, and his fitness. But really, incredibly gutsy performances from him, particularly in the start of the season. He has to gain confidence with his driving and the way that he feels that his fitness is and the way he can respond to the car – but I think, frankly, it didn't take him a great deal of time to get comfortable. I think he is much happier with the car now, he obviously feels much fitter in himself and I think the last event particularly, demonstrated that.
Q: You're all in the new factory back at Silverstone. Is the move complete, and are you starting to see the benefits already?
DF: Our new technology campus is mostly complete now. The technical offices are now occupied, we moved in a couple of weeks ago and it's been fantastic. We're in the process of finalizing the hand-over, the building, and then there's another load of building work to go on – but it's an incredibly exciting time for the team. We were – as you were probably aware – working out of a combination of an old building and some portacabins and so on. To have everybody, particularly the design office, in the same room, is a massive step forward for us. It's been fantastic.
Q: Final one from me. We're celebrating 50 years of the FIA Safety Car this weekend. It was first used at Mosport back in 1973. Can we just get your thoughts on the Safety Car, what you feel it's brought to Formula 1 and, of course, the Aston Martin Vantage is one of the two safety cars we have now.
DF: I think it's played a big part in Formula 1. We've obviously seen a lot of action with the Safety Car in recent years as well – but I think the most important is it's a real testament to the FIA's commitment to improving safety over the last 50 years, and the Safety Car is a big part of that. Obviously for us, as Aston Martin, it's a very important showcase for Vantage and we get to see that at the race weekends, which is great for us.
Q: James, thank you for waiting, let's go in talking about the Safety Car if I could as well – because of course one of the two Safety Cars we use in Formula 1 is the AMG GT Black Series. Just your thoughts on the Safety Car please.
James ALLISON: I thought that was a very poised answer! Because I tend to only think about the Safety Car in terms of what it does in a race when it comes out and you have to deal with it. I guess I'm guilty a bit of taking for granted the fact that it plays an important part in keeping everyone safe when there is obstruction on the road and stuff. I don't really have anything particularly wise beyond that to say.
Q: Give us some wise thoughts on where Mercedes is at now? Lewis told us yesterday that there is a new energy at the factory in Brackley, following the double podium in Barcelona. Would you agree with him?
JA: I certainly loved the good result we had in Barcelona. That puts a smile on everyone's face. Probably a little bit too soon to say that summer has arrived with that one swallow – but nevertheless, everybody enjoyed seeing a car that was going at a decent lick, looking after its tires, scoring two podiums on merit. So, hopefully, we've turned a bit of a corner. I think this track is going to be very different in the challenges it places on a car but I think we're gently on the up.
Q: What feedback did you get from the drivers in Barcelona, just about where the car is better with these upgrades?
JA: I think they felt a bit happier under braking but there's so much more to do to make it competitive with the front of the grid that I think the main thing people were responding to was just the pace. It wasn't… I don't think it felt like a lovely car to be in, it was just going at a decent lick, balance was not too bad and a good return on the effort that everyone had made to bring those upgrades forward.
Q: While we're talking performance, can we talk about the tire test you did in Barcelona after the Grand Prix? What conclusions did you draw about the 2024 tires?
JA: Well, the tire tests we did after Barcelona was about running without blankets. It's a test that's controlled by Pirelli. The things that they're asking us to test are stuff that they have invented, and we just provide a car that circulates around, hopefully at a decent lick, while they make their conclusions. I'd say that the early look at running without blankets, it's not exactly a done deal to think that that's going to be a good thing next year. I'd say there's plenty of challenge to make that work.
Q: It gave you a good opportunity to see what Mick Schumacher can do inside the car, were you impressed? 
JA: Well, he was, I think, very, very aware that the job of a driver in those circumstances is just to be a decent metronome for the tire guys to make their conclusions about the tires. And given that if we shunt the thing, that you're actually paying for all the repairs out of the cost cap, it's definitely not to shunt the thing. And so he drove nicely, repeatably, reliably, and gave us the platform for the tire engineers to make their conclusions.
QUESTIONS FROM THE FLOOR 
Q: (Jon Noble – Motorsport.com) Stefano Domenicali and Mohammed Ben Sulayem have talked about reducing car weight for '26, saying the current generation is too heavy. As we potentially head to heavier batteries for '26 as well, how realistic is it to get a dramatic weight reduction for '26? And how best can that be achieved with the current generation of cars in terms of safety and the hybrid power unit?
JA: Well, I strongly agree with Stefano, and he's not alone in thinking that this sort of inexorable upward trend in weight is something that has to be arrested and then reversed. Because, you know, year-on-year they were getting heavier. It isn't super trivial to get the weight moving in the other direction. It is particularly tricky to dream up technical rules that are going to make the car much lighter. The way to make it lighter, I think, is to lower the weight limit and make it our problem. If cars are over the limit, then it forces us all to make some fairly difficult decisions about what we put in our cars and what we don't. But not everyone agrees with that point of view. But that's sort of, I think, the most guaranteed way to put downward pressure on the weight of the car.
DF: I think I'm probably in agreement with James on that. I think there are things that we can probably do in the rules to help. I think, certainly, putting the weight limit down is one way of achieving it. But we have to make sure that we don't look to compromise safety in any way by doing that. And maybe there are things architecturally we could do that would help. But it certainly is going to be a challenge. And I think there's no doubt that with the power unit regulations being set the way they are, that makes the challenge even bigger.
PW: I agree with my colleagues. I'm not sure that we will have a significant change in terms of weight. And I agree we should do with this type of… the safety we want to achieve because it's the most important aspect the safety improved a lot to the driver. And we would not like to compromise that. Plus, I think the power unit that is defined now [for '26] is already massively heavier than what we currently have. I think to make it significantly lighter, as mentioned by Stefano, it will be very, very difficult.
Q: (Simon-Olivier Lorange – La Presse, Momtréal) Mr Allison, it's the third year you're operating under the cost cap. I was wondering in this third year, is it still a struggle to navigate through this and do you feel that it has achieved so far the goal that was to maybe tighten the gap, maybe not right now with the Red Bull performance, but on the field between the teams?
JA: I think it's way too early to judge the effect of the cap on tightening the grid. I just think you're going to need to have many more years play out before that, you'll see the effect on that. Certainly, in terms of understanding the rules. I think we've pretty much… I think all the teams pretty much understood them by the end of the first year. Is it difficult to deal with it? Well, there's been a downward movement of the cap, by regulation, that definitely means that there is a harder and harder environment in which to work. I think broadly, the cap has been a positive thing for the financial health of the sport, for the security of the teams. Probably more work to do to reform it and make it a better set of regulations overall, but in that respect, no different to the sporting or technical. They're all a work in progress and they all gradually find their path as we learn things and as the sport changes. But I think too early to say that it's going to have any meaningful effect on compressing the grid.
Q: (Edd Straw – The Race) One for James and Pierre, to get different perspectives on the same situation. The ATR limit that Red Bull has got, the extra disadvantage, obviously managing that is a challenge; how much easier has managing that been made by the fact that you've got such a good advantage in terms of how you allocate resources on this year's car and next year's development? And James, how big a missed opportunity is there to put greater pressure on Red Bull to make it a little bit more difficult for them, given the pace advantage they've got? Obviously you'd like to be closer for other reasons but is that a secondary effect that there's a weakness you haven't been able to maybe exploit by putting a bit of extra head scratching pressure on them?
PW: I think it's never easy. I think the fact that you have a restriction of time in a number of runs of CFD or wind tunnel I think is… we had this restriction, it is just reduced. It is not easier because we are leading the championship. It is as difficult, we are going to the limit. It think he could affect for sure the current development of the car and maybe closing the grid this year, but also will affect massively next year's car. Then, I cannot tell you that is easier, because we want the best car next year. Then, how it will affect our performance, I don't know yet.
JA: From my perspective on it, each team has its own personal ATR limit based on what happened to them over the past little while. And from Mercedes' perspective, we're just trying to work the best we can with our own ATR limit, not worrying too much about the people behind us who have more or the people who were behind us having more or the people in front of us having less. I think as regards to lost opportunity, don't really separate out the ATR particularly from every other aspect of resource that we brought to bear on the current car we have, which is clearly not competitive with respect to Red Bull. Until it is, we're all going to feel a bit miffed about that, even though that sort of unhappiness we see every time they win is offset hugely by the fact that it is thrilling in its own way to be fighting back, to be improving our car week-on-week and to hold clear in our heads the target that they're not, they're not some sort of… they don't have a God-given right to be in the lead, they're there by merit, having worked really well. And if we can do as good or better job we'll be there. And that is actually a lot of fun. It's a very, very exhilarating thought once you frame it correctly in your head, and something that we're all tucked into trying to make a reality.
Q: James, do you think Lewis finds the fight back as thrilling as you do?
JA: I don't know, I find it really thrilling. I think that both our drivers are very similar to the rest of the team in that if you sense that there is a change of momentum, that gives you a huge boost that you know that, keep this running, keep this running, keep this running and the good times and the champagne will flow again. That is just a good feeling up and down the grid. And for the drivers, who get the sort of visceral excitement of actually feeling their car overtaking other people, that lifts their spirits, but I imagine when they're actually standing on the podium and reflecting on the fact that they're not on the top step that may temper their enthusiasm somewhat.
Q: (Jake Boxall Legge – Autosport) Dan, you spoke about the new upgrades broadening the operating window of the car and Pierre has already spoken about Red Bull's greater strength being its efficiency. What would you say your own greatest strengths are with the current Aston Martin? And what are the biggest weaknesses that you're looking to fix? 
DF: Well, I think the biggest strength is that we're doing a lot better than we were expecting to. As I said, it's gratifying to come into the season with a competitive car, or at least a car that's competitive for the P2 position. I think we've seen at tracks towards the beginning of the season that in low-speed corners, we've had an advantage. But the truth is, when you have a car that is perhaps good in one set of corners rather than another, it does mean that you end up having to make setup compromises for those particular circuits. So you find that circuits where you have one particular speed of corner or one particular corner type or fewer of the variety of corner types, you need to have a car which is rather… You can optimize those and if you then go to a circuit where there's a lot more variety, you have to make those compromises. And that's what we've found. That's what we've really been working on. I think what Pierre alludes to about their car having very high efficiency, we all see that, we all have the data as well. So clearly, that's something we're working on. But that in truth is not something that comes overnight. It's baked into the concept of a car, but it's obviously a big target for us to try to make sure the car is slippery as well as quick in the corner.
Q: (Adam Cooper – Motorsport.com) If I can follow up on the 2024 tire question with Pierre and Dan. There's only one test left at Silverstone before the FIA makes the decision. I think Red Bull are involved in it. With the information you have at the moment, is there any chance that the ban can go through and we'll have no blankets next year?
PW: There is a chance, yes. In the technical regulation is written: no blanket. And they give us a possibility to vote again, based on the latest regulation. I think when we look at the data available to us from the other teams testing the tires, we will have maybe a better feeling, when we will test it, after we have the certain vision about how to warm the tire, that electrical power is a little bit more efficient than burning fuel for it, but that is my own feeling and vision. And also it creates for me, the main problem as a tire perspective, is more the pressure evolution during a stint and that is something we will see when we test it. Then we will have a better view on that.
DF: So I think from my point of view, I think the overarching idea of it is sound. I think there is a great push towards sustainability in F1 and making sure that we don't have to carry excess baggage around the world and use more energy than we absolutely have to. So I think it's absolutely laudable what they're doing. And I think the idea is absolutely sound. Really, in terms of the technical aspects of it, it's something that it's a vision that the FIA had, and it's something that Pirelli needs to do from their point of view. But yeah, we're very supportive of the idea of it. It's obviously just a technical challenge, which we need to play our part in helping out to see whether we can achieve it.
Q: (Jon Noble – Motorsport.com) James, all throughout last year we were told that sidepod design wasn't really a big performance differentiator and we had three different concepts. Now everyone's going head first into the downwash concept. Can you just explain briefly why this downwash is the best solution for this generation of cars?
JA: Well, I'd be surprised if there was a side pod on the grid, ours prior, ours post, anybody, that is not a down-washing sidepod. They've been down washing for years and I suspect they'll stay that way for some years too. And I would continue to suggest that the reason that a Red Bull is beating the rest of us will not be in the details of its sidepod nor the uplift in Mercedes' pace with our upgrade, it's not really particularly connected to its sidepod either. They're just not that big a feature.
Q: (Adam Cooper – Motorsport.com) All three of you are in this situation with the cost cap, where you've got extremely senior people who've been moved sideways into special projects and designing boats and bikes and stuff and I think James has personally been involved in that as well. What's your feeling on losing some of your most experienced, smartest guys because you can't afford to put them under cost cap? And also, Christian warned last week that there was a danger of people replacing you guys with 10 cheap youngsters and he was saying that's not the way to go. So just wondering what your thoughts are on that situation.
PW: At the end, the cost cap, the purpose of it is to have a limited amount of money you can spend and it's fair enough in our system to make the playing field common to everybody. After what is true is when you analyze where the cost is going, salaries and payroll is part of it and the big payroll is also part of it. Then there is a risk also that you compare to some other competitors that is not a Formula 1 competitor but some other company in the field of research, we can do lose talent by having this kind of limitation, that is a risk and we will see if the effect is not now but the effect could happen in a few years. Yeah, for sure.
DF: I think in terms of the effect of the cost cap on how we operate, we have an opportunity with Aston Martin, particularly with the road car division, that we can expand our operations and it's something that I know the FIA have been pushing for recently to allow that bleeding of F1 technology, F1 skill into other areas. So we've seen it as an opportunity, I think, as you have to do with all of these things, you have to see where the opportunities lie on that. And we've been able to set up a performance technologies division, which can then add value to other projects, not only in Aston Martin but some other racing projects that we can get involved in. I think it's a similar model to what's being used in other teams. So from our point of view, it's been pretty positive.
JA: Yeah, we're racing teams but we're also businesses and we make a decent amount of money doing jobs that are not in the racing world. If we misjudge who we put in there and end up hurting ourselves in F1 because we bleed away experience that should have stayed in the team, well, then we will have shot ourselves in the foot. And it's, I guess, the challenge of all the teams on the grid to try and make sure that they get the balance right, so that they retain the best team they possibly can within the constraints of the cap, and that they make a decent wedge with the activities they do outside the cap.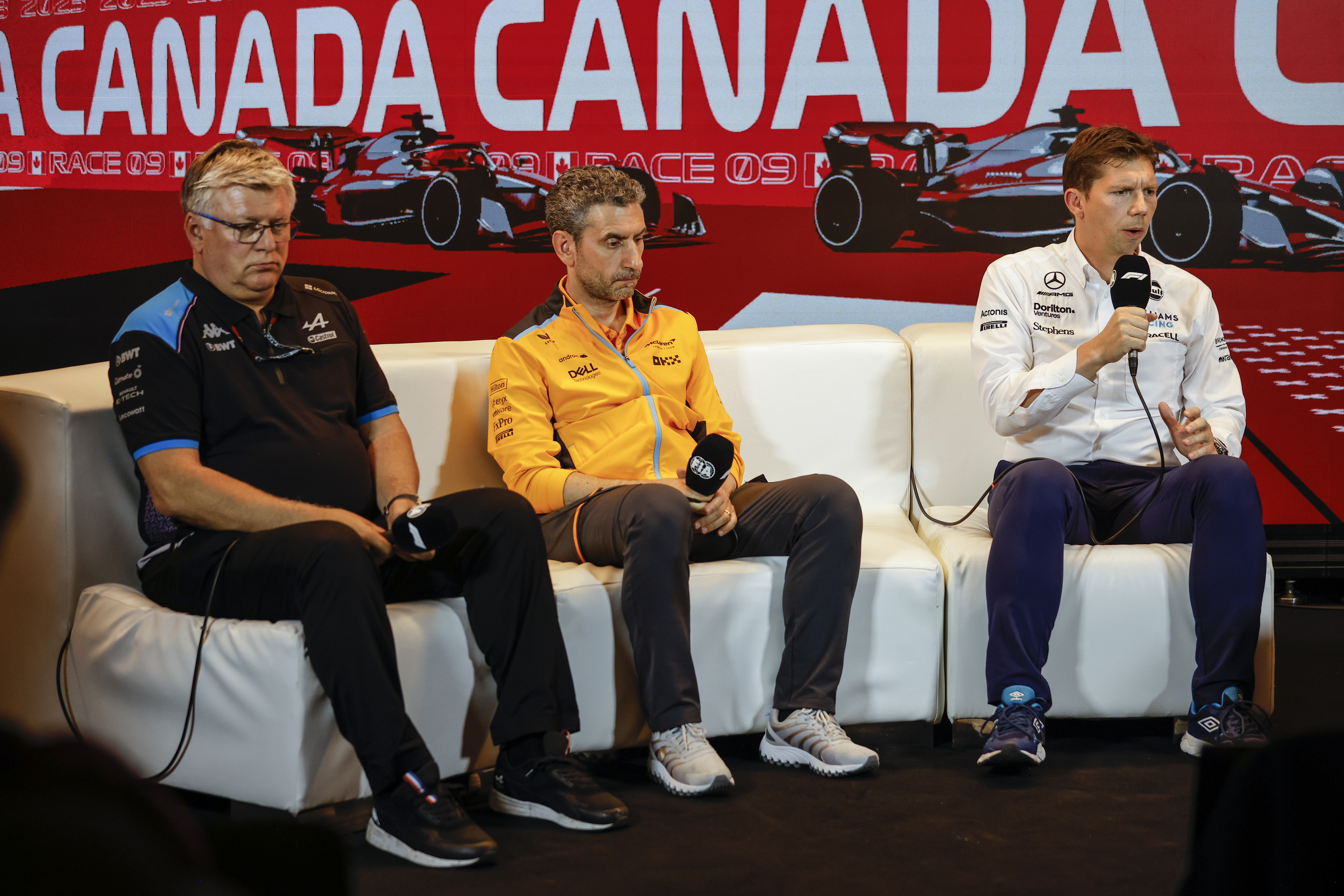 PART TWO – TEAM REPRESENTATIVES
Otmar SZAFNAUER (Alpine), Andrea STELLA (McLaren), James VOWLES (Williams)
Q: Otmar, can I start with you, please? 
Otmar SZAFNAUER: Great to be here.
Q: Well, please tell us about the very start of FP1 and the issue on Pierre's car, first of all, please? 
OS: Yeah, so as we always do, we run the spare steering wheels on both cars and the reason we run them is to make sure that they're functioning because the rest of the weekend we don't run them unless they're needed as a spare. And lo and behold, we had an electronics issue within the steering wheel on Pierre's car and once we got it back and put the non-spare wheel on, it was all OK, so we've got to understand what bit of the electronics failed within the steering wheel.
Q: Well, let's look at the more positive things that have been happening at Alpine recently. You've had three cracking races, both cars in the points at the last three, what's been the key to the turnaround for you guys?
OS: Well, we set out a plan at the beginning of the year, which I talked about continually improving the car and we've stuck to that. I think it's fair to say in order for the upgrades to work, you need good correlation of your simulation tools to reality. And it seems like we had that last year and we continue to have that now. So when we bring upgrades, the drivers can actually feel them, you see it in the data and if the underlying pace of the car gets quicker, like we plan, then it's a lot easier to score points, and get them both in the points.
Q: As you're scoring points, how has the mood in the camp changed over the course of the year? 
OS: When you're winning, the mood's great and when you're scoring points, it's not quite as good as when you're winning but when you're not scoring, it's not as good. So getting both of them into the points, getting both of them into Q3 is what we try to do and when we achieve that, then people are relatively happy.
Q: What about here in Montréal? Are you confident that you can maintain this run?
OS: I hope so, hard to know. We'll know a little bit more after free practice and I think maybe tomorrow will be wet. See how we go in the wet. But yeah, we brought again a small upgrade here. Not big but still worthwhile to bring and I'm sure our competitors have brought some big ones. So we'll see how we do relative to them. I hear James, to my left, brought a really big upgrade here and then some others.
Q: We'll hear about that in a minute but do you think you can challenge to be the second fastest car in Formula 1?
OS: Maybe Sainz is a better guy to ask than me because I heard that's what he said. But look, what we've got to do is… we set our targets for fourth in the championship. We're not there, we're still quite a distance from fourth, so we have to continue to improve the car and make sure that the underlying pace is there such that we can score good points and see where that takes us.
Q: Pierre had a torrid time in Qualifying last time out in Spain. He received a six-place grid penalty for impeding. Are you going to do anything different with him and his engineer in Qualifying tomorrow?
OS: Yeah, so we met in between Spain and here with Pierre and his engineering team. We met for about an hour and a half to discuss communication strategy, how we communicate with him, the information that he needs, the timing of the information that he gets, what he does with that information, just so we can get a little bit better, because it was unfortunate. Had he actually started fourth and ran fourth instead of starting where he did and then being pushed wide and ended up 14th after lap one, it's significantly different than running 14th than running fourth. So we have to make sure that when we qualify that high, we can actually race there and we will do some things differently and especially on Pierre's side. Esteban's more used to his engineering team because he's been with us for a lot longer.
Q: Andrea, tough Sunday for McLaren in Barcelona. Given the pace of the car on the Saturday there, how much did the extent of your problems in the race surprise you?
Andrea STELLA: Well, directionally what we saw in Barcelona is what we expected with a more competitive Saturday and a more difficult Sunday. We know that our car enjoys new tires, it's good at warm-up, it's good in cold conditions like we had on Saturday. And we know that we struggle a bit more to retain grip on Sunday where we are on continuous laps, but the extent of these trends was larger than what we anticipated. In fairness, we have to say that on Saturday we could benefit from… we were ahead of one Red Bull, one Ferrari, two Mercedes. I think there was a bit of under-delivery going on there. And maybe a bit of over-delivery from our side with Lando. And it would have been interesting to see what Lando was in condition to do on Sunday at this stage in the race. But the truth is that we need to improve, we need to improve the car, we need to improve aerodynamically and we need to improve in terms of how the car interacts with the tire.
Q: Can I ask you about what Lando could have done had he started P3 and continued in P3 and not had the incident with Hamilton?
AS: What I can say, he wouldn't have finished P3. We would have lost some positions during the course of the race. What was important for us is being able to stay in the points. I mean this was possible so it's a bit disappointing to come out of this event with no points.
Q: So what about here? There are a few upgrades on the car but do you expect to be more competitive in Montreal than you were in Spain on Sunday?
AS: So actually in terms of upgrades here, we only have a rear wing which is the version that is most suitable for the level of drag that you adopt at this track. Most of the upgrades we will see over the course of the following events, so there will be a major overhaul of the car that will be delivered across Austria, UK and Hungary. In terms of Canada, we definitely prefer the characteristics of Barcelona because the car is strong in high speed corners. Here we have no high-speed corners, quite a lot of low-speed traction so it could be a bit of a struggle. We would certainly welcome some weather.
Q: What about these upgrades in Austria and Silverstone? Where are you hoping to improve performance? 
AS: Well, relatively soon, at the start of the season, we realized that the car needed a fundamental redesign so this redesign is actually interesting, I would say, pretty much every single aerodynamic part, that's why the upgrades will be spread over the course of a few races. It will be decently noticeable. We had to redesign even some parts under the bodywork. That's also why it took some time to be in condition to deliver these upgrades. So I would say pretty much the entire car.
Q: James, coming to you now, thank you for waiting. So these upgrades, Otmar has referred to them already. We weren't able to see what they were capable of in FP1 but what are you hoping for from them?
James VOWLES: I think if you compare Bahrain, for example to Barcelona and Monaco, in Bahrain, in the early races, if we got absolutely everything right, there was an opportunity to score points and it became abundantly evident as the races ticked on and our competitors did update their cars, we fell back against that. And really, by the time we got to Barcelona, we're now out, pretty firmly, in Q1. And the attention the upgrades has put us back in a position where we can if we do a good job on Saturday and Sunday, walk away with a point and start fighting our way back up the championship.
Q: This is a unique track layout. Are we going to have to wait to Austria and Silverstone to really see what the upgrades are delivering? Or do you expect to see a big improvement here?
JV: Fundamentally, the upgrade is downforce vertical load so you will already see benefits here but as you pointed out, actually, some of the corner speeds that you have here don't really match where you have, so Austria, I suspect you'll see a slightly more potent realization of that performance gain.
Q: James, looking at the bigger picture now, you've been quoted in recent weeks as saying that the infrastructure of Williams at Grove in particular is 20 years out of date. Can I ask you about that? What are the issues? Is it a lack of money? Or is it an inability to spend that money because we're in the cost cap era?
JV: So, 20 years of underinvestment is why we are where we are today. But I'm in a fortunate position that my predecessors weren't – where we have investment, significant investment, behind us. In fact, there is a strong desire to have Williams return back to a competitive position. But to do that requires investment. So the money's available and ready. The cost cap itself is split into two things. There's an operational cost cap, which is about 145 million US, which everyone knows and talks about, probably, the most frequently. Perhaps more hidden than that, there is a CapEx, a capital expenditure version of the cost cap. That's round about, it's a bit complicated, but 36 million spread across four years. But if you like, every year you can spend six or seven of that, if you just do it fairly equally. That's good in as much as it's restricted down spending. But in many regards, where we are today, that money is disappearing on what I think is basic infrastructure. So if I take an example of things that were in Williams, and this is being very transparent about it, when a designer releases a part, it sort of goes into a black hole. And then there's emails going backwards and forwards between production to try and find out where their part is, how it's being upgraded, how big it is, how long it will take. Normally, that would go into a digital system that can be tracked, so you understand actually, what does the car get made up of. And bear in mind, there are 17,000 components and by the time you have designers doing this 17,000 times, you get lost. So you have inefficiencies. That software to fix that isn't, unfortunately, 100 pounds, but that's millions, and even up to 10s of millions if you get it right. So, CapEx for me, at the moment, my expenditure was more spent on trying to get some infrastructure in place, so at least we know how long it takes to design space. It's all publicly available. But if you actually go look at companies house, you can sort of see that the numbers we're talking about here is hundreds of millions, not 10 million, or 20 million, but hundreds of millions to sort of catch up with the level of investment, from where Williams is today, to perhaps the most extreme expenditures you see in the sport. That's a big deficit. And what it's leading to is… Formula 1, the FIA and other teams have been supportive in this, what we're looking for at the moment is the ability to have sporting equity, the ability to have infrastructure that matches our peers, such that we're not fighting with one hand behind our back, but fighting in the same way as other people are.
Q: So you would like to see an increase in the CapEx expenditure? 
JV: For us, certainly, where we are at the moment the numbers aren't small. In fact, they're scarily large and what we would have to spend on the site and on infrastructure… The site's OK, that's actually external to the cost cap, interestingly enough, but on machines, for example, or simulators, or the software I was talking about here, or your composites facilities, or and I can give you a list, there is a list, in fact. What we're looking for is the ability to show where we are today, where the benchmark is, and the ability to spend in order to catch back up to that benchmark.
Q: Andrea, can I bring you in on this? Where are you at? Where is McLaren at? Do you agree with James that the CapEx expenditure should be increased?
AS: Well, first of all, we understand where James is coming from, because McLaren is a team that has operated without infrastructure, or infrastructure at the same level as some top teams, for a long time. And this is the reason why we have invested, largely to be able to have a new wind tunnel and our simulator, a composite facility. Even if, actually, these infrastructures haven't seen the light yet, but we are in the final sprint. So we are sympathetic, and we understand the point. We are operating at the limit in terms of cost cap, from a CapEx point of view. And actually we would welcome and we welcome a conversation about relaxing some of these limits, because we would like to further invest. It's a complex topic. We are supportive of having this conversation. We are supportive of being in a condition to spend money to be more competitive from an asset and infrastructure point of view. And this is what's happening together with the FIA.
OS: Yeah, we support James, in what he said. You know, before the cost cap came in we talked about it for quite some time. And I think the FIA, along with the teams and FOM did a good job, with a big focus on the operating expenditure. And at that time, if I remember correctly, CapEx was also going to be capped. And some of the bigger teams with bigger budgets started getting their infrastructure ready for the cost cap and spending a lot of money on tools, because they knew thereafter it would be more difficult. And those that didn't have the budgets at the time couldn't do the same. So I think it's only fair that we level the playing field on infrastructure, and the tools that you fundamentally need to go Formula 1 racing. And that's what we're talking about here. So I think we've done it or I know we've done it once already for wind tunnels. So for example, Aston didn't have a state-of-the-art tunnel and we gave them dispensation, gave everyone dispensation on wind tunnels. And I think we need to do the rest on fundamental infrastructure that's required to go Formula 1 racing, just to level the playing field.
QUESTIONS FROM THE FLOOR
Q: (Simon-Olivier Lorange – La Presse, Montréal) A question for Otmar actually, on the same cost cap subject. Do you feel right now that under its current format, or where it is right now, the cost cap is effective to tighten the gap on the grid between the teams, or if it doesn't change in any way, like the one you said, or otherwise, it won't achieve it and the gap would only stay forever?
OS; So, if we do a good job with the cost cap… I think the cost cap is necessary. And it's a living entity. You know, I think, like I said, the teams, the FIA, FOM, did a good job. Initially. However, it's so complex that inevitably, there are loopholes. And what we need to do is going forward on the operational side, close some of those loopholes. So again, the only reason to close them is so that the playing field is level. And once we have that level playing field and those who have more financial ability can't spend it, then exactly what you said will happen. The field will get a little bit closer. And that's good for the fans, and it's good for motor racing. So yeah, if we do a good job on equalizing the infrastructure, like we talked about, as well as closing some of the OpEx loopholes that exist, then for sure it'll help in that regard.
Q (Luke Smith – The Athletic) James, just picking up on what you were saying about the years of underinvestment at Williams and now you're in a very different position. From a personnel point of view, you started right before pre-season testing. How did you spend that first week in terms of getting to know the people in the team? What kind of team spirit did you find, despite all these sort of difficult years?
JV: So, first of all, team spirit was high, given that they had gone through what I think was an incredibly difficult winter, when there was large change at all management levels, and to a certain extent, a lack of leadership at that point, as well. But the morale was high and in fact the build that they did, without much structure around it, was very impressive. I mean, I've quoted it before in the media, but 17,000 components coming together, and the thing has four wheels pointing the right way is impressive out of it. There's definitely a sentiment now, I've described it as you can see people's heads are held high, the shoulders are up, they can see a direction of travel for how we're going to pull ourselves out of this, which is not the same as going round in a circle… The best way to describe it is that the team was in a survival mode, where what it was thinking about was what do we need to do get ready for the next race to go forward? That's not how Formula 1 works anymore. What you're thinking about now, already, is 2024, 2025 and 2026. And if you're not thinking that far ahead, you're going to fall behind against competitors that are. And that cultural change will take quite a while to properly kick in because it's very different. You're now not thinking about the carbon bits appearing in Montréal, but you're thinking about what do you want the car to look like in two years' time. And I think that's the direction of travel that's helped everyone understand how we are going to pull ourselves out of the performance region we are today.
Q: (Jon Noble – Motorsport.com) Andrea, there's been some talk in the recent weeks from Stefano Domenicali and Mohammed Ben Sulayem about reducing car weight for '26 on a dramatic reduction. You understand all the elements that go into a car, what realistically can be done to pull down the weight by 50 kilos or so to make a big difference? Can you do anything about compromising safety, especially as we head to power units that could be a lot heavier?
AS: I think reducing by 50 kilograms looks quite ambitious, without very significant technical changes, which I don't think at the moment are under consideration. I think you touch an important point. Some of the weight that has been added comes from measures that have to do with safety. Like, if we think even next year, there will be an enforcement of safety associated with the roll hoop. So, in a way we welcome this kind of mass that has been added to the cars, even if it changed the nature of Formula 1 from what it was 20 years ago, where it was a 200 kilogram lighter car. If anything, cars are quicker now, thanks to the downforce and the big tires. So, I think retaining the current weight, or reducing by a few kilograms is already a good result. It needs smaller tires and smaller cars to be able to reduce it significantly. So, yeah, we will see, I'm not sure what the direction of travel is at the moment, but we all would welcome lighter cars, but certainly not at the expense of safety.
Q: (Jake Boxall-Legge – Autosport) A question for James, please. You spoke about the kind of operational challenges and infrastructure challenges that you've faced over your tenure at the team. What's some of the lowest hanging fruit that you can kind of effect immediately, let's say? And then, taking a more longer-term picture, what are the key things that you'd like to have in place over, let's say, the next couple of seasons?
JV: I think the key one is the one I brought up here, which is, if you don't have a digital infrastructure, where you know where a part is, how long it takes, how many parts you need, what is an assembly built up of, you are lost from the beginning. And, actually, I think that's an accolade to what Williams was, because you need a huge amount of teamwork in order to understand what you're doing with this. I would describe it as human glue, but very good human glue. And that's what was in place. And that infrastructure will really make a difference. Because just understanding how long it would take to produce something could be a tremendous improvement over where we are today. And also means you can start planning properly in the future for your updates what you want and where you're going to. Over the next few seasons, what's very clear is that our competitors are bringing tremendous amounts of performance to the car quicker than we're bringing it to the car. We have to address that and improve that. And very clearly as well, the car has some characteristics where it works well at some tracks, this will be one of them, and at others it's quite poor. And we've got to really start addressing that through some base fundamentals. So I would say all areas of the organization have targets for how we're going to improve and all will deliver performance if we can get them right.
Q: (Luke Smith – The Athletic) James about human glue. I like that phrase. For the cultural side, how much of a priority was that for you coming into Williams? Was that a big thing you want to emphasize, to get the best out of people. And, again, this sort of team spirit you spoke about, does it make it much easier to be able to basically put new things in place and get one on the same page?
JV: I think there's an expression, it's not mine, that culture eats strategy for breakfast and I completely buy into that. You can have as many strategies as you want but your culture is actually what dominates the drum beat of the organization. And your culture is everything. So that there's a culture of failure, which very much came from Mercedes, that's very strongly what I believe in. Openness, communication, teamwork, all of those cultures I strongly believe in. They don't appear overnight, just because I say this is the culture I'd like. In fact, culture comes from your organization. All you can do is mimic behaviors that you want out of it and reward your lieutenants that effectively follow the guise of where you want to go. But culture is everything. If you look at what we have, there's fundamentally up and down the grid, each team has between 800 to 1,000 incredibly intelligent individuals working day and night in order to produce a car that moves forward. So, now you need to start finding your differentiators and your differentiators come from just those that are slightly better at talking, communicating and working together. And that's what culture drives.
Q: (Jon Noble – Motorsport.com) To all three of you. Le Mans last weekend showed that Balance of Performance can help trigger a great motor race and level things up. F1 has always been about pure meritocracy and not interfering with the end result. As teams hoping to catch up, have you ever been tempted by thinking that we should impose some BOP ideas in F1 or has it always been important for you that it maintains this kind of purity of sport that we've had for years?
OS: Purity of sport.
AS: I agree.
JV: I mean, first of all, Le Mans was exceptional. Just a really great 24 hours of racing up and down. But in terms of where we are, our category is about doing the best you can against your competitors, and every two weeks having a real reality check on where you're going. It's purity of sport.
Q: (Mat Coch – Speecafe.com) I've got a couple if I may. Firstly to Andrea, you mentioned the upgrades that you've got coming for Austria and beyond. Have you had those in a simulator? What sort of steps are you expecting. What's the feedback on that? And to Otmar: Jack Doohan has obviously had a tough start to the year. What are your expectations of him? And what's his position in the team, given that you set him the championship ambition, which now looks decidedly more tricky than it was?
AS: Yep, as for the upgrades, we haven't tested them in the simulator yet, but they just pretty much deliver more downforce with similar characteristics. So actually, the key point is whether they will correlate trackside. But I think correlation so far has been good. I think with this generation of cars in general, correlation with development tools is good. So we expect a few tenths of a second of lap time improvement. And yeah, we will see.
OS: Jack, at the beginning, he struggled a bit with his car. He wasn't comfortable in the car but as of late that's changed and it shows in his competitiveness. So we look forward to him competing at the front, now that he's a bit more comfortable in the car and we continue to prepare him for Formula 1 and he's also doing our program of running a two-year-old Formula 1 car and he continues to do that with us and he's a good racing car driver. He works really hard, he's intelligent and he's got a future ahead of him.