IndyCar: Palou holds off Newgarden to win at Road America
Ganassi Honda driver Alex Palou took Josef Newgarden to school at Road America on Sunday to win the 55-lap NTT IndyCar Sonsio GP by 4.56s, controlling the gap to the Team Penske Chevy and easing to victory.
Pato O'Ward came home third for Arrow McLaren, 6.75s behind.
Scott Dixon, who was involved in a big shunt with Will Power Saturday, recovered to finish 4th, while Colton Herta, who started on the pole and led the most laps, faded to 5th at the finish in his Andretti Honda.
Palou passed Herta for the lead around the outside at Turn 1 on Lap 49.
Colton Herta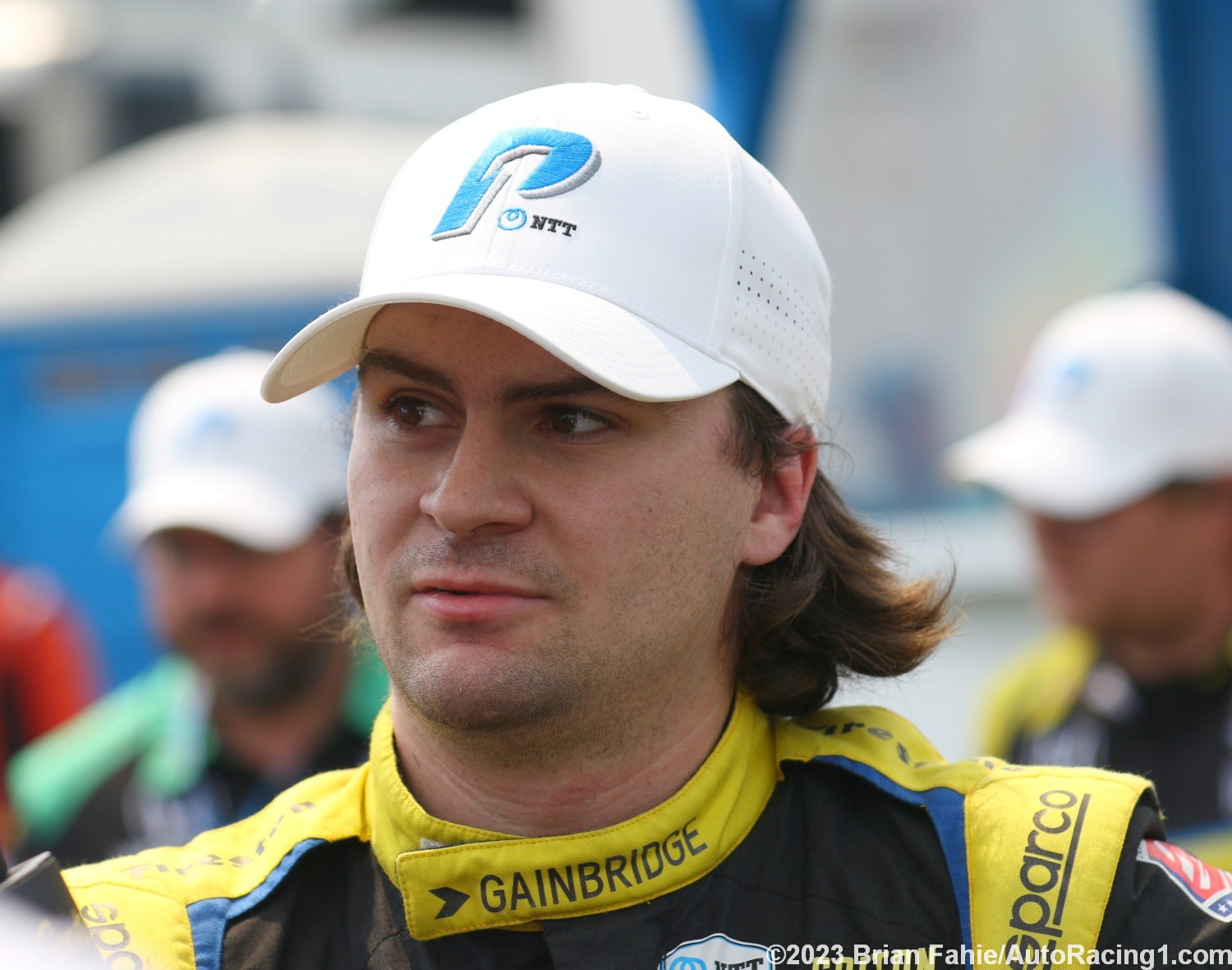 Herta had a good race until his final pit stop on Lap 40.  Not knowing whether he could race to the end without running out of fuel, the American held off the championship leader, Alex Palou, as long as he could.   Palou made the race-winning pass on Lap 49, as the Andretti Autosport driver slowed up to save fuel.
"It was unclear to me how the race was going to play out with me after pitting one lap early.  It was hard for me to say what was going to happen when we.  I knew we had 15 laps to go, which is usually a pretty good fuel number."
"But it ended up being quite a bit more.  It is frustrating.  We had the best car and we were cruising the whole time.  I had so much more in it and we just never really got to show it because we were always saving fuel.  We still got a fifth out of it."
Josef Newgarden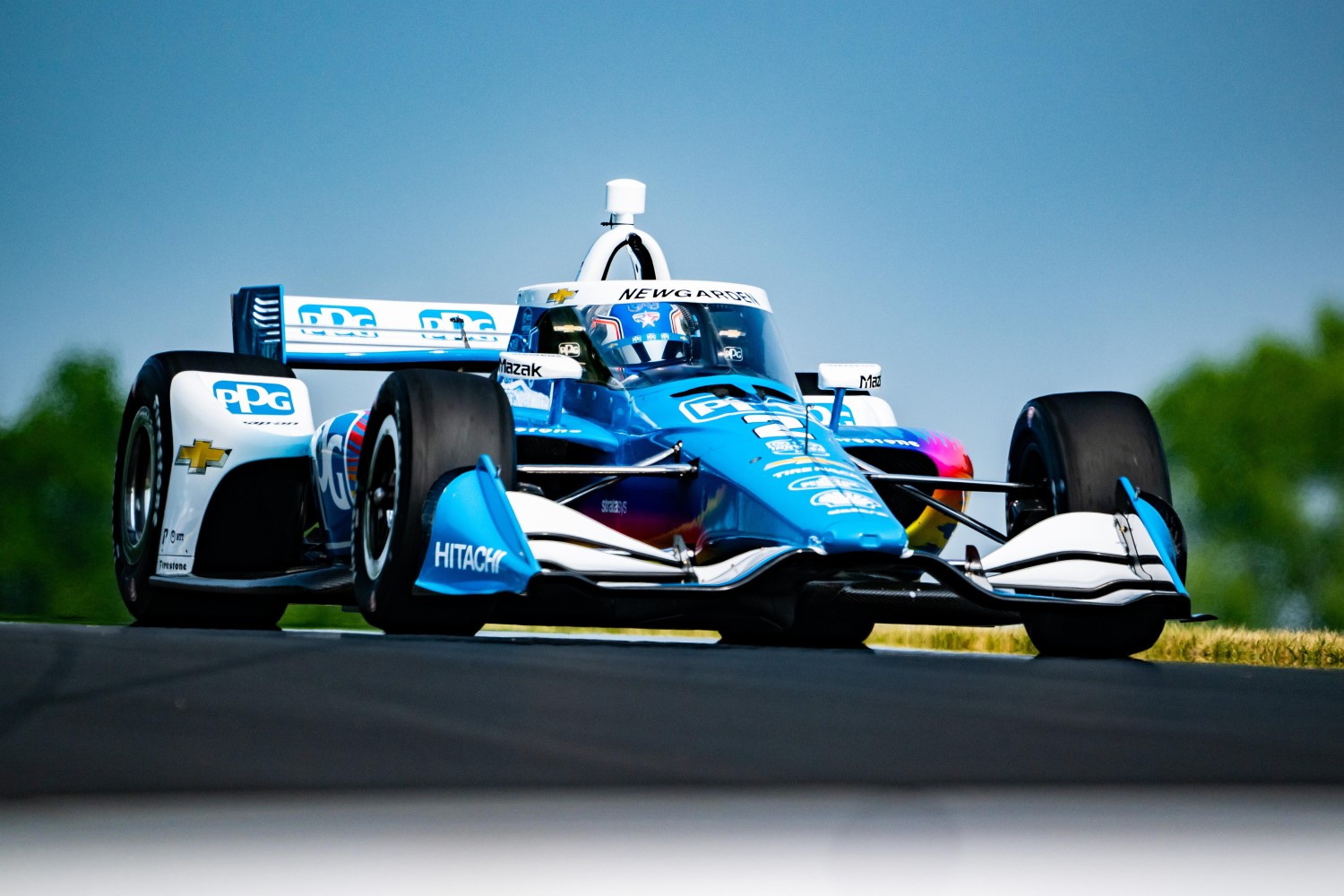 Racing on the new repaved surface was quite an unknown until the green flag dropped.   With most drivers saying that the track was too slippery and that there would be no passing in the race, Newgarden was asked after he finished the race second, what he thought about the 444 passes that occurred during the race.
" I mean, it was an unbelievable race. I think as a driver, not always what you want. You
want to be just out front, kind of green from start to finish, just an easy day. But if you're a fan, this is a very difficult race. There was just a lot that happened."
"Pato O'Ward spoke about people were shuffling forward and backwards. Restarts were bringing different action. The tires were bringing something different for people. It
was possible to pass, like very much so. It raced really well."
"There was a lot of unknowns going into the new surface on how it would race. I think today, I don't know how you could have asked for much better of a race. From that
standpoint it was more stressful for us. Hopefully the fans really enjoyed the action of it."
"It was a little upside down with tires this race.  The black was just a better tire all around. The red had some potential in the beginning, but it definitely more fade, more degradation."
"I think that made it exciting. I mean, the way the tires stacked up, it was very raceable on both compounds. The primary was just a little better today."
 Scott Dixon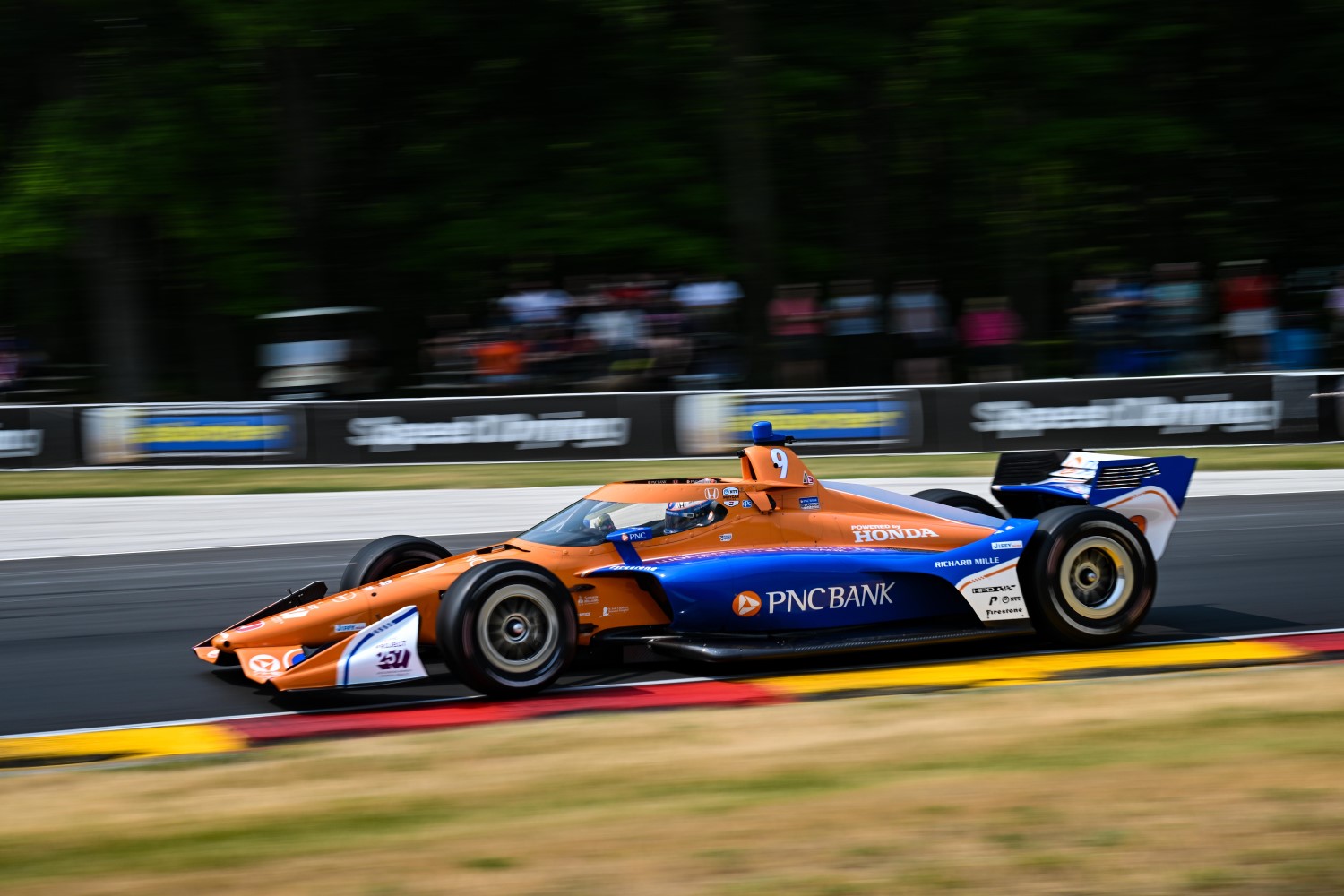 The hard charger in this race has to be Scott Dixon, the No9 PNC Bank Chip Ganassi Racing entry.  Dixon's car had to be rebuilt right before qualifying on Saturday.  With not the best starting position of 23rd for the six time series champion, the Kiwi managed to work his way through the field and finish fourth today.
Race Results
| | | | | | | | | | | |
| --- | --- | --- | --- | --- | --- | --- | --- | --- | --- | --- |
| Pos | No | Name | Laps | Behind | Gap | Led | ST | Engine | Points | Team |
| 1 | 10 | Alex Palou | 55 | 0.000s | 0.000s | 10 | 3 | Honda | 324 | Chip Ganassi Racing |
| 2 | 2 | Josef Newgarden | 55 | 4.5610 | 4.5610 |  0 | 4 | Chevy | 243 | Team Penske |
| 3 | 5 | Pato O'Ward | 55 | 6.7549 | 2.1939 | 0 | 2 | Chevy | 226 | Arrow McLaren |
| 4 | 9 | Scott Dixon | 55 | 6.9718 | 0.2169 | 0 | 23 | Honda | 226 | Chip Ganassi Racing |
| 5 | 26 | Colton Herta | 55 | 10.9328 | 3.9610 | 33 | 1 | Honda | 183 | Andretti Autosport w/Curb-Agajanian |
| 6 | 8 | Marcus Ericsson | 55 | 11.5208 | 0.5880 |  0 | 9 | Honda | 250 | Chip Ganassi Racing |
| 7 | 45 | Christian Lundgaard | 55 | 15.8835 | 4.3627 |  0 | 7 | Honda | 162 | Rahal Letterman Lanigan Racing |
| 8 | 3 | Scott McLaughlin | 55 | 16.2822 | 0.3987 | 0 | 18 | Chevy | 199 | Team Penske |
| 9 | 27 | Kyle Kirkwood | 55 | 17.5480 | 1.2658 |  0 | 6 | Honda | 164 | Andretti Autosport |
| 10 | 7 | Alexander Rossi | 55 | 19.6371 | 2.0891 |  0 | 5 | Chevy | 196 | Arrow McLaren |
| 11 | 15 | Graham Rahal | 55 | 21.4730 | 1.8359 | 0 | 14 | Honda | 118 | Rahal Letterman Lanigan Racing |
| 12 | 21 | Rinus VeeKay | 55 | 22.1054 | 0.6324 | 0 | 15 | Chevy | 126 | Ed Carpenter Racing |
| 13 | 12 | Will Power | 55 | 25.6694 | 3.5640 | 7 | 22 | Chevy | 190 | Team Penske |
| 14 | 60 | Simon Pagenaud | 55 | 31.4292 | 5.7598 | 0 | 20 | Honda | 88 | Meyer Shank Racing |
| 15 | 06 | Helio Castroneves | 55 | 33.6232 | 2.1940 | 0 | 26 | Honda | 95 | Meyer Shank Racing |
| 16 | 14 | Santino Ferrucci | 55 | 34.3000 | 0.6768 | 0 | 11 | Chevy | 119 | AJ Foyt Enterprises |
| 17 | 20 | Ryan Hunter-Reay | 55 | 42.4660 | 8.1660 | 0 | 27 | Chevy | 33 | Ed Carpenter Racing |
| 18 | 77 | Callum Ilott | 55 | 42.9535 | 0.4875 |  0 | 17 | Chevy | 128 | Juncos Hollinger Racing |
| 19 | 78 | Agustin Canapino | 55 | 44.8009 | 1.8474 | 0 | 21 | Chevy | 88 | Juncos Holling Racing |
| 20 | 6 | Felix Rosenqvist | 55 | 49.0897 | 4.2888 |  0 | 16 | Chevy | 158 | Arrow McLaren |
| 21 | 55 | Benjamin Pedersen | 55 | 51.9763 | 2.8866 |  0 | 10 | Chevy | 70 | AJ Foyt Enterprises |
| 22 | 51 | Sting Ray Robb | 54 | 68.7695 | 20.3001 |  0 | 25 | Honda | 63 | Dale Coyne Racing w/RWR |
| 23 | 29 | Devlin DeFrancesco | 54 | 81.6996 | 12.9301 |  0 | 12 | Honda | 88 | Andretti Steinbrenner Autosport |
| 24 | 11 | Marcus Armstrong | 54 | 1 LAPS | 34.5053 | 5 | 8 | Honda | 108 | Chip Ganassi Racing |
| 25 | 28 | Romain Grosjean | 53 | 1 LAPS | 95.8757 |  0 | 19 | Honda | 150 | Andretti Autosport |
| 26 | 30 | Jack Harvey | 53 | 1 LAPS | 12.2366 |  0 | 24 | Honda | 83 | Rahal Letterman Lanigan Racing |
| 27 | 18 | David Malukas | 24 | Off Course | 0.4255 | 0 | 13 | Honda | 96 | Dale Coyne Racing with HMD |