F1: Austrian GP Friday Team Representative Q&A
TEAM REPRESENTATIVES
Franz TOST (AlphaTauri), Guenther STEINER (Haas), Christian HORNER (Red Bull Racing), Alessandro ALUNNI BRAVI (Alfa Romeo)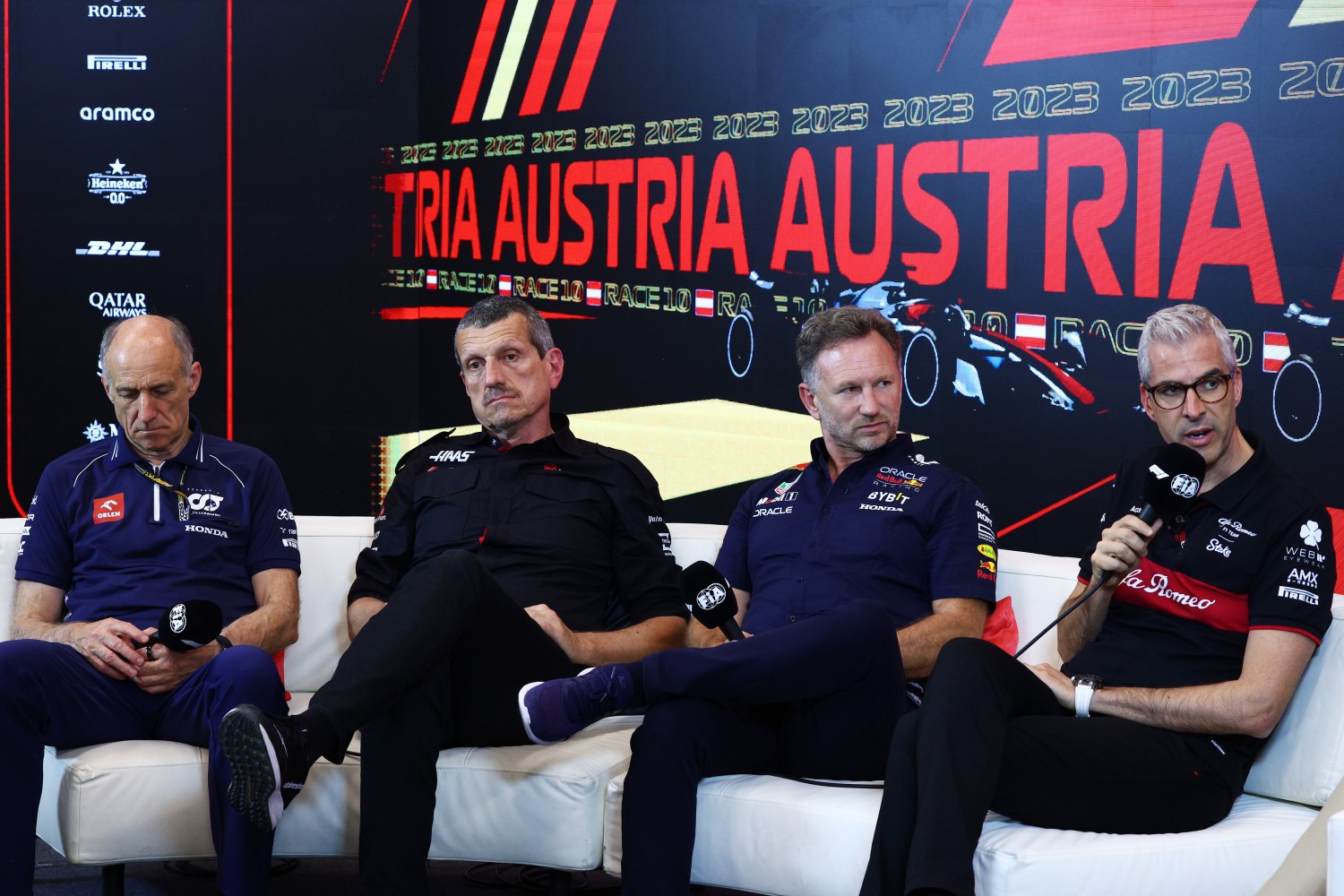 Q: Franz, perhaps we could start with you please. The last few races have been hard for AlphaTauri, especially Canada. What have been the issues?
Franz TOST: Wrong tire pressure. We made a mistake in the set-up of the car because Yuki was quite competitive in FP3, when it was full Wet, and then in Qualifying, when it dried up, we made a mistake and therefore he was… He stopped in Q1 and once you are behind in Canada, it is difficult to catch-up and to overtake cars. We tried to do something with a special strategy, to call him in the first lap and go to the end. He was then in ninth position, behind Albon, but we decided to call him in. The tire degradation was higher than expected and therefore, unfortunately, we didn't score any points. But I must say that the car is getting better. We saw this already in Monaco, when he was on the ninth position until the rain came and also in Barcelona, where he was ninth and then he had this incident with Zhou. The car showed a good performance there and, I must say, on the aerodynamic side we made some steps forward and I'm quite positive for the next races.
Q: Well, you've got some new bits here this weekend…
FT: We have some new bits this weekend, we will also bring something new to Silverstone, and then we will see from the performance side.
Q: Can we talk about the contrasting fortunes of your two drivers? Nyck De Vries has come in for some criticism from Helmut Marko. You've been watching him closely, obviously. Where does Nyck need to improve?
FT: I always say that nowadays it's really difficult for the rookies, when they come to Formula 1. Look to the first races: they don't know Melbourne, Saudi Arabia, Miami, and in Baku we had the Sprint race, that means only FP1 and then already we go into the Qualifying and especially the midfield is so close together, it's really difficult for drivers who are in there the first time and who have to learn all the tracks. Of course, they know where are the corners but, take the example of today: we have a Sprint race weekend, that means we had only FP1. We had now track temperatures of about 44-45°C, in Qualifying we will have 35°C or whatever, maybe 30°C and to find out this difference, to prepare the front tires, the rear tires, the brakes in the Qualifying, to bring them to the correct temperatures is not so easy if you are inexperienced to do this and do this for the first time in the Qualifying – because it's the first time, he is here the first time in Austria, and also the other tracks for the Qualifying, and that makes it difficult. Nyck is making some progress but it takes time. We see now how it is here in Austria and in Silverstone, Spa – because he is familiar with these tracks from Formula 3, Formula 2. He knows it and then we'll see. I hope that he will improve his performance, of course we expected more, because up to now he doesn't have any points. And let's see how it's going on in the next races.
Q: You say he's making progress but can you just tell us one area of his performance that needs improving especially. Is it one-lap pace? Is he losing time through the slow corners. Can you just tell us a little bit more?
FT: It's not one big mistake, or one big deficiency. It's everywhere a little bit: braking; turning-in; getting the correct timing in the car. But this is also linked to the experience, just what I explained beforehand. If you as a young driver experience this the first time, you can't expect that you know it immediately, how to optimize it. And the midfield is so close together, it's hundredths of seconds, and if you lose in every corner two, three hundredths of a second, after ten corners it's two or three tenths. That makes it difficult. Once more, rookie drivers need time. If you don't give them the time, it's no chance.
Q: What about Yuki Tsunoda then. Some of the drivers in the press conference yesterday were asked to name their top three of the season so far – and several of them put Yuki in the top three. Would you agree?
FT: One hundred per cent. Yuki is going a fantastic job. If we provide him with a proper car, he will be there.
Q: Final one from me Franz: what's in a team name? Back to Helmut: he mentioned recently that AlphaTauri will have a new name next season. What can you tell us?
FT: Nothing! First of all, at this period of the year, all the teams negotiate with sponsors. And, of course, we have negotiations and the title sponsor is a very attractive one and we will see then what the negotiations will bring in the next months – but currently, we are talking to different companies fortunately. There is a big interest in Scuderia AlphaTauri, but nothing is confirmed, nothing is signed so far, and this will also not happen in the next few days. I think this will take a few months until everything has been fixed and then, of course, you all will be informed immediately!
Q: Will we see a return of the Toro Rosso name?
FT: I don't think so. I think there's another possibility to get more money out of it.
Q: Guenther, coming to you, a bit of an emotional rollercoaster for you guys last time out in Canada. The Hulk had that amazing qualifying performance and then slipped back to 15th in the race. Was that a bigger slide than you were expecting when you woke up on Sunday morning?
Guenther STEINER: Absolutely. I mean our race performance is not there where it should be, and then he got also unlucky with the yellow, with the Safety Car, and was in just a lap or two before. But in the end, it doesn't take away that our race pace is not where we are good at and that is our biggest weakness at the moment. Obviously that weakness is not a good one because you score points on Sunday and not on Saturday. I mean, it's great to qualify good, but we knew on Saturday that our race pace was not what it should be – and then as you said, you wake up on Sunday morning knowing that you're going backwards but 15th maybe was a little bit over the top but still, we need to keep on working at it.
Q: What can you do to solve the performance differential between Saturday and Sunday?
GS: First of all, understand why on Sunday we have got the problem that we cannot keep the tires in shape or in form. We need to sort that one out. We need to sort that one out and long-term we need to work in the wind tunnel on the problem. And short term, just to try to find the balance of the car that we are stressing the tires less, you know? Maybe even sacrificing a little bit of qualifying performance to be better on Sunday. It's not an easy task to do but we started up straight away after Canada, everybody put their heads together, to see how we can get out of this situation, so we are having better Sundays.
Q: Tell us about the drivers' contribution to those discussions. Does it help that you have two experienced drivers this year?
GS: Absolutely – and both, when we met after Canada with the senior technical people, they were both involved in those discussions. I wanted that they tell the guys directly how they feel in the car. Because sometimes it's 'yeah, could be this, could be that'. No, there is a guy which is actually driving it, and what does it feel when you are in traffic – where we lose most of our performance – how the car behaves. So, they are both very willing to help and obviously their experience now should help us to find out where we need to work to get out of this situation.
Q: Given those discussions, given the pace of the car in FP1, and the fact that you have a good record here at the Red Bull Ring – I'm thinking 2018, both cars in the top eight last year – are you hopeful of a better result this weekend?
GS: I'm hopeful but I don't know yet. It's a Sprint race weekend, we had one free practice, you know. There were people that didn't put Soft tires on at the end. It's very difficult to read into the results of FP1 here, and on any Sprint race weekend because everybody does his own program where they want to focus on. One hour is just a little time and everybody tries, in their own way, to get the best out of it. So, I think I wouldn't read too much into FP1 – but we did what we wanted to do in FP1, and we have to see where it takes us between today, tomorrow and Sunday. Three exciting days in front of us.
Q: And did the new pitot tube give you better information?
GS: I wasn't back at the debrief because you called me up, so it's your fault that I don't know.
Q: OK. My fault. I accept that! Christian, coming to you now, can we start with Checo. He missed the media day yesterday because he said he wasn't feeling very well. How is he today?
Christian HORNER: Yeah, he's feeling better. I think it's the joy of having young children. They tend to bring home every bug and pass it on. Checo is a father of several youngsters and I think he just picked up one of those bugs.
Q: How seriously did you think about getting a replacement for him for the weekend?
CH: Not at all, to be honest with you. We have reserve drivers here and it was never a question, I think. It was obvious he was going to be OK for today.
Q: Can I just extrapolate that further? Had you needed another driver, who would it have been?
CH: Well, we obviously have numerous drivers that are available to us, so we would have pulled one out of the hat, had we needed one.
Q: We're back at the home of Red Bull for the first time since Dietrich Mateschitz passed away in October last year. Just how much are you and the team feeling his loss here?
CH: It's funny because you turn up and you feel his presence here. The passion that he had for Formula 1, the passion that he had for the local area. I mean, the facility is… it's a beautiful facility, and he was so personally involved in that. His fingerprint is on everything where we are, and all the hotels and the surrounding area. So, while he is not with us here in person, his presence is still very much felt, and of course he's very dearly missed – but his vision lives on through the team, through the brand, through the company and yeah, it's testimony to him that we're sat here.
Q: In terms of performance, let's talk about that now. Where is the opposition coming from this weekend?
CH: Well, it's a short circuit, it's only effectively seven corners. Mercedes look like they've made a bit of progress. Aston have got a good car. Ferrari look like they were in better shape in Montréal and better shape at the end of that first practice session. So take your pick – but I think because it's such a short circuit, some weather about maybe tomorrow, maybe even on Sunday, it could be quite a challenge this weekend.
Q: Helmut Marko said after the race in Canada that it was the weather conditions as much as anything, the cooler weather there that led to the nine-second gap at the flag. With better weather here, would you expect your advantage to grow again?
CH: It's impossible to predict because at times you're looking to manage the degradation on these tires, they get a bit of a pounding in the second sector here as well, so there's always issues that you're looking to manage. So, I think it's, as I say, an impossible one to call.
Q: Christian, final one from me. Clearly, you're having a hugely impressive season in 2023, you're going for the ninth consecutive win this weekend, so can we get your thoughts on one team dominance in Formula 1? Lewis Hamilton suggested yesterday that one way to end this cycle would be to give all teams the same start date for their new cars. What's your opinion on that?
CH: Well, he's obviously talking from personal experience. I think it would be an incredibly hard thing to police. How on Earth could you say: right, first of August, go! How do you prevent people thinking about or working on next year's cars? We have a handicap system in Formula 1 through the reduction of wind tunnel time that there is. Franz has almost double the amount of time that we have – so that is a significant handicap and I think Aston Martin will start to feel that as it's reset at the mid-point of the year. And for us, we have to pick and choose very, very sparingly, what are we going to commit to putting through the wind tunnel? So, it will have an effect, and that system didn't exist years ago, so we will see that playing, and I think the most important thing, and the history of Formula 1 demonstrates it, is stability. Not messing with the regulations will always create convergence, and I think it's just a period of time before… You can see that convergence is already starting to happen, I think. By the time we get to the end of '25, probably all the teams will be very converged, and then we screw it all up and go again in '26.
Q: Alessandro, points for the team in both Spain and Canada. Do you feel you're starting to build some momentum now?
ALESSANDRO ALUNNI BRAVI: We Hope That We Started To Improve Our Performance But We Know That Mainly The Qualifying Performance Is Not Still There. Of Course, The Package That We Introduced In Monaco That Was Expected For Imola Works Well.  We Need Still To Extract More Performance From This Package, Especially In Qualifying, As I Said, But Of Course, It's A Continuous Improvement. We Cannot Wait To Develop The Car Farther So I Think That Each Race Will Prove If We Are Going To The Right Direction.
Q: And what were the drivers saying in FP1 one here in Austria?
AAB: As Guenther said, it's difficult to read into the first session. We don't know exactly the program that the others have done. Of course, there is quite a different feeling from both drivers, especially from Sector 1 and Sector 3. It seems that they drive a bit differently. The car, the balance was not so bad but conditions can change in terms of temperatures and we know that the qualifying session for us is a bit tricky so far so we need to look at how the performance will be.
Q: Is qualifying the key going forward for you guys because it's very close in the constructors' championship, you're just one point ahead of Haas who were only one point ahead of Williams themselves? What do you see is the key to staying in seventh place as we go forward?
AAB: The key is to execute better each race weekend. For the moment we are not being consistent. We had good race pace but in qualifying we are not there where we should be and if we start too far from the top 10 positions then to recover during the races is quite difficult. We always had quite an aggressive strategy but we cannot be aggressive all the time and take risks. We need to have a better performance and I think for the next races it will be important to keep developing the car with a proper development rate. We are expecting at  Silverstone another big package for us like the one we introduced in Monaco. We need to do the work on each race weekend.
Q: Can we talk about James Key now?  It's the first time you've been in the press conference since that announcement was made. Tell us why James?
AAB: I think that James Key for us is a kind of a testament of intent of what Sauber Motorsport wants to do in the future. We seek all the opportunities that can arise in the market. We think that James for his knowledge, having been technical director, but also being in various roles within the team could help us to move forward. We need people who are experienced, senior profiles in the team to help Andreas Seidl to shape the transformation from what we are now to what we want to be in 2026. Of course, Andreas  knew James from his McLaren era I would say, but we have also good years with him in Sauber when he was – in 2010 until 2020 – with us. So we think this profile will help us to improve the team;  it's not just one appointment that can change what we are, but it's a part of the recruitment plan that we started already in January and that will be part of this transformation process that our team is undergoing.
Q: And where does this leave Jan Monchaux, the former technical director?  Will he be retained in another technical capacity?
AAB: With Jan we are discussing about his position. Of course, we will have the next two, three months to see the best organizational structure for our team. Jan has been very important for us. Don't forget that we achieved together with him a P6 that has been the best result for our team in the last decade. So we want to reinforce the team and of course Jan… there is a discussion in place and we will see which will be his position in the future.
QUESTIONS FROM THE FLOOR
Q: (Scott Mitchell-Malm – The Race) Christian, you've talked earlier this year about the headache of managing the ATR deficit, especially with the penalty that was applied on top of that.  How much easier has it been or how much of a missed opportunity has it been for your rivals, that you haven't been challenged on track at the start of this season? Have they almost made that easier for you to manage that problem?
CH: I would say the most significant thing is that we came into the year with a competitive car. I think if we'd have been having to fix issues on the current car then that would have been disastrous for us. I think thankfully, we had a good solid base. You can see our rate of development compared to our competitors is somewhat more moderate and that's simply because we just don't have the resource time available. So the resource time we do have available we have to pick and choose where we apply it and of course, I'm sure all these guys will tell you the same, that a lot of focus already is going into next year's car.
Q: (Luke Smith – The Athletic) Christian, another one for you. A lot of the chat at the moment about AlphaTauri's future and potentially closer ties to Red Bull.  Peter Bayer was talking about it alongside Franz earlier. What do you want more from AlphaTauri moving forward? Are you looking for closer alliances? And in terms of its continued status, helping bring more junior drivers up towards Red Bull as well? Is that something you want to protect moving forward?
CH: Well, I think we've always enjoyed a strong relationship with AlphaTauri, and prior to that Toro Rosso, have produced some incredible young talent for us. Of course, on the technical side, there's synergies through the components that can be supplied. And of course, we expect to see that hopefully to grow in the future within the realms of what is possible and what isn't. And so everything evolves and everything changes with time. And we look forward to working with Laurent and Peter in the future but it's been great working with Franz during these past 18 or 19 years.
Q: (Jon Noble – Motorsport.com) Primarily to Christian but the others, if you've got input; you mentioned there about messing up the '26 rules but there's been some concern among team principals in discussions in commission meetings about the possibility that the batteries not having enough energy to keep the cars fully powered for laps and the impact on the spectacle. What are the issues going into '26? Is it something that needs looking at and is it something that potentially needs a rethink of the regulations?
CH: Well, I think that we are in a position where obviously we're dealing with a power unit now as well as the chassis for '26 and I think that one of the big issues, and one of the big impacts for 2026 is weight.  You're looking at pretty much a 30 kilogram swing on cars are already approaching sports car type of weight through the cooling that's going to be required and so on. I think there's some very positive things about 2026 and the sustainable fuel and so on is extremely positive but I think that perhaps where we need to pay urgent attention before it's too late, is to look at the ratio between combustion power and electrical power to ensure that we're not creating a technical Frankenstein which will require the chassis to compensate to such a degree with movable aero and to reduce the drag to such a level that the racing will be affected,  that there will be no tow effect, there will be no DRS because effectively you're running at that at all points in time. And that the characteristics of these engines are just not… the combustion engine just doesn't become a generator to recharge a battery. And I think that could easily be addressed with just tuning the ratio between combustion and electrical power. And because the engine regulations… We still have two and a half years, and I think if there is a slight redress it would then create potentially a better platform for the chassis because otherwise the chassis regs that are undefined yet and uncommitted, we're going to be trying to cater for those compromises and so I think you've got to look at the thing holistically from both a technical point of view but the most important thing is: what is Formula 1?  And Formula 1 needs to be wheel-to-wheel racing.  We can't afford to lose that challenge of drivers downshifting on straights to regenerate batteries. So I know the FIA are taking it very seriously, and they're looking at it very closely as the simulations become more advanced.
Q: Christian, what ratio would you like to see between electric and ICE?
CH: We've got approximately 50/50 at the moment. It doesn't need to change that much but to cater for the circuits, maybe even a 5% swing could have a significant effect, even a 10% swing, because obviously one of the biggest weight additions as well as the cell weight. The size of the battery is colossal for these 2026 regs and I think with the work that's going on with sustainable fuel and then the car has been effectively carbon zero, it's phenomenal. So I think if we just tune that ratio, I think very quickly you could take the dependence away from having the need for active aero and constantly movable diffusers and wings and the complexity that will bring.
AAB: For sure this is a question also for the pure manufacturers, but I agree that, of course, we can always improve because it's important to keep the DNA of Formula 1.  For Audi, it's been important; this new regulation has been the factor that has pushed them to enter into Formula 1 and I think it's important for everybody and all the stakeholders that Audi will enter and that we are attractive for new manufacturers. The focus on sustainability is crucial for the car manufacturers so we don't need to forget this. Of course we can improve, we can improve and all the stakeholders are working to have a good show, to have a good car.  Then it will be a matter of ratio, difficult to say, but what Christian said that I agree we need to have an holistic approach.  It's not just a matter of PU, it's a matter of the overall package: the chassis and the engines.
GS: I have nothing to add to Christian's tuition of 2026 rules, he's the expert.
Q: (Adam Cooper – Motorsport.com) It's no secret that Bridgestone have applied for the tire tender. Realistically, could a new supplier be ready to go in about 20 months with all the obvious testing restrictions? Would you prefer to have stability, especially given the chassis and PU stuff happening in '26?
FT: First of all, Bridgestone is a very well-known company, it also has a lot of experience in Formula 1, although they were out now the last years. I am convinced that Bridgestone is aware what it means to come into Formula 1 and I would not be surprised if they wouldn't have made any tests already in Japan, because when they came back 10 or 15 years ago, the team where I was working, the Le Mans team was involved in the tire development, and Ralf Schumacher did the tire tests in those times and this was two years ahead before they came into Formula 1. Otherwise, if they haven't started then I think it's quite late because to develop tires for the current Formula 1 is huge challenge and it's not so easy to find the correct way to have also safe tires. I think for Formula 1, and for the Formula 1 management, it's a very good possibility to negotiate with Pirelli and then to find a solution who is providing Formula 1 with better material and who is paying more money.
GS: What Franz says is  completely correct. It's not easy to make a Formula 1 tire. I think as Pirelli experienced when they came into the sport the first years are very difficult. I think Pirelli in the end now,  they're doing a good job. Obviously, Bridgestone is a good company, they know about racing and as Franz said,  maybe they've already started to develop some tires.  Who knows? They know, we don't know. But it will not be easy and it will not be pain free. Making experience sometimes is not easy? So I think if they come in it will be difficult but in the end it's up to the FIA to check if they've got the technical capabilities, so we're not going backwards in a way competitive-wise with the tires, but at the moment, I don't really know where that where it stands, what they want to do.
CH: Well, we've worked with both companies and won races and championship with both companies. They're both quality companies. So, Formula 1 is in a fortunate position if both are showing keen interest. We have absolutely no issue with Pirelli at the moment. Bridgestone is a quality brand and is a quality manufacturer. I guess their only complexity and the one that perhaps the teams would squabble over is when they come to needing to sign off their product and then suddenly a test car has to be produced, who produces the test car? Who runs the test car? Who drives the test car? Who gets that knowledge? And how do you do that in an impartial way. It was always a slightly sore subject historically. So that would be one key thing to address.
AAB: As everybody said, we are happy with Pirelli. So, I think that is a very important choice for the future. There will be new PU regulations, new chassis regulations. So also this choice, if there will be or not a new tire supplier, is a key element for the teams. But we rely on the FIA and the tender process. I think that they will take into consideration all the factors. So let's wait and see. But of course, any choice should give to the teams the possibility, as Christian said to test properly, and we know that tire of 2026, if the regulation will remain like today, we have very few days to test completely new package. So this is something that we should consider.
Q: (Ian Parkes – New York Times) A question for you, Christian, please. In Franz's media session earlier with Peter Bayer, he was asked directly about the possibility of Daniel Ricciardo driving for AlphaTauri next season, or whatever the team might be called, of course. He didn't rule it out, suggesting that the junior drivers at Red Bull currently may not quite be ready just yet for a promotion to an F1 seat. So, what is Daniel's latest position going into next season? Is there a possibility that he could drive for AlphaTauri next year? Thank you.
CH: Well, it's still very early days, you know, for next year. And I think that Daniel is under contract for the year. He's going to be driving our car for the first time after the British Grand Prix. And he's obviously a world-class driver. He's won what, seven Grands Prix in his career to date (sic, 8). So I think the first thing will be to see how he performs and where his motivation is, and then from there, it's a question for AlphaTauri as to, you know, their choices for the following season.
Q: (Josh Suttill – The Race) Christian, just on Daniel Ricciardo: how important is that test going to be because from your experience in the last six months, have you seen signs that he's capable of returning to his best and making himself a contender to return?
CH: Well, when he first arrived after Abu Dhabi last year, it was a little bit of a shock because we, we didn't really recognize him from the driver that had left us a few years earlier. But he seems to have rediscovered his mojo, he's been working hard on the simulator, he's now extremely competitive in what he's doing in the virtual world. So, whether that crosses over into the real world, you know, we'll see, albeit at a tire test. We'll get an impression as to the level that he's performing at. But certainly, you can see that there's a spring coming back in his step,
Q: How often has he been on the sim?
CH: He's done a pretty decent amount of mileage. I mean, he's done pretty much… Most of the races that he's not been attending he's been back in the factory supporting on the sim. So, you know, he's thrown himself into that, and has been giving very valuable feedback.
Q: (Stefan Ehlen – Motorsport-Total.com) A question to Franz, please, about engine modes. Can you explain what actually is allowed nowadays in Formula 1 to play with engine modes during and between sessions please?
FT: Regarding engine modes, there's nothing, in this case, limited. We try different engine modes, as you can imagine, for Qualifying for Free Practice, for the Race, just to optimize the engine, power unit output. And it's not only regarding the engine mode, it's also regarding braking, battery, better usage and all this kind of stuff.
Q: (David Schneider – Hersey Shiga Global) A question for Franz. Having experienced Super Formula first hand, I think in 1996, how do you assess Liam Lawson's performance today? And can Super Formula prepare a driver for a career in Formula 1?
FT: Yeah, Super Formula is a fantastic series, I must say, and it can prepare drivers for Formula 1, because Super Formula is a little bit more powerful than Formula 2. There are strong drivers in Japan. The field is quite competitive. There are different race tracks with a lot of challenges. And Super Formula is a good possibility for young drivers being prepared for Formula 1.
Q: (Christian Nimmervoll – Motorsport-Total.com) A question to Christian. Obviously, Lewis hasn't yet confirmed he is going to remain at Mercedes next year. I just wonder, has there ever been a vision at Red Bull to have a super team with Max and Lewis, because that's kind of the only thing that can top what you have achieved already?
CH: It's nothing that we've ever considered in the recent past. I mean, obviously, to pay for those two drivers in itself, we would probably have to sell the factory. But, you know, Lewis is obviously a great driver. Hopefully, he'll be around for many years to come. There's been a couple of occasions in history that we've had a couple of conversations about the possibility of joining Red Bull, but that's not been anytime recently.
Q: (Luke Smith – The Athletic) Christian, you spoke about the ATR penalty being less of an impact, given that you had a competitive car coming into this season. In that pre-season period could you talk about the emotions you felt when you finally put that car on track for the first time and realized just how quick it is and for you guys, after working so hard, over the winter, to have produced something that can be as good as what we've seen this year?
CH: Absolutely. Because you don't know what you don't know, over the winter. And of course, when we went into last winter… Ferrari had a pretty competitive car through last year, Mercedes looked like they were on an upward trajectory. And, you know, we tidied some things up, but we didn't make a revolutionary step over the winter. So, it was more that the others didn't make the step that we expected, as opposed to we made what was more like a standard step. And Aston Martin then leapfrogged from midfield to be the leader of the chasing pack, and you can see they're sorting that out, and they're addressing that. But I think for us it was definitely a relief that we weren't having to burn all our time and effort trying to understand a major fundamental issue with the car. And it was just about set up and so on. So, if you look at the development that we've had, it's been incredibly modest. The car's not that different from Bahrain and it won't be that different going through the next few races, as we've been pretty frugal in where we've focused our attention and of course, you can't ignore next year. We have to make another step and you're very limited in where you can apply your time.
Q: (Daniel Majer – Rallycafé.hu) A question for all four gentlemen. Do you think that Formula 1 should and could go back somewhere in the future to at least the V8 but even the V10 engines with synthetic fuel? And personally would you love to see that, because I think that many fans would?
CH: Look, as a fan, I would love nothing more to see a V10 or a V12 engine running on fully sustainable fuel, you know, for the sound and the emotion and so on. But I think, again, we have many manufacturers involved in Formula 1, where the electrification of their ranges is important. And so therefore, lithium-ion batteries have been introduced to Formula 1 cars. And I think that's something that with the cell technology, Formula 1 is now at the forefront of. But I think with the progress that we're seeing with sustainable fuels, it does make the combustion engine look like it's got a new life and a new relevance. So, perhaps it's something that Formula 1 should also consider longer term because you have to find that balance of entertainment and appeal. If Formula 1 was not appealing, there's no way that the manufacturers that have recently joined or returned to Formula 1, like Ford or Audi, there's no way they would have ever joined. They had an electric formula that they could have all competed in. And I think that Formula 1, these manufacturers want to be involved because of its appeal, because of its reach, because of the global audience that is continuing to grow in, particularly in new markets and key markets. So I think it's finding that balance between entertainment – and sport has to be entertaining – and technology and not one overriding the other.
AAB: As Christian said, of course, Formula 1 has been and is always the most important, let's say, testing bench for the car manufacturers to develop new technologies. And we cannot forget where is the direction now of the automotive sector, especially for engines, hybrid engines and electric- powered engine. So Formula 1 must be relevant, and must be part of this technology process and development. So we need of course to have the proper technology for the car manufacturers. It's important to keep the balance of Formula 1. So to respect what is our DNA, but Formula 1 cannot be out of the automotive world. If we are here and we have a sustainable model in the future, it will be of course, for our fans, but also because the car manufacturers decided to come back and to invest into the Formula 1, and we need to provide them to the with the proper tool to develop technology for the road cars.
GS: Yeah, as much as we can be nostalgic about V10s, V12s, and I think most people which grew up in motorsport like them, but the world has moved on, and so has Formula 1 and I think we need to stay current with technology. And as Christian and Alessandro said, the technology now is electrification, but not solely, as Christian said, it's going back to, maybe we can keep the combustion engine alive with sustainable fuels, with zero emissions. And I think, actually, F1 is a big part of doing this for the future. Because what F1 is good at is in doing developments. Obviously, we have got good money available to do it and everybody pushes hard, because we push hard for being competitive in a race. We're not just doing it to do something. We need to be competitive. So, I think it's the best place still for a car manufacturer, to be in Formula 1, to push their technologies. And maybe the combustion engine, as was said here before, has a comeback, a little bit different and not as a V10 or a V12 as we maybe wish. But it's still staying around, you know. So I think it's a very good thing because it keeps us both interesting, but also develops a technology which is good for driving around cars worldwide.
FT: Personally, I would like to have back the V12 Matra sound from the '70s, if you can remember. This was fantastic. But unfortunately this is not on the table, because the automotive industry is going in another direction. And they have to go into this other direction because they have to sell their cars. And Formula 1 is the peak of motor sports. And it's the mirror of the technology and therefore, the way in which we are going now with this power unit, with the energy recovery systems is correct for sustainability and for the acceptance of our sport.