F1: British GP Formula 1 Friday Quotes
Red Bull
Max Verstappen and Red Bull picked up where they left off in Austria with another pace-setting display during Friday practice for the British Grand Prix. Fastest in FP1 and FP2, and brushing off some early "zero grip" concerns, Verstappen's ultimate benchmark was a 1m 28.078s, some two hundredths clear of Ferrari rival Carlos Sainz. It was a quieter day for teammate Sergio Perez, who was a quarter of a second back in fourth, behind the high-flying Williams of Alex Albon.
Max Verstappen – FP1: 1:28.600, P1; FP2: 1:28.078, P1
"I think it was quite a good day for us. It was a little slippery in the beginning but that's due to the high pressures that we are running on the tires. Of course, that is the same for everyone, but it makes it a bit more difficult in the low speed. I think in general the car has been performing really well so we can be happy with that. The performance has also been strong in both sessions and we could complete our program. The long runs felt good as well so it's pretty positive. From our side we want to improve the car ahead of qualifying tomorrow but overall, it's been a strong day."
Sergio Perez – FP1: 1:29.048, P2; FP2: 1:28.342, P4
"I am pleased with how the sessions went. We've spent a lot of time looking at the tires today. The most important thing is to assess the data, learn from it and see where and how is best to use that information tomorrow. I think we are looking good for qualifying and for the race. It has been a positive Friday overall, the car is feeling good and we made some positive progress from FP1 to FP2. There is still a lot of work to be done overnight but hopefully tomorrow we can make another step in the right direction."
Mercedes
It was a quiet day for Mercedes as they ended both free practice sessions in the midfield. After opting against any soft tire runs in FP1, the move to the red-marked rubber in FP2 did not trigger a jump up the timesheets one might have expected. Instead, George Russell and Lewis Hamilton (who briefly took flight with a run over the curbs at Stowe) were 12th and 15th respectively in their updated W14s, both more than a second off the pace set by Verstappen.
Lewis Hamilton – FP1: 1:29.768, P12; FP2: 1:29.283, P15
"It was very windy out there, as it often is here at Silverstone. I think that's something that helps it become the best track in the world. It definitely made the car more inconsistent though, but we're also battling the same challenges that we have been for the majority of the season. It's a tough car to drive and it continues to be so. On the single lap, we didn't seem to make any improvement between tires which suggests we're missing something. The positive for us is that the long run pace wasn't too bad.
"The balance is tricky, but we will work on in tonight. We will also have Mick in the simulator so hopefully we can come up with some solutions for tomorrow. We're not in the same race as the Red Bulls but I'm hoping we can fight for the podium, even though it will take a big push. The fans have been phenomenal since yesterday already and hopefully we can give them something to cheer about."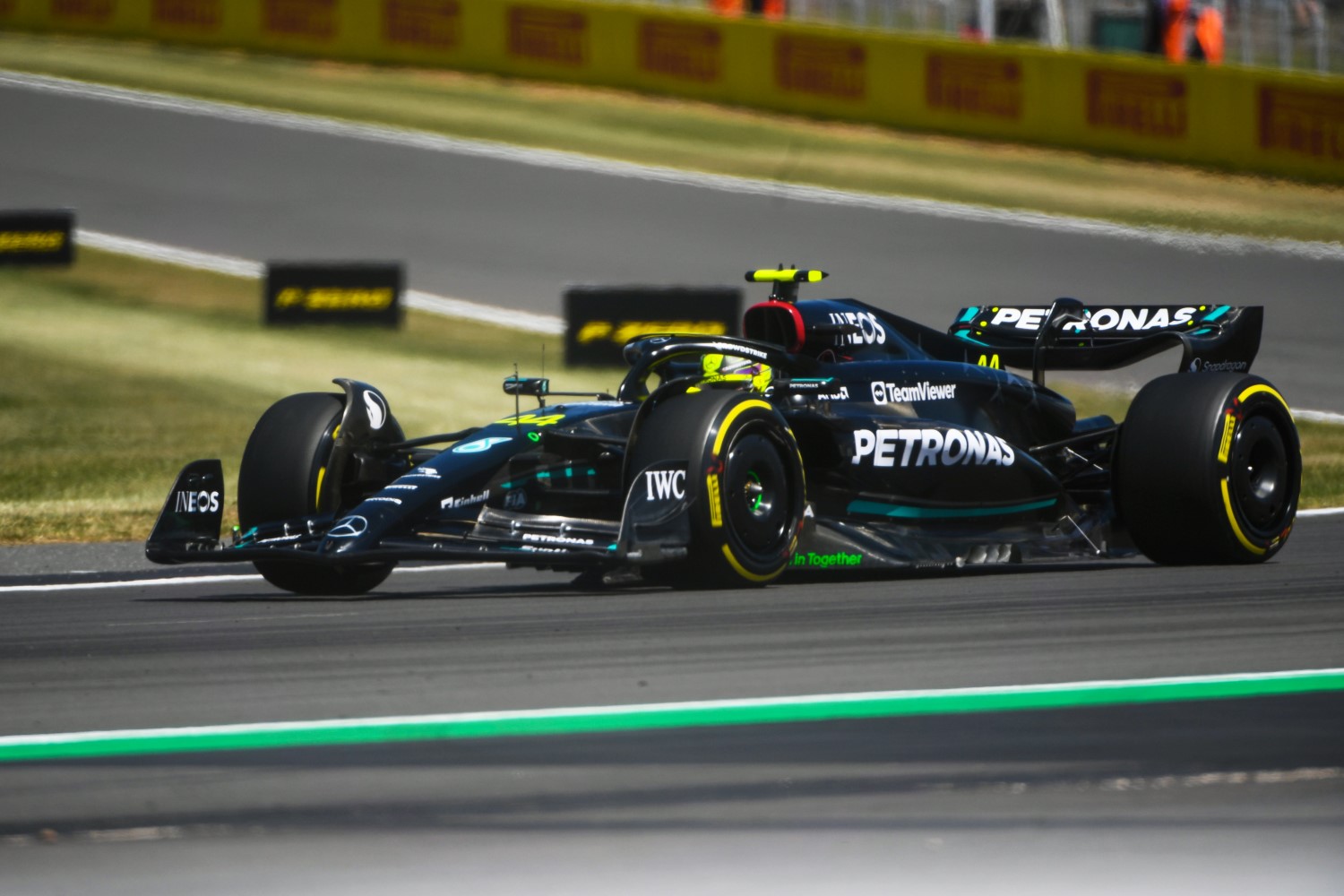 George Russell – FP1: 1:29.874, P14; FP2: 1:29.238, P12
"Today definitely wasn't our finest Friday. In FP1, our pace on the medium tire was looking reasonable and we thought we'd be able to make a good step on the soft tire. However in FP2, we struggled. We've seen a small trend that when temperatures are hotter, we tend to take a step backwards. We also made quite a few changes between sessions, but we possibly didn't compensate enough for the conditions. It was a difficult afternoon for sure, but we will dig into the data with the Team tonight and see what we can do for tomorrow.
"Despite the difficulties, I've still got half a smile on my face driving here in front of all the British fans. They are giving me and the Team the energy to come back stronger tomorrow."
Andrew Shovlin, Trackside Engineering Director
"Today, it looked like we had a race car that could fight for a podium, with a qualifying car that would struggle to threaten the top-10. Clearly, we've got lots of work to do to understand why that is. We've got some investigations ongoing, but we'd like to check through more data to test our theories; we've also got Mick in the simulator overnight which will be a big help.
"The positive from today is that our low fuel performance on the medium and hard tire was good. Our long run pace also looked strong. It was also encouraging that our updates seem to be behaving as expected. The list of things to fix is therefore not long, but it's a very important one with regards to qualifying tomorrow. There is plenty of work ahead, but we've got lots of ideas and hopefully we'll make good progress."
Aston Martin
With their factory situated just a stone's throw away from the Silverstone Circuit, there was some stone-related drama for Lance Stroll and Aston Martin during FP2, as debris flicked up and struck his finger. The Canadian still made it into the top six positions at the end of day one, though, leading the team's charge from 10th-placed Fernando Alonso. The green machines, featuring new front wings here, look set to be involved in another fierce battle behind the Red Bulls, with Williams also pushing to join the mix.
Fernando Alonso – FP1: 1:29.268, P4; FP2: 1:29.134, P10
"It's good to be back at Silverstone and racing just across the road from our AMR Technology Campus. This circuit always provides a lot of adrenaline for us in Formula 1 cars. It was very windy today which made it quite tricky, but the car felt good. We tested a few things in both sessions and there is more for us to analyze tonight. The weather looks like it could change tomorrow, so let's see what conditions we are facing."
Lance Stroll – FP1: 1:29.471, P9; FP2: 1:28.866, P6
"It's been great to get out on track at Silverstone today; there's no place quite like it. We made a few set-up changes after FP1 and the AMR23 was feeling stronger for the second session. There are still a few bits to work through tonight, but the pace looked good so I'm feeling positive. We'll see what tomorrow brings as it looks like the temperature will drop and there could be some rain in the area. We could be in for an interesting qualifying!"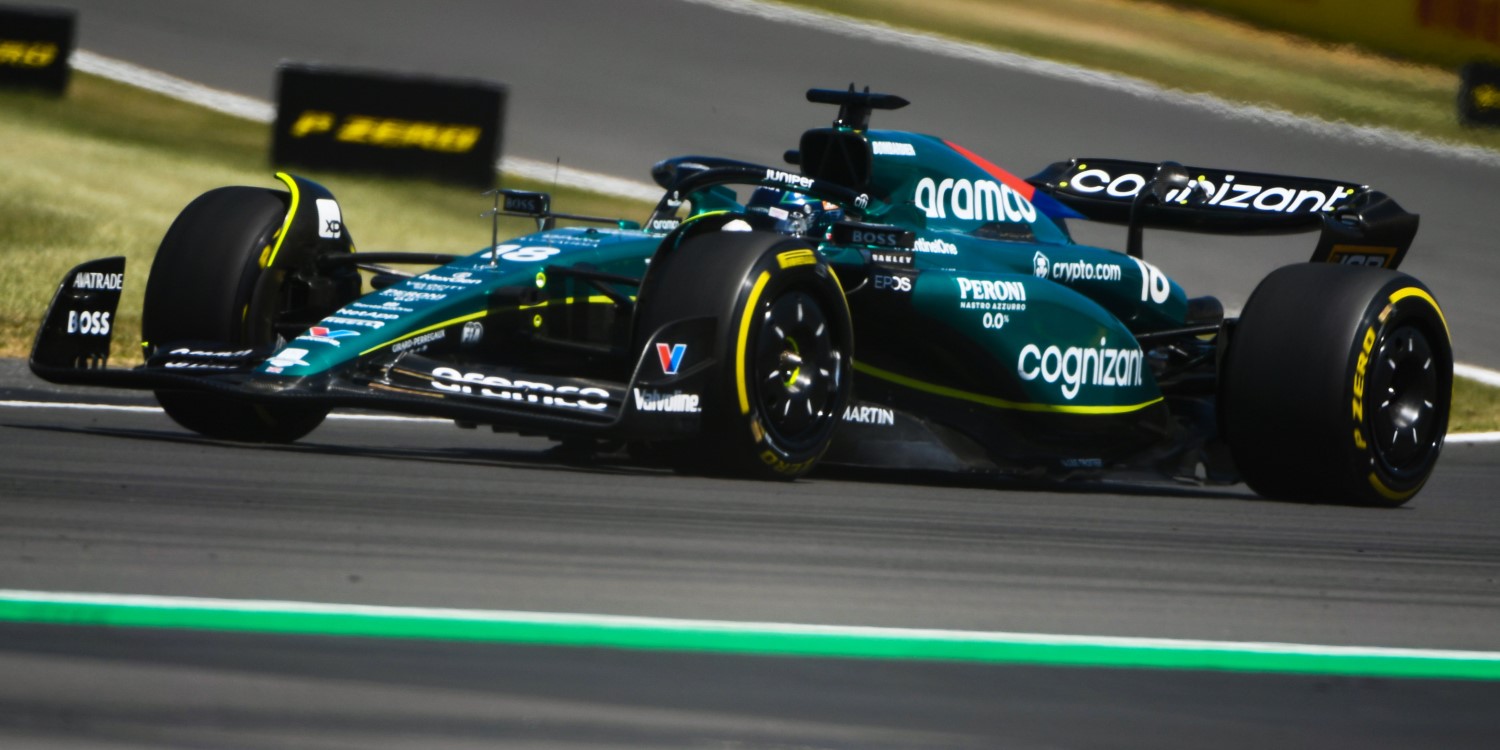 Ferrari
It was a day of mixed fortunes for Ferrari at Silverstone, with Sainz lapping only marginally slower than Verstappen and Red Bull but Charles Leclerc left to watch on from the sidelines in FP2 due to an electrical issue. That means some catching up to do for the Monegasque before qualifying, where Ferrari have traditionally been closer to Red Bull this season.
Charles Leclerc – FP1: 1:29.280, P5; FP2: NO TIME, P20
"While the feeling in the car was good on the low fuel run, we still have some work to do to improve our race pace. We hope to make some steps forward by tomorrow, even though the conditions will be very different as we expect it to rain. It's a shame that I couldn't take part in FP2 because we lack some race simulations for Sunday, but we will work on maximizing what we have in preparation for qualifying and the race anyway."
Carlos Sainz – FP1: 1:29.357, P7; FP2: 1:28.100, P2
"It was a challenging Friday here in Silverstone. FP1 was quite tricky because of the wind and the track conditions but we completed a good program and I think this helped us make good progress in FP2. We need to keep working on tire management and race pace. This should be our main point of focus going into tomorrow, as today we could see that over one lap we were not too bad. Overall, we are quite happy with today but of course there's still some work to do."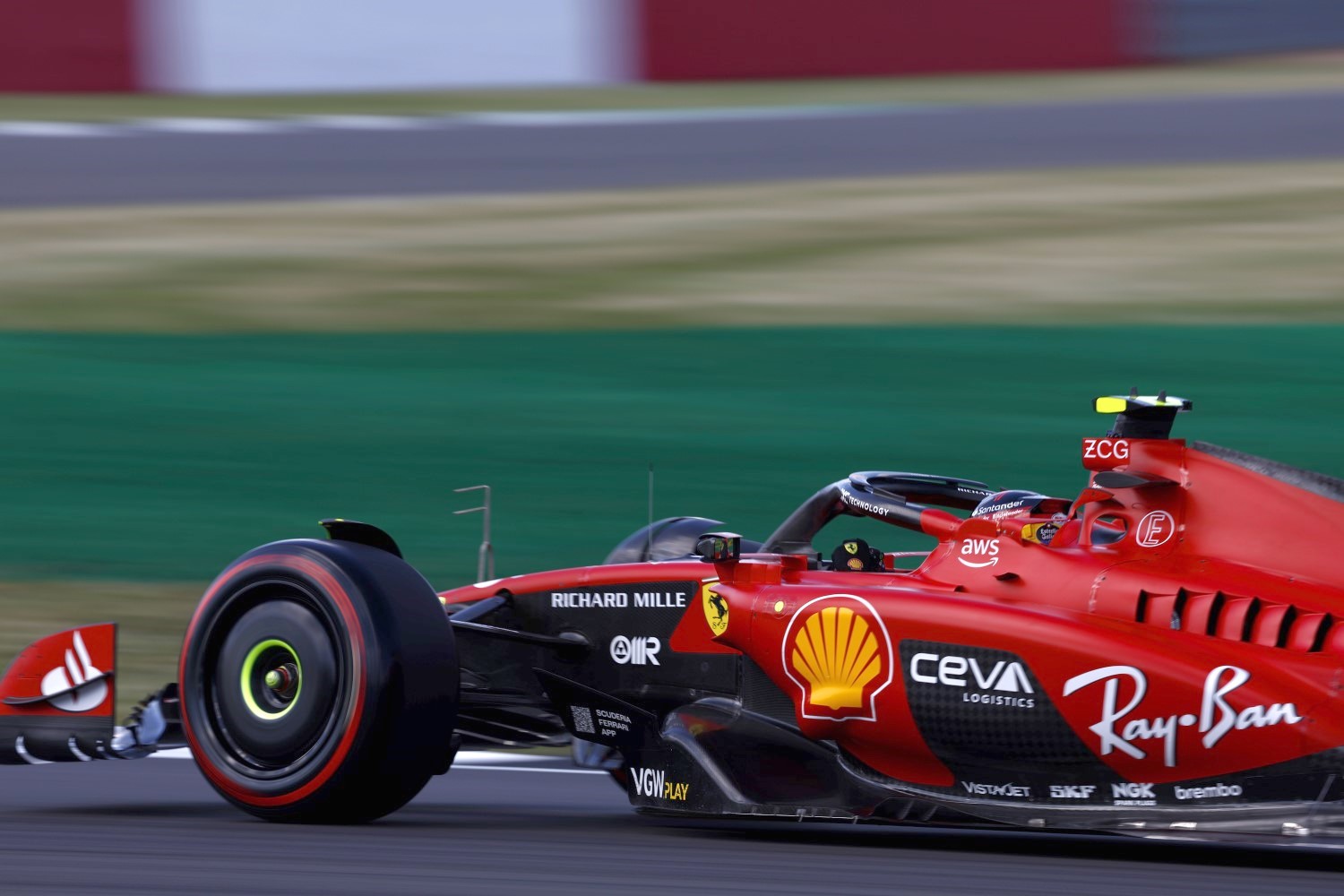 Alpine
Alpine finished both of Friday's practice sessions inside the top 10 positions, but their drivers swapped places on both occasions. One of several teams running significant updates this weekend, as they look to fight back against rivals McLaren, Ocon led the Alpine charge in FP1 with a solid run to sixth, before Gasly slotted into eighth in FP2.
Esteban Ocon – FP1: 1:29.319, P6; FP2: 1:29.242, P13
"It's good to be back driving at this iconic circuit. Silverstone always has such a good flow to it and it feels great to attack some of these amazing corner combinations flat out. In terms of our day today, I think we learned a lot from both Free Practice sessions and we've acquired some good data to determine the direction we need to take on set-up ahead of tomorrow. The weather conditions will most likely be different for Qualifying and, perhaps even for the race, so that is something all teams will keep an eye on for sure. We've got a lot of work to do ahead of tomorrow and I am confident we will be in good shape."
Pierre Gasly – FP1: 1:29.828, P13; FP2: 1:28.889, P8
"Firstly, it's very enjoyable to drive at such an awesome circuit in front of so many fans. Even on a Friday, the grandstands were full at every corner and that really is good to see for us drivers. On track, it's been a solid day for us with no real issues and we progressed through our run plan as expected. I definitely think there's more to come from us and I look forward to tomorrow's Practice to again try some things and find improvements ahead of Qualifying."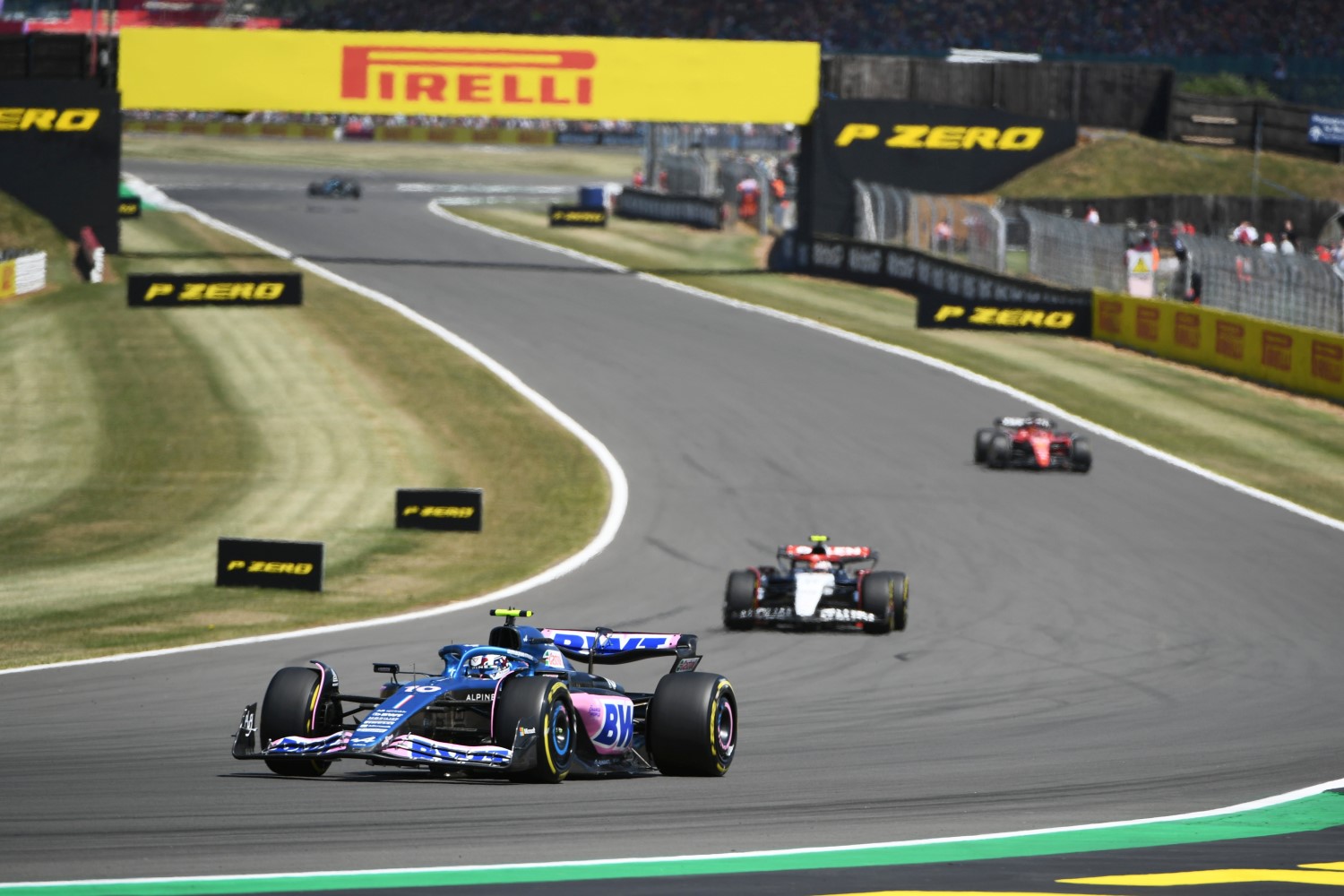 Matt Harman, Technical Director
"It's always a great experience to be at Silverstone for the British Grand Prix. Many of our Enstone staff members attend this race as it's a short drive from the factory and this year it's made even more satisfying that those in attendance are able to see first-hand the benefit of our front wing upgrade, which we've been able to deliver on both cars for this weekend. The upgrade has worked as expected and we look forward to adding more performance to the car in the coming weeks with a series of updates. On track, it's been an uneventful day with both drivers running a productive program in preparation for the rest of the weekend. There's more to come from us and we'll use Free Practice 3 to fine tune the cars ahead of Qualifying and the Race."
McLaren
Lando Norris took on a host of upgrades in Austria before charging to a season-best fourth, giving McLaren a lift following their mixed 2023 so far. As the paddock reconvened at Silverstone, there were more goodies for the home driver to sample, while Piastri got his hands on the package Norris ran last time out. It was the Australian (after some hydraulics gremlins in FP1) who finished day one as the fastest of the McLarens, though, five places and some three-tenths quicker than Norris, with the chrome-liveried MCL60s at the heart of a tight midfield pack.
Lando Norris – FP1: 1:29.441, P8; FP2: 1:29.260, P14
"A bit of a tricky day. I was struggling quite a bit with the car balance and confidence. It hasn't been the best of starts but we've still got plenty of time to work it through. We're probably not at the same level as we were in Austria, but we know we can get more out of the car."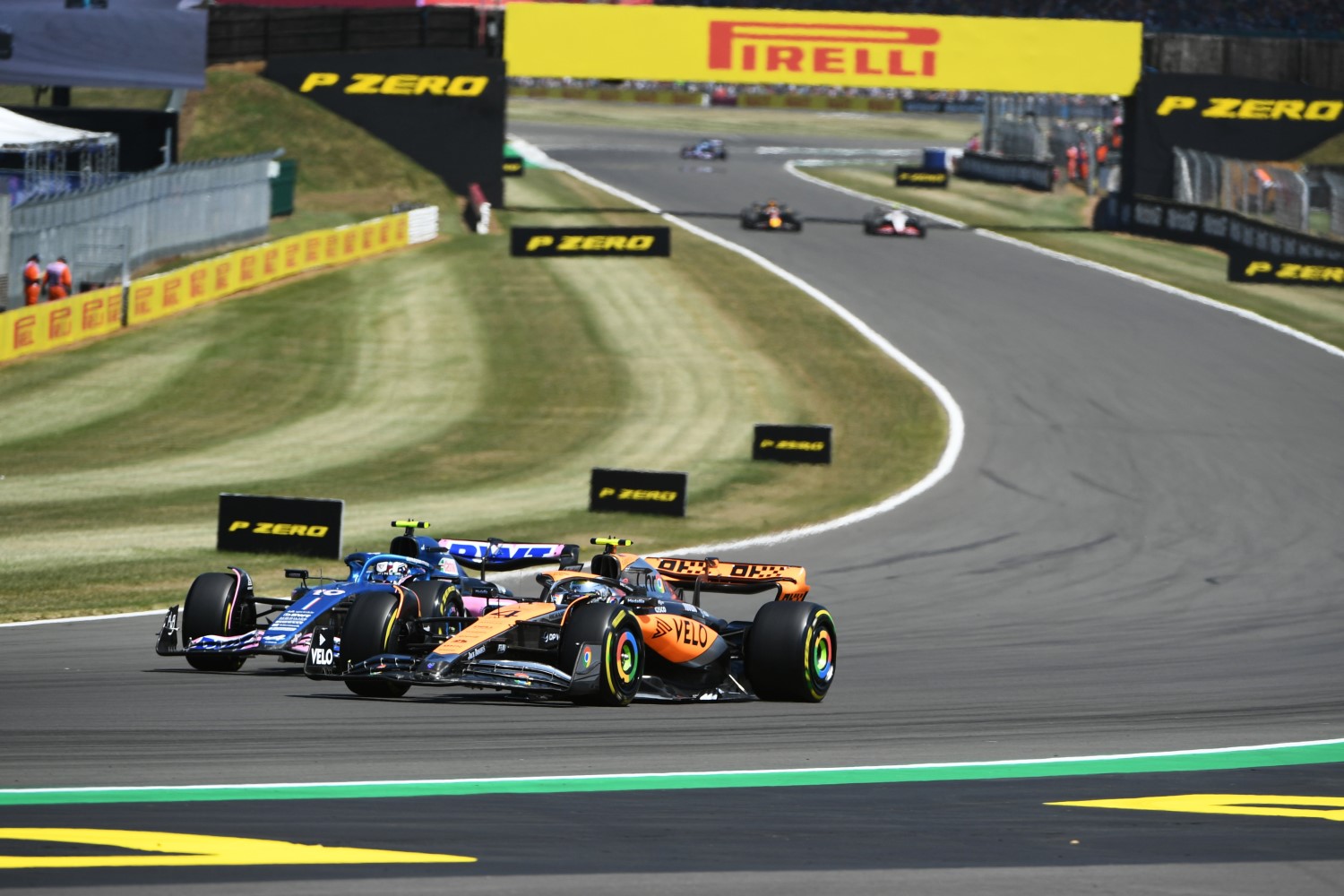 Oscar Piastri – FP1: 1:29.658, P10; FP2: 1:28.926, P9
"I'd say a pretty productive day. We still need to do some work to get the car into the sweet spot, but I think all-in-all it was pretty solid. We'll have to see what we can tune-up for tomorrow. The weather is playing a big part, so we'll see what we can do tomorrow but all-in-all, not a bad Friday, a nice first day with the upgraded car."
Andrea Stella, Team Principal
"A productive day of practice, in dry sunny conditions here at Silverstone. The good weather allows us to complete an extensive program testing for the new tires and our upgraded aerodynamic parts. The pecking order looks interesting: some cars seem to be quick on low fuel, others in the race runs, so I think we have an interesting weekend ahead – even leaving aside the possibility of wet weather on the way. We'll study the data tonight and prepare as best we can for whatever the weekend brings us, with the intention of scoring points on Sunday."
Haas
There was also a contrast in sessions for Nico Hulkenberg and Haas as day one unfolded, with the German ending FP1 at the foot of the times, just behind team mate Kevin Magnussen, before vaulting to seventh in FP2 – showing some of the one-lap pace that has defined their season so far. Magnussen could not mirror that jump, winding up back in 17th, ahead of only the AlphaTauris and the sidelined Leclerc.
Nico Hulkenberg – FP1: 1:30.591, P20; FP2: 1:28.880, P7
"It's fast here, super dynamic and also the wind direction was good today when going through all of the nice high-speed sections. It's impressive the speed and the change of direction and the forces we go through. It was an okay day today, the long run didn't feel too bad, but I was almost always by myself, alone, so it isn't entirely representative come Sunday. We're trying to get on top of the long runs a bit more and find some more pace, tire management and see what we can do. I think one lap pace looked okay but we need to focus on what we can do better in the race to extract the most."
Kevin Magnussen – FP1: 1:30.385, P19; FP2: 1:29.439, P17
"It's normal focusing on the set up and tires on a Friday. I think we looked a little bit weak today but then again Nico put in a very good lap time on his side. There's something we can learn from that hopefully. We know our car usually can do one lap but then struggles in the race. I think my focus is really at the end of the day more on race pace and tire performance."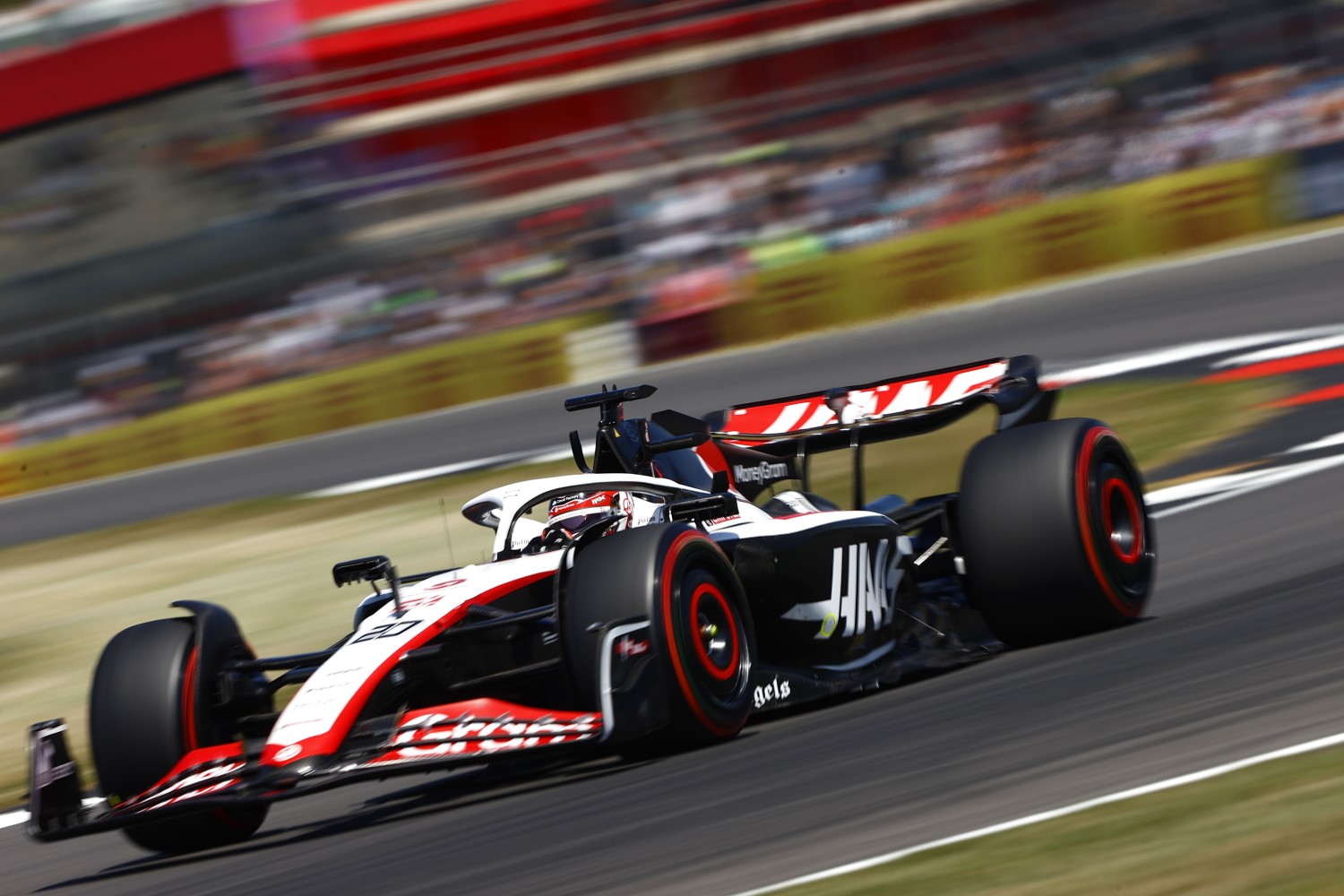 Guenther Steiner, Team Principal
"FP1 was difficult, we were trying some stuff to sort our issues out and I think what we learned from there, we got better in FP2. Nico did pretty well also, the long run didn't look too bad. Obviously, it was a long run but it was 15 laps, and we need to do more than 15 laps on these tires. I think we're going in the right direction. Kevin struggled a little bit, but we're reverting his set-up to Nico's set-up, at his wish, and hopefully he can be with Nico in FP3 and in qualifying."
Alfa Romeo
Zhou Guanyu returned to the scene of his terrifying crash 12 months ago on Friday but brushed any negative memories aside to finish as the fastest of the Alfa Romeos, knocking on the door of the top 10 in the process. There was just a tenth-and-a-half between the Chinese racer and 16th-placed team mate Valtteri Bottas, though, highlighting just how close the midfield pack is.
Valtteri Bottas – FP1: 1:30.090, P15; FP2: 1:29.378, P16
"Today, much like most Fridays, has been all about learning. The upgrades we have brought here seem to have given us a bit more downforce; it is a step forward, but we're not the only team who has brought new parts this weekend, and once again, we have seen how extremely close it is in the field with our main competitors. I reckon there is still some work to do overnight to further optimize this package, in order to find that extra performance that could make the difference. Tomorrow, it will be crucial to execute a perfect qualifying, to place ourselves in a favorable position on the grid and hopefully get in the mix for points on Sunday."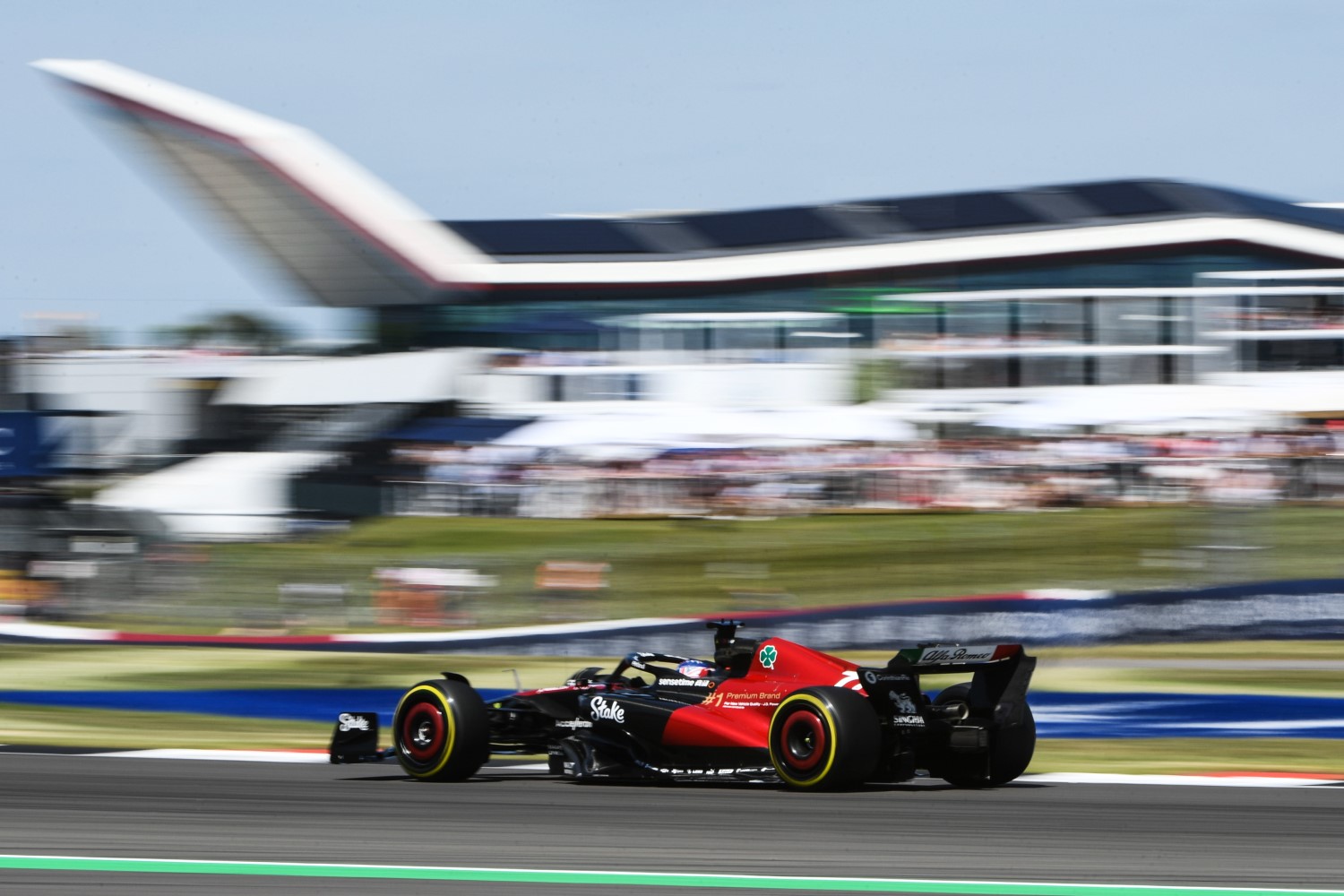 Zhou Guanyu – FP1: 1:30.321, P18; FP2: 1:29.225, P11
"The upgrades we have brought here seem to be working as we expected; of course, it is difficult to make predictions based on practice sessions: we will find out where we really stand only when qualifying starts. Today has been all about getting to learn these new parts, and testing different set-ups. I slightly struggled with the balance, but overall, I think P11 is a decent result – and if we manage to fine tune every detail, I am confident we will be able to extract much more from our car. Tonight, all of our work will go into reviewing the data we have gathered today and analyzing it to make a further step forward tomorrow."
Williams
Following an impressive run to P7 in Canada and another competitive display in Austria, Alex Albon and Williams caught the eye again by running towards the head of the field throughout Friday's running at Silverstone. Indeed, the home favorite was third in both practice sessions, with rookie team mate Logan Sargeant joining him in FP2 by placing fifth – the Williams showing particularly strong straight-line speed.
Logan Sargeant – FP1: 1:30.124, P17; FP2: 1:28.766, P5
"It was a decent Friday in Silverstone, despite being quite tricky with high temperatures and high winds, making it very unpredictable throughout the lap. We've done a good job to get on top of it, however there's still some improvements to make ahead of tomorrow. Either way, it was a great day driving this amazing track and I'm looking forward to tomorrow."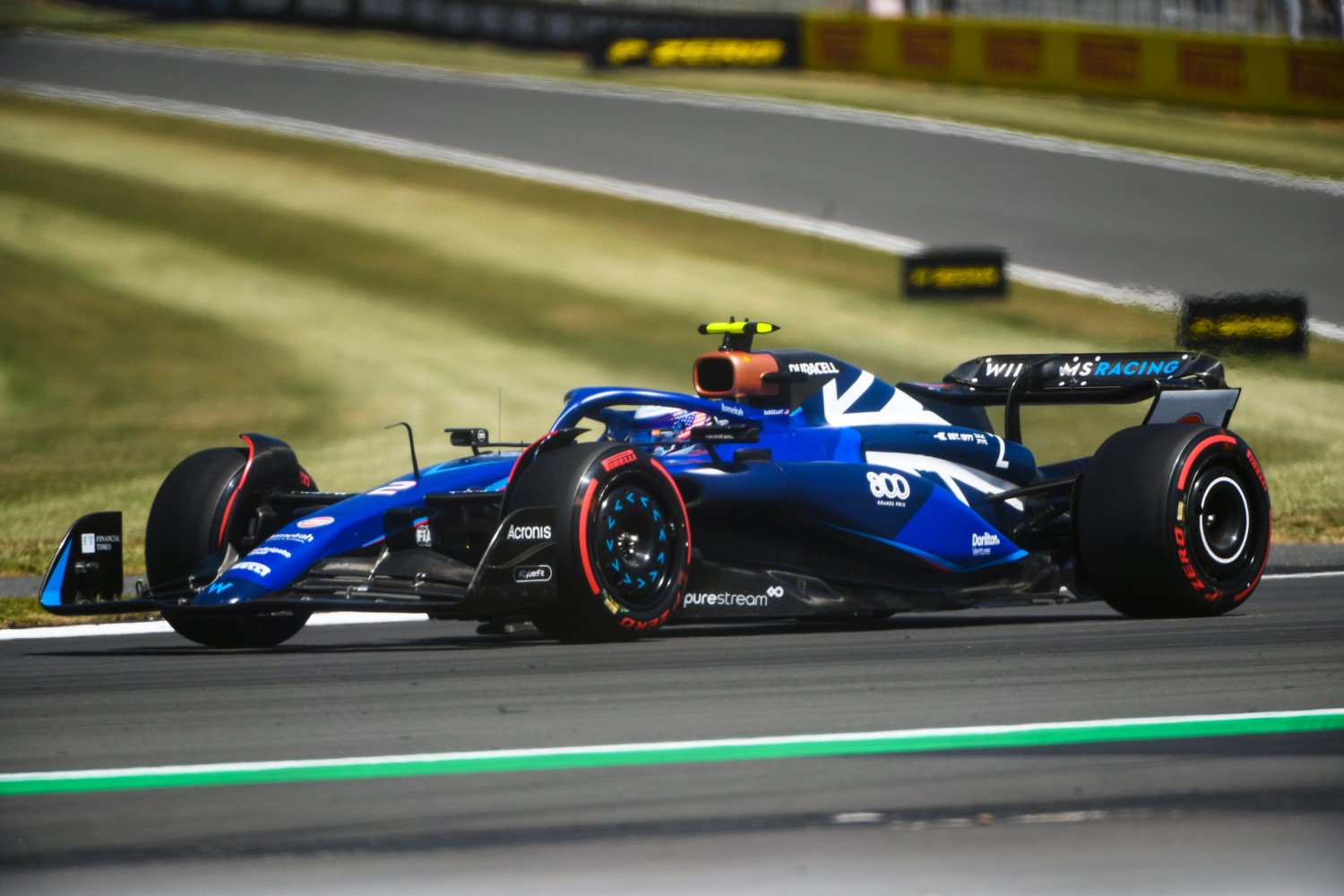 Alex Albon – FP1: 1:29.089, P3; FP2: 1:28.296, P3
"Obviously a very good day today. I think we need to stay true to ourselves as we don't know what everyone else is doing. Looking at the timesheets you can't not be happy, but I think it's better to just focus on how we can continue to improve, as there's still more to look at. Let's also hope tomorrow stays dry."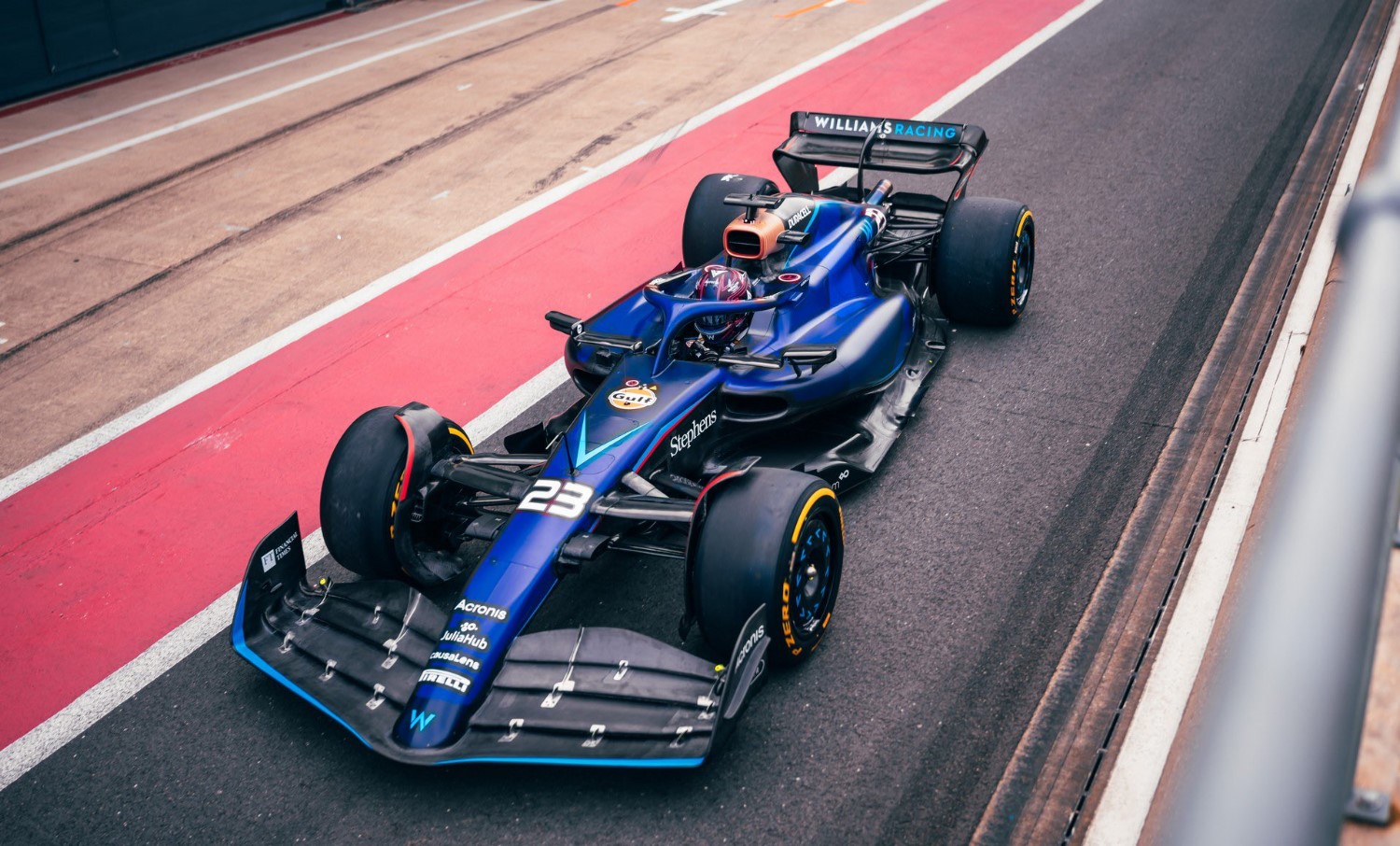 Dave Robson, Head of Vehicle Performance
"We got through a good amount of work in FP1 with both drivers completing their programs, including a first look at some new aerodynamic items. Alex ran a new front wing, which is working well; he will keep this for the rest of the weekend. Meanwhile, Logan looked at a new rear wing, which will race later in the season. Despite the distraction of doing these tests, both drivers were still able to get a good look at the track and the conditions.
"FP2 was a normal race weekend session and both drivers were able to set good lap times at low and high fuel despite the windy conditions. This is the first time that we have seen the upgrade package, which we introduced in Canada, run on a circuit as demanding and varied as Silverstone. This has enabled us to collect a lot more data than was possible in Canada and Austria and will help us understand if the development direction was correct.
"Alex and Logan were very strong today and set fast laps in tricky conditions, however, the conditions are likely to vary over the next couple of days and we still have a lot of work to do to secure a good result. We'll focus on the things we can influence and try to maintain the good momentum into tomorrow."
AlphaTauri
AlphaTauri headed into the weekend with Yuki Tsunoda commenting that the team need to improve in all areas after a challenging start to the season, and their position at the foot of the constructors' standings was reflected on the FP2 timesheets, with Tsunoda 18th and teammate Nyck de Vries 19th – only Leclerc, without a lap to his name, sitting behind. There was also some more drama for the under-pressure De Vries, who spun in the first session and suffered a late puncture in the second.
Nyck de Vries – FP1: 1:29.691, P11; FP2: 1:29.571, P19
"The car performance was decent in FP1, but FP2 was more difficult. With all the updates we brought this weekend, it takes time to understand their behavior. We'll go through all our data tonight to learn as much as possible, to get ready for qualifying tomorrow afternoon."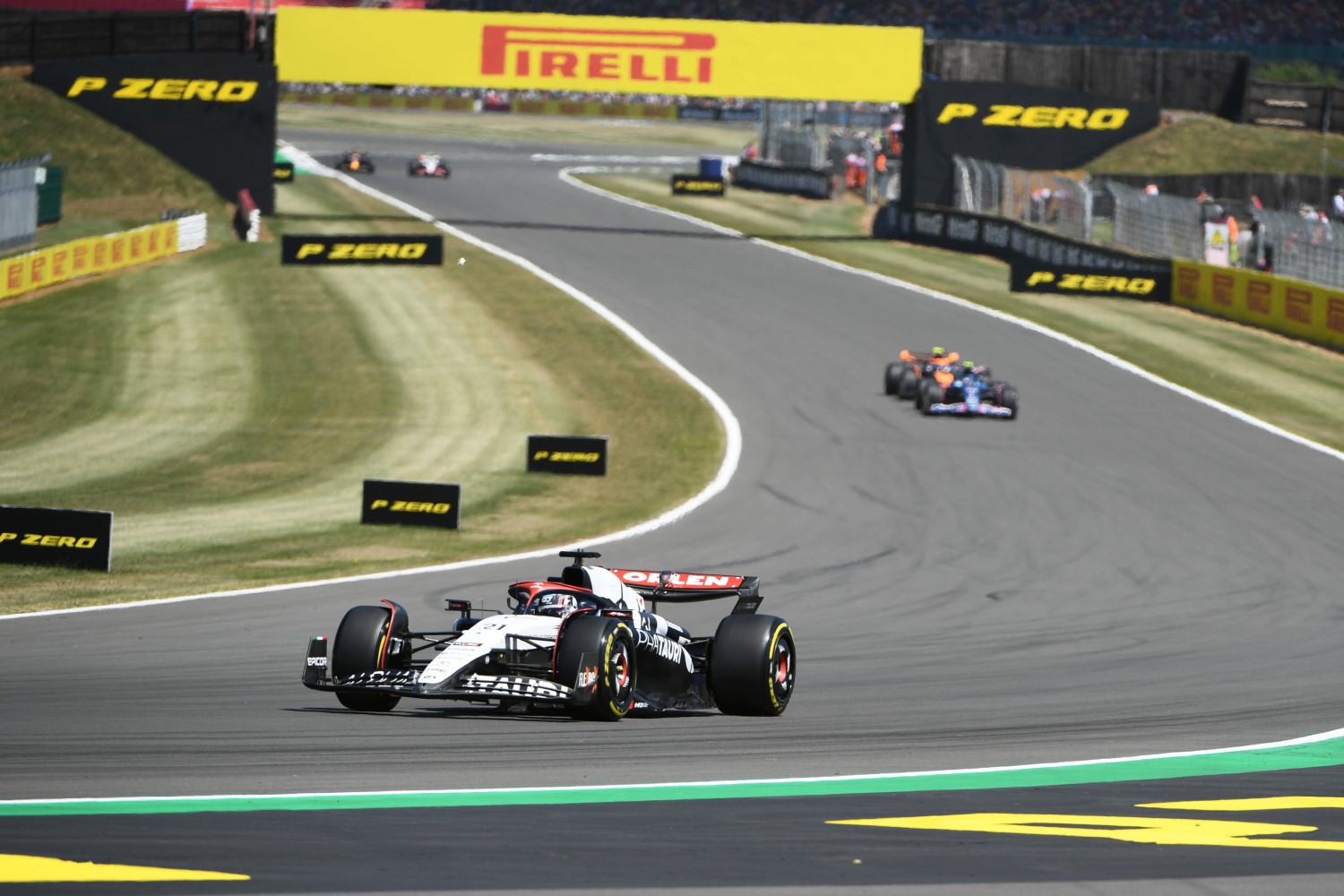 Yuki Tsunoda – FP1: 1:30.092, P16; FP2: 1:29.483, P18
"With such a large number of new parts that we have introduced, it takes time to understand them. We have definitely seen some gains in a few places, and we'll use tonight to analyze the data we collected today. Tomorrow is a new day, and we'll use FP3 to maximize our package in time for qualifying."
Jonathan Eddolls, Chief Race Engineer
"We brought a new aero package to this event consisting of floor, bodywork, rear wing and rear brake duct, so the focus of the day was to understand the performance and characteristics associated with it. To help us gather the best data possible, we carried out various set-up tests across the two cars using the medium and soft tire compounds in FP1. There was time for a long run at the end of the first session and as the degradation was higher than expected, we took this learning into the FP2 long runs.
"Analysis showed that the update is actually working well. We made further changes to the car in FP2, but it's fair to say we didn't hit the sweet spot with either car in terms of balance on the soft tire short runs, lacking front-end, which is a lap time killer here. High track temperatures exacerbated the front tire overheating which resulted in a lack of front grip, so we think there is a step of lap time to come tomorrow with better balance. The long runs in FP2 were better managed, but we still had high degradation, so we need to review the strategy for the race.
"In summary, the aero update shows gains in the data and the focus of the overnight work will be to see what is required with setup and driving, to utilize this extra performance and turn that into lap time."
Pirelli
Simone Berra, Chief Engineer
"It was a very interesting day with a lot of data acquired and useful information especially looking to the race. We saw that the teams maybe concentrated more than usual in FP2 on assessing tire behavior over a long run, in some cases running a half-race distance on one set. This was the case for Hulkenberg who did 25 laps on a set of Hards, 20 of them in one run. The new construction made what one could call its official debut here, following on from the prototype test in Barcelona. From what we have seen so far there were no problems nor changes in tire behavior. It's worth noting that compared to last year, the lap times have come down considerably: almost nine tenths quicker when comparing the best 2022 time of 1.28.942 with today's 1.28.078, although today's track temperature was 15 °C higher.
"Tomorrow, there's a chance of rain especially for the earlier on track sessions, with the chances of a wet track diminishing over the course of the day. It's another unpredictable element on a Saturday that already looks like being closely contested, given that on the shortest runs, the gaps were very small, with 22 hundredths between first and second on the FP2 time sheet and all 19 drivers (Leclerc did not run in this session) within the same second and a half."