Did you know that Michael Andretti signed to drive for Ferrari in 1992?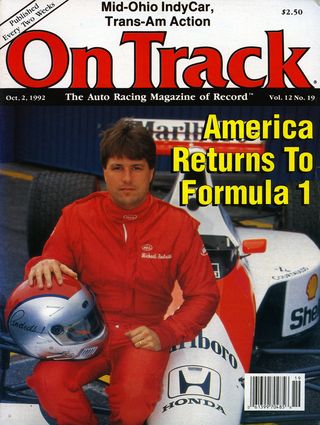 Instead Andretti signed to drive for McLaren the following year
Not many people know that Michael Andretti signed a 3-year deal to drive for the Ferrari F1 team in 1991 for the years 1992-1993-1994. However, his CART team owner Carl Haas stopped him.
Andretti told Racer Magazine "It was '91. We were at Elkhart Lake, and I had just signed a contract with Carl Haas for '92," Andretti said. "But there was a clause in there about Formula 1, that he said that he would never enforce, that if I [wanted] to go [to] Formula 1, he would never stop me. And so, in '91, I happened to sign a contract. This is something that not too many people know. I signed a contract with Ferrari to drive for them in '92."
"And so, when I brought the Ferrari contract back to Carl, he said, 'I'm not going to let you do it,'" Andretti recalled. "I'm like, 'Well you said you would!' I was really, really mad at him. We were staying at the same hotel, and we're heading out race morning, and I wasn't even talking to him. He's in the car in front of me, and we get in the car, and his coat's arm sleeve was sticking out the side of the door when he closed it.
"So, the whole way, you see this thing flapping in the wind. And it's like, God, I want to be so mad at him, but I just couldn't stay mad enough."
"I think it was a three-year deal that I signed," he said. "And so, they knew that it would take some time for me to get going, and [Alain] Prost was going to be my teammate. So I felt like I was going to be able to learn a lot there. I thought it was a great opportunity. To drive for Ferrari right out of Indy cars would have been awesome. So, it's something that was really disappointing."
"It would have been cool, even though that year wasn't very strong," he said. "But, hopefully if I could have run with Prost, which at that time you were able to do unlimited testing and things like that. I would have been able to be a lot more prepared. And I think it would have been less political with me going to do that, than it was when I joined McLaren. It would've been an interesting exercise, but unfortunately it never happened."