Rumor: Red Bull to bring big upgrade to Hungarian GP
(Update)
(GMM) Dr Helmut Marko says he's not overly worried that Red Bull's rivals appear to be closing the performance gap.
Max Verstappen is positively cruising to his third consecutive drivers' world championship – but at Silverstone recently, a vastly improved McLaren car led the charge to end that dominance.
Marko says he isn't worried.
"Even if the cars are all equally fast, then we still have the Max factor," the top Red Bull official told Speed Week.
"Nobody can hold a candle to him at the moment.
"The updates from our competitors have brought about a shift, but without wanting to be arrogant, they really haven't come that much closer to us."
Verstappen, 25, revealed last time out at Silverstone that Red Bull will have its own upgrades in the luggage this weekend in Hungary.
F1-insider.com and Auto Motor und Sport believe the most significant change will be to the sidepods – with the upgraded Red Bull to now feature Aston Martin-style sidepod channels.
Team boss Christian Horner believes it could be worth two tenths per lap.
"The changes to the bodywork should be visible to the naked eye," said correspondent Andreas Haupt.
"It has been rumored that Red Bull is always looking at the competition, especially Aston Martin with its deep groove in the sidepods.
"With the upgrade in Baku, the RB19 won about two tenths – which is a lot these days. The Budapest upgrade could be on the same scale."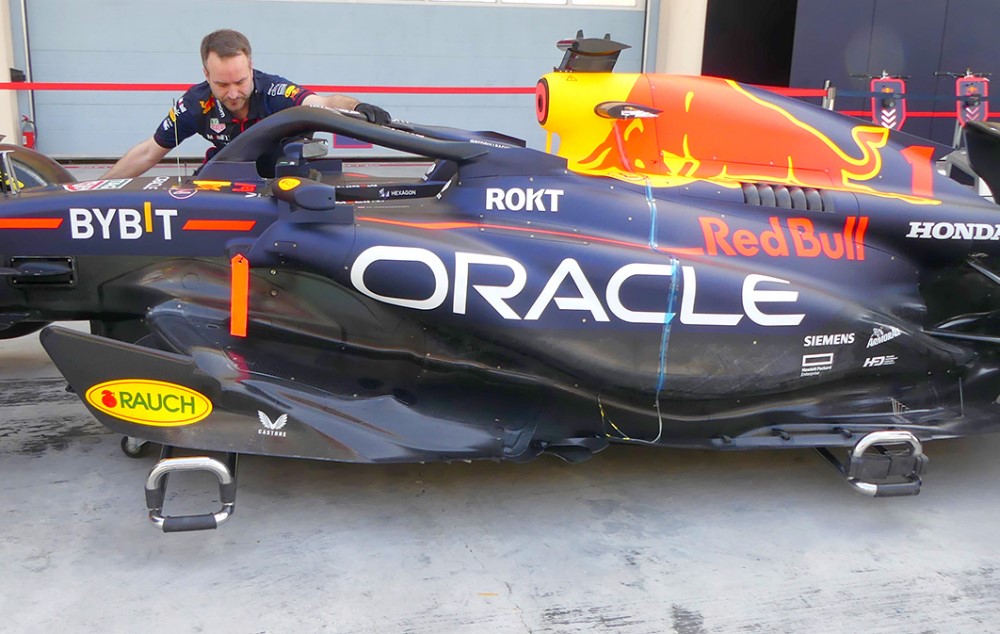 ---
July 17, 2023
Rumor has it that in an effort to further demoralize its Formula 1 opposition, Red Bull will introduce a big upgrade for the Hungarian GP, expected to make the car two tenths faster.
There will be clearly visible changes to the design of the sidepods.
According to a Red Bull employee, the car won't only be quicker, but will also look stunning.
The team won't stop development after the summer break, but will continue to bring upgrades for the RB19 until Toto Wolff, Frederic Vasseur, Zak Brown and Mike Krack and other team bosses beg for mercy.
Speaking after his latest win at Silverstone, Verstappen sent an ominous warning to his rivals about Red Bull's potential gains with future upgrades.
Max Verstappen (NLD) Red Bull Racing RB19. Formula 1 World Championship, Rd 11, British Grand Prix, Silverstone, England,
"The stable factor so far is that every single weekend, it seems like we are on top, which of course is the most important [thing] from our side," Verstappen said.
"Hungary, completely different track, we will put some upgrades on the car there and hopefully they will work well.
"Drag, low speed, medium speed, high speed, DRS effect, tyre wear… all of these areas.
"That's what we're working on. I'm not kidding."
The British fans and its bias media already have their panties in a knot over Max Verstappen's dominance the past two years.
The knot is about to get tighter if rumors are to be believed.
Destined to beat them all
At Age 25 Michael Schumacher 10 F1 wins
At Age 25 Ayrton Senna 2 F1 wins
At Age 25 Lewis Hamilton, 14 F1 wins
At Age 25 Max Verstappen 43 F1 wins
All-Time F1 Wins
Lewis Hamilton – 103
Michael Schumacher – 91 wins
Sebastian Vettel – 53 wins
Alain Prost – 51 wins
Max Verstappen – 43 Wins
Max Verstappen has 8 wins in 10 races this season.
If he wins another 8 of the remaining 12, he will equal Alain Prost with the 4th most wins in history.
If Max wins 10 more, he would equal Sebastian Vettel's total of 53 and he is just 15 years old.
 
Running Tally of Race Wins
Age
Hamilton Wins
Verstappen Wins
18
0
1
19
0
3
20
0
5
21
0
8
22
4
10
23
9
20
24
11
31
25
14
43 and counting
26
17
TBD
27
21
TBD
28
22
TBD
29
33
TBD
30
43
TBD
31
53
TBD
32
62
TBD
33
73
TBD
34
84
TBD
35
95
TBD
36
103
TBD
37
103
TBD
38
103
TBD
TBD: To Be Determined
Verstappen his last 29 races, he won 22 of them….amazing consistent domination and a Red Bull team that is performing at an elite level.
P1 – Imola
P1 – Miami
P1 – Barcelona
P3 – Monaco
P1 – Azerbaijan
P1 – Canada
P7 – Silverstone
P2 – Austria
P1 – Paul Ricard
P1 – Hungary
P1 – Spa
P1 – Zandvoort
P1 – Monza
P7 – Singapore
P1 – Suzuka
P1 – Austin TX
P1 – Mexico
P6 – Brazil
P1 – Abu Dhabi
P1 – Bahrain
P2 – Saudi Arabia
P1 – Australia
P2 – Azerbaijan
P1 – Miami
P1 – Monaco
P1 – Barcelona
P1 – Canada
P1 – Austria
P1 – England