IndyCar: Lundgaard schools field to win Honda Indy Toronto
Christian Lundgaard schooled the field in his #45 Vivid Clear Rx Rahal Letterman Lanigan Honda on his way to a dominant win in the Honda Indy Toronto NTT INDYCAR Series race.
Lundgaard started from pole, led early, then battled his way back to the front after pitstops and led 54 of 85 laps to win by almost 12 seconds.
Trained on the Formula 1 ladder system, 21-year-old Lundgaard, from Denmark, gave the field a lesson, and drove to his first IndyCar win.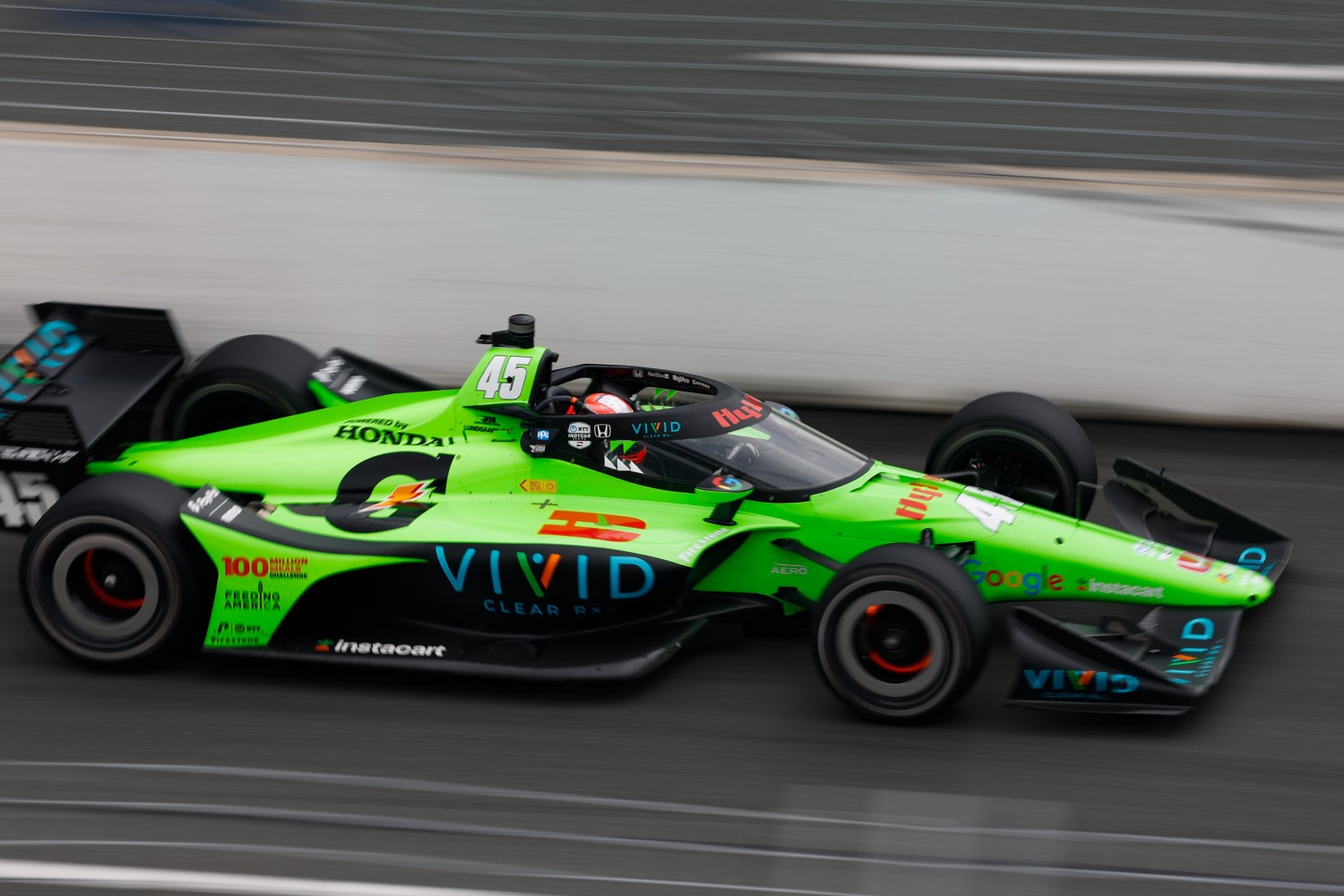 Starting 15th, Alex Palou drove his damaged #10 Journie Rewards Honda to a 2nd place finish, just holding off Colton Herta in the #26 Andretti Honda.
By finishing 2nd, Palou stretched his point lead, to 117 points, 417 to 300, over teammate Scott Dixon.
Scott Dixon was 4th in his #9 PNC Bank Honda, while Josef Newgarden rounded out the top-5.
Christian Lundgaard
"I'm pretty drained here right now. The Hy-Vee VIVID Clear RX car has just been fast all weekend and I said it before the race that we had a car that was fast enough to win and we pulled it off. I think we did it by 10 seconds.
"This team, they do deserve this. If we look at where we were earlier this season and even last year at this point we were nowhere near this. I'm just extremely happy for everybody right now.
"Yeah, I mean, honestly whatever Bobby, Mike, and David are doing for this team and all of the partners — I know that even Randy at Hy-Vee, everything that they're doing for this team — we're moving forward, and now we get to get rid of our mustache!"
Alex Palou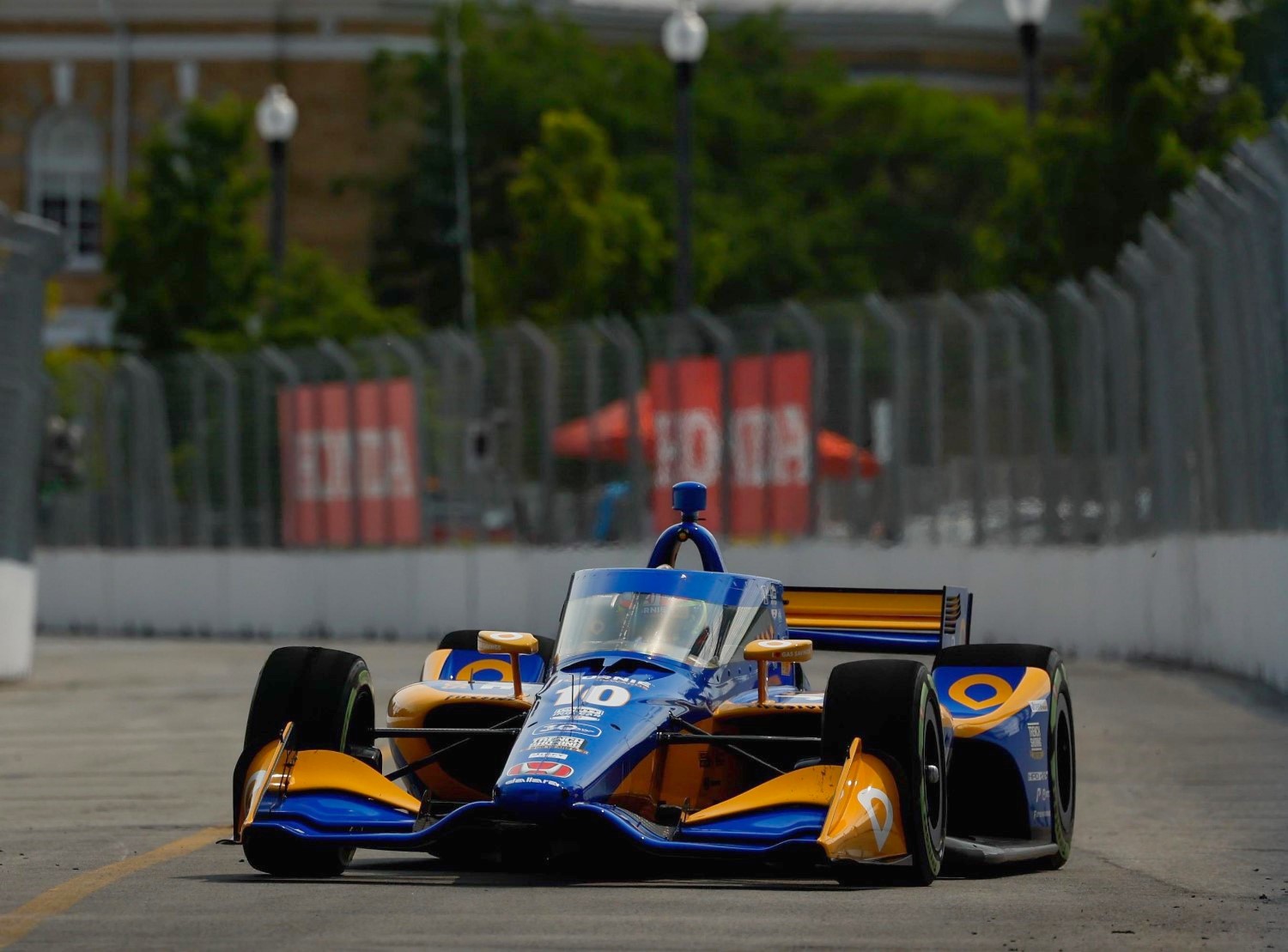 Chip Ganassi Racing's Alex Palou drove his heart out in this race to finish in 2nd place and extend his points lead.  After a bad decision in a wet qualifying session, the points leader started 15th today.
The Spaniard was asked to describe his day. "Yeah, it wasn't, easy, honestly. We moved pretty good on the first end. We had a lot of pace. Saved some fuels and some tires. We could catch the guys up front. I think we were right behind Dixon, and that was a good stint."
"Then we had the opportunity to pit. We thought all the people were going to do it on the yellow, and it was risky, but we made it happen. Even with that contact with
Helio there, didn't really have much room to go."
"Yeah, we made it work. I'm just glad that the front nose was still on the car in the end because I could feel it dragging on turn two, that it was flat out, and you are turning right. I could feel it dragging. I was, like, Oh, man, that's not good."
"Then also on the curve in turn five and in turn eight, but I didn't think it was that bad. I could feel that it was increasing. And I was, like, Oh, man."
"I was pretty surprised. I think it was only the vinyl, like the stickers that were holding it because there's nothing else there. So, yeah, pretty impressive."
"It's one of those tracks that there's no way you can do anything about it. It's so bumpy, and you have to take some curves. I was trying to avoid some curves, but I would just get a bit of pressure from Colton."
Colton Herta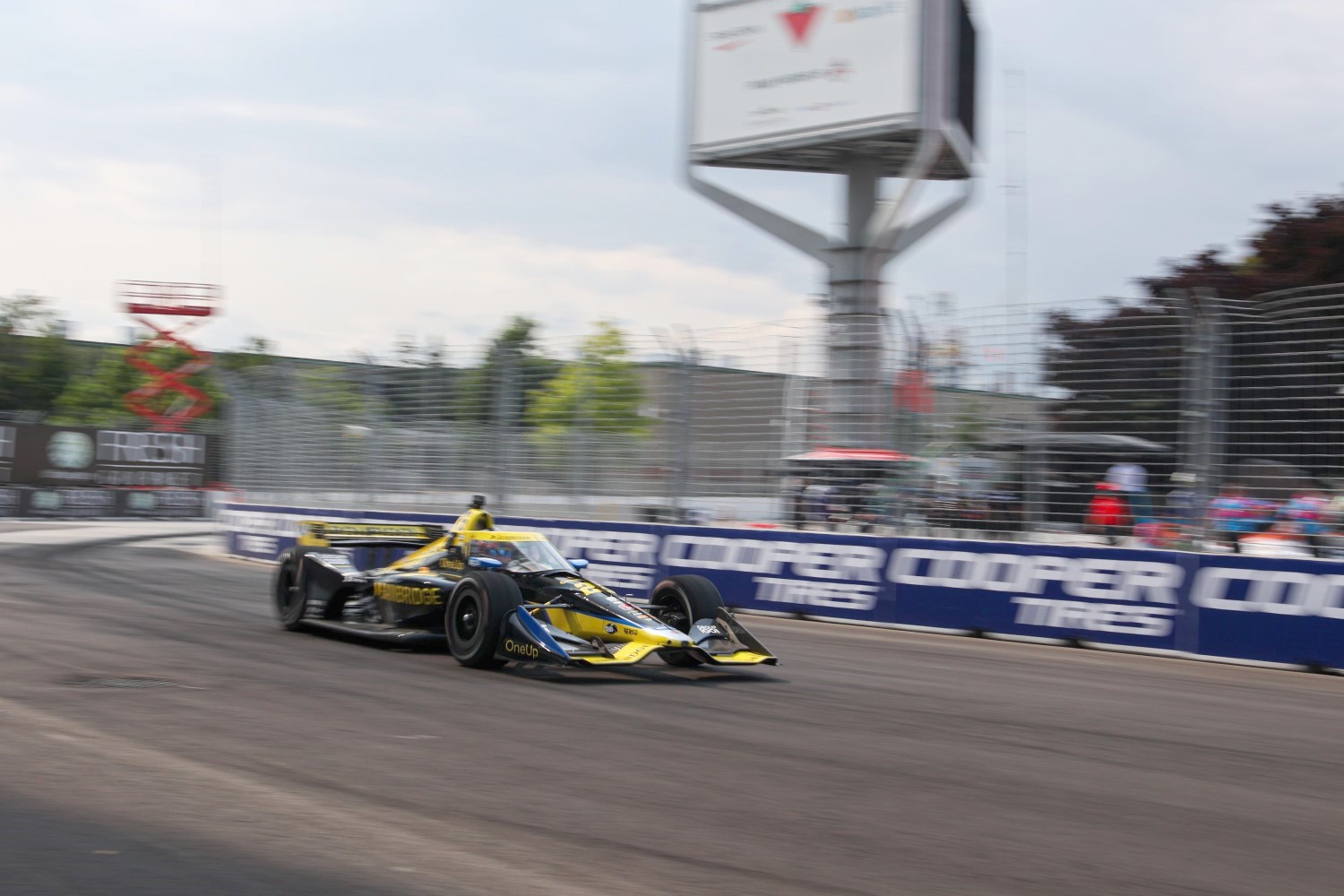 Andretti Autosport's Colton Herta started 14th today yet earned his first podium finish of  the 2023 season.
The American also commented on his day.  "Yeah, happy to finally get a podium.  It's been a frustrating year so far with how everything has gone. You know, we've had chances before to get on the podium and maybe even win but haven't been able to take advantage of them."
"Then a race like this comes around where we really don't think we have a chance of getting on the podium, and then here we are. So that's kind of INDYCAR racing for you.
It's a little bit hectic."
"Yeah, we struggled at the beginning of the race. We were the opposite side of Alex where we were really tanking on the tires and then kind of came back in the last stint and
came back alive."
"So I was kind of happy sitting and seeing what my tires were going to do because, remember, on the first stint of the blacks I dropped like a rock after, like, 25 laps. That
was nine laps of yellow also."
"Then we had to do, what, like, 40 on the last stint. We pitted right around 39 or something like that. So I was, like, Oh, man, we're just going to go back to 15th and have to
pit again. So I was fine just sitting there."
"Yeah, it's tough when you are that car in the middle, and you have to try to attack but keep everybody else behind. So my main goal was trying to hold on to the podium, keep
everybody behind before I was kind of looking ahead to him."
Race Results
| | | | | | | | | | | |
| --- | --- | --- | --- | --- | --- | --- | --- | --- | --- | --- |
| Pos | No | Name | Laps | Behind | Gap | Led | ST | Engine | Points | Team |
| 1 | 45 | Christian Lundgaard | 85 | 0.000s | 0.000s | 54 | 1 | Honda | 248 | Rahal Letterman Lanigan Racing |
| 2 | 10 | Alex Palou | 85 | 11.7893 | 11.7893 | 0 | 15 | Honda | 417 | Chip Ganassi Racing |
| 3 | 26 | Colton Herta | 85 | 15.0599 | 3.2706 | 0 | 14 | Honda | 239 | Andretti Autosport w/Curb Agajanian |
| 4 | 9 | Scott Dixon | 85 | 15.7600 | 0.7001 | 2 | 7 | Honda | 300 | Chip Ganassi Racing |
| 5 | 2 | Josef Newgarden | 85 | 19.2421 | 3.4821 | 0 | 11 | Chevy | 291 | Team Penske |
| 6 | 3 | Scott McLaughlin | 85 | 19.4798 | 0.2377 | 28 | 2 | Chevy | 258 | Team Penske |
| 7 | 11 | Marcus Armstrong | 85 | 22.8005 | 3.3207 | 0 | 10 | Honda | 156 | Chip Ganassi Racing |
| 8 | 5 | Pato O'Ward | 85 | 23.9982 | 1.1977 | 0 | 3 | Chevy | 274 | Arrow McLaren |
| 9 | 15 | Graham Rahal | 85 | 26.6884 | 2.6902 | 0 | 27 | Honda | 167 | Rahal Letterman Lanigan Racing |
| 10 | 6 | Felix Rosenqvist | 85 | 28.6024 | 1.9140 | 0 | 5 | Chevy | 183 | Arrow McLaren |
| 11 | 8 | Marcus Ericsson | 85 | 33.5625 | 4.9601 | 1 | 4 | Honda | 275 | Chip Ganassi Racing |
| 12 | 78 | Agustin Canapino | 85 | 35.2616 | 1.6991 | 0 | 18 | Chevy | 113 | Juncos Holling Racing |
| 13 | 21 | Rinus VeeKay | 85 | 35.6375 | 0.3759 | 0 | 12 | Chevy | 158 | Ed Carpenter Racing |
| 14 | 12 | Will Power | 85 | 36.3467 | 0.7092 | 0 | 6 | Chevy | 242 | Team Penske |
| 15 | 27 | Kyle Kirkwood | 85 | 37.1611 | 0.8144 | 0 | 8 | Honda | 192 | Andretti Autosport |
| 16 | 7 | Alexander Rossi | 84 | 1 LAPS | 56.6722 | 0 | 26 | Chevy | 230 | Arrow McLaren |
| 17 | 14 | Santino Ferrucci | 82 | 3 LAPS | 2 LAPS | 0 | 24 | Chevy | 138 | AJ Foyt Enterprises |
| 18 | 77 | Callum Ilott | 81 | 28.2674 | 3.6910 | 0 | 16 | Chevy | 154 | Juncos Hollinger Racing |
| 19 | 51 | Sting Ray Robb | 81 | 4 LAPS | 287.7967 | 0 | 23 | Honda | 82 | Dale Coyne Racing w/RWR |
| 20 | 18 | David Malukas | 69 | Contact | 1.2346 | 0 | 17 | Honda | 134 | Dale Coyne Racing with HMD |
| 21 | 06 | Helio Castroneves | 45 | Contact | 1 LAPS | 0 | 13 | Honda | 113 | Meyer Shank Racing |
| 22 | 28 | Romain Grosjean | 41 | Contact | 51.7805 | 0 | 9 | Honda | 175 | Andretti Autosport |
| 23 | 29 | Devlin DeFrancesco | 10 | Mechanical | 1.1816 | 0 | 22 | Honda | 111 | Andretti Steinbrenner Autosport |
| 24 | 30 | Jack Harvey | | Contact | 0.0919 | 0 | 19 | Honda | 101 | Rahal Letterman Lanigan Racing |
| 25 | 60 | Tom Blomqvist | | Contact | | 0 | 20 | Honda | 5 | Meyer Shank Racing |
| 26 | 20 | Ryan Hunter Reay | | Contact | 0.1095 | 0 | 21 | Chevy | 49 | Ed Carpenter Racing |
| 27 | 55 | Benjamin Pedersen | | Contact | 0.1004 | 0 | 25 | Chevy | 80 | AJ Foyt Enterprises |
Race Statistics
Winner's average speed: 89.361 mph
Time of Race: 01:41:55.8001
Margin of victory: 11.7893 seconds
Cautions: 3 for 16 laps
Lead changes: 7 among 4 drivers
Lap Leaders:
Lundgaard, Christian 1 – 18
McLaughlin, Scott 19 – 34
Ericsson, Marcus 35
Dixon, Scott 36
Lundgaard, Christian 37 – 48
McLaughlin, Scott 49 – 60
Dixon, Scott 61
Lundgaard, Christian 62 – 85
NTT INDYCAR SERIES Point Standings: Palou 417, Dixon 300, Newgarden 291, Ericsson 275, O'Ward 274, McLaughlin 258, Lundgaard 248, Power 242, Herta 239, Rossi 230, Kirkwood 192, Rosenqvist 183, Grosjean 175, Rahal 167, VeeKay 158, Armstrong 156, Ilott 154, Ferrucci 138, Malukas 134, Canapino 113, Castroneves 113, DeFrancesco 111, Harvey 101, Conor Daly 98, Simon Pagenaud 88, Robb 82, Pedersen 80, Hunter-Reay 49, Takuma Sato 37, Ed Carpenter 27, Tony Kanaan 18, Marco Andretti 13, Blomqvist 5, RC Enerson 5, Katherine Legge 5