The Best Accounting Software for an Auto Repair Shop
Accounting software can be incredibly useful for an auto repair shop to manage and track the financial aspects of your business. This article explains why and reviews the top-4 offerings.
Let's be honest, you didn't set up your auto repair shop to constantly juggle between auto repair invoices and other day-to-day operations. Running an auto repair business requires auto shop managers or owners to wear many hats, but juggling mundane operations shouldn't be one of them.
Auto repair software has gained quite some traction lately and it helps independent auto repair shops streamline their processes. In fact, if you are struggling to manage your finances, you should consider buying accounting software for your auto repair shop.
In this guide, we are going to cover the best auto repair software for accounting.
What is Auto Shop Management Software?
Auto shop management software is a computer program that helps manage the day-to-day operations of an auto repair shop. It's a powerful tool that can help streamline processes and increase efficiency, ultimately leading to increased profits.
This software typically includes features such as appointment scheduling, inventory management, customer management, invoicing, and financial reporting.
One of the key benefits of auto repair software is that it can help reduce the amount of time and effort required to manage the shop. For example, instead of manually scheduling appointments and tracking inventory levels, the software can automate these tasks, freeing up time for shop owners and employees to focus on other important tasks.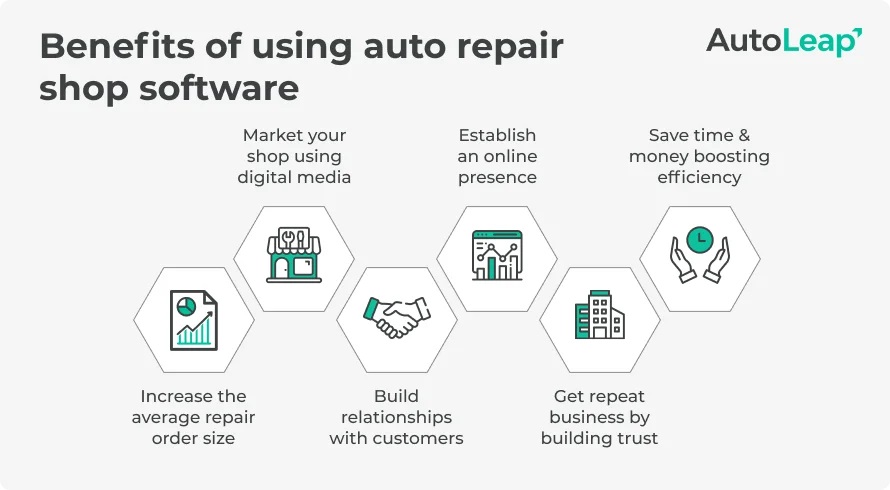 Another benefit of auto repair software is that it can provide valuable insights into the performance of the shop. By tracking key metrics such as revenue, expenses, and customer satisfaction, shop owners can identify areas for improvement and make informed decisions to grow their business.
Overall, auto shop software is a powerful tool that can help auto repair shops run more efficiently and effectively. Whether you're running a small independent shop or a large chain of repair centers, investing in the right automotive software can help take your business to the next level.
The 4 Top Accounting Software For Auto Repair Shops
Accounting software can be incredibly useful for an auto repair shop to manage and track the financial aspects of your business. Here are some specific ways accounting software can help:
Invoicing and billing: Accounting software can automate the process of creating and sending invoices to customers, making customer communications much easier. This saves time and reduces the risk of errors in the billing process. Additionally, the software can track payments and send reminders for unpaid bills, making it easier to manage accounts receivable.
Expense tracking: Accounting software can help auto repair shops track expenses related to the business, such as rent, utilities, inventory, and employee salaries. By tracking expenses, shops can identify areas where they may be overspending and make adjustments to improve profitability.
Financial reporting: Accounting software can generate reports on the financial performance of the shop, such as revenue, expenses, and profits. These reports can help business owners make informed decisions about how to allocate resources, inventory management, and grow the business.
Tax preparation: Accounting software can help auto repair shops prepare for tax season by tracking income and expenses and generating reports that can be used for tax filings.
Overall, accounting software can help auto repair shops streamline their financial processes, reduce the risk of errors, and make informed decisions to grow their business. By investing in the right software, auto shops can save time and money and improve their bottom line.
1. Quick Books
QuickBooks is an Intuit cloud-based accounting tool designed to help small business owners boost their productivity and efficiency.
QuickBooks for auto repair allows you to compile financial statements, manage supplier payments and fixed costs, generate profit and loss statements, and manage payroll. QuickBooks has mobile and desktop interfaces, making it an extremely versatile option for auto shop accounting and one of the best accounting software for an automotive business.
Pros
Easy expense monitoring makes it easier for auto companies to examine profitability and taxes.
Provides several links to third-party apps.
Inventory management is built into QuickBooks Online Plus/Advanced.
Cons
It is fairly pricey when compared to rival programs, costing between $15 to $100 per month.
Each plan has a maximum number of users.
For first-time users, there is a steep learning curve.
Why Is It Beneficial for Auto Shops?
While QuickBooks is not primarily developed for auto shops, firms in this industry might benefit from incorporating the program into their workflow. It can efficiently eliminate one of the most time-consuming portions of the accounting process because it allows business owners to manage income and expenses automatically. If you require assistance, Intuit has a sales hotline and an online support portal.
2. FreshBooks
When you integrate FreshBooks into your auto business, you'll see how easy it is to use right away — integrating it into your existing infrastructure is a breeze! It stays in sync on the desktop and on mobile apps.
FreshBooks' capacity to generate invoices and estimates is maybe its most notable function. With this feature, you'll be able to deliver individualized pricing estimates to customers on the spot.
Pros
Pricing is reasonable, especially at the lower tiers.
Billing is simple.
Excellent for keeping track of time.
Accounting tasks that are repetitive can be automated.
Cons
Does not connect your team seamlessly
Specifically designed for small enterprises.
When compared to competitors, it provides fewer customization options.
Adding more team members results in higher monthly costs.
Why Is It Beneficial for Auto Shops?
FreshBooks specializes in workshop software for time tracking, reporting, invoicing, and other accounting duties for service-based businesses, and car repair shops suit the bill perfectly. Even if you have little to no expertise with previous accounting tools, FreshBooks will allow you to effortlessly keep track of accounting. Most of all, owing to FreshBooks' free trial, you can test if it works for your company before committing.
3. Auto Repair Invoice
Unlike the other applications on this list, Auto Repair Invoice (ARI) is tailored exclusively to the auto repair sector. As a result, it includes auto shop-specific functionality such as spare parts inventory tracking, vehicle lookup, and license plate scanning. It also covers "conventional" accounting functions such as invoicing, payment monitoring, and financial reporting.
Pros
Accounting software for auto mechanics
It is simple to generate repair orders and reports.
Mobile gadgets are simple to use.
Cons
Manual car lookup can be difficult to utilize.
Access to desktop applications is restricted.
Why It's Excellent for Auto Shops?
If you're okay with doing the majority of your shop's accounting on phones and tablets, Auto Repair Invoice is a solid choice. The software combines industry-leading accounting features with those designed specifically for this business. It also fully integrates with well-known vehicle repairs databases such as Carfax and CarMD.
4. Xero
Xero is difficult to match for a cheap auto shop accounting program. This service is available for as little as $12 per month! At the same time, Xero does not skimp on accounting functionality. You'll get automatic billing and invoicing, bank reconciliation, short-term cash flow/business snapshots, and much more with Xero.
Pros
Unlimited users on all plans
Every tier requires basic inventory management.
Cons
There is no official desktop app available.
The entry-level plan restricts billing and invoices.
There is no option for live phone assistance.
Why It's Excellent for Auto Shops?
Xero provides comprehensive accounting software at a low cost, making it an intriguing prospect for small auto repair firms. While it isn't specifically built for auto shops, it can help you stay on top of the accounting basics while saving money. Furthermore, if you're unclear whether you want to use Xero, the service offers a 30-day free trial.
Top Accounting Software for Dealerships
Interestingly, the benefits of these software solutions aren't exclusive to auto repair shops; they can be extended to vehicle dealerships as well. Like auto repair shops, car dealerships handle a variety of financial transactions daily, including vehicle sales, parts inventory management, customer financing, and more. Employing a robust accounting software can help car dealerships automate these processes, reduce errors, and save valuable time.
Moreover, the analytical capabilities of these tools provide dealerships with actionable insights into their financial health, facilitating data-driven decision making. By highlighting potential areas of overspending and underperformance, accounting software can help car dealerships optimize operations, enhance customer service, and ultimately boost profitability. So, whether it's an auto repair shop or a car dealership, the right accounting software is a game-changer in managing the financial aspects of automotive businesses."
Wrapping it Up
When looking for the best accounting software for your auto repair service, Quickbooks, Freshbooks, ARI, and Xero are fantastic places to start. Nevertheless, they are not the only ones available, and we do not necessarily suggest them. You might discover that the perfect software for you is something completely else!
The finest accounting software will differ depending on the size, configuration, and demands of your business, as well as your personal tastes. We advise you to conduct your own research, take advantage of free trials if they are offered, and assess the benefits and drawbacks of each option.
Whatever accounting software you choose, your auto shop will benefit from simpler bookkeeping that allows you to focus on what matters in your garage.