NASCAR: Hamlin leads Toyota 1-2-3 sweep at Pocono
Denny Hamlin led a Toyota 1-2-3 sweep in winning  his 50th NASCAR Cup Series victory, emerging from a flurry of late-race restarts to prevail Sunday at Pocono Raceway.
Hamlin led just nine of the 160 laps, pushing his No. 11 Joe Gibbs Racing Toyota to a record seventh Pocono victory.
His win in Sunday's HighPoint.com 400 was his second of the Cup Series season, and it ended with a combined yellow and checkered flag after Ryan Preece's spin and stall on the final lap.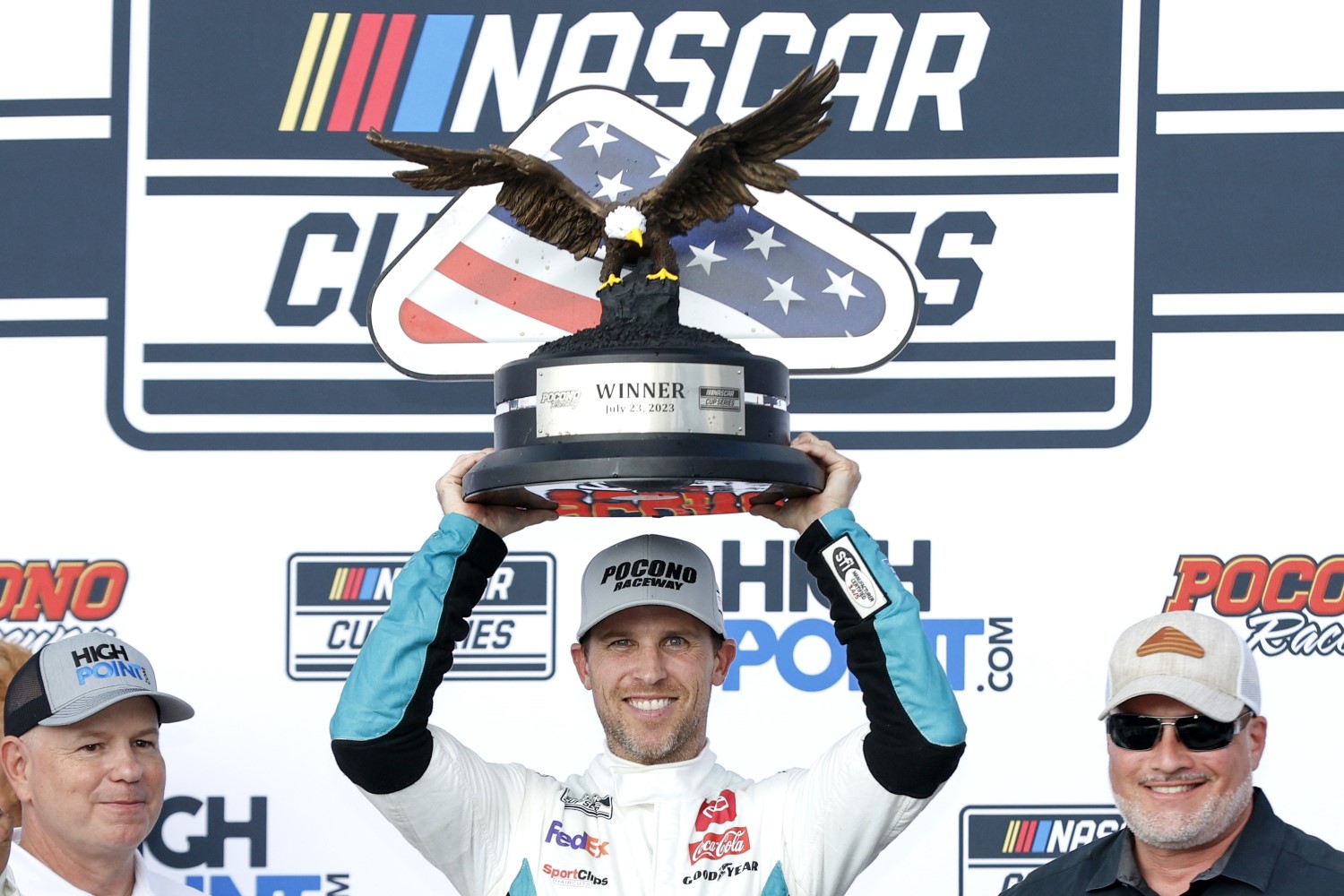 This time around Denny Hamlin actually took the Pocono Raceway's iconic Eagle trophy home.
Honest.
A year after being stripped of his win when his car was disqualified, Hamlin (No. 11 Mavis Tires & Brakes Toyota) secured his record seventh win at "The Tricky Triangle" before a sold-out grandstand crowd in Sunday's NASCAR Cup Series HighPoint.com 400.
The victory broke a tie for most wins at Pocono Raceway with NASCAR Hall of Famer Jeff Gordon and the Joe Gibbs Racing veteran added two more milestones to the celebration. Hamlin recorded his 50th career Cup win and also handed Toyota its 600th career NASCAR National Series victory (177 Cup, 196 Xfinity, 227 Trucks).
"Stuff like this doesn't sit in for a while," Hamlin said. "When you retire and you got a bunch of time, you're sitting there on your rocker on your back porch, you're thinking about, 'What have I accomplished, right, in the sport?' These things take a long time to sit in. They really do. We're in the heat of the moment now. It takes time.
"I never thought I'd get an opportunity in the Cup Series. Luckily, J.D. Gibbs took a chance and Joe Gibbs took a chance on me nearly 20 years ago. To get my 50th win, it comes down to the track that I got my first, it certainly is special."
And it did come with some controversy in Pocono Raceway's 50th anniversary of hosting NASCAR.
On a restart with seven laps to go, Kyle Larson (No. 5 HendrickCars.com Chevrolet) was at the point when a charging Hamlin came up on his side panel. The two made contact that forced Larson to brush the wall and ended his hopes of contending for his first win at Pocono Raceway.
"Just unfortunate," said Larson, who fell to 20th. "I've been cost a lot of good finishes by him throughout my career. I know he says I race a certain way. I don't think I've ever had to apologize to him about anything. Not that he's going to say sorry after this. It is what it is."
Hamlin thought otherwise.
"There was a lane," he said. "He missed the corner first and, evidently, he didn't have his right-side tires clean. When he gassed up, he just kept going again. You know, you have an option in those positions to either hold it wide open and hit the fence or lift and race it out. Those are the choices they made. I didn't hit either one of 'em. Didn't touch 'em."
Hamlin still had plenty of work to do as he was faced with a final restart in the 160-lap, 400-mile race with the likes of Kevin Harvick (No. 4 Busch Light Peach Ford), Martin Truex Jr. (No. 19 Interstate Batteries Toyota) and Tyler Reddick (No. 45 Jordan Brand Toyota) lined up behind him. Hamlin jumped out to a strong restart with JGR teammate Truex Jr. in tow. Reddick was moving as well, moving up to third with two to go and then passing Truex Jr. with one lap remaining.
Hamlin, who led the final seven laps, had a comfortable lead at that stage and a spin by Ryan Preece (No. 41 Mohawk Northeast Ford) on the white flag lap forced the race to finish under caution and clinch the record win.
Reddick finished second while Truex Jr. was third. Harvick, the leader among active drivers for career starts at Pocono Raceway, took fourth in his 44th and final start at "The Tricky Triangle." Rookie Ty Gibbs (No. 54 He Gets Us Toyota) rounded out the top five with a career-best finish.
Turn 1 was the biggest trouble spot that sparked most of the race's caution periods, and a wreck at the start of Stage 2 shook up the playoff bubble. Heavy traffic on the Lap 36 restart claimed postseason hopeful Daniel Suárez and Stage 1 winner Joey Logano.
Suárez's No. 99 Trackhouse Racing made just one additional lap but was too damaged to continue. He entered the race one point below the elimination line but finished last in the 36-car field. Logano's No. 22 Team Penske Ford was flagged off the track for failing to meet the minimum-speed requirement, and he finished 35th after completing just 48 laps.
Austin Dillon was involved in a pair of incidents in Turn 1, brushing the outside wall on Lap 42 and then smashing into it on Lap 106 after tangling with Reddick. After a nudge from Reddick's No. 45 23XI Racing Toyota, Dillon's No. 3 Richard Childress Racing Chevrolet made heavy contact with the barrier.
Dillon exited his car unhurt, then threw his helmet at the No. 45 car of Reddick, who was his Cup Series teammate at RCR from 2020-22.
Top-3 Quotes
DENNY HAMLIN, No. 11 Mavis Tires & Brakes Toyota Camry TRD, Joe Gibbs Racing
Finishing Position: 1st
Can you describe the race there at the end with Kyle Larson?
"I pushed him all the way into turn one. I don't know if he didn't have his tires clean and then he washed up the race track. We got side-by-side, and he chose not to lift. It's just one of those things when you are on the outside the aerodynamics position, I didn't touch him. He just made the decision not to lift."
How good was the race car and how important was it to get that lead?
"Well, we had the best car that is for sure. Just happy to get this Mavis Tires and Brakes Camry into victory lane."
What does it mean to be the winningest driver at Pocono and 50 career wins?
"It just means so much. I've got to thank the partners Mavis, Toyota, TRD, FedEx, Sport Clips, Coca-Cola, Interstate Batteries, Jordan Brand, Shady Rays and Logitech – they are the ones that make this possible. This team right here. They've just done a phenomenal job on pit road, the strategy guys in the war room, the guys on the top of the pit box – Chris (Gabehart, crew chief) and his team, they are the ones that got me those wins."
TYLER REDDICK, No. 45 Jordan Brand Toyota Camry TRD, 23XI Racing
Finishing Position: 2nd
How was the race today?
"Yeah, we had really strong Jordan Brand H-Wings 2 Toyota Camry TRD. The runner-up finish – when you look at the quality of the car and the tire advantage, it is a little disappointing."
Can you take us through the decisions you had to make today?
"Unfortunately, I couldn't make many decisions, they were being made for me. In the closing laps, we didn't get a lot of pushes – we didn't really get a good push on any of the restarts and that left us in a vulnerable spot. We did everything we could in our Jordan Brand H-Wings 2 Toyota Camry TRD. Solid car."
MARTIN TRUEX JR., No. 19 Interstate Batteries Fine Foods Toyota Camry TRD, Joe Gibbs Racing
Finishing Position: 3rd
How was your race?
"Our Interstate Batteries Camry was a rocket. We fought track position all day, and finally got it, and then drove away from the field until strategy got us back a few spots. All-in-all, really good speed, good day. I just couldn't get the push from the front row to get the lead back."
Can you take me through those last few restarts?
"When I got to second behind the 5 (Kyle Larson), I thought better take the front row and hope for a good push. I fell back to third. I got the front row again, still didn't get a good push. At least on the last one, I was able to pull the 4 (Kevin Harvick) off the 11 (Denny Hamlin) and get to second, just impossible to pass the leader. Our car was so fast, but the guy out front would get clean air and be gone. All-in-all great day, track position was king."
Race Results
| | | | | | |
| --- | --- | --- | --- | --- | --- |
| POS | CAR | DRIVER | MANUF | BEHIND | LAPS |
| 1 | 11 | Denny Hamlin | | — | 160 |
| 2 | 45 | Tyler Reddick | | 1.239 | 160 |
| 3 | 19 | Martin Truex Jr. | | 1.906 | 160 |
| 4 | 4 | Kevin Harvick | | 2.453 | 160 |
| 5 | 54 | Ty Gibbs # | | 2.621 | 160 |
| 6 | 20 | Christopher Bell | | 3.241 | 160 |
| 7 | 47 | Ricky Stenhouse Jr. | | 3.556 | 160 |
| 8 | 21 | Harrison Burton | | 4.707 | 160 |
| 9 | 43 | Erik Jones | | 5.460 | 160 |
| 10 | 9 | Chase Elliott | | 5.994 | 160 |
| 11 | 10 | Aric Almirola | | 6.301 | 160 |
| 12 | 23 | Bubba Wallace | | 6.314 | 160 |
| 13 | 1 | Ross Chastain | | 6.843 | 160 |
| 14 | 24 | William Byron | | 7.571 | 160 |
| 15 | 38 | Todd Gilliland | | 8.224 | 160 |
| 16 | 6 | Brad Keselowski | | 8.774 | 160 |
| 17 | 16 | AJ Allmendinger | | 9.325 | 160 |
| 18 | 17 | Chris Buescher | | 10.045 | 160 |
| 19 | 34 | Michael McDowell | | 10.617 | 160 |
| 20 | 42 | Noah Gragson # | | 11.096 | 160 |
| 21 | 5 | Kyle Larson | | 11.098 | 160 |
| 22 | 8 | Kyle Busch | | 11.147 | 160 |
| 23 | 48 | Alex Bowman | | 11.417 | 160 |
| 24 | 2 | Austin Cindric | | 11.521 | 160 |
| 25 | 51 | Cole Custer(i) | | 12.204 | 160 |
| 26 | 15 | JJ Yeley(i) | | 12.262 | 160 |
| 27 | 7 | Corey LaJoie | | 15.161 | 160 |
| 28 | 77 | Ty Dillon | | 15.329 | 160 |
| 29 | 14 | Chase Briscoe | | 16.246 | 160 |
| 30 | 12 | Ryan Blaney | | 17.591 | 160 |
| 31 | 41 | Ryan Preece | | -1 | 159 |
| 32 | 78 | BJ McLeod | | -1 | 159 |
| 33 | 31 | Justin Haley | | -7 | 153 |
| 34 | 3 | Austin Dillon | | -55 | 105 |
| 35 | 22 | Joey Logano | | -112 | 48 |
| 36 | 99 | Daniel Suarez | | -123 | 37 |
# DENOTES ROOKIE
(i) NOT ELIGIBLE FOR POINTS
(*) REQUIRED TO QUALIFY ON TIME
LEADERS
| | | |
| --- | --- | --- |
| CAR | TIMES | LAPS |
| 11 | 2 | 9 |
| 19 | 2 | 20 |
| 45 | 1 | 15 |
| 54 | 2 | 4 |
| 24 | 3 | 61 |
| 5 | 2 | 24 |
| 7 | 1 | 5 |
| 12 | 1 | 2 |
| 22 | 1 | 21 |
LEAD CHANGES
| | | | |
| --- | --- | --- | --- |
| CAR | START | END | TOTAL |
| 24 | 0 | 10 | 11 |
| 22 | 11 | 31 | 21 |
| 19 | 32 | 32 | 1 |
| 24 | 33 | 78 | 46 |
| 54 | 79 | 81 | 3 |
| 5 | 82 | 95 | 14 |
| 24 | 96 | 99 | 4 |
| 12 | 100 | 101 | 2 |
| 19 | 102 | 120 | 19 |
| 54 | 121 | 121 | 1 |
| 11 | 122 | 123 | 2 |
| 45 | 124 | 138 | 15 |
| 7 | 139 | 143 | 5 |
| 5 | 144 | 153 | 10 |
| 11 | 154 | 160 | 7 |
CAUTIONS
#
LAP
BENEFICIARY
REASON
1
4
15 Incident Short Chute
2
30
15
Stage 1 Conclusion
3
35
15
22, 99, 42 Incident Turn 1
4
41
15
3 Incident Turn 1
5
45
22
5, 20 Incident Turn 1
6
91
7
20 Spin Turn 1 / Stage 2 Conclusion
7
105
15
3, 45 Incident Turn 1
8
142
51
14, 77 Incident Turn 3
9
148
7
48 Incident Turn 3
10
153
14
31 Incident Turn 1
11
159