F1: Las Vegas GP works to block free views of the race
(2nd Update)
Formula One has pumped the brakes on a controversial plan to force Las Vegas clubs and restaurants to cough up millions of dollars in licensing fees by threatening to block their views of the hotly anticipated Grand Prix race, The NY Post reports.
The posh car racing league has slashed the price that venues located along the November event's 3.8-mile circuit must pay to around $50,000 each — down sharply from a $1,500-per-head demand that would have resulted in a tab of $3 million for a major venue with a capacity of 2,000.
"This venue fee is much smarter," a source close to restaurant owners said, adding, "It's much more in line with what the Super Bowl will charge" when it is played in Las Vegas next year.
"There is a certain line they are crossing [by] telling someone who has spent billions on their property that you are shutting the Strip down for construction and then asking them to pay for seats," a source told The Post.
---
July 28, 2023
Formula 1 and the Las Vegas Grand Prix have responded to a report by the New York Post saying F1 would block the views of venues holding watch parties unless they paid millions in fees.
According to a statement issued Wednesday, F1 and LVGP will require licensing fees to protect its brand and reputation.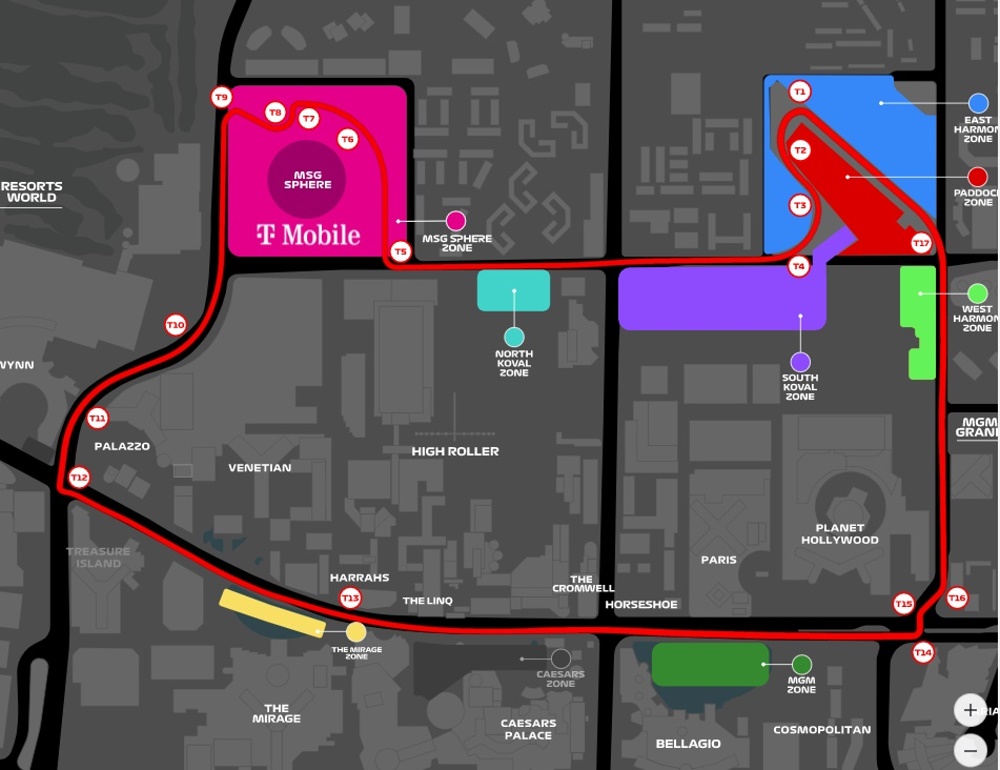 This is the full statement received by Las Vegas News 3:
"Liberty Media and F1 have made a long-term investment to race in Las Vegas. We want the local community to benefit from our event, and we are confident that the race will bring tremendous economic value to Las Vegas as a whole. F1 commonly executes licensing agreements to protect its intellectual property rights, and the Las Vegas Grand Prix is following this same approach. In addition, these arrangements allow the Las Vegas Grand Prix to ensure the fan experience in its partner venues meets the expectations for this event."
Attorney Matthew Hoffmann says F1 is well within its rights to do so. "They [F1] do have a legitimate argument for this in that they're trying to protect, protect their product," Hoffmann said.
"They're saying, look, if you're going to host events that are advertising, come see F1 , come watch the F1 race here in Vegas at our venue, then we want to make sure that you're doing it in an appropriate manner."
Hoffman believes there are likely financial motives, but ultimately F1 is doing exactly what other major sports events and teams would do.
"If you want to do this, you need to pay us a copyright fee, essentially your licensing fee, no different than the NFL or MLB or any other sport. And, if you don't, no permits have been pulled yet.
"We may just put a grandstand in front of your in front of your venue. We may just put some barricades in front of the venue and you won't have anything to advertise."
Hoffman says a better known analogy would be the Super Bowl, which has been around a half-century.
"Everyone's heard during a football game on TV 'this cannot be re-aired without the express written permission of the NFL, etc. That's because it's copyrighted. It's their material," Hoffmann said.
"If you go to a bar and they're broadcasting the Superbowl, they're technically rebroadcasting the game to generate revenue for themselves. So if you want to do that, you have to pay licensing fees because you're you have to get permission from the NFL to rebroadcast."
---
July 23, 2023
The owners of F1 and the Las Vegas GP are working to make certain no one can watch the race from rooftops, terraces or balconies for free, the NY Post reports.
They are demanding that venues along the 3.8-mile circuit pay $1,500 per head for licensing rights, according to a letter to the venues obtained by The Post.
For a restaurant or club with 1,500 seats, the tab would soar to a whopping $2.25 million — regardless of how many guests can catch views from their roof decks, terraces and dining areas.
If clubs and restaurants refuse to pony up, sales reps for F1 — owned by billionaire John Malone's Liberty Media — have warned that obstructions like barricades, stands and light stanchions could end up ruining the race for their customers, according to a source.
"They are literally shaking people down saying they will obstruct views unless they pay them," one hacked-off casino owner on The Strip told The Post. "It seems insane that they are asking money for a public event [It is NOT a public event] that is taking place in the streets."
Sources also claim that salespeople working for Renee Wilm, the Las Vegas Grand Prix CEO and Liberty Media's chief legal officer, have even threatened that lights will be shined toward the viewing areas of unlicensed venues, blinding guests trying to get a peek at the nighttime race.
"There is a real chance of obstructing views with stands and barricades," one source close to the situation said. "I know the hotels are upset about it, and they are trying to figure out if they'll play along."
"Las Vegas Grand Prix will use reasonable efforts to maintain sightedness from licensee's venue to the track/race," according to the overview of the F1 proposal reviewed by The Post. "The license fee will equal the maximum occupancy of licensee's venue (per fire code) multiplied by $1,500." More at the NY Post