F1: Alfa Romeo F1 Team KICK unveils striking livery
Alfa Romeo F1 Team KICK will make heads turn in Spa-Francorchamps, as the team unveil a special livery celebrating its partnership with streaming giants, KICK.
The team's C43s of Valtteri Bottas and Zhou Guanyu will sport an updated look featuring neon green accents and additional branding, making the car an immediately recognizable sight on the Spa grid this coming weekend.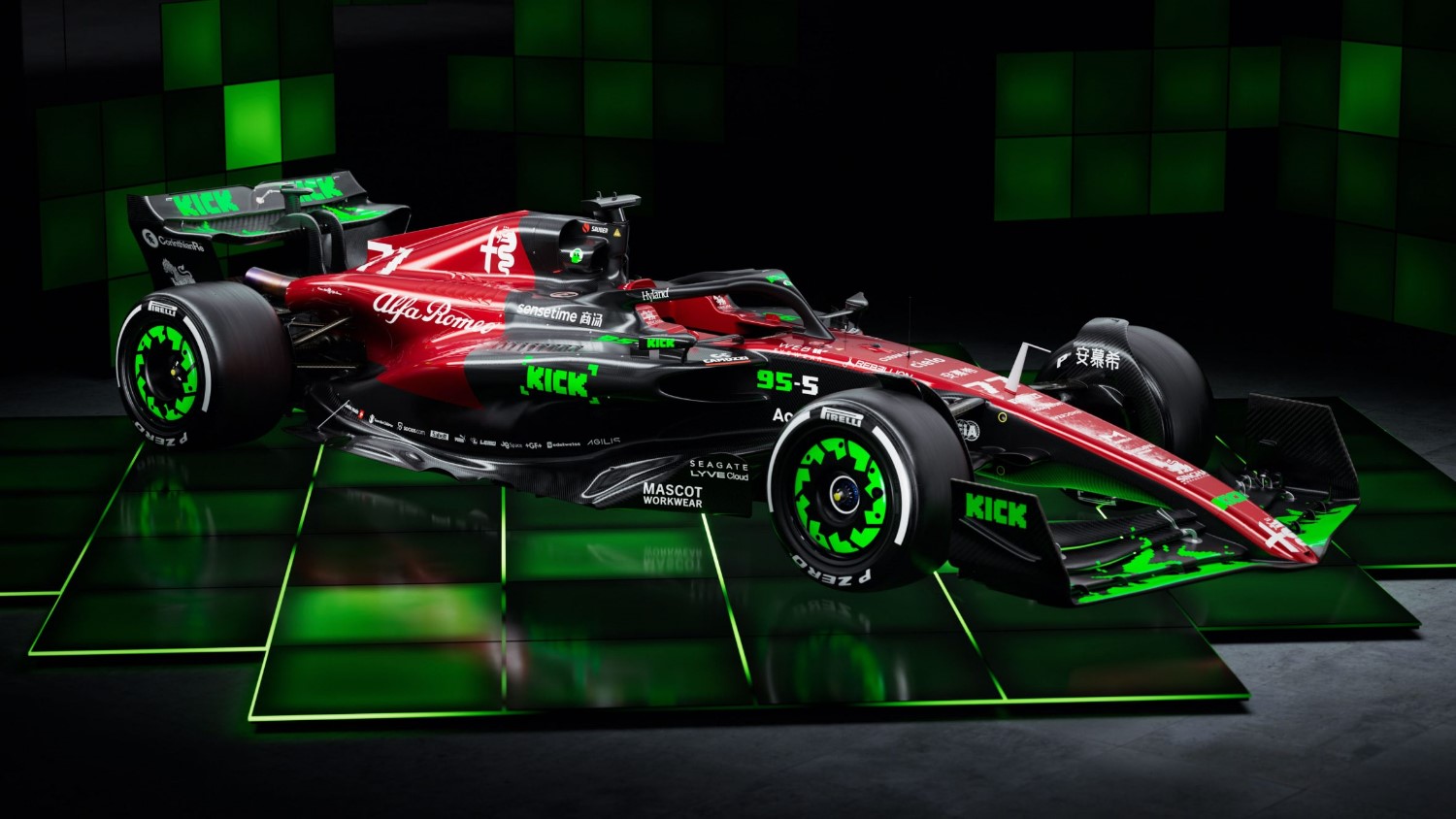 The team's partnership with streaming media sensation, KICK, was announced at the beginning of the year and has been one of the success stories of 2023 – much like the streaming site itself. Based on a creator-first model, KICK skyrocketed, accruing more than 14 million registered users in its first seven months of life. KICK also expanded its commitment to the team by becoming the title partner of the Alfa Romeo F1 Team KICK Esports squad, which will take part in the F1 Esports Pro Championship later this year.
A platform devoted to its content creators, KICK pledged its special livery to them, with the names of the most prominent personalities operating on the site featured on the C43's halo.
Highlighting KICK's distinctive brand elements such as the neon green face locks, emoticons and its 95-5 revenue split on the livery, KICK and Alfa Romeo F1 Team KICK have created a unique head-turner for one of the most iconic races in the calendar.
The KICK Streaming-liveried Alfa Romeo F1 Team KICK C43 will also be made available to all players of the new F1 23 videogame, who will have the chance to download the car in-game during the month of August.
Celebrating the success of our partner, @KickStreaming. 💚

This weekend at the #BelgianGP we will be running a special livery consisting of unique elements from KICK and their community.

Read more. ⬇️#kickstreaminglivery

— Alfa Romeo F1 Team Stake (@alfaromeostake) July 24, 2023
Alessandro Alunni Bravi, Team Representative: "KICK has been disrupting its market sector since its inception, and the livery they created for us for Spa fits into this philosophy: it is different, it is striking, it is something designed to be different and create attention. Their focus on creators, which is very clearly exemplified on the car livery itself, is not dissimilar to how we operate as a team: our strength, and the strength of the platform, is only as sizeable as that of those who contribute to it – in our case, our team members trackside and at home. KICK has redefined streaming in its world and is bringing its innovation to our Esports team as well, with an ambitious program for this year's F1 Esports Pro Championship: we're happy to celebrate their work with an equally disruptive livery for this weekend."
Akhil Sarin, Director of Acquisition, Kick.com: "In just seven months, Kick.com has 14 million registered users and has generated $15 million for its Creators, making it one of the fastest growing social platforms, in terms of acquisition. We could not be prouder of having KICK inspire the livery for the upcoming GP weekend at Spa. At KICK, we put our Creators first by spotlighting the names of our ambassadors on the halo of our F1 car. We pride ourselves in bringing fairness with style to the live-streaming game. Our 95-5 business split to our Creators is what allows KICK to excel compared to its competitors; highlighted on the livery. The KICK-inspired livery is striking with stylish simplicity. We dedicate the KICK Streaming special livery to our community as they have in many ways and in their own ways contributed to the success of KICK. They are the entertainers of the next generation."
–Press Release–