F1: 2023 Belgian GP Post-Race Quotes
Quotes from all ten F1 teams after the 2023 Belgian GP at Spa Francorchamps that saw a record 380,000 weekend attendance despite all the rain.
It was a wet weekend, but race day was mostly dry with only a few sprinkles during the race.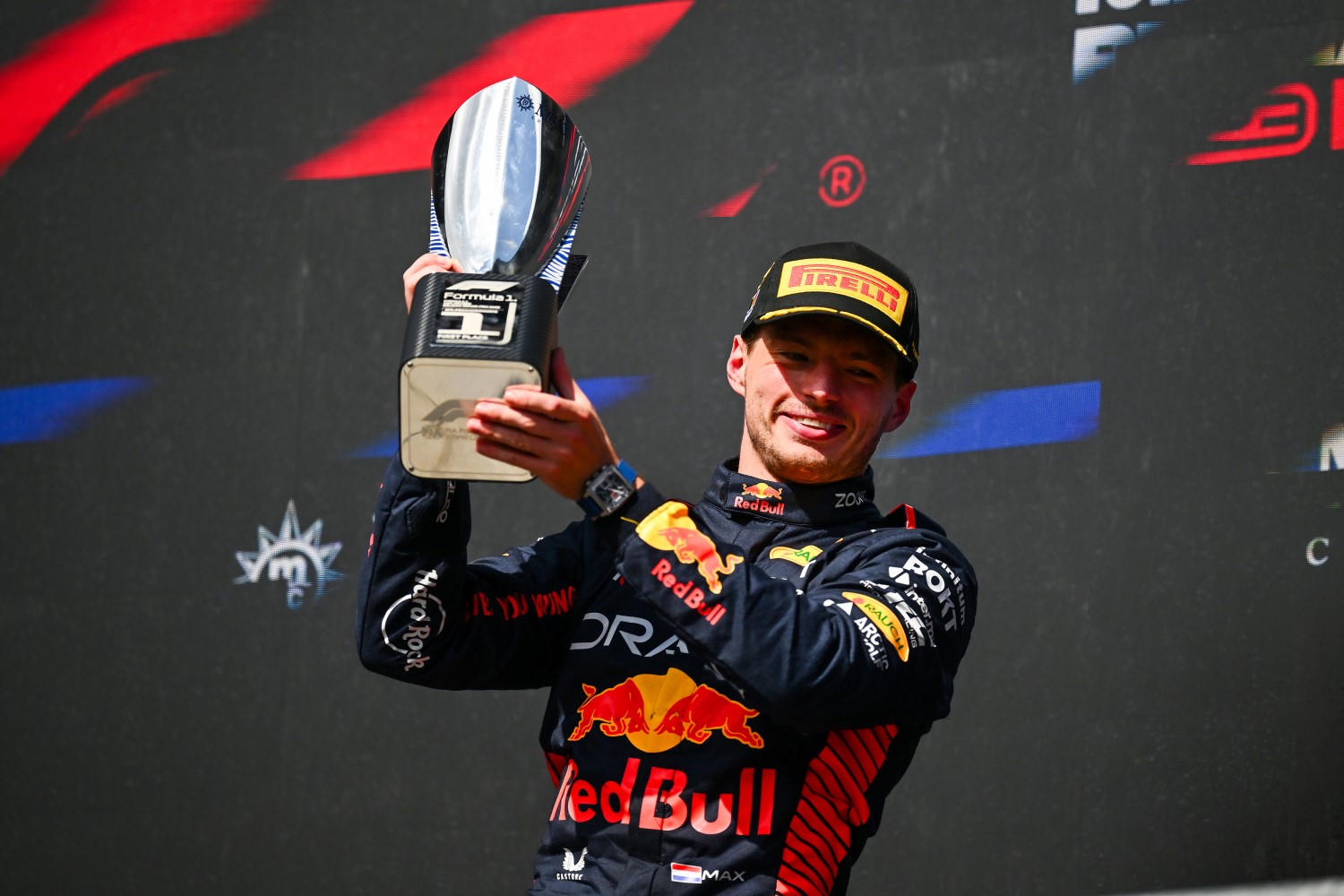 Red Bull
Max Verstappen, 1st
"I knew that the car was going to be quick today, and this is one of the best tracks to drive when you have a good car. GP and I were just having a laugh today, we're honest with each other and that's how we operate, there's no need to worry. The first half of the season has been much better than anyone would have ever dreamt of, how we are performing as a Team and winning so many races in a row is incredible. We're definitely enjoying the moment, but we also want to keep this momentum and level for a long time, so hopefully after the summer break we're strong again in Zandvoort."
Sergio Perez, 2nd
"Today was a good day for the team. The race started really well and then Max came through strong, especially on the second stint where he pulled away. After he overtook, it was all about bringing it home for the team and managing the pace until the end, that was the main objective. I ended up slipping on turn 11 due to the tricky conditions so we wanted to then look after the car, manage the tires and keep the position. Two podiums in a row now and our main objective is to continue to stay on the podium. We have the summer break to make sure we stay on top of things and have some time to reset. Max did a tremendous job and it overall was a great team result. I am looking forward to the summer break and going into the second half of the season to come back even stronger."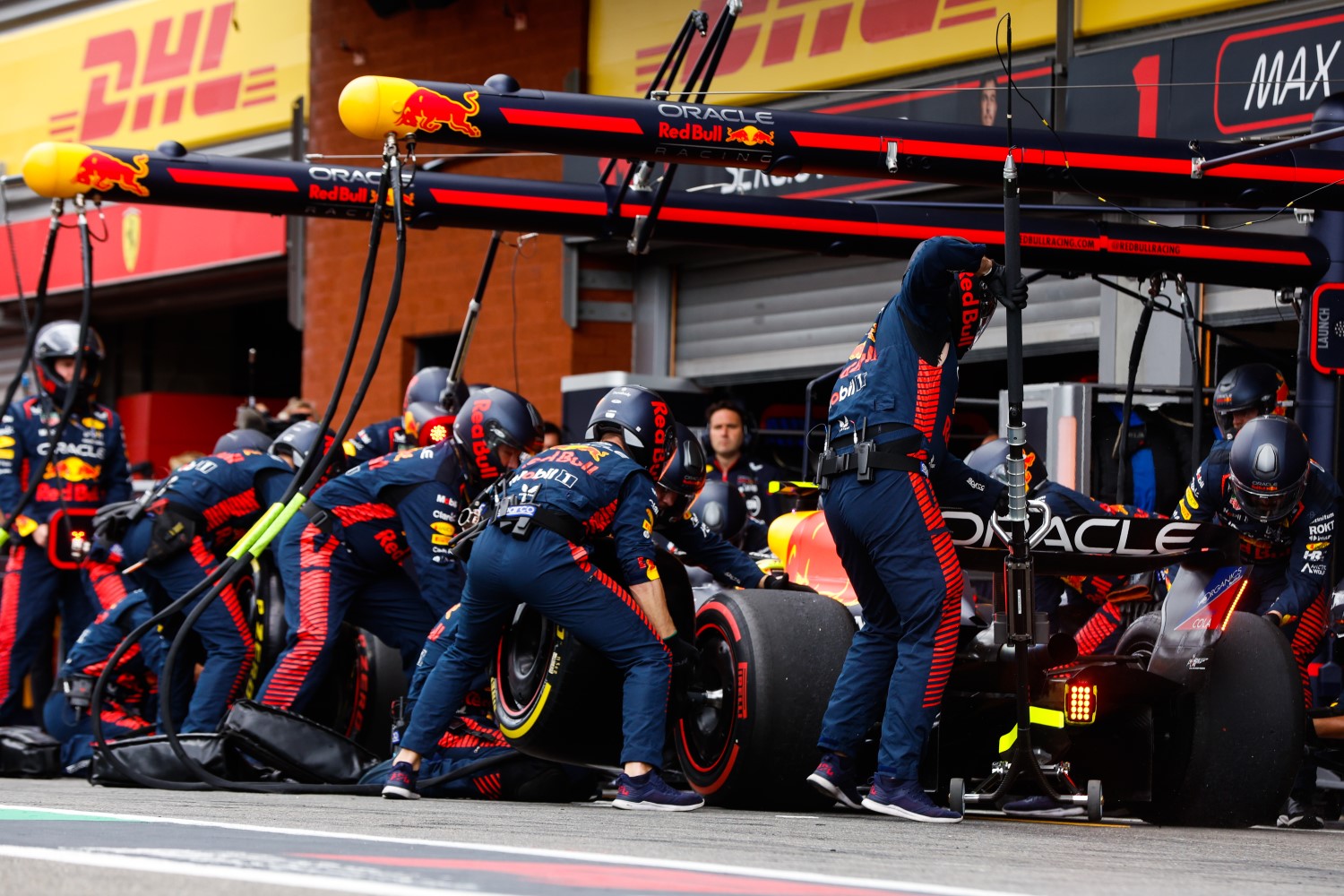 Christian Horner, Team Principal
"We could never have dreamt of getting to summer break unbeaten, that's never been achieved before. It's all about teamwork and everybody doing their bit and that's what has happened through the first 12 races of the year. For Max it's another masterful win. He managed the race after making his way from P6 to take the lead in the second stint. Checo also had a brilliant first lap, taking the lead of the race and in the end bringing home our fifth 1-2 of the season. All credit to everybody back in Milton Keynes, this result is their result and the way they're applying themselves is the reason that we're making the history we're currently making. We need to keep the intensity but for now, everyone deserves the break and then we come back hard in Zandvoort."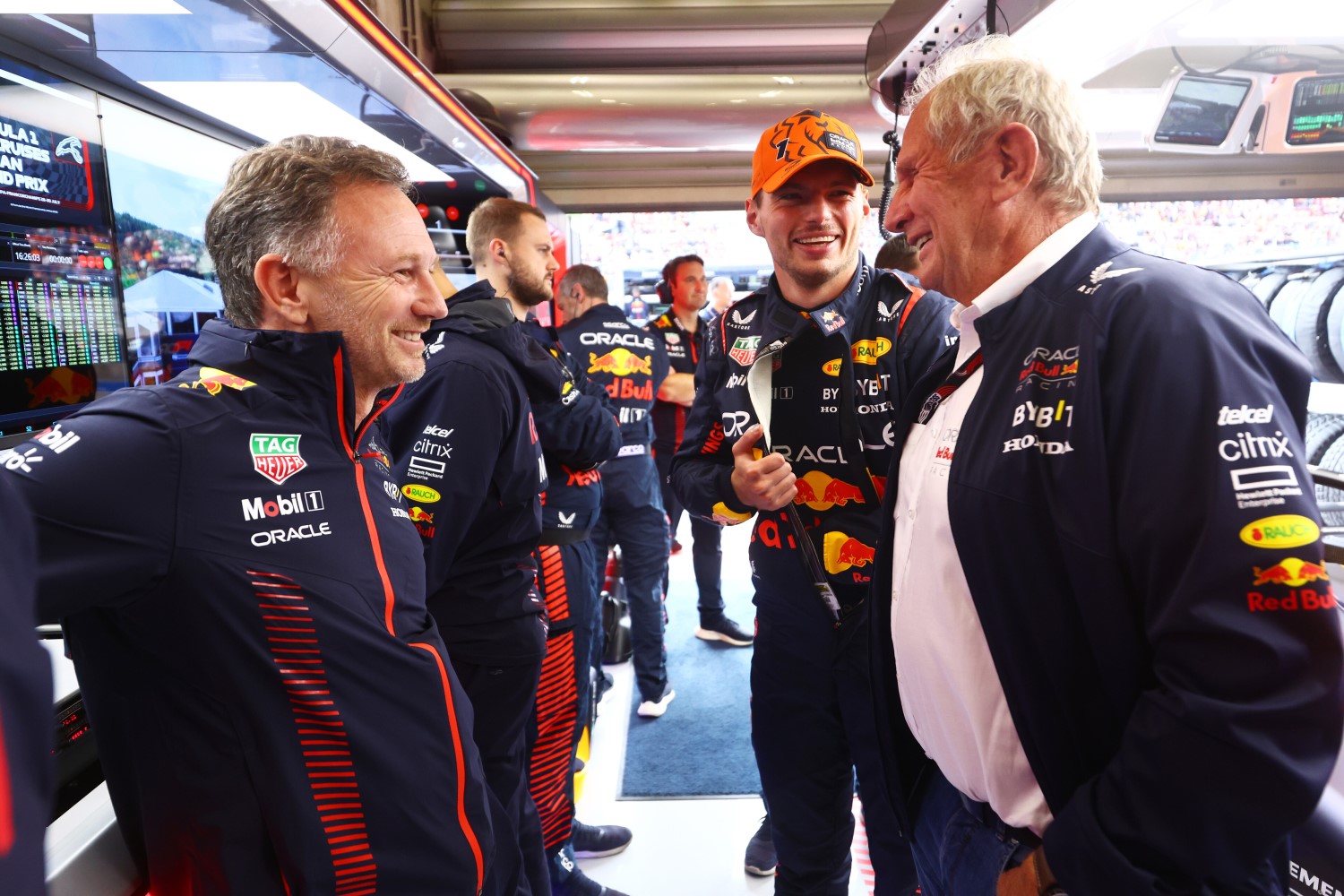 Ferrari
Charles Leclerc, 3rd
"Third was the best result we could have achieved today. We knew that the Red Bulls would be quicker than us, so our target was to maximize points with the package we have, and we did that. We had to base our strategy on Lewis' (Hamilton). He had a good pace and we had to make sure we kept him behind us. The Red Bulls in front then had to react to our moves, so we were all on the same strategy. In terms of tire management, we didn't have too much degradation and we have been doing a good job in that area for the past few races.
"The team has done an amazing job to bring updates ahead of schedule and let us take steps forward faster than we thought we would. It's good to finish this first half with a podium and hopefully we can maximize our package at the upcoming races after the break too."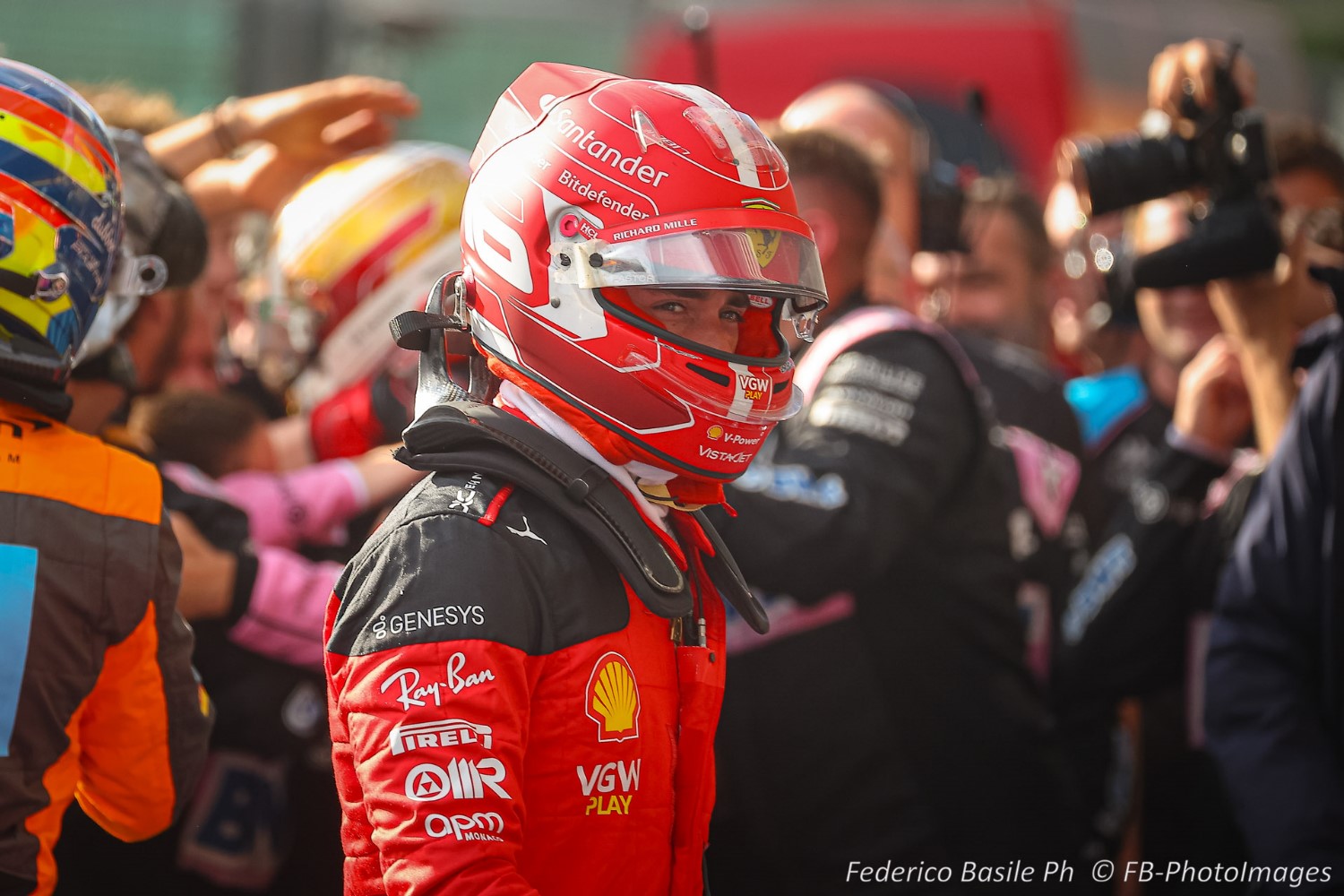 Carlos Sainz, DNF
"Not the way I wanted to finish the first part of the season. Hamilton stayed behind Perez and I attacked him on the inside. Then came the contact with Oscar and that was it, a racing incident, but in my opinion Oscar was way too optimistic as he was never side by side with me and making that move from behind has never really worked here in Spa. I'm disappointed, but it's also part of racing.
"On a positive note, it looked like the pace was good today so congrats to the team and Charles on an encouraging result. We need to keep pushing hard to make sure we come back strong after the break and have a good second half of the season."
Fred Vasseur, Team Principal
"We are happy with Charles' podium, it was well deserved and it's a nice way to head into the summer break. Apart from that, I'd say the weekend in Belgium had several other positives. The pace was good all weekend, on rain tires and slicks, both the Medium and Soft. We made the right strategy calls and all the pit stops went well. Overall, therefore, I think we have made a step forward and we must start off from this point when we are back on track, because only with this attitude can we aim to beat our closest rivals.
"It's a shame for Carlos because he too could have got a good result given that his pace was similar to Charles' all weekend. The first corner here is often tricky and racing incidents after the start are always a possibility and that's what happened. We opted to keep him out on track until the rain shower in the hope there might be a red flag which would have given us the chance to fix the car, but then it became clear that wouldn't happen so we decided to retire him. This first half of the season has seen many highs and lows, but today it was clear we have reacted well after recent races that had not gone the way we wanted. The team all deserve the break, having worked so hard at the track and back in Maranello over the past months and when we come back, I want to see that same sense of determination."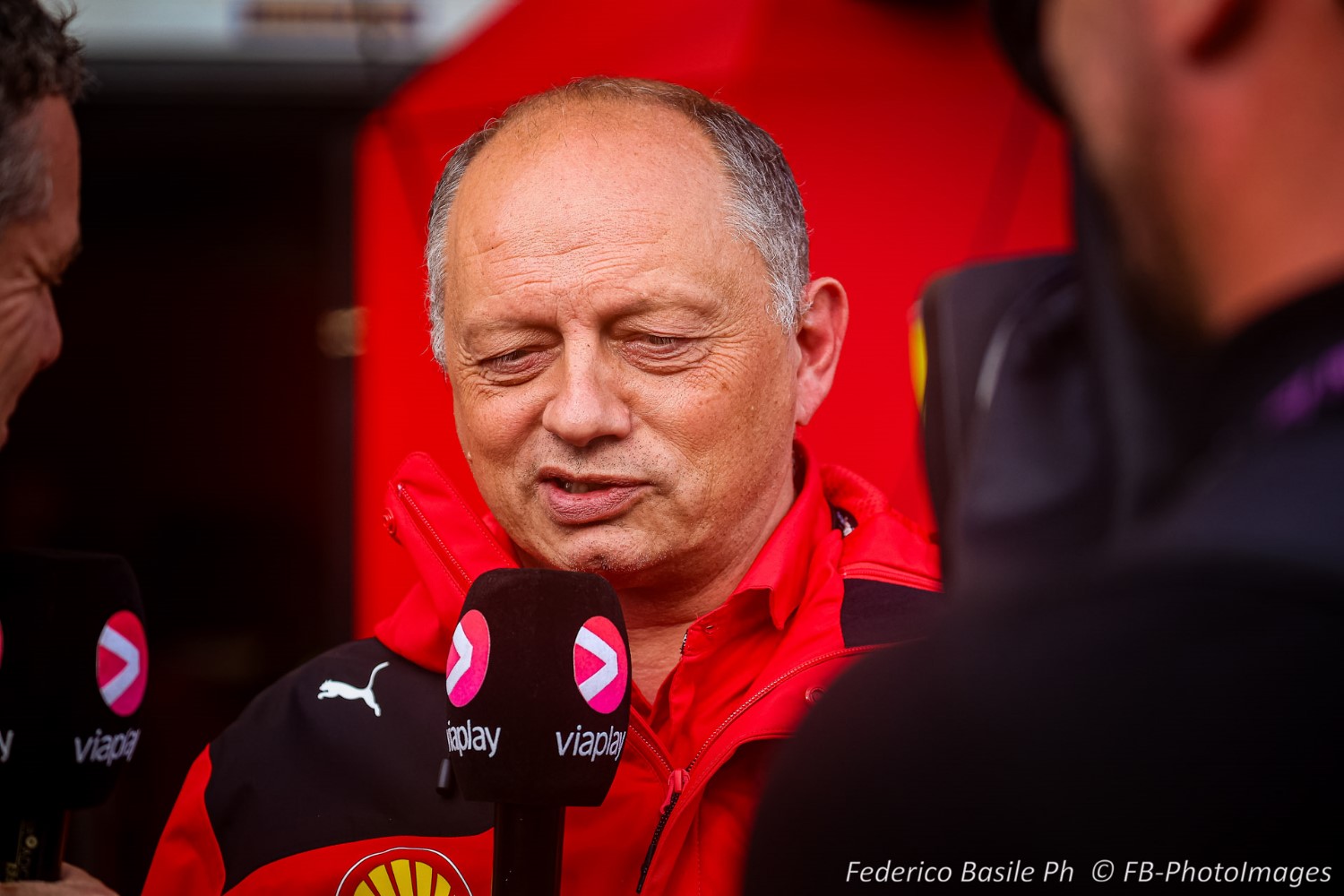 Mercedes
Lewis Hamilton, 4th
"It was a non-eventful race for me today with not a huge amount going on. I was unable to keep up with the cars ahead of me and was struggling in the beginning. We know the rear end is our biggest issue and then we had some bouncing this weekend. At the end, I was keeping the Ferrari of Charles Leclerc within a few seconds, but I couldn't get any closer. It was nice to have the gap to the car behind and to attempt to go for the fastest lap. It was gusty out there today and difficult to keep it on the track, but my lap was decent.
"We know we have more work to do to close the gap to the front. We'll work with all the data we've accumulated and try to figure out what we can do for the next race after the summer break."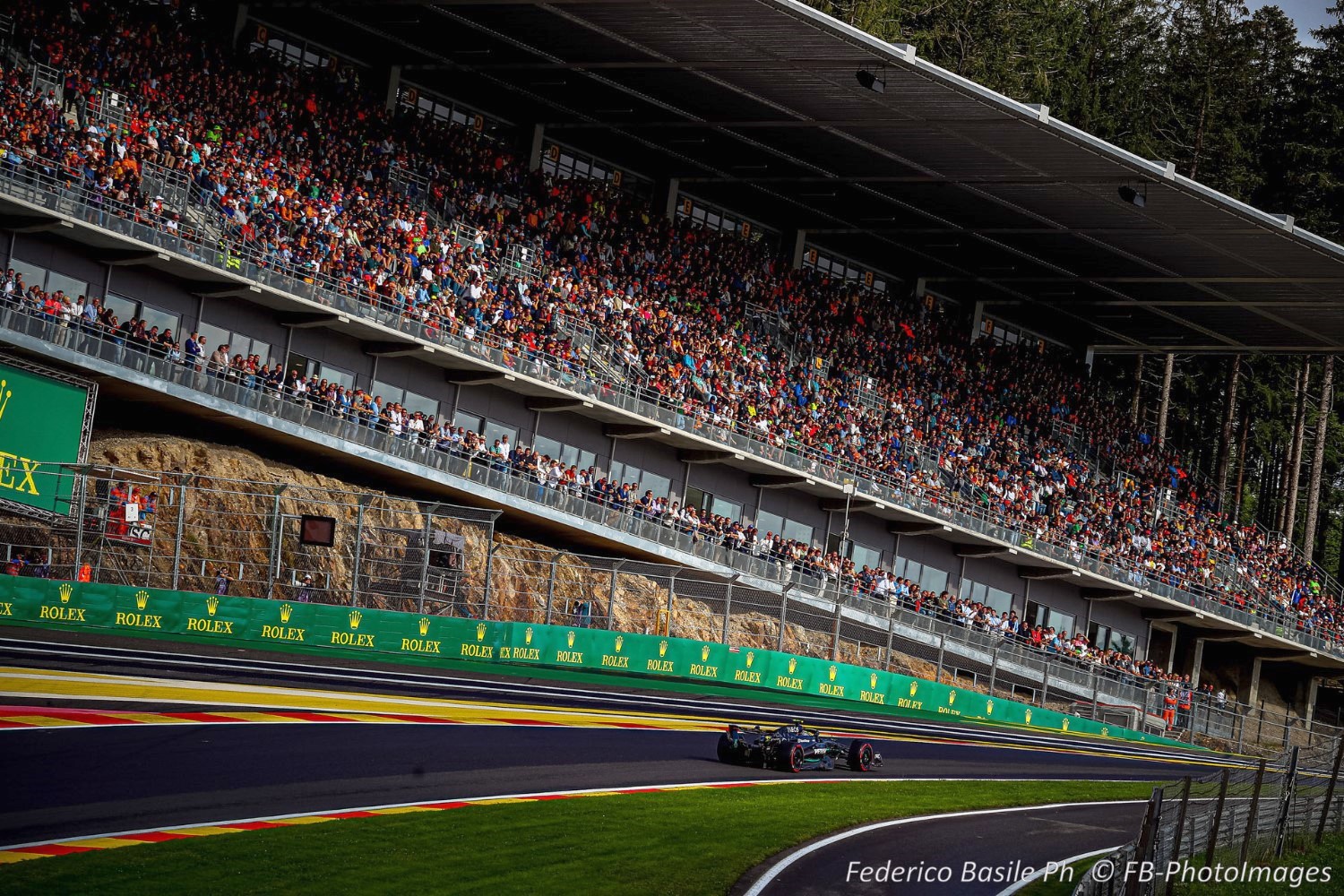 George Russell, 6th
"I really felt that I could have been up there with Lewis fighting for a podium for the Team today. Unfortunately, I was boxed in on the opening lap behind Oscar when he picked up damage at the first corner. That cost me a couple of positions and compromised my Grand Prix. After that, it was a good race for us, and we have opened the gap in the Constructors' by 51 points to third place.
It has been an intense first half of the season for everyone in the Team, so we are looking forward to the break and the chance to switch off for a few weeks before we get back racing again at Zandvoort. We know our goal is to win races, and I still believe that we can do that this season."
Toto Wolff, Head of Mercedes-Benz Motorsport
"We struggled with the car at points today and experienced some bouncing. That was the main limiting factor this weekend, so we've got some work to do to understand that more. We've got the shutdown coming up, but we will get our heads down this week, review the data, and see what we can do to make progress.
"Going into the summer break, I feel that we are on the right trajectory overall. There is so much hard work going across the Team to upgrade the car and help us to make those important steps forward. I believe we are making progress and the direction we are going in is the right one. We will go away, recharge over the summer break and come back refreshed and re-energized."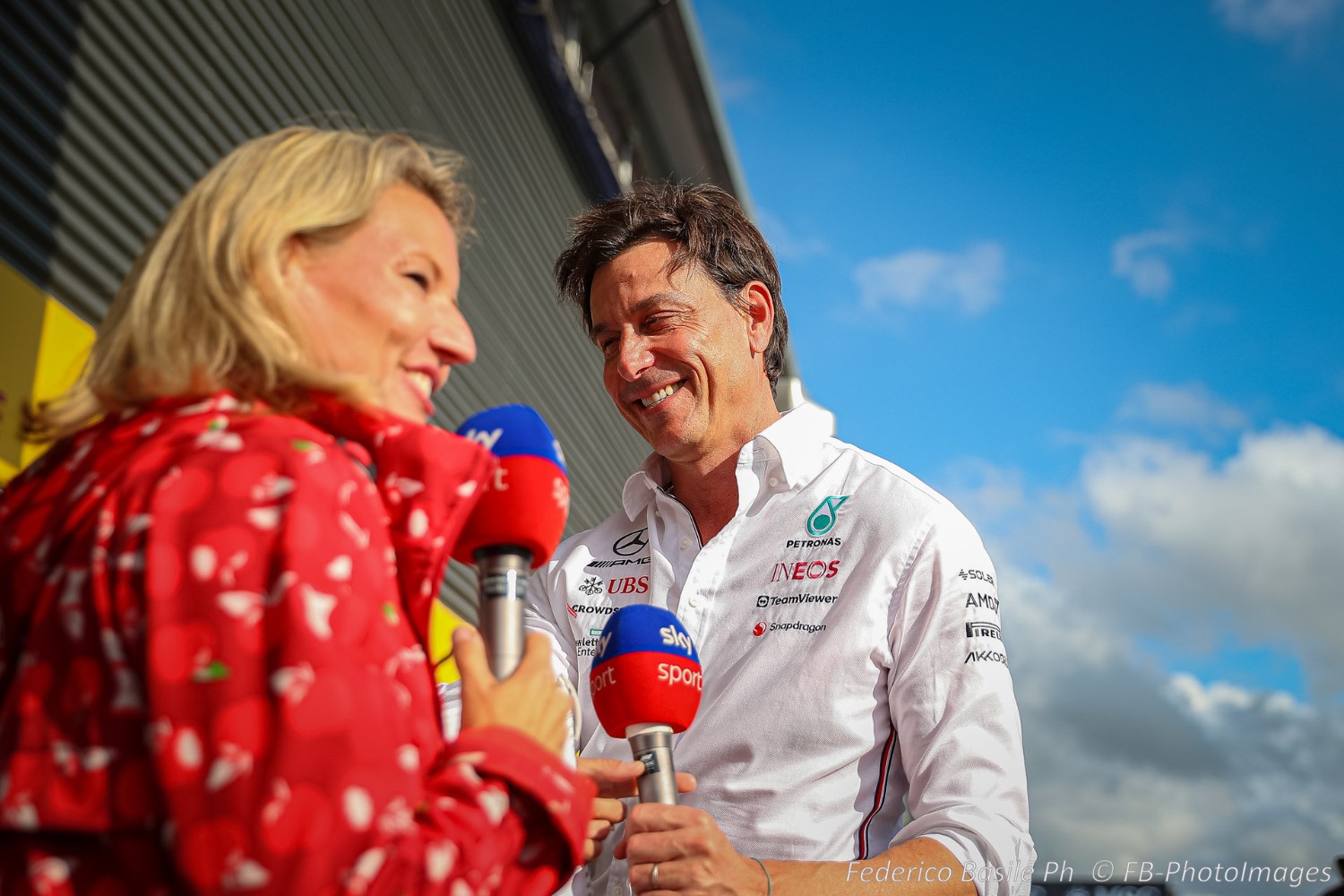 Andrew Shovlin, Trackside Engineering Director
"With the ever-changing weather and a sprint race thrown into the mix, it's been a challenging weekend in Spa. At times, our pace has been good. However, on the slicks today, we needed another tenth to be able to challenge for a podium. On the run to Eau Rouge at the beginning of the race, George unfortunately got boxed in behind Piastri's damaged McLaren. That meant that he was stuck in a pack for the first stint. Once he was clear, we made good progress, but we lost too much time to be able to challenge Alonso at the end. Lewis also couldn't get close enough to place Leclerc under pressure, so our options were limited.
"It was good to bring home a point for fastest lap, but we need to focus on bringing more performance. The first half of the season has been tough, and everyone in Brackley and Brixworth has been working incredibly hard. We're looking forward to the break and will be back in Zandvoort ready to take on the final 10 races of the season."
Aston Martin
Fernando Alonso, 5th
"I was lucky at the start: I made up a few places into Eau Rouge, but then I was worried that I wouldn't be able to hold onto those positions through the first stint. We were fast – we kept one Mercedes and one McLaren behind us – so we were in the mix. That's good news for the whole team as we head into the summer break.
"The car felt great today – and really gave me confidence. This is a high-efficiency circuit – and, after the British Grand Prix, we were a little concerned about our performance coming here. The team changed a few characteristics on the car and it really paid off.
"It's been an incredible first half to the season: we are third in the Constructors' Championship and third in the Drivers' Championship. It was impossible to think of achieving this before the start of the season.
"The whole team did an incredible job today. Now, it's time to recharge our batteries over the summer break and come back stronger."
Lance Stroll, 9th
"It was good to pick up a couple of points today, especially at a circuit where we haven't been particularly strong this weekend. We made the decision to go for a long first stint on the Medium tires because we could see some rain coming on the radar. The rain did come in some areas of the track, but it was drivable without needing Intermediates, so we boxed for the Soft tire. It was a bit of a gamble – if the rain had been heavy enough, we could have saved ourselves the extra stop – but in hindsight two stops was probably the better strategy. The last stages of the race became about managing the Soft tire, so I didn't really have the grip to defend when Esteban [Ocon] was closing in.
"We've had a mixed start to the season and I think we know there's some work to do as we head into the second half. That being said, it's been a huge step up from last year and I know the team is motivated to keep pushing for more."
Mike Krack, Team Principal
"We delivered a more competitive performance today, with both drivers racing well and managing different strategies. Lance was one of three drivers to make only one stop – and that required some excellent tire management across both stints. With the threat of rain in the middle part of the race, we kept his options open as long as we could and really stretched out the final stint on the Softs. Fernando's race was a bit more straightforward and, with clean air for much of the race, he was able to show good pace to bring home fifth place.
"The 12 points scored today ensure we maintain third place in the Constructors' Championship. This was an important confidence boost for everyone in the team before the well-earned summer break."
McLaren
Lando Norris, 7th
"A good result. I think we can be pleased with that after the start of the race being frustrating for us. We were just very poor on pace and struggled too much to overtake and defend in the straights. So, we were going backwards and backwards in the opening laps. We tried many things with the strategy and the only thing to work in the end was to put a Soft tire on and the whole race transformed after that. We ended up finishing P7, which was, I think as good as the race could have gone today. Tough for the team, but we scored some good points, and we have to take that going into the break."
Oscar Piastri, DNF
"A disappointing end to the weekend. I had my nose in there at Turn One and got a bit caught out with Carlos darting to the inside. My nose was in there, I couldn't get out of that one, so a shame to have my race over so early. It's still been a positive weekend though and all in all, I think we've had some good learning on track so we can still be confident for the rest of the year."
Andrea Stella, Team Principal
"After a positive Sprint event on Saturday, today in the race we have had some more difficulties. With Oscar, unfortunately there was an incident in corner one, Oscar ran out of space, and he touched the wall, breaking the steering system and he needed to retire the car.
"On Lando's side, we tried our best to stay in the points. We knew we were vulnerable in terms of top speed on the straights, and this was an issue in the race. However, thanks to the strategy and thanks to Lando driving exceptionally well while there was some rain, on new Softs, we could find some free air, exploit the pace of the car, and this led us to a good P7 finish.
"We are happy that we scored a good chunk of points over the weekend, it has been a very strong stint before the break. I would like to again thank the whole team for the exceptional work that led us to being competitive and scoring so many points in the last four races, and we can look positively at the races post-shutdown."
Alpine
Esteban Ocon, 8th
"It feels good to be back in the points here in Spa after a few tough weeks where we've finished outside the points due to circumstances out of our control. Overall, it was a good recovery drive and a well-executed race from the team today. Eighth place is a very good result after starting from fourteenth on the grid. There were some fun overtakes along the way too, especially on Yuki [Tsunoda] and Alex [Albon]. I think it's a good way to end a busy weekend for us and a nice way to go into the summer break where we'll look to rest and recharge before attacking the second part of the season. Finally, I'd like to wish Otmar, Alan and Pat all the best in the future and I know we all thank them for their important contributions to the team."
Pierre Gasly, 11th
"It's been a frustrating afternoon where we did not score points. I made a pretty good start into Turn 1 and then on the run into Turn 2, gaining a couple of positions. I was very unlucky with Oscar [Piastri] who had damage and was slow up Eau Rouge and I ended up being stuck behind him with a number of cars able to overtake. That made things difficult for us, left us playing catch-up and then we had to see if we could extend our first stint on Softs with the chance of rain. It did not rain hard enough, so we converted to a one-stop and in the end fell just short of the points. Some of the racing was fun out there but we're still lacking some power which we need to find. Now we have the summer break where all of us will take some time to rest and recover ready to take on the second part of the season. Finally, I wish Otmar, Alan and Pat the very best for their future and a big thanks for all the moments with them during this season."
Otmar Szafnauer, Team Principal
"The team leaves the Belgian Grand Prix weekend with ten points scored, which is a vast improvement after the last two races where we left without scoring points due to factors beyond our control. We could probably count ourselves unfortunate not to have both cars in the points today with Pierre just shy of the top ten after his race was compromised on lap one after being caught in traffic in Eau Rouge. Esteban did a very good job to rise from fourteenth to eighth with a well-managed two-stop strategy including a string of clean and decisive overtakes. Credit to both drivers for their performance this weekend: Esteban today back in the top ten and Pierre yesterday for finishing third in the Sprint. Today marks my final race with the team. I'd like to thank the efforts of all those at the track and at our factories in Viry and Enstone during my time here and I wish them all the best for the future."
AlphaTauri
Daniel Ricciardo, 16th
"Honestly, it was tough in traffic. Maybe a race with more clear air could've been better, but in general I'm not convinced we had great pace today. It felt like we never got the peak out of the tires, and we couldn't generate enough grip in the second sector. When we were in clear air later in the race, I felt we were more competitive, but in traffic, it was definitely hard. The reality is, these were my first dry laps in this car on this track, and I don't know this car that well yet, so I still felt there was a little missing, but we'll figure it out. Many are now looking forward to a well-deserved holiday, but the situation is slightly different for me as the break is a good chance for me to keep working behind the scenes. After a few days off, I'll spend time in the gym and use my days training, to be able to further improve on my race fitness."
Yuki Tsunoda, 10th
"The team did a fantastic job today; the car was flying and I'm happy to finish in the points before the summer break. A huge well done to the entire team: the mechanics, people in Bicester and Faenza, and trackside engineers. It's been a long time since I scored points, and I've been struggling in the last few races, so I'm very happy now. We were slightly lucky with a couple of cars retiring in front of us, but I felt really comfortable during the race. The car went naturally forward, and I was just managing my tires. At one point there was some rain, but fortunately, it stopped quite quickly, and I could keep up the pace and drive consistently. After the horrible day I had yesterday, I didn't want to take that feeling into the summer break, so I'm happy I could extract and maximize the car's performance. I feel I could give back to the team, apologize to them, and give them a little bit of positive energy going into the break. Now I'll rest as much as I can and prepare for the second half of the season."
Jody Egginton, Technical Director
"Following on from the last race, where we feel we took a step forwards, we have also generally been more competitive, and to score a point here is a good reward for everybody's hard work and persistence. Yuki ran a strong race, making really good use of each of his tire sets to keep his car in the top 10. The fight for points was on merit pretty much all race long, so he should be pleased. It was more difficult for Daniel, as he spent a good part of the race in traffic. We weren't able to get him into free air to put together a strong sequence of laps, as he was able to do in Hungary to good effect. It was unfortunate, however, his strong performance in the Sprint race yesterday highlights we are making progress. We still have work to do to get the car where we want it, but we have more updates coming, and everyone in Faenza, Bicester and Trackside is focused on pushing hard to develop the car and improve our competitiveness."
Franz Tost, Team Principal
"We started the race with Yuki in P11 and Daniel in P19, so we decided to split the strategy between the two cars: Yuki started on the medium compound, and Daniel on the soft tire. Yuki managed a fantastic start and ended up in P8, keeping his position for a very long time. I think some cars were staying out, postponing their pitstop, just waiting for more rain to come later in the race. Yuki was in P6 at one point, but of course, certain other cars were faster and could overtake us. In the end, Yuki finished P10 and scored one point for the team, which is very important. What is even more relevant is that the aero development is going in the right direction, and this is evidence of the fact that people in Bicester are doing a good job. As for Daniel, he started towards the back of the grid today as his lap time got deleted in qualifying on Friday, because of violating track limits in Turn 4. It's a shame as he showed great performance yesterday, being close to scoring a point in the Sprint race. Starting further back today was really difficult because it's really hard to overtake. We still miss some load on the car, but I'm convinced that when Daniel is more familiar with the car and tires, he'll do a really good job. In general, the team did a very good job. We haven't scored a point in a long time, so we're very pleased and are looking forward to the second half of the season because I think we can still improve our performance."
Alfa Romeo
Valtteri Bottas, 12th
"We can say today has been a solid race, I was happy with our pace and with the strategy we chose. Overall, it has been pretty much a straightforward one, with nothing much happening after the start, when I went slightly off on the grass to avoid Yuki [Tsunoda], who was heading right. Of course, with the pace being very similar for so many cars in the field, it was going to be a bit difficult to make progress, especially taking into consideration how this track hasn't suited our car best and our starting positions. There are still a few areas on which to improve, it hasn't been the smoothest of weekends in terms of handling tricky weather conditions but we did make some progress. Now, we are all going on a well-deserved summer break, in order to reset and come prepared to tackle the second half of the season."
Zhou Guanyu, 13th
"We had good pace today, which allowed us to get in the mix and climb up a few positions. I reckon our car has been much more competitive in dry conditions, and we'll be working on making it better in all circumstances ahead of the second part of the season. Considering our starting positions, it was going to be difficult to make up ground, but in general, I was especially satisfied with my last stint, when we were able to come up from the back of the pack up to 13th place. Now, I am very excited to go home for the summer break, to switch off and recharge the batteries ahead of the second half of the season. We will be starting from Zandvoort, which is a high-downforce track I am looking forward to race on again: hopefully, we will be able to regain our momentum there, and get back into the fight for points."
Alessandro Alunni Bravi, Team Representative
"Both drivers and the team executed a solid race today: we were able to recover some positions on track, finishing close to the top ten and, most importantly, matching the pace of our competitors. As a positive to take from this weekend, we reckon we have made a decent step forward in these weather conditions and on this type of track, comparing our weekend performance to previous ones on similar layouts. Of course, we were aware that from our starting positions today, scoring points was going to be a tough job without anything happening on track; nevertheless, both drivers had good pace today, and in terms of top speed, have been able to both defend their positions and attack to move forward through the field. Now, one final effort awaits us before a well-deserved break: we will analyze this first half of our season, aiming to make a significant step forward in terms of performance. We will be recharging our batteries over the next few weeks, getting ready for the second half of the season, which will for sure be tougher and tighter: we will come back in Zandvoort fully focused and motivated to get back to scoring points in each event."
Williams
Logan Sargeant, 17th
"It was a really good first 4 or 5 laps. I think we left that first stop too late and pretty much got undercut from where we were to the back, so that was a bit disappointing. Once we were on the Medium tire, we really struggled with degradation and I don't think it helped where we came out, as we came straight out into a fight. It was a tough day for both of us, so need to go away and look at why this happened. This weekend obviously hasn't panned out how we expected, so it's disappointing but we'll regroup, take this break and come back refreshed and ready for more."
Alex Albon, 14th
"I had a good start today; however, I was almost surprised I fell out of the points in the mid stint, but I was just struggling so much with degradation. The whole weekend was tricky, and the race was just the same. We're running low downforce, which is fun but going through sector two, it degs the tires so much. The amount of deg was a bit of a wake up call, particularly on that Medium tire. I was having to over-push the tire to stay in front in sector two and as soon as I tried to manage the tire, I was immediately under fire from cars behind, so it's a vicious cycle. I think we need to go away and work out why we struggled so much this weekend, as at the end of the day, this downforce is going to be similar to Monza and that's our next occasion to likely score points. We'll need to make sure we learn from this weekend, so when we come back to tracks that suit us, we don't have this problem again."
Dave Robson, Head of Vehicle Performance
"Another tricky day, which started very well with Alex executing some very good overtakes and making strong progress. He was able to back this up during the 2nd stint and seemed to have things under control. The third stint was much more difficult with higher tire degradation than expected, in part due to racing hard with the quicker Alpines. We opted to make a third stop, which led to some more overtaking but a frustrating result.
"Logan's pace and tire management compared very well to Alex's but he wasn't quite able to make the same progress on track in the opening stint, which made the subsequent stints more difficult.
"There were some good aspects to today, but the race also highlighted some weaknesses of the car, which we are working on."
Haas
Nico Hulkenberg, 18th
"I think tire degradation was high and also car pace wasn't good enough to challenge for points. We'll reset, regroup and we have three weeks to refresh and hopefully come back stronger in Zandvoort. I'm disappointed after a day like today, but I'm first and foremost still very happy to be back, enjoying myself and having a good time in the car. Working and pushing the team and having battles on-track, the positives still outweigh a difficult Sunday, but we need and want some performance in the car."
Kevin Magnussen, 15th
"I felt there was a little more to fight for this race, I had a bit more competitiveness. We still have way more degradation than everyone else, which I think is the main differentiator today. Pace-wise at the beginning of the stints it felt like we could fight for the top 10 but didn't have the degradation to keep fighting to the end. I think we're getting a good understanding of what we need to do and I'm looking forward to the second half of the year, looking forward to some upgrades, and making some changes to the car. Hopefully we can get back in the game, we're still P8 in the Constructors' Championship and that's our aim as a team to gain another position from last year. We've got everything to play for."
Guenther Steiner, Team Principal
"The team got the best out of what was possible from our car, and both fought hard. In the end, we came short on our issue of tire life, so we fell back in the middle of the race. We couldn't fight with the others and if we go into overtime with our tires, we just get slower, and that's what happened again. We know our deficit, we're working on it and hopefully we can resolve it fast but all in all, the team did a good job. For Nico to change his car around, it was all executed very well. Now we go on summer break, and hopefully come back stronger."
Pirelli
Mario Isola, Motorsport Director
"Finally, a day with reasonable weather, rain only making an appearance briefly without having any significant impact on the way the race played out. Coming into this final part of the weekend practically in the dark, increased the number of unknown factors and, along with the large number of dry weather tires available, as they were only used for a few laps in yesterday's qualifying, this gave the teams a wider than usual range of possible strategies. Degradation on the Soft and Medium tires was in line with our simulations given the relatively low track temperature. These low temperatures also meant the Hard was not very competitive and it was only used by one driver for a few kilometers. In terms of performance, the other two compounds were up to the task and the stint lengths varied according to whether a driver chose to push right from the start to make the most of the available grip, or manage the situation to lengthen the stint as much as possible, which was the case for the three drivers who only made a single pit stop.
"Finally, I would like to congratulate the fans (380,000 attendance) who put up with some very wet weather. They were rewarded with a great show, partly down to the Sprint weekend format which meant that, right from Friday, there was plenty of excitement on track. Formula 1 is soon going to take a short break, although we still have two more days of testing on Tuesday and Wednesday here at Spa, working with Aston Martin and McLaren. The daily work program will depend a lot on what the weather has to offer."