NHRA: Capps, Brown and Glenn score at Brainerd
Ron Capps, Antron Brown and Dallas Glenn all collected pro titles at the Lucas Oil NHRA Nationals at Brainerd.
Funny Car
Capps has had a long love affair with Brainerd Int'l Raceway and it's large and enthusiastic fan base. He's also enjoyed tremendous success in the land of 10,000 lakes as he's won seven of his 75 career victories in Brainerd following a thrilling 3.887 to 3.900 win over Robert Hight in the Funny Car final.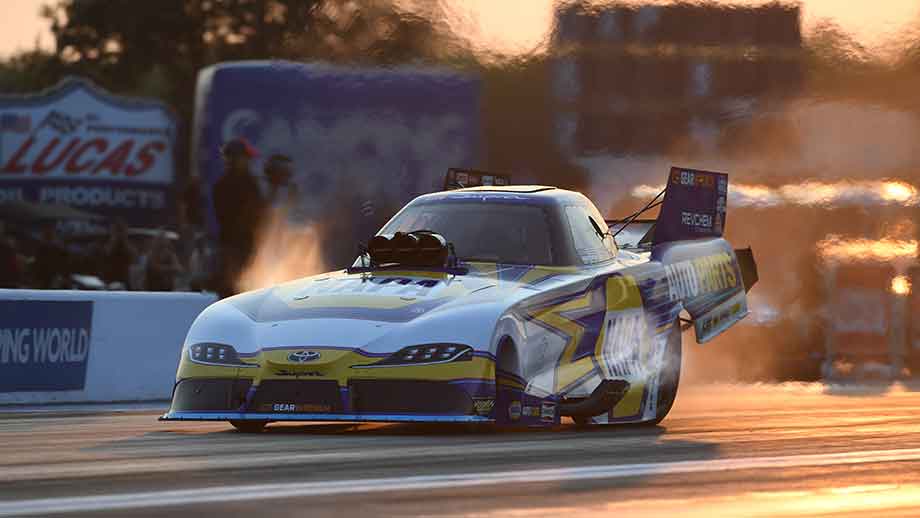 Capps got off to a rough start when he was unable to make the first qualifying run of the weekend but not much went wrong after that. Capps qualified his Dean Antonelli-tuned NAPA Toyota in the No. 1 spot with a 3.894 and then ripped off a string of competitive runs on Sunday to score wins against Jim Campbell, Tim Wilkerson, and Topeka champion Bob Tasca III.
As an added bonus, Capps was able to leap over incoming leader Matt Hagan to take the top spot in the Funny Car standings with one race remaining before the start of the Countdown to the Championship playoffs.
"First of all, 75 is crazy. I believe I just tied Pat Austin who is one of my heroes. He's one of the best drivers I've ever seen in person. I don't deserve this," said Capps. "Everyone in the Zoo. Look out. We're coming in and this [Wally] is coming with me. I've won here with different crew chiefs so it's not that, but there is something about this place. I've talked about it a lot this weekend because my career started here. On Saturday night, we went to the Zoo. I got to bed at a decent hour but there have been years where I didn't go out there and I lost first round so I won't make that mistake again.
"In the final, I was concerned and you could see it in Guido's eyes racing Jimmy and Robert. They push each other and I thought they'd probably go 3.85. The way I staged in the final we'd probably go 3.86 if it was in qualifying trim but it was a huge relief to get it done."
Hight, celebrating his birthday on Sunday, enjoyed one of his best events since his victory in Charlotte with victories against Bobby Bode, Dave Richards, and his team owner, John Force. Hight is also on the verge of a milestone of his own with 99-career final rounds, all of them in the Funny Car class.
Top Fuel
Coming off a runner-up finish at week ago in Topeka and a win on Saturday in the Mission #2Fast2Tasty Challenge, Brown is arguably the hottest driver in the Top Fuel class.  Competing in his 497th race as a Pro, Brown isn't far behind Capps with career win No. 73 after topping Leah Pruett in the final. Brown drove his Matco Tools dragster to a 3.715 that was enough to maintain a lead against Pruett's very competitive 3.757 effort.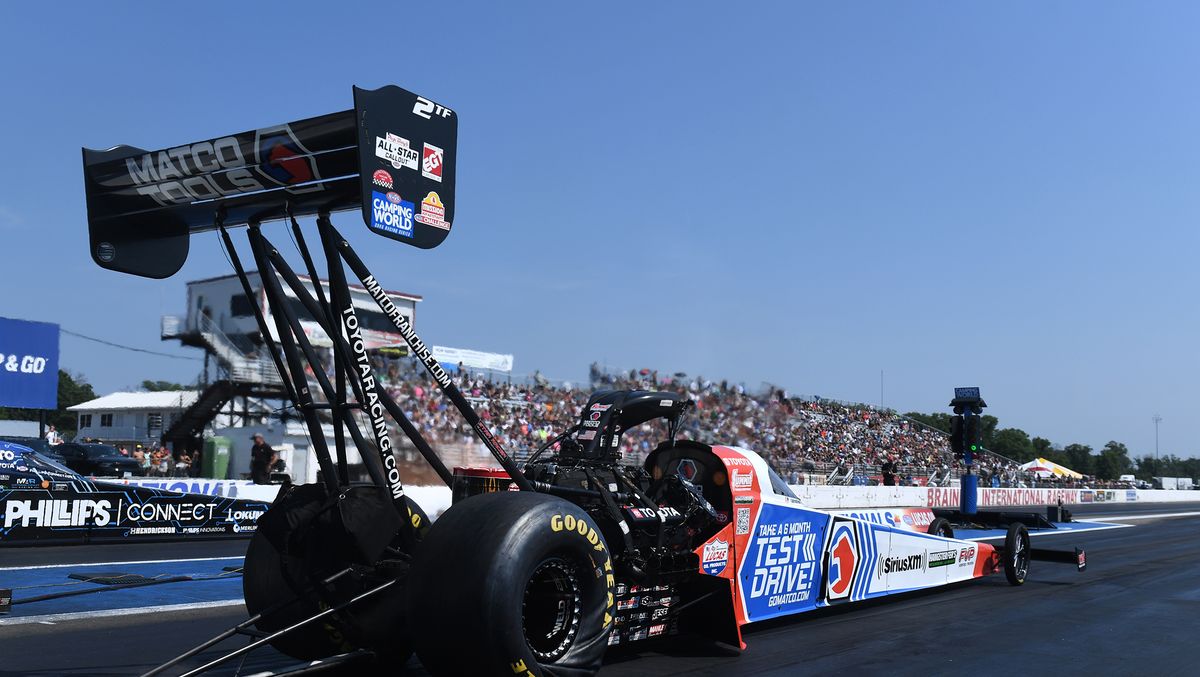 "I know Leah is hungry right now. She's in full-blown beast mode so we didn't take her lightly," said Brown. "We had a tough day today including the first round against Shawn [Langdon]. We knew the track was good enough to throw what we could throw at it but I heard Shawn leave before me. I drove around him about 330-feet out and then when I saw that 3.68 on the scoreboard I said 'That's what I'm talkin' about."
"Indy and the Countdown are right around the corner, and we're been preparing. We want to peak at the right time," Brown said. "We're just going to keep doing what we do. We keep Working hard and things are falling in the right direction. My team is doing an incredible. Incredible job."
Brown was just sixth-quickest in qualifying with a 3.780, but his team, led by Brian Corradi and former Brainerd winner Mark Oswald adapted well to Sunday's cooler conditions to run 3.68, 3.71, and 3.70 in their wins against Shawn Langdon, Steve Torrence, and Mike Salinas, who had earlier rocked the Brainerd crowd with a 338.26 mph speed in his Scrappers dragster.
Pro Stock
Glenn has been dominant in Pro Stock this season with his RAD Torque Systems Camaro with three wins in Pomona, Las Vegas and Chicago, but he'd been largely quiet for most of the summer. Despite the winless drought, Glenn has been able to maintain a hammerlock on the top spot in the standings, and he padded his lead in Brainerd with career win No. 8.
In the final round, Glenn stormed to a 6.566 to turn on the win light, cruising almost uncontested to the win after opponent Kyle Koretsky shook the tires and shut off in his Lucas Oil Camaro.
Glenn's road to the final round also included wins against Jerry Tucker, world champ Erica Enders, and Aaron Stanfield.
"I feel like my car did most of the work today," said Glenn. "I hate it when it's hot and humid, but on Saturday we picked up four bonus points. In the first round, I didn't think I made a good run, but it was third-best so that set us up for a nice day. Lately, I made some gains with the clutch pedal so going forward, if someone can settle into the teens or better with a car like mine they're going to be really tough to beat.
"In the final, I think the track was a bit too sticky," Glenn said. "We shook pretty good, but it made it through it, and we were able to get the win. When Kyle and I both won the semi's, and we knew it would be an all KB Titan final, that's when the fun starts. I just need to keep this momentum going. I've been really lucky this season. I feel like I've been just good enough, but Iv'e got the baddest Jerry Haas Race Car on the planet right now."
Koretsky has struggled for most of the season but managed to combine a fast race car and solid driving in Brainerd to reach his seventh career final and first of the 2023 season. Koretsky topped Camrie Caruso, Greg Anderson, and Deric Kramer to reach the final and ran 6.58 on all three runs. Koretsky also scored two holeshot victories on his way to the final.
The Brainerd event also marked the first race in the Road to the Championship for drivers in the Fuel Tech Pro Mod series presented by Type A Motorsports. Jason Lee collected his first win after Jason Scruggs encountered a mechanical issue in the final. Lee also moved into the lead following the victory.
Quotes
ANTRON BROWN, Matco Tools Toyota Top Fuel Dragster, AB Motorsports
TF Final Result: Winner
Can you tell us about your race day and how you got the win today?
"Every run was important. The one thing that really sticks out to me is when we came into this race, we made it to that Mission Foods 2Fast2Tasty Challenge, and we took it one lap at a time. We came out and we had a decent first round qualifying lap and we really wanted to get that Friday night one in there until the sun started going down on us.
Then, the last qualifying round we were going to step up and the last round we went an 80, but our car was originally on a 75 and we didn't make it to the finish line. I dropped a hole at 340 feet.
So, we looked at the data and said we're going to run a mid-75, we could've been number two or number three without a problem because we were only about six or seven slower than Justin Ashley's 74.
So, we missed out on that. When we got into race day, we knew we had our first round match up with Shawn (Langdon) and that's what set the stage. We knew that we had to throw what we could throw at it and Brian (Corradi, crew chief) saw the conditions and we knew the car was going to have more power and it showed up.
I saw that thing kick out a little bit and I got butterflies, so I hit the gas pedal and thought I hit the tree on time, and I heard Shawn leave before me. I literally heard him but then by the time I got to about 330 I felt that we were even, and I felt like I drove around him.
Then, after that I saw the win light come on and I saw that 68 pop on the board and I was like, 'That's what I'm talking about.' I think that really set the stage up for the confidence. Then, when we got to the second round — so tricky is when we went up there and raced Steve (Torrence).
We saw the first couple pair ahead of me – like Justin (Ashley) smoke the tires we knew exactly what they were going to run because Mike Green said we're going to step it up and run hard. We saw the next pair after them, Brittany (Force) smoked the tires and she went a 69 the round before.
So, Brian made that call, and he goes 'Let's do this and that. The suns out, it got a little bit hotter and we don't know if it's going to hold.' We went a 73 and Steve went a 71 and we got past that round.
Then, we saw (Mike) Salinas drop the bomb on everybody. Everybody else was not going quick enough. We got to the semi's and we had to race Mike and we thought they were going to tune it up and go a 68 or 69, but the track got so good it ate everybody up when they slowed down.
I think Mike just slowed it down to a 68 and it just popped up a 71. We did the same thing – thought we were going to run a 68 again and went a 70 flat and got us to the finals. In the finals, you know when you're racing those TSR cars and Leah (Pruett), she is hungry right now.
That girl is full blown beat mode. And, I was like 'Oh lord. Here we go. Here we go.' And we knew what they were capable of and we just went out there and just wanted to make another lap.
We thought we were going to pick it up a little bit more, but the track got so good it ate us up just a little bit and I think that's what happened to Leah where it ate them up a little bit too. We were both pushing to go quicker. By the end of the day, when you look at those numbers, we were very consistent today and that's what it took to get the job done."
How did your qualifying rounds setup today's success?
"I tell you what, this is the hardest part about this sport right now. We had good qualifying rounds. The track got hot and tricky on Saturday and Justin's (Ashley) impressive run of 74, we knew that we were in the ballpark that we could run. Every lap that we made, we were very competitive and in the top-five of every run. When we actually dropped that hole, we would've made a top-two or top-three run without a problem. So, we got in eliminations today and we knew it was going to be a completely different day. Qualifying for our class, on any given Sunday, qualifying is a definer on what you're going to do on race day – the full package. Car, driver, team and who makes the least amount of mistakes and who can run the best they can run at that time. When we came into race day, we knew the conditions would get better and we had some runs with some good laps. Bryan, that's where he shines at. Brian (Corradi, crew chief) and Mark (Oswald, co-crew chief) they shine at that deal, where the conditions change they can make an adjustment and know right where to put it at. We started off with a great lap and I think that just set our tone for the day. We were the quickest and fastest of the first session. We tied Clay Millican, but we ran 334 miles an hour and then we just go into race mode where you've got to race smart. You can't throw Hail Mary's and if they don't stick then you just lose a run because you overpowered the race track. So, they stayed in that zone and that consistency pays off and that's what wins and that's what wins championships."
RON CAPPS, NAPA Auto Parts Toyota GR Supra Funny Car, Ron Capps Motorsports
FC Final Result: Winner
What does this win mean to you today?
"Our NAPA guys, they work so well as a team and work so hard, and I just don't want to make a mistake. And Guido, I can see it in his eyes when he's racing Jimmy Prock. Robert Hight and I talk about it all the time, it's very cool because you know they're going to push each other and sometimes one of them makes a mistake and pushes too hard. But as the conditions got better and better today, we were convinced they were probably going to go 85 that's what Jimmy does. And Guido didn't want to make a mistake and push too far, so the way I staged, the car probably went 86. I could hear Robert all the way down like a video game and I was like 'c'mon baby, just make it,' and it was a huge relief."
What does it mean to have the points lead at this point in the season?
"We've got all different Funny Cars that have won races this year, but here we are with the points lead. Before we even won the final round today, we had the points lead, so that tells you the consistency that we've had all year. You're going to have to be good to beat the NAPA Supra because Guido doesn't make many mistakes, so it's such a confidence booster and it's just a lot of fun right now. We set a goal of winning the regular season championship, and we're one step closer to achieving that goal."
What does it mean to get your 75th career win today?
"First of all, 75 wins is crazy. Pat Austin has been one of my heroes and I got to be around him early in my career as a crew guy and I always strived to be Pat Austin. To watch him, ice in his veins, just some huge match-ups for me to stand behind their car back then. I used to look at the list and was like 'Pat Austin, 75 wins' that seems so out of this universe so when I came around the corner after the final and saw a '75 wins' sign, it blew my mind."