NASCAR: Buescher wins Coke Zero 400 at Daytona
Chris Buescher won the NASCAR Cup Series regular-season finale at Daytona on Saturday night in a 1-2 finish for RFK Racing.
The win is his 3rd win of the year, 1st at Daytona and 5th career win.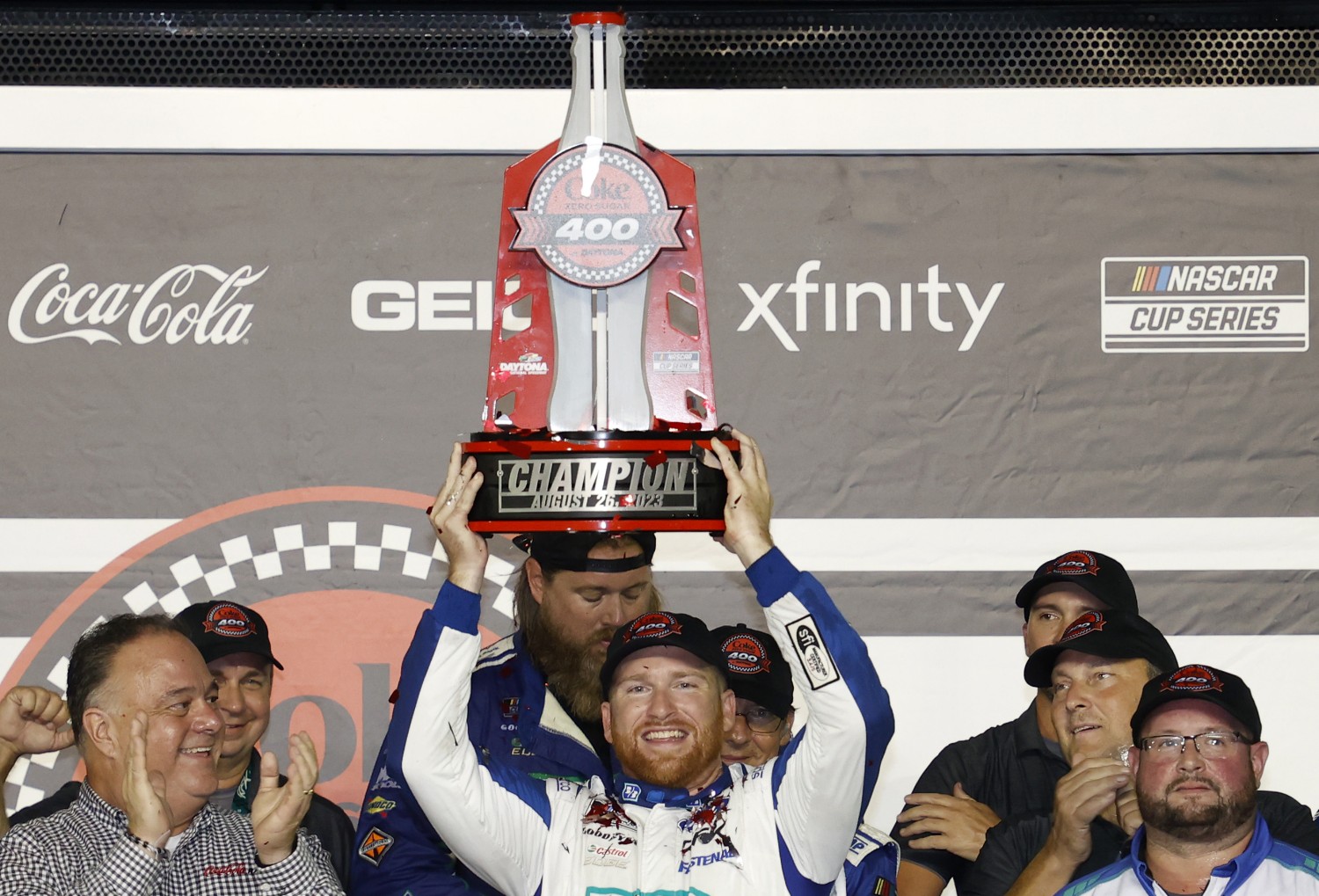 Buescher enjoyed a late push from teammate and team co-owner Brad Keselowski en route to his third win of the season in the Coke Zero Sugar 400. Aric Almirola, Chase Elliott and Joey Logano completed the top five.
The race was completed in NASCAR Overtime after a crash at Lap 156 resulted in Ryan Preece barrel-rolling down the backstretch.
He slid into the grass on the backstretch and barrel-rolled ten times.  He was able to get out of the car under his own power, but put on a stretcher for the ride to the infield care center. He was then transported to the hospital.
Martin Truex Jr. clinched his second Regular-Season Championship at the conclusion of Stage 2, moments after the 'Big One' struck at Lap 95.
The 'big one' happened on lap 95, coming to the end of stage 2.  #54-Ty Gibbs got loose, after possible contact from #20-Christopher Bell, and came down the track, hooking #12-Ryan Blaney in the right rear, sending him hard into the outside wall. With both cars blocking the track, at least 13 cars were involved in the incident. The race had to be red flagged briefly for track cleanup.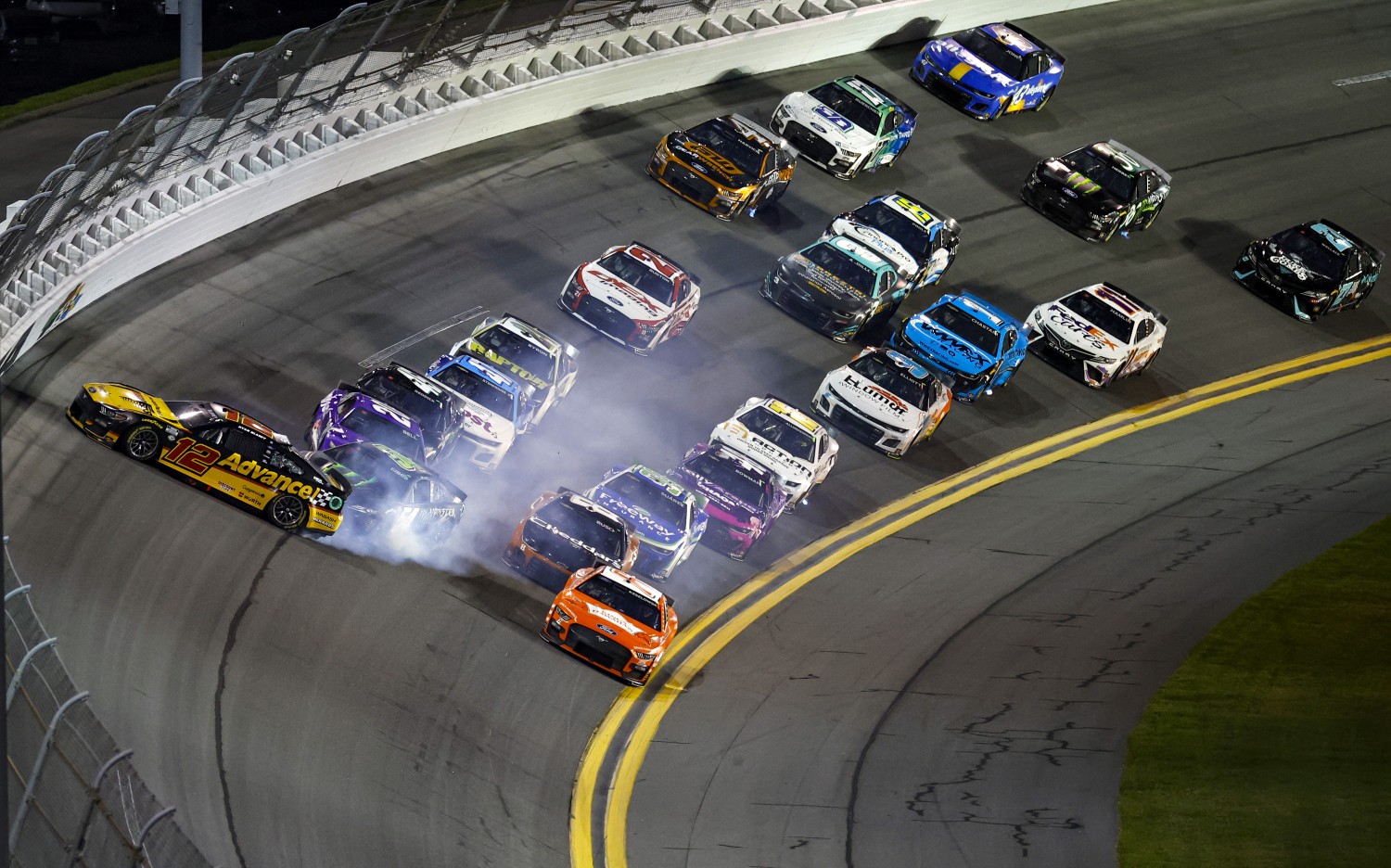 Collecting the final spot in the 16-driver playoff field was Bubba Wallace, who clinched the final available spot on points.
Race Results
| | | | | | | | |
| --- | --- | --- | --- | --- | --- | --- | --- |
| Fin | Str | No. | Driver | Team | Laps | Led | Status |
| 1 | 11 | 17 | Chris Buescher | Fifth Third Bank Ford | 163 | 2 | Running |
| 2 | 12 | 6 | Brad Keselowski | King's Hawaiian Ford | 163 | 6 | Running |
| 3 | 2 | 10 | Aric Almirola | Smithfield Ford | 163 | 3 | Running |
| 4 | 23 | 9 | Chase Elliott | LLumar Chevrolet | 163 | 2 | Running |
| 5 | 14 | 22 | Joey Logano | Shell Pennzoil Ford | 163 | 9 | Running |
| 6 | 31 | 48 | Alex Bowman | Ally Arena Chevrolet | 163 | 0 | Running |
| 7 | 18 | 8 | Kyle Busch | Cheddar's Scratch Kitchen Chevrolet | 163 | 5 | Running |
| 8 | 27 | 24 | William Byron | RaptorTough.com Chevrolet | 163 | 1 | Running |
| 9 | 10 | 4 | Kevin Harvick | GEARWRENCH Ford | 163 | 14 | Running |
| 10 | 37 | 7 | Corey LaJoie | NEGU Chevrolet | 163 | 0 | Running |
| 11 | 30 | 77 | Ty Dillon | Gainbridge Chevrolet | 163 | 0 | Running |
| 12 | 4 | 23 | Bubba Wallace | Columbia Sportswear Company Toyota | 163 | 0 | Running |
| 13 | 39 | 34 | Michael McDowell | Fr8Auctions Ford | 163 | 0 | Running |
| 14 | 26 | 62 | * Austin Hill(i) | United Rentals/Beard Oil Chevrolet | 163 | 0 | Running |
| 15 | 36 | 13 | * Chandler Smith(i) | Quick Tie Products Inc. Chevrolet | 163 | 0 | Running |
| 16 | 15 | 20 | Christopher Bell | Yahoo! Toyota | 163 | 0 | Running |
| 17 | 25 | 1 | Ross Chastain | Worldwide Express Chevrolet | 163 | 19 | Running |
| 18 | 24 | 43 | Erik Jones | Allegiant Chevrolet | 163 | 0 | Running |
| 19 | 33 | 51 | JJ Yeley(i) | Biohaven/Jacob Co. Ford | 163 | 0 | Running |
| 20 | 22 | 99 | Daniel Suarez | Freeway.com Chevrolet | 163 | 1 | Running |
| 21 | 28 | 31 | Justin Haley | Celsius Chevrolet | 163 | 0 | Running |
| 22 | 29 | 42 | Josh Berry(i) | Sunseeker Resort Chevrolet | 163 | 0 | Running |
| 23 | 38 | 78 | BJ McLeod | B'laster Chevrolet | 163 | 0 | Running |
| 24 | 13 | 19 | Martin Truex Jr. | Bass Pros Shops/Ducks Unlimited Toyota | 163 | 4 | Running |
| 25 | 20 | 45 | Tyler Reddick | The Beast Unleashed Toyota | 163 | 0 | Running |
| 26 | 19 | 11 | Denny Hamlin | FedEx Cares Toyota | 162 | 12 | Running |
| 27 | 7 | 5 | Kyle Larson | HendrickCars.com Chevrolet | 161 | 0 | Running |
| 28 | 3 | 21 | Harrison Burton | DEX Imaging Ford | 160 | 5 | Running |
| 29 | 17 | 16 | AJ Allmendinger | Action Industries Chevrolet | 160 | 8 | Running |
| 30 | 1 | 14 | Chase Briscoe | Magical Vacation Planner Ford | 156 | 67 | Accident |
| 31 | 9 | 41 | Ryan Preece | RaceChoice.com Ford | 155 | 0 | Accident |
| 32 | 35 | 38 | Todd Gilliland | Boot Barn Ford | 131 | 0 | Overheating |
| 33 | 21 | 3 | Austin Dillon | BREZTRI Chevrolet | 102 | 0 | Accident |
| 34 | 32 | 47 | Ricky Stenhouse Jr. | Boost by Kroger/Entenmann's Chevrolet | 96 | 1 | Accident |
| 35 | 5 | 54 | Ty Gibbs # | Monster Energy Toyota | 94 | 0 | Accident |
| 36 | 8 | 12 | Ryan Blaney | Advance Auto Parts Ford | 94 | 4 | Accident |
| 37 | 16 | 2 | Austin Cindric | Menards/Cardell Cabinetry Ford | 94 | 0 | Accident |
| 38 | 6 | 36 | * Riley Herbst(i) | Monster Energy Zero Sugar Ford | 94 | 0 | Accident |
| 39 | 34 | 15 | Brennan Poole(i) | Finance Pro Plus Ford | 93 | 0 | Accident |