F1: Sainz Jr. tops red-flag hit Practice 2 at Monza
Much to the delight of the Ferrari fans, Carlos Sainz Jr. turned the fastest lap in practice 2 for the 2023 Italian GP at Monza.
–by MarkCipolloni–
In a session interrupted by two red flags (one for Lando Norris who lost power and one for Sergio Perez who ran out of talent and spun) Sainz Jr. turned a lap of 1m21.355s in his #55 Ferrari to top Lando Norris in the #4 McLaren by 0.019s.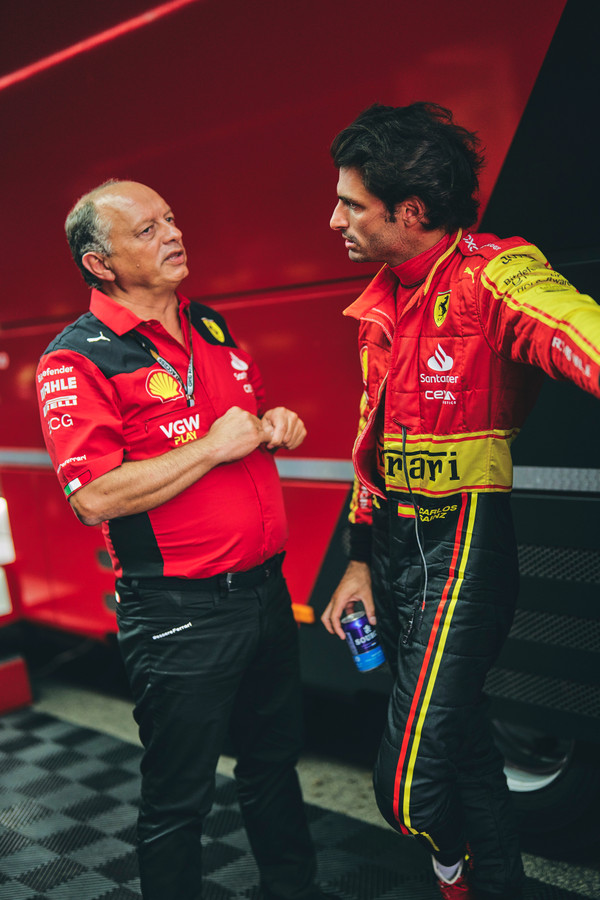 "Overall, it was a positive Friday for the team," said Sainz.
"The car looks to be back on the pace this weekend and the track characteristics seem to be suiting us better.
"It's only Friday and tomorrow is not going to be easy, as the field is super tight with several cars within a couple of tenths.
"We'll keep trying to find more performance, especially for the long runs where I think there is more room for improvement.
"It's great to drive in front of this amazing crowd here in Monza! Let's keep pushing!"
Perez ended up 3rd fastest overall in his #11 Red Bull, 0.185s behind
Oscar Piastri was 4th in the #81 McLaren, 0.190s behind, while Max Verstappen, impeded by traffic on his soft tire run, was 5th, 0276s behind.
Charles Leclerc was 6th in the #16 Ferrari and once again slower than his teammate.
Both Mercedes were sandbagging down in 9th (Russell) and 17th (Hamilton).
Can Ferrari take the fight to Red Bull tomorrow? It will excite the crowd no end if they can, and while Sainz looks the pick at the moment, never rule out Leclerc over one lap.
But McLaren are not too far behind, and Red Bull will bring their best when it matters…
All of which bodes very well for an exceptionally exciting qualifying tomorrow.
Speaking of tomorrow, there is one more hour of practice before qualifying gets under way. And just another reminder – that qualifying will feature the 'Alternative Tyre Allocation'. Hard tires must be used in Q1, mediums in Q2 and softs in Q3.
Qualifying Analysis
Traffic and slipstreaming. Qualifying is tomorrow at 16 local and looks like being very closely contested, with traffic and the advantage conferred by slipstreaming being factors that can have a radical effect on the outcome.
Added to this is the fact that, this season, the gaps have always been very close and in Q1 on Hard tires, it will be a case of running all session long to make the most of the track evolution and so there is likely to be plenty of traffic on track.
In Q3, the slipstreaming battle will be hard fought and there could be some surprises, as was the case in 2019, when most of the cars did not cross the finish line in time before the checkered flag was waved.
On that day, courtesy of a lap time set on his first run, pole position went to Charles Leclerc and his Ferrari.
2023 Italian GP Practice 2 Results
| | | | | | | |
| --- | --- | --- | --- | --- | --- | --- |
| POS | NO | DRIVER | CAR | TIME | GAP | LAPS |
| 1 | 55 | Carlos Sainz Jr. | Ferrari | 1:21.355 | +0.000s | 22 |
| 2 | 4 | Lando Norris | Mclaren Mercedes | 1:21.374 | +0.019s | 19 |
| 3 | 11 | Sergio Perez | Red Bull Racing Honda | 1:21.540 | +0.185s | 17 |
| 4 | 81 | Oscar Piastri | Mclaren Mercedes | 1:21.545 | +0.190s | 20 |
| 5 | 1 | Max Verstappen | Red Bull Racing Honda | 1:21.631 | +0.276s | 19 |
| 6 | 16 | Charles Leclerc | Ferrari | 1:21.716 | +0.361s | 22 |
| 7 | 23 | Alexander Albon | Williams Mercedes | 1:21.979 | +0.624s | 18 |
| 8 | 14 | Fernando Alonso | Aston Martin Aramco Mercedes | 1:22.071 | +0.716s | 15 |
| 9 | 63 | George Russell | Mercedes | 1:22.176 | +0.821s | 19 |
| 10 | 27 | Nico Hulkenberg | Haas Ferrari | 1:22.291 | +0.936s | 18 |
| 11 | 20 | Kevin Magnussen | Haas Ferrari | 1:22.574 | +1.219s | 20 |
| 12 | 77 | Valtteri Bottas | Alfa Romeo Ferrari | 1:22.595 | +1.240s | 18 |
| 13 | 10 | Pierre Gasly | Alpine Renault | 1:22.651 | +1.296s | 21 |
| 14 | 22 | Yuki Tsunoda | AlphaTauri Honda | 1:22.696 | +1.341s | 22 |
| 15 | 31 | Esteban Ocon | Alpine Renault | 1:22.716 | +1.361s | 21 |
| 16 | 2 | Logan Sargeant | Williams Mercedes | 1:22.755 | +1.400s | 23 |
| 17 | 44 | Lewis Hamilton | Mercedes | 1:22.783 | +1.428s | 22 |
| 18 | 40 | Liam Lawson | AlphaTauri Honda | 1:23.167 | +1.812s | 22 |
| 19 | 24 | Zhou Guanyu | Alfa Romeo Ferrari | 1:23.346 | +1.991s | 19 |
| 20 | 18 | Lance Stroll | Aston Martin Aramco Mercedes | | | 2 |