IndyCar: Palou schools the field to win 2nd title in Portland
Spaniard Alex Palou dominated the Bitnile.com GP of Portland Sunday in Portland to win his 2nd NTT IndyCar title in three years.
With one race to go in the season, Palou has enough points that teammate Scott Dixon in 2nd cannot catch him.
It was Palou's 5th win of the year – more than any other driver. It was Palou's 9th IndyCar career win and 9th championship title for Chip Ganassi Racing.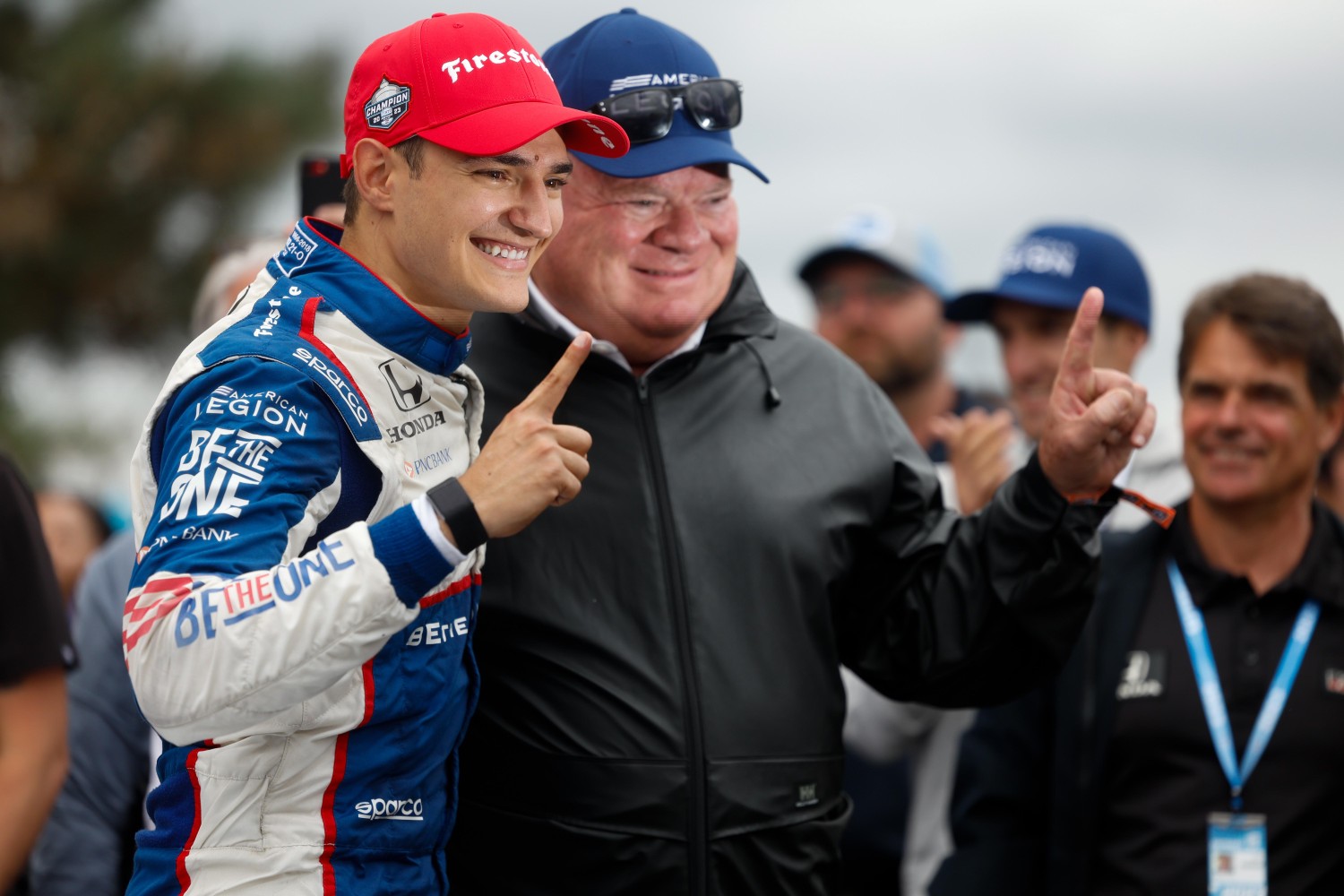 Palou led 69 of 110 laps and eased to a 5-second win over Felix Rosenqvist despite a late caution that bunched the field.
"That's what we wanted," Palou said. "It was an amazing weekend overall. We had really fast cars. We knew we had to go for it, and we just raced how we've been doing all season. Super proud to be here in victory lane and super proud of the second championship.
"I never thought that I would be an INDYCAR champion, and to be a two-time INDYCAR champion feels amazing, like a dream."
Scott Dixon came home third, but should have come home 2nd if not for IndyCars closed pit crap shoot rule.
Ganassi also clinched its first 1-2 finish in the driver point standings since 2009, as six-time series champion Scott Dixon secured second with his third-place finish in the No. 9 PNC Bank Chip Ganassi Racing Honda.
Rosenqvist's Arrow McLaren teammate Pato O'Ward was 4th, 19s behind.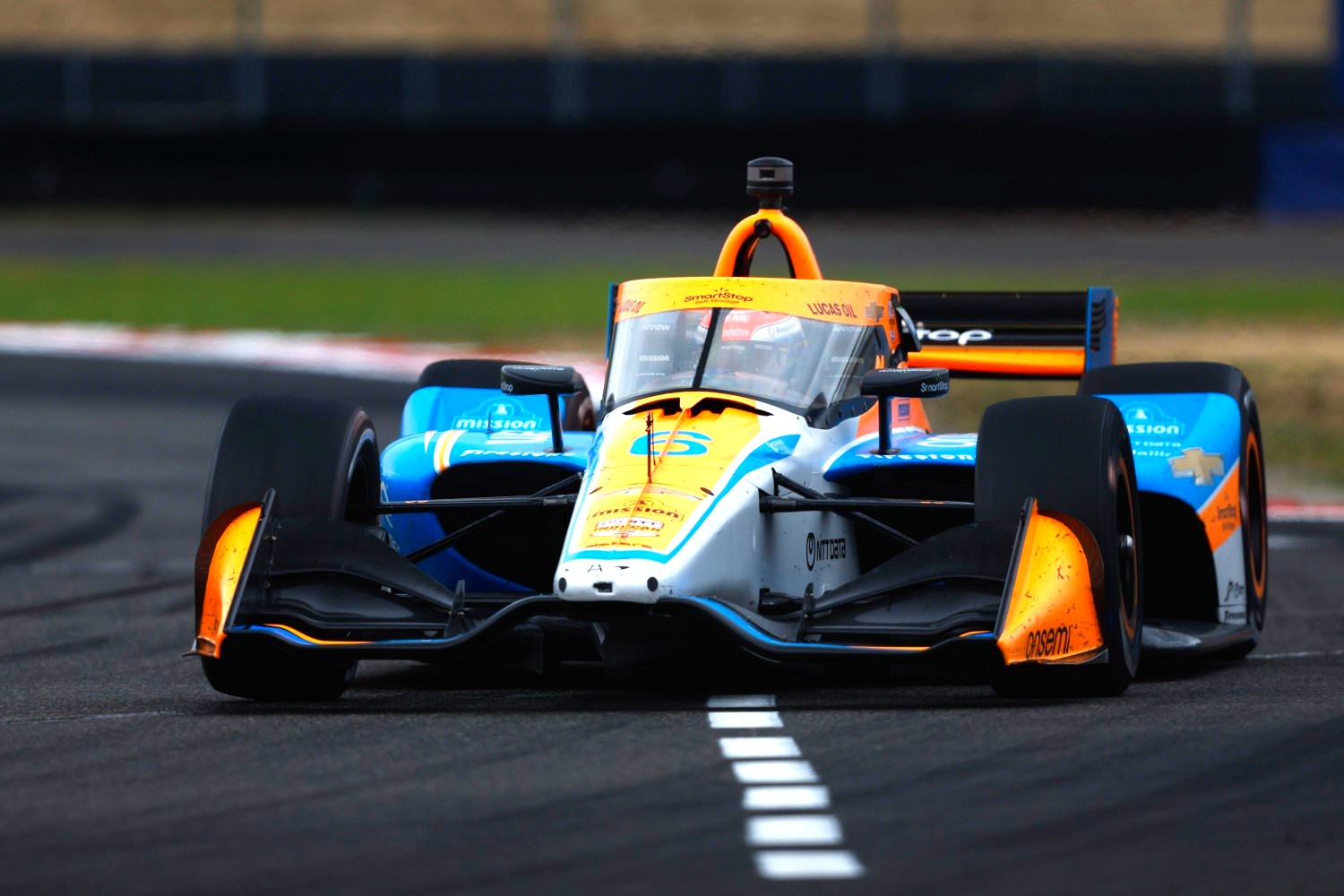 Josef Newgarden rounded out the top-5 for Team Penske after crashing out in qualifying Saturday.
Running on Firestone primary tires at the start, Palou first took the lead on Lap 22 when NTT P1 Award winner Graham Rahal and fellow front-row starter Scott McLaughlin stopped for fuel and swapped their Firestone alternate tires for primary rubber. The CGR team decided on an "overcut" strategy for Palou and Dixon on primary tires, running long on the more durable rubber to build a gap on the 12-turn, 1.964-mile road course.
That strategy worked perfectly. Palou made his first stop on Lap 31, switching to Firestone alternate tires. Dixon stopped a lap later as the last driver to enter the pits for his first service, staying on primary tires.
Palou cycled to the front on Lap 34 when David Malukas pitted from the lead in the No. 18 HMD Trucking Honda fielded by Dale Coyne Racing with HMD.
From there, Palou and Dixon alternated the lead during pit cycles until Rosenqvist grabbed the top spot on Lap 81 when Palou made his final stop. But Palou took the lead for good on Lap 84 when Rosenqvist pitted a lap before the caution flew for the No. 78 Juncos Hollinger Racing Chevrolet of rookie Agustin Canapino, who spun off track in Turn 12.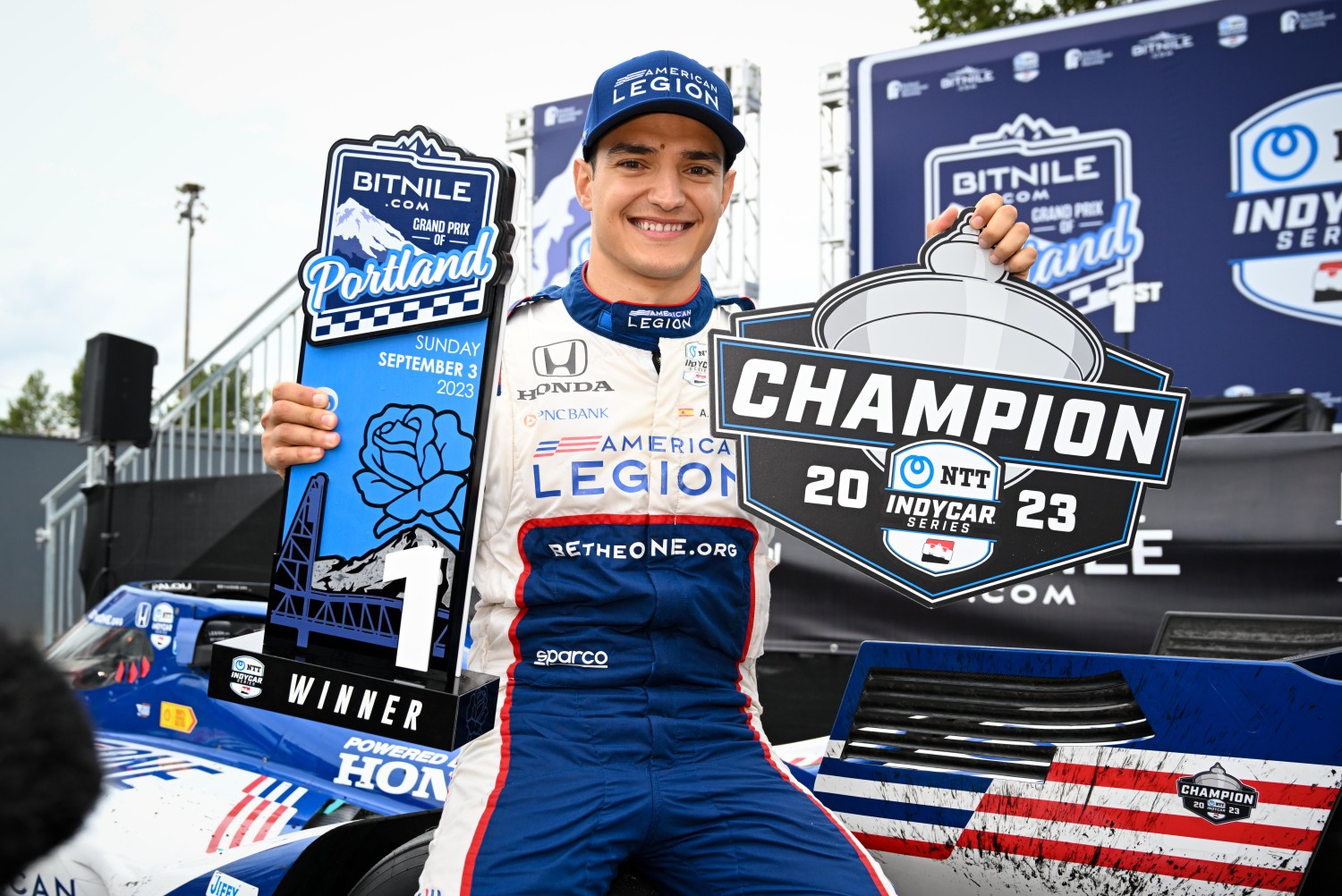 That caution period allowed Rosenqvist to get heat into his new, cold Firestone alternate tires at slow speed behind the Honda pace car, avoiding a probable attack by Dixon on warmer, grippier tires if the race was under green-flag conditions.
Palou eased away from Rosenqvist and Dixon on the restart on Lap 88. But Rosenqvist stayed within one second for the next five laps before Palou began his inexorable drive away from any threats and into victory lane as Rosenqvist's alternate tires lost grip toward the end of the race.
"I was kind of lucky in the end, first off with the yellow that we just managed to do our stop before," Rosenqvist said. "And then also at the end, we kind of had a buffer with lapped cars that gave us a little bit of a cushion to Scott at the end. It kind of worked out our way for the first time in a while, so I was enjoying the race a lot."
Race Results
| | | | | | | | | | | |
| --- | --- | --- | --- | --- | --- | --- | --- | --- | --- | --- |
| Pos | No | Name | Laps | Diff | Gap | Led | ST | Engine | Points | Team |
| 1 | 10 | Alex Palou | 110 | 0.000s | 0.000s | 69 | 5 | Honda | 618 | Chip Ganassi Racing |
| 2 | 6 | Felix Rosenqvist | 110 | 5.4353 | 5.4353 | 3 | 11 | Chevy | 311 | Arrow McLaren |
| 3 | 9 | Scott Dixon | 110 | 8.0669 | 2.6316 | 15 | 4 | Honda | 527 | Chip Ganassi Racing |
| 4 | 5 | Pato O'Ward | 110 | 19.0572 | 10.9903 | 0 | 6 | Chevy | 461 | Arrow McLaren |
| 5 | 2 | Josef Newgarden | 110 | 21.0831 | 2.0259 | 0 | 12 | Chevy | 470 | Team Penske |
| 6 | 21 | Rinus VeeKay | 110 | 21.8799 | 0.7968 | 0 | 13 | Chevy | 265 | Ed Carpenter Racing |
| 7 | 8 | Marcus Ericsson | 110 | 30.5820 | 8.7021 | 0 | 10 | Honda | 423 | Chip Ganassi Racing |
| 8 | 18 | David Malukas | 110 | 32.6211 | 2.0391 | 2 | 23 | Honda | 255 | Dale Coyne Racing with HMD |
| 9 | 3 | Scott McLaughlin | 110 | 33.0282 | 0.4071 | 0 | 2 | Chevy | 448 | Team Penske |
| 10 | 27 | Kyle Kirkwood | 110 | 33.7836 | 0.7554 | 0 | 16 | Honda | 347 | Andretti Autosport |
| 11 | 45 | Christian Lundgaard | 110 | 34.4757 | 0.6921 | 0 | 17 | Honda | 362 | Rahal Letterman Lanigan Racing |
| 12 | 15 | Graham Rahal | 110 | 38.6995 | 4.2238 | 21 | 1 | Honda | 271 | Rahal Letterman Lanigan Racing |
| 13 | 26 | Colton Herta | 110 | 39.7582 | 1.0587 | 0 | 3 | Honda | 348 | Andretti Autosport w/Curb Agajanian |
| 14 | 06 | Helio Castroneves | 110 | 40.3373 | 0.5791 | 0 | 21 | Honda | 200 | Meyer Shank Racing |
| 15 | 77 | Callum Ilott | 110 | 40.4769 | 0.1396 | 0 | 8 | Chevy | 236 | Juncos Hollinger Racing |
| 16 | 14 | Santino Ferrucci | 110 | 41.1279 | 0.6510 | 0 | 22 | Chevy | 201 | AJ Foyt Enterprises |
| 17 | 29 | Devlin DeFrancesco | 110 | 42.5578 | 1.4299 | 0 | 20 | Honda | 169 | Andretti Steinbrenner Autosport |
| 18 | 30 | Juri Vips | 109 | 1 LAPS | 37.0964 | 0 | 18 | Honda | 12 | Rahal Letterman Lanigan Racing |
| 19 | 11 | Marcus Armstrong | 109 | 1 LAPS | 2.1182 | 0 | 14 | Honda | 190 | Chip Ganassi Racing |
| 20 | 7 | Alexander Rossi | 109 | 1 LAPS | 3.0216 | 0 | 9 | Chevy | 349 | Arrow McLaren |
| 21 | 20 | Ryan Hunter Reay | 109 | 1 LAPS | 4.5760 | 0 | 25 | Chevy | 111 | Ed Carpenter Racing |
| 22 | 55 | Benjamin Pedersen | 109 | 1 LAPS | 9.7550 | 0 | 26 | Chevy | 115 | AJ Foyt Enterprises |
| 23 | 51 | Sting Ray Robb | 109 | 1 LAPS | 18.7679 | 0 | 24 | Honda | 129 | Dale Coyne Racing w/RWR |
| 24 | 60 | Tom Blomqvist | 109 | 1 LAPS | 1.1263 | 0 | 27 | Honda | 11 | Meyer Shank Racing |
| 25 | 12 | Will Power | 108 | 2 LAPS | 1 LAPS | 0 | 7 | Chevy | 393 | Team Penske |
| 26 | 78 | Agustin Canapino | 82 | Mechanical | 1 LAPS | 0 | 19 | Chevy | 164 | Juncos Hollinger Racing |
| 27 | 28 | Romain Grosjean | 31 | Contact | 30 LAPS | 0 | 15 | Honda | 276 | Andretti Autosport |
Race Statistics
Winner's average speed: 110.758 mph
Time of Race: 01:57:01.9814
Margin of victory: 5.4353 seconds
Cautions: 2 for 6 laps
Lead changes: 9 among 5 drivers
Lap Leaders:
Rahal, Graham 1 – 21
Palou, Alex 22 – 30
Dixon, Scott 31
Malukas, David 32 – 33
Palou, Alex 34 – 47
Dixon, Scott 48 – 59
Palou, Alex 60 – 78
Dixon, Scott 79 – 80
Rosenqvist, Felix 81 – 83
Palou, Alex 84 – 110
NTT INDYCAR SERIES Point Standings:
Palou 618, Dixon 527, Newgarden 470, O'Ward 461, McLaughlin 448, Ericsson 423, Power 393, Lundgaard 362, Rossi 349, Herta 348, Kirkwood 347, Rosenqvist 311, Grosjean 276, Rahal 271, VeeKay 265, Malukas 255, Ilott 236, Ferrucci 201, Castroneves 200, Armstrong 190, DeFrancesco 169, Canapino 164, Jack Harvey 146, Conor Daly 134, Robb 129, Pedersen 115, Hunter-Reay 111, Simon Pagenaud 88, Takuma Sato 70, Ed Carpenter 46, Linus Lundqvist 35, Tony Kanaan 18, Marco Andretti 13, Vips 12, Blomqvist 11, RC Enerson 5, Katherine Legge 5