Video: IndyCar season finale comedy show
The 2023 IndyCar season finale at WeatherTech Laguna Seca Raceway was an embarrassment – the best comedy show of the year.
–by Mark Cipolloni–
The lack of driving talent displayed by the IndyCar drivers Sunday for the Firestone GP of Monterey made for a great video below – a must-see comedy act.
The IndyCar drivers put on a shitshow we won't soon forget -hitting just about anything that moves, which was usually a fellow competitor.
From Lap 1, turn 2, the hits just kept on coming.
And coming.
And coming.
This video summarizes the entire Laguna Seca weekend (practice, qualifying and the race) and all the news and incidents.
If you just had a hernia operation, you might not want to watch it for fear of popping your stitches while bent over in laughter.
Eight yellows flew over the race, including a handful for crashes that actually happened in turn 11 before the field crossed the start-finish line for the next restart. That meant a busy day for the Civic Type R pace car that had to be refueled because of all the caution laps and only 28 of 95 laps had been run.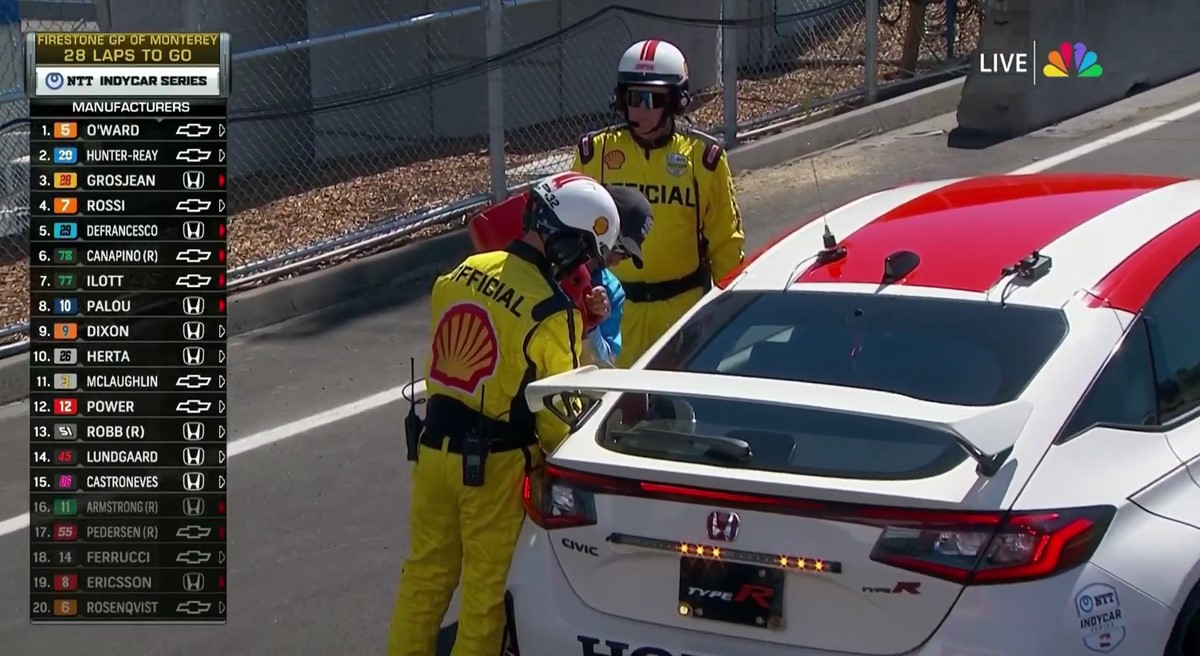 Caution Summary

No
Duration
Total
Reason for Caution
1
1 to 5
5
Contact: Cars 2, 9, 15, 21 and 30 in Turn 2
2
8 to 10
3
Contact: Car 2 in Turn 4
3
29 to 35
7
Contact: Cars 6 and 8 in Turn 2
4
37 to 40
4
Contact: Cars 06, 12, 55 and 77 in Turn 11
5
58 to 61
4
Contact: Cars 18 and 29 in Turn 3
6
63 to 66
4
Contact: Cars 14 and 60 in Turn 11
7
68 to 72
5
Contact: Cars 8 and 11 in Turn 11
8
75 to 77
3
Contact: Car 06 and 26 in Turn 3
Penalty Summary

Car
Reason
Lap
Penalty
45
Emergency Service in a Closed Pit
6
Restart at the Back of Field
45
Avoidable Contact
12
Drive-Through
9
Avoidable Contact
12
Drive-Through
7
Blocking
14
Yield Position
7
Emergency Service in a Closed Pit
35
Restart at the Back of Field
26
Emergency Service in a Closed Pit
35
Restart at the Back of Field
6
Emergency Service in a Closed Pit
35
Restart at the Back of Field
8
Avoidable Contact
35
Restart at the Back of Field
30
Emergency Service in a Closed Pit
35
Restart at the Back of Field
3
Avoidable Contact
38
Restart at the Back of Field
12
Avoidable Contact
38
Restart at the Back of Field
3
Pitting After a Repositioning Penalty
42
Drive-Through
12
Pitting After a Repositioning Penalty
42
Drive-Through
29
Avoidable Contact
74
Drive-Through
14
Avoidable Contact
74
Drive-Through
06
Avoidable Contact
79
Drive-Through
26
Pit Speed Violation
84
Drive-Through