F1: 2023 Japanese GP Thursday Press Conference
Ten drivers in two groups of five met with the assembled media on Thursday ahead of the 2023 Japanese GP Formula 1 race.
DRIVER GROUP 1 – Oscar PIASTRI (McLaren), Lando NORRIS (McLaren), Yuki TSUNODA (AlphaTauri), Alex ALBON (Williams), Nico HÜLKENBERG (Haas)
Q: Let's start with the local hero. Yuki: Suzuka, what does this race mean to you?
Yuki TSUNODA: Yeah, first of all, the track layout is amazing. It's my favorite track. So I'm just really looking forward to driving here on track. Seems to be good weather this week. So I can feel pure kind of performance, Formula 1 as performance, here in Suzuka especially in the first sector. You know, like, last chicane is a fast chicane and, you know, that's kind of proper aerodynamic downforce corners. And yeah, also for the fans, as well. You know, like it's really far away, normally, from Japan, to feel any kind of support exactly. You know, I didn't expect… It's always a surprise the amount of people supporting Formula 1, because, to be honest, it's hard to know exactly the amount of people watching Formula 1 from Japan but yeah, even yesterday, even to two days before I went to Tokyo and did a couple of promotions and stuff and I saw lots of Formula 1 fans there and I feel I got a really warm welcome from them. So yeah, so it's nice to be here and looking forward to it.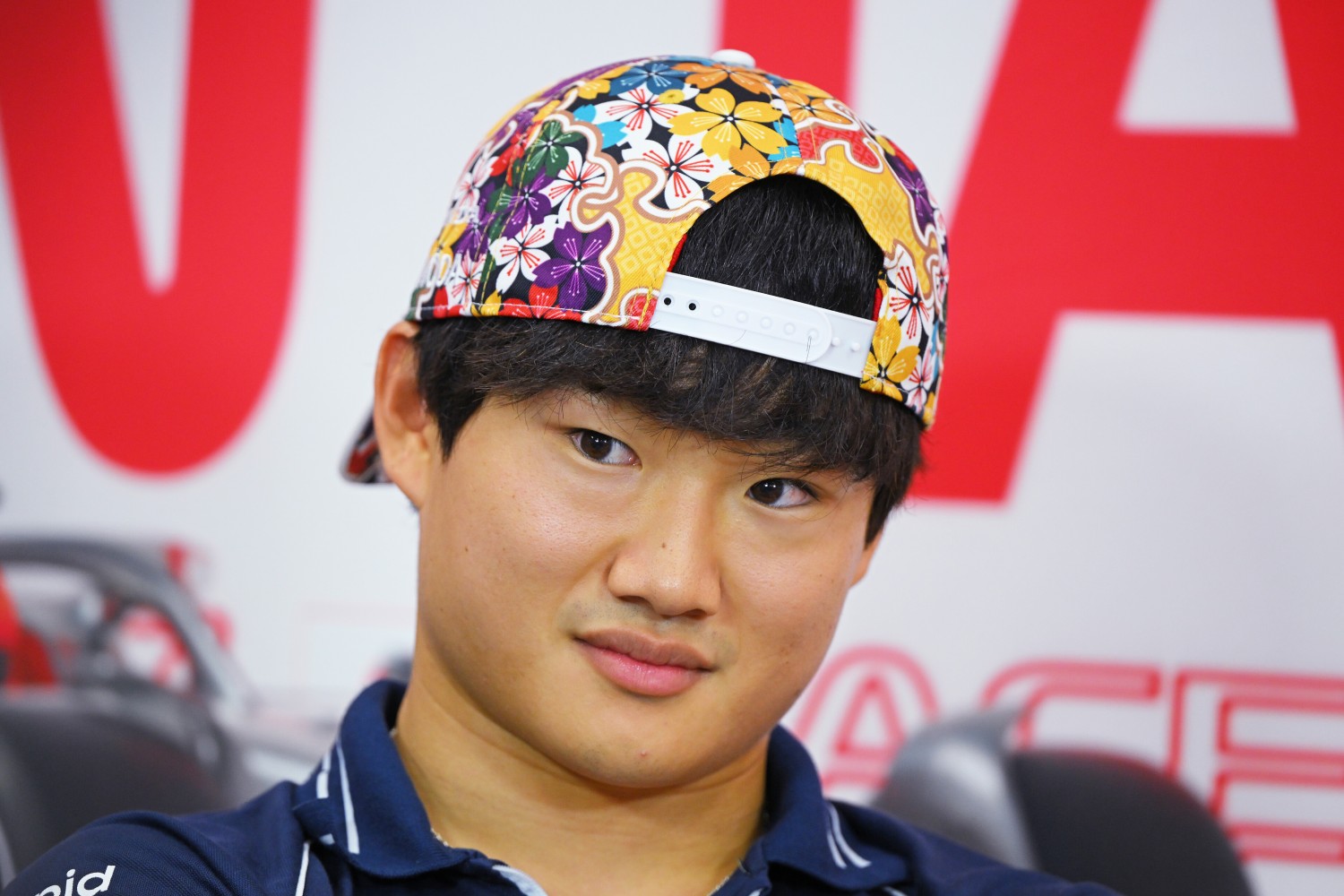 Q: Tell us about your history with this racetrack. When did you first come to Suzuka?
YT; I think I was 16 years old.
Alex ALBON: I thought it would be younger than that?
YT: No, I was 16 years actually
AA: Six or 16?
YT: Ah, OK. You mean the track itself? So as a spectator, maybe earlier, yeah. So I think I was maybe 14, 13 years old. I think I remember when Seb was driving with Red Bull. I think that was the first time I came here, Still probably the engine sound was really loud. And so I remember I was wearing kind of earplugs. It's incredible. For me, it's the best place to watch Formula 1 from the outside, especially around Turn 1, Turn 2, even like first Sector. I can see the Formula 1 car going into the corners with a sparkling kind of a yellow spark. And I can see how fast they are. And I feel always impressed. Also Turn 7 and Turn 8, the Degner curves, that place is just incredible.
Q: Most of the corners are incredible. Can we talk a little bit about your approach to this weekend, because you've had a very tough last couple of races, failing to complete a lap in either one. How does that change your approach coming here?
YT: Nothing I think. I just probably thin… I just put down like just unfortunate, especially Monza was things I couldn't really control. Singapore, obviously there was a bit of room to improve myself but also just didn't work out in the end, just things that also happened that I cannot really control as well. So I just reset. I take it positive, just hopefully I digest every bad luck from there. And yeah, hopefully I can have a good race week here. So just reset and think positive.
Q: And you've got the updates. You ran the updates in Singapore, didn't you? What did you learn about them during practice there and do you think the car will be better here?
YT: The car was good in Singapore. I think also the car itself, the characteristics of the Singapore track, anyway, was probably suiting us anyway. When we see Baku, normally we're fast there, it's a kind of a mechanical grip track and we're quite fast. We see here I think we can see proper aerodynamics, if we actually gain from the aerodynamic side from the car. So yeah, if we perform well, I'm quite, you know, optimistic for the second half of the season. But we're expecting good performance here as well. So yeah, hopefully we can put it all together and aiming for good results.
Q: Alright, well, best of luck. Enjoy the support. Alex, coming to you now. Is Checo Pérez, still on your Christmas card list?
AA: You should ask Yuki that as well. Yeah, of course he is. You know, it was a bit disappointing, of course, at the race last week, just points for us, especially, you know, as they come long and far away from each other, so not to be able to score points was a bit of a shame. But all forgiven. And you know, we're going into Suzuka, a track that should play a bit more into our car. But yeah, it was a bit of a… I think it was more disappointing because we didn't have many hopes going into Singapore last week and to be in a position where we could have almost scored points was exciting. And then I think, normally, as long as we kept it on track, we would have scored some points. But we didn't.
Q: It's a return to the harder compound tires here. Does the car normally perform well in those conditions?
AA: Honestly, tires aren't such a big thing. It's more just about the circuit itself. I think it's, kind of, low-braking, high-speed kind of corners around here. And that's actually a style that suits us. We've got some prototype tires to test this weekend. I think that's going to be quite interesting just to see, and give us a lot of mileage, basically, as drivers, to be on low fuel or get the most out of it. But yeah, honestly, not so different.
Q: And is it fair to say that you love Suzuka? And I cast my mind back to 2019 when you set an identical lap time to Max Verstappen in Q3.
AA: Yeah, yeah, I love this circuit. I think it's actually my favorite circuit of the year. It's kind of what Yuki said: it's that feeling that you can really drive the corners and really feel what it's like to drive a Formula 1 car, which sounds silly to say, but a track like Singapore, you don't really feel like you're driving a Formula 1 car, whereas here just the speed, and because it's so tight, so narrow, there's grass either side, the immersion in speed, the feeling of speed is a bit more than you get, for example, at Paul Ricard so it's very special.
Q: Alright, final one from me. Just tell us about the level of support that you have here?
AA: Not as much as Yuki, that's for sure. But it's OK. It's not bad.
YT: Japan loves you.
AA: It loves me? You love me or Japan loves me? Everyone loves me! Thank you. No, it's a great place. I actually would say Singapore was a bit more my home race than here but as Yuki said, apparently I'm welcome here. I love the food. I think I've gained about three kilos in the in the three days I've been here so. So that's been good.
Q: Sounds fun. Thank you. Best of luck to you. Nico, coming to you now. What does this race mean to you? Because you've always gone pretty well here.
Nico HÜLKENBERG: Is that so? 2019 didn't go so well. That was my last time here, but yeah, it's a cool place. It's a fun circuit. Definitely ranks very high on my favorite list too. And yes, it's very different. It's always exciting coming to Japan and spending a couple of days here.
Q: Tell us what you've been up to. I think you've been in Tokyo, right?
NH: I think we all have, pretty much. I didn't see many other F1 faces. But yeah, obviously there's limited time in between and, you know, Tokyo is always worth a trip.
Q: What is the secret to a good lap around Suzuka?
NH: Be quick. You know, connect all the sectors, have a good car balance. Obviously, there are a lot of grip-limited zones, a lot of change of directions. It's quick and flowing, as we know. So yeah, I guess, ultimately, it comes down to you know how much grip you have and a good balance. I think it's quite challenging for us here this weekend. Singapore last week, I think was definitely one of our stronger weekends, especially recently. Think here this weekend, obviously quite different characteristics and I think they will challenge us.
Q: Hulk so many people talk about Sector 1 here. What is it like to drive? Are you hitting the brakes?
NH: I don't know yet. Let's see, but I don't think so. I think it's just lifting.
Q: Just all about precision.
NH: Yes.
Q: OK. Just a quick question about tires. We're going back to the harder compounds. Is that good or bad news for you?
NH: Neither, I think. It's obviously the same for everyone. But I think that neutral. It doesn't play a main factor. Obviously, it's high energy, high deg, therefore, and I think the soft compounds would really struggle here. So, you know, it's in line with what this circuit needs.
Q: Best of luck to you. Thank you. I think there's congratulations in order. Oscar, you've just extended your contract with McLaren. Give us your thoughts?
Oscar PIASTRI: Yeah, obviously very happy to have that announced already. You know, it was already around for next year but to announce it for the end of '26 now is very exciting. Very happy to have my future secured for a long time in papaya. So I'm looking forward to it.
Q: Why two more years? Everyone seems to sign two-year deals at the minute – both Mercedes drivers, you as well?
OP: I don't know. I mean, I've still got three years after this. But it's… You know, I think everybody… It's always nice to have a sense of security. And I think, for me, it made sense from my point of view, from a team point of view as well. So yeah, just that longevity and continuation together as well. Yeah, nice confidence for us all.
Q: Now, this is your first trip to Japan. How are you finding it?
OP: It's been cool. I've been Tokyo as well. And yeah, it's been a really cool experience. Came to Suzuka last night and yeah, it's obviously a bit different to Tokyo, out here. But no, I'm enjoying it a lot. Tokyo I really loved, first time. So yeah, enjoying my time here so far.
Q: Now, I'm going to apologize in advance for this next question. But I did read somewhere that you learned to speak Japanese when you were at school. So I was wondering if you could give a message to your Japanese friends in Japanese?
OP: So, this was a long time ago. I did study Japanese at school for three or four years, but that was probably about 10 years ago now. So I don't remember much. But yeah, arigato gozaimasu, I mean, it's very, very simple. So yeah, I know a few words here and there, but not enough to say thank you. So thank you. And hopefully it's a good weekend.
Q: Alright. Well, final one from me. Just describe the sense of anticipation ahead of your first laps of Suzuka?
OP: Yeah, I'm really excited. It's a circuit I've heard plenty of things about and obviously watched a lot growing up, being in Australia as this was one of the races that was actually quite friendly for me to watch. So yeah, I've watched it a lot. I've driven it on video games and simulators. It's always been a fun track. So I'm looking forward to getting out there tomorrow.
Q: Mark Webber had a couple of podiums here back in the day. He's your manager. What advice has he given you?
OP: Prepare your neck for Sector 1. That was the first piece of advice and yeah, obviously, there's so many factors here, you know. The wind can play a massive, massive role, especially through the high-speed corners; it's a long race, a lot of corners where you put a lot of energy through the tires. So yeah, a lot of factors. But your neck's probably a big one.
Q: Thank you very much. Lando, coming to you. Can we start by getting your thoughts on a few more years working with Oscar?
Lando NORRIS: Yeah, first, I mean, congrats to him. I think any contract that allows you to be longer in Formula 1 is a great thing. He's performed, he's done everything he's needed to, and probably, I think, exceeded most people's expectations from what he's been able to achieve already this season. He's pushed me a lot. And it's not a nice thing. It's not what I want. But yeah, he's done a really good job. So congrats to him for another few years. And yeah, we've had a fun first half of the season. And it's a lot of progress. And I think for him to be part of that progress, and to hopefully continue that into next year. '25 and '26 for himself, is going to be something to look forward to.
Q: You say he's pushing you a lot. When you look at the whole grid how strong is McLaren's driver line-up now?
LN: The strongest.
Q: And how strong is your car? You had the upgrades in Singapore. Do you think that will translate?
LN: Yes. It's tough to say. I don't know. I want to believe so. I think everything did it was what it was meant to do. And I think we definitely took some steps forward. I don't think we're confident in saying we're as quick as Red Bull. I think Red Bull will probably be dominant this weekend. But I think comparing us to Ferrari and Mercedes then Mercedes have been just a lot more consistent than what we have. We still fluctuate quite a bit. On a good weekend we can be very, very good and maybe a little bit ahead, like we've seen in Silverstone and things like that. But on the whole Mercedes have probably been the second best car this season, then Ferrari and then then us so far. We're getting there. It's still a very different circuit to Singapore with these upgrades. So there's all things for us to find out and analyse from Suzuka.
Q: You say Red Bull are going to bounce back. How sure can you be of that?
LN: Pretty much a guarantee.
QUESTIONS FROM THE FLOOR
(David Croft – Sky Sports F1) Congratulations, Oscar, on the new deal. But Yuki, let's talk AlphaTauri. The assumption is that you'll be driving for AlphaTauri next season. And if you want to enlighten us as to any progress on contracts, please do, but if you are, who should your teammate be?
YT: Yeah, so we're speaking already. It's not confirmed yet. But I don't know, to be honest. I think both perspective have positives. Daniel brings definitely more experience. And he showed a lot of feedback, comparison, he's got really good kind of… Yeah, he definitely can tell more details about the how the car is behaving. So I think it helps a lot for the engineers. And I think engineers like it, especially how he talks and how he helped the development side. So if the team wants to develop the car more to be competitive, maybe Daniel. But at the same time, Liam, I think he showed in the first three races that immediately he showed the good performance. And probably he's still progressing. So on the performance side… Obviously I've just done, with Daniel, two races, and it was not really probably the best time for AlphaTauri as well. And in the last two when Liam actually came into the Formula 1, the car was pretty good – Monza and Singapore – so actually, he had a good time as well. But at the same time he definitely perform well. So yeah, I think AlphaTauri itself, we know it's like a junior team. So yeah, I think there is a bit more risk [in that] if we think about the results in general, so… Yeah, depends on what they are thinking. You know, if they want more results. probably Daniel would probably be more easier. He has more experience, especially, maybe, he can extract that results maybe, but also Liam, you know… I don't know. I probably… It's hard. I'm scared to say…
AA: Sounds like Yuki Marko!
YT: I think Liam also [got] the best score, you know, he got ninth. I've never done ninth. So I'll stop here. Maybe, Liam and Daniel. Three seats!
Q: (Luke Smith – The Athletic) Lando, a question for you. You said that any contract that allows you to extend in Formula 1 is a good thing. I know you've got another two years to run on your contract, but are you already talking to McLaren about plans beyond 2025? Because obviously there's a lot of noise around your possible future and that you might be quite an important person in the driver market moving forward?
LN: Yeah. There are always things every now and then. I would love to. I've always said I want to win with McLaren. And I think we're getting closer and closer to achieving that. And not just to win races, but win championships, both Driver and Constructor. I want to do it with McLaren. I'm very happy there. So if I was to spend 10 or 15 years there I'm not going to ever say no. I think that's something I would look forward to. But I'm very much just concentrated on this year, next year and '25. I think that's two-and-a-half years to try and progress and we'll see then. But things [crop up] every now and then but nothing more than that.
Q: (Matt Coch – Speedcafe) Your new contract takes you into '26 obviously the new era with regs and whatever. How much did that play in the conversation that you had with McLaren, given that, I guess what you've got now is unknown then, even as far as engines go?
OP: I mean, it wasn't a massive factor, to be honest. I think, you know, for me, obviously I'm still only, I think 14 races into my career. So, I think more just having a team around me that's very supportive, that were keen to have me in Formula 1 in the first place. To be able to continue that journey is the more important thing. And obviously, we've made a lot of strides and a lot of progress this year, firstly on the car and the team point of view, but also, they've been helping me develop as well. So, yeah, I feel very much at home and I think just continuing that for everybody involved was the main thing about that.
Q: (Adam Cooper – Motorsport.com) As has just been mentioned, Oscar's committed to '26 and the new engine regulations. I know it's still a long way away but are you guys already starting to think about the engine situation across the teams and trying to position yourself to be in the best possible place?
NH: I think there's still so much gap between now and then. I mean, sounds like quite a big change. And for sure, I think beginning of next year, you start to wonder about that. The Musical Chairs I think will move in and work quite a bit next year and I think naturally things will fall in place for people so yeah, depends what happens, how you perform and how strong your value is.
AA: Yeah, I think just as Nico said. Of course we are paying attention to it, I think it's more that it's the teams that are paying attention to it more than drivers. We've just got to focus on our jobs. I think it's as Nico said we will have our own stock and then it's our performances that raise or lower it. And then, that's it really. I think more than ever this… I don't know, I haven't been in the sport long enough but it does seem like there's been a big push around 2026 in general from the whole paddock about keeping… there is a big move around then and that's when we're going to get the big Musical Chairs like Nico said.
YT: I'm quite scared now, talking about drivers line-ups! We'll see. Obviously for me now it's Red Bull family, so it would be nice if I'm part of Red Bull. And yeah also about Honda as well, so see how it looks like. But yeah, I think same copy/paste as them.
Yuki, where does your loyalty lie? With Red Bull or Honda?
YT: Both! Both definitely. I mean, Honda has supported me from 16 years old. Actually started from this track. So without them, obviously I'm not here – but same time, without Red Bull, I'm not here as well. So, it's hard to say but they are different. I think they combine very well as a junior category, when I was a junior. They helped me in both ways and it's balanced actually really well. So definitely both.
Q: (Matt Coch – Speedcafe) Yuki, just before, you spoke about the virtues of Daniel and Liam in the other car. How confident are you that you're not going to be the odd one out next year?
YT: We'll see soon. You'll know soon.
Q: (Luke Smith – The Athletic) For all five, whoever wants to answer. Alex, picking up on your point about the immersion of speed around Suzuka. It's such an incredible circuit. When you look at the F1 calendar and tracks like this, how much do weekends and circuits here really remind you of why you became an F1 driver and the thrill and rush you enjoy while racing as opposed to maybe more sanitized circuits?
LN: I think quite a bit. Like Yuki mentioned and Alex, I think when you go to Singapore, it's still amazing to drive it into Formula 1 car and probably still quicker than any other car you can go around Singapore in but you don't feel the same speeds like you do here: you don't get that same feeling of what an F1 car is really capable of, because where it performs better than anything is high-speed corners. So yeah, I think a lot of it is about that. Also, the room for error is pretty small. There's a lot of consequences as soon as you go off pretty much anywhere. I know some places have changed, and there's a lot more Tarmac run-off, like in the Spoon corner and things like that. Maybe Turn 1 as well, but it's not changed much over the years, which I think is one of the best things about it. It's not just Tarmac everywhere, they've still got grass, you've got that bit of risk, that element of risk, which I think is always genuine, it always feels very natural and definitely adds to, say, a Qualifying lap, with how much risk you want to take. Especially through Turns 7 and 8, you're always a bit afraid of running too wide, things like that, because you know if you put a wheel half a meter too wide, it's game over. So it's exciting. It definitely brings a few more nerves while putting a lap together and driving. But, yeah, probably one of the ones I look forward to the most every season. I think a lot of drivers do, They said it was their favorite ones and probably up there with one of my favorites too. So yeah, you experienced what Formula 1 Car is capable of and just whole experience of driving here is always a lot of fun.
AA: Lando, there, was pretty extensive and complete.
Oscar, probably best coming to you after the weekend. How was it on the sim?
OP: It was cool. I walked it this morning. But I think any sort of like historic track where there's a bit more risk, it's a bit more old school. It almost, in some ways, for myself, it reminded me a bit of when I was coming through the junior ranks, on almost some of the British circuits, where there's a lot of consequences. It's just a bit more old school. So it looks cool, the layout looks cool, but yeah, also I guess, it just bites you a bit harder, which, of course when it does bite, it's never fun, but it adds that element of risk and excitement.
Q: (Adam Cooper – Motorsport.com) For all of you. Were you surprised that Max got away with reprimands for impeding last week instead of grid penalties? Do you have any concerns about consistency? Because Pierre got quite excited about it. He says he's going to bring it up with the FIA.
NH: You mean the pit lane stuff on Saturday? I mean, I've seen it. I know too little about it. What Pierre wasn't happy about it? He felt it should have been penalized – or what? I don't know everything about it. I think it's a fine line there. I think Pierre is probably pushing for what you can do. But, I mean, they looked into it and yeah, that's it.
AA: Yeah, I think it's quite a tricky one because I think consistency is… we push on it a lot as drivers, I think as teams as well and viewers as well, but it's a tricky one. For example, you could take my incident with Checo, when he has a five-second penalty, it's consistent with everything else, but is it really fair? Maybe not. So I do think there needs to be flexibility in some ways. To answer the question about Max, same as Nico, I haven't really seen it but I do think things don't need to be as consistent as they are right now.
LN: I don't want to say too much because I'll just create controversy. I think the blocking one on track should have been a penalty. He blocked someone: it's not just down to the team. I know the team got the fine in the end of the day, but it should be down to the driver as well to look in his mirrors and see if someone's… you've got nothing else to do the whole lap but look in your mirrors and it seems like a lot of people struggle to do that. But I think, yeah, it should just be harsher penalties for blocking people, because so many people do it, it ruins your lap, it ruins your Qualifying. It put Yuki out in Qualifying and he was P1 in Q1. Probably would have been P1 in Q3 if he went all the way.  Just no one seems to care enough. It's happened a lot this season, happened to me quite a few times, especially with certain teams – but it's also down to the driver to look in the mirror, like they got nothing else to do but hit the recharge button and look in your mirror and people seem to struggle to be able to do that in Formula 1, which is a surprise. But yeah, I'll probably block someone out this weekend and make myself look stupid.
Q: Yuki, just very briefly from you?
YT: I don't want to really talk about like Singapore… but in general to be honest it feels like I'm quite getting consistent penalties, to be honest. So yeah, but it is what it is. I spoke with FIA actually in Monza, so I understand what they were thinking in general.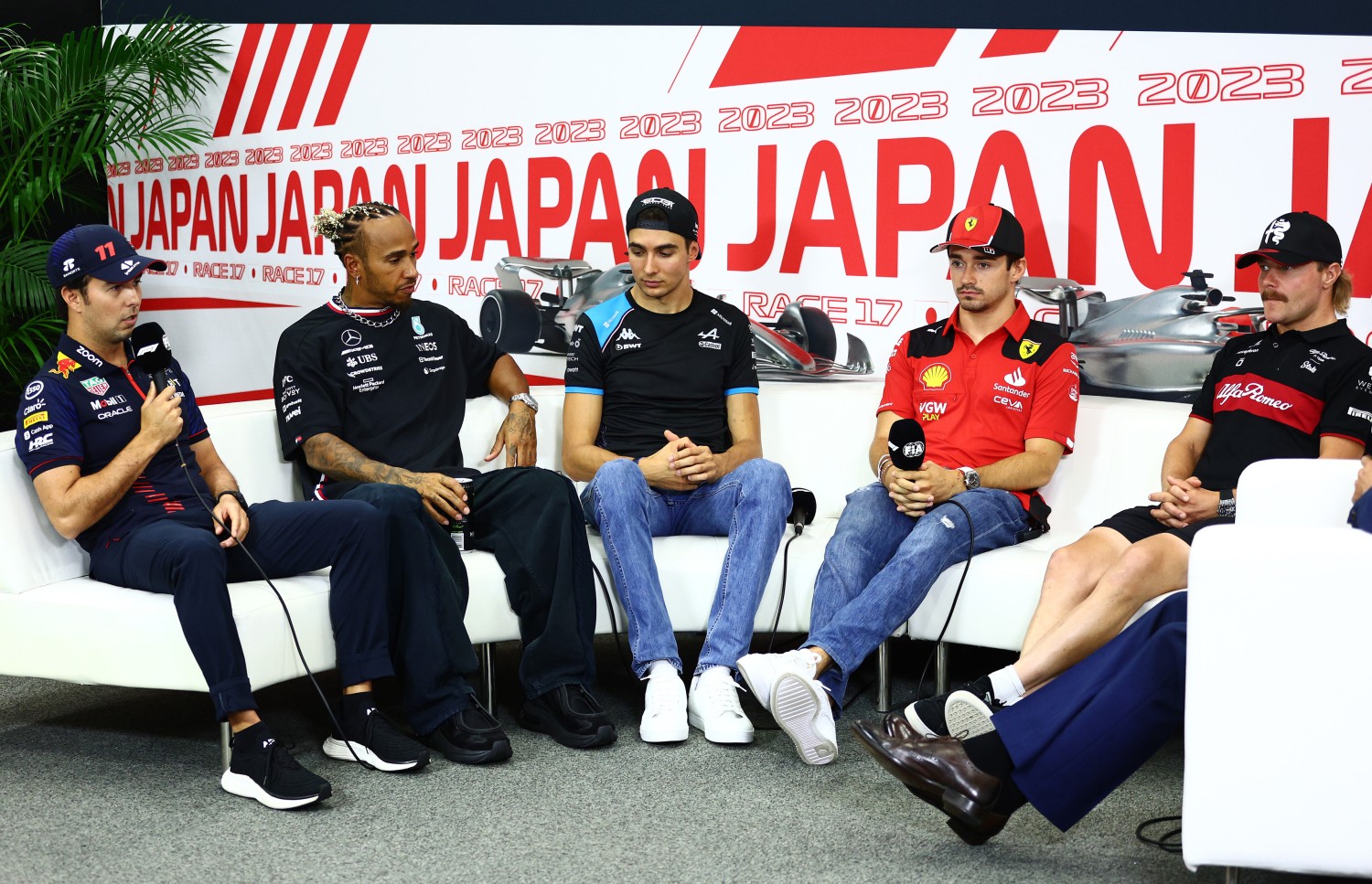 DRIVER GROUP 2 – Sergio PÉREZ (Red Bull), Lewis HAMILTON (Mercedes), Esteban OCON (Alpine), Charles LECLERC (Ferrari), Valtteri Bottas (Alfa Romeo)
Q: Checo please, let's start with you. The million-dollar question coming into this weekend: will Red Bull be back?
Sergio PÉREZ: Well, that's definitely the target. We still don't understand fully what went wrong, or what went so wrong in Singapore. We have some ideas, but certainly this track is very different. So, there should not be a reason why not to be strong in Suzuka. Actually, they should be one of the best circuits for us.
Q: Can we just throw it back a week? You say you still don't know exactly what the issues were. But you must have reached some conclusions since the race?
SP: Yeah, we obviously have some good ideas on how we prepared the weekend and the misinformation we have, and where things got wrong. But obviously, it's something that we will keep internally, but there's some good indications that we probably approach the weekend with the wrong set-up.
Q: And was the car better in the race than it had been in practice and Qualifying?
SP: Once you are in the traffic, you're driven by traffic in Singapore, it's impossible to know. And obviously taking the tires to the maximum life, being obviously on the different strategy to everyone else, to the optimum strategy, you never know. But the balance was feeling… I think we were more competitive in the race than we were in Qualifying certainly – but still, we were not that competitive.
Q: You've driven the car in the simulator around Suzuka. How good did it feel there?
SP: Yeah, it felt good. And it feels bad in Singapore already. So hopefully, it aligns well, and it can be a good a good track for us.
Q: And Checo, the team can win the Constructors' Championship here. What would it mean to do that at Honda's home race?
SP: It would be very special to do it here in front of all the Honda supporters. You know, they've been working extremely hard on the engine side as well. So, it will be nice to get it done this weekend.
Q: And Checo, I know you've had your frustrations at times this year. But looking at the team as a whole, do you feel you've been operating at a higher level this year? Compared to last year?
SP: Yeah, I think the team is operating at an extreme level in all areas: on the strategy; on the mechanics; reliability issues and so on. Has been really on top form.
Q: Lewis coming to you now, I believe you've already had your first race of the weekend? Tell us a little bit more about what you and Esteban have been doing.
Lewis HAMILTON: Yeah, so Esteban and I had planned while ago, that while we're here, we'll get our remote control cars together and have a bit of a race in the pit lane. For me, it was very reminiscent of when I was a kid on Blue Peter, and it was really cool, because we all share, more in common than we probably think, other than the fact that we're pure racers. But it's very rare that we all get to do things like that, so it was it was fun.
Q: Tell us a little bit about the cars. I believe they were petrol?
LH: Unfortunately, yeah, I thought they were going to be electric.
Q: High-revving as well?
LH: Yeah. But that's what our race when I was a kid. I raced electric and petrol and it was Kyosho. It's basically an evolution of the car that you'll see, like Senna had and I had the same car as Senna when I was younger. And he's mega at it.
Q: Who won?
Esteban OCON: It was just a bit of fun.
LH: We were all spinning around – but I wasn't far off your pace!
EO: I was super-impressed, because he hasn't done it for years. And he was like: 'yeah, start slow," and all that. Because I practice a lot, like I'm constantly on it, and straight away, like first braking points, he nails it. So, you know, that's more than impressive.
LH: I flipped it a lot of times! But I think I had a softer set-up.
EO: Yeah, he had a softer set-up.
Q: Lewis, can we bring it onto the weekend? Can I get your reaction to something that Checo has just said. Do you and Mercedes believe that Red Bull will be back this weekend?
LH: I have no clue. I would think that, if they're not 30 seconds ahead, like they have done in the past then something's up! But no, I think that as Checo said, it was obviously a difficult weekend, the last one, but their car should be phenomenal here. They've been phenomenal all year long. They've aced pretty much every circuit. And I mean, it's going be great to watch that car in general. Normally, you would come here and it's beautiful to watch the laps that they do, because the whole team as a whole and the drivers are doing an amazing job with the package they have. So, it'll be interesting to see how the weekend goes. I hope that we are closer, and I hope they're not as fast as that 30-second gap they've had in the past.
Q: What about your car? I think there's a strong argument that it was the fastest at the Singapore Grand Prix last weekend in the race. How hopeful are you for here?
LH: I don't know whether that's really the case. I think Carlos was managing at the front, and I think he was… we were relatively close, I would say, at the front. But what a great race it was. Just to have us all that close up front. And I think this weekend, I don't anticipate having the performance we had in the last race. But we've worked very hard to continue to try and push the envelope that we have. So, I'm hoping that we're not terribly far off this weekend.
Q: Final one from me Lewis, you often talk about this being your favorite racetrack. Just describe the anticipation you have, ahead of jumping in a Formula 1 car around Suzuka Circuit.
LH: Well, I've got a terrible memory, but I don't remember saying it's my favorite. It's one of the favorites, I think, for all the drivers for sure. Just because it's figure of eight. It's that historic circuit where you saw Ayrton and Alain racing on many years ago. And it's it is an incredible track to drive on. And it's such a beautiful country as well. So, it's just overall a great trip. Great food, amazing hospitality. And then the track is just, yeah, it's one of the greatest layouts that we get to experience in the calendar. And so, I just hope that our car works.
Q: Esteban? Understandably, you were very frustrated on Sunday night after the gearbox failure. How concerned are you about reliability coming into this one?
EO: Not really more concerned. I think those things happen, unfortunately, in motorsports. It's a painful one because we were going to score quite a lot of points and being very close to the top five as well in that race. And, you know, the car was suddenly very alive, and very quick, all the way through the race and I was very happy with the performance that we had. Obviously a premature end to our day – and my birthday! So, that didn't feel too great. But you know, we come here, a track that I love so much, had a great fight with Lewis last year, I finished fourth as well, so, you know, it's usually a track that gives us great performance, and I hope that we can repeat the same weekend.
Q: Well, the car was much better in Singapore than it was at Monza the week before. So how confident are you about the car here?
EO: Yeah, we did bring some updates into Singapore, which made a difference really. The team did a really good job in comparison to Monza, which was a bit of an extreme circumstance. But, you know, we really improved the car and had much more performance, Qualified back in Q3 for a while and yeah, in the race, we were overtaking and were on the charge really, which was a bit… I'm not going to say unexpected, but it was in comparison to the other races. And that's really due to the hard work of the team, and each time we bring something, it has worked out. So yeah, we need to keep doing what we do. Keep focusing on ourselves and hopefully, that's going to continue well on the rise.
Q: Final one for me. You were in Tokyo, the last couple of days. You went to the fan festival, I believe how? How was that?
EO: It was incredible! It was very busy, of course. But yes, so many fans, so many supporters that I've seen. A lot of French flags, a lot of goodies and presents that I got also for my birthday. Since I arrived at the airport, it's insane. So yeah. And I've shown them also my special helmet for this weekend, which means a lot to me, because Japan has a special place in my heart , will always have. And yeah, my favorite track also is here. So that's awesome.
Q: Charles, how much support do you have over here in Japan? Is there a Charles Leclerc fan club?
Charles LECLERC: I don't know! There might be one. I mean, I'm lucky enough to be a Ferrari driver, so wherever we go in the world, we have a lot of support. But to come here in Japan is always extra special. The fans are so creative, so passionate. And they always come up with some crazy things on track. So it's always interesting and nice to be here.
Q: What about performance, then? Ferrari have been quick at Monza, they've been quick at Marina Bay: two very contrasting racetracks. What about Suzuka?
CL: It's very difficult to predict any team's performance this year because it's just varying so much from track to track. We did not expect Red Bull to struggle that much in Singapore, we did not expect us to be that quick in Singapore. I hope the surprise will be a good surprise for us too this weekend. However, I think we expect Red Bull to be obviously in front and then to be a close fight with McLaren, Mercedes. It's been the case for the whole year and every hundredth makes a difference. So it's very difficult to predict for now whether we'll be in front or behind but we'll do our best to be the best of the rest.
Q: Are you guys finding some consistency with this car now?
CL: One thing that we did find for sure, since Zandvoort, is at least we have a good understanding of our car now. I think in Zandvoort we did quite a lot of tests and it's been super useful for the whole team in the two or three weekends after that, in order to understand a bit more of our package and that is crucial for the future developments especially. Then for the short term, I don't think that will help us to basically fight for wins all the time but at least we'll be able to maximize a bit more our package which shall be good as I was saying before, no? It's only a few hundredths with the Mercedes and McLaren so we need to be on top of our game every weekend.
Q: Any concerns about the return to the harder tire compounds here?
CL: No, no. I don't think this will play a significant part in our competitiveness so no, I'm not concerned about the hard tires.
Q: Valtteri, thank you for waiting. So how was Kyoto? Temples, imperial palaces, you've seen it all?
Valtteri BOTTAS: Beautiful. Yeah, saw a lot. Yeah, actually, the first time I went to Kyoto and instead of going to Tokyo, I thought I would like to explore a bit more. It's really traditional Japanese city and actually the former capital of Japan if somebody didn't know!
Q: Now, what about Suzuka this weekend? You're a former winner here in 2019? How much do you look forward to coming back?
VB: Like everyone, always look forward to it. It's a great track to drive and have great memories here. And yeah, it's just good fun, the flow it offers and like everyone explained already, the fans and everything combined. It's truly, truly unique Grand Prix.
Q: What about performance then? The upgrade that you brought to Singapore, it's difficult to draw too many conclusions about so far. Am I right? And what are you expecting here?
VB: You're right. I think we always knew going into Singapore, that would be a bit more challenging to see big differences. We see that everything is working as it should, but in theory we should be able to extract a bit more out of it here because of the high speed nature of the track. And that's kind of what that upgrade was targeting. So it's going to be an interesting weekend in that sense and to learn more about it and to optimize better and hopefully that will be a bit more competitive.
QUESTIONS FROM THE FLOOR
Q: (David Croft – Sky Sports F1) To Charles and to Lewis: we don't normally talk about the fight for second place – and you two are winners – but that's where your team is, I think, for this season. How much of a win and a victory would it be to get that second place for the championship given where your team started this season?
CL: Yeah, at the end, I think as Ferrari, especially coming to this year, we finished second in the constructors last year so the target was to try and win the constructors this year. Then after the first few races we understood that this wasn't realistic because Red Bull is in a league of their own at the moment. So yeah, the main target for Ferrari is to come back winning as soon as possible. Having said that, looking at this season, the best we can do is second place and we'll do everything to achieve that. It's going to be tight because with Mercedes, also McLaren but they are a bit further away in the constructors, now all three teams are super close. So it's going to be an exciting end of the season. It's just unfortunate that it is for the second place and not the first one.
LH: Yes, pretty much the same for me. I think it's exciting that we have this race, this battle at the moment. I think our goal was… just like them, we started off pretty poorly at the beginning of the season. Definitely didn't expect ourselves to be second in the constructors and to now be relatively close, particularly in the last couple of races… well, the last race and be fighting in the constructors, I think it's exciting for us as a team. And of course we want to beat them just as they want to beat us so it's going to take a full team effort, that's for sure.
Q: (Adam Cooper – Motorsport.com) Last weekend Max had two impeding incidents in qualifying, one in the pit lane, one on the track. Were you guys surprised that he got away with reprimands and no grid penalties? And do you have any concerns about consistency?
SP: Nothing to say on it.
LH: Are you sure? You always have an opinion on things.
SP: Not on this one. What should I say on this one? I pass it to you.
LH: Are you allowed to park at the end of the pit lane on the way out?
SP: Not wait for that long but it's something that probably in the future we're allowed now.
LH: Just asking, because I didn't know. I don't really know what to say. I didn't really see them. Obviously, I was in the pit lane when everyone stopped and I couldn't see what was happening up ahead. And we always push and work as closely as we can with the FIA to have consistency and there is some variation so we have to continue to work on it for sure.
EO: I haven't seen the incidents I have to say. No, honestly, I was focused on myself more than on Max.
CL: Yeah, I was a bit surprised especially the one in the pit lane because that could open quite bad situations in the future. But again, as Lewis said, it's always an open discussion with the FIA and trying to explain them what our point of view is and improve and I'm sure we'll have that discussion tomorrow evening at the briefing.
VB: Yeah, I also haven't actually seen the incident so we need to have a look first to comment.
Q: Were you in the pit?
VB: No, I don't think so. No.
Q: (Giles Richards – The Guardian) Lewis, Toto said earlier this week that the team was going to bin this year's car, however quick it was. Just wondering what your feelings are towards this car and how it's performed this year, and also what you see of next year's car, which Toto also seemed to be pretty confident about? What do you feel about it? What have you seen of it? And are you confident in it?
LH: Well, we won't ever bin the car of course. These cars are still masterpieces, really, even if they're not. It's not the fastest car in the world. But no, 2000 people have worked so hard to build these things, and they will continue to be a part of our history and our learning curve. There will be bits of it that we try to change, try to hold on to some of the positives because there's always positives, good and bad sides, and so we're trying to hold on to the positives. And with the new direction we have it's far too early to say it than to be optimistic about next year's car because we are just in the process of going into that. But I have full faith in the crew that they're going to take it in the direction that it needs to go. There's been a lot of learning in these past two years so if we haven't figured it out by next year then obviously we will just keep working away at it. But I'm hoping that they have.
Q: (Luke Smith – The Athletic) Lewis, Sebastian Vettel's here this weekend; I know you guys are still in touch and he's got an event where he's planting some bee hotels down at turn two. Seb's become so outspoken and highlighting environmental issues over the past few years. Just your thoughts on how he's grown into that role, and the importance for you as F1 drivers to use your voice about matters that go beyond racing.
LH: Yeah, it's great, firstly, to have Seb back this weekend. He sat down and told all the drivers of his plans. It was great to see that he's found his purpose and – to be honest – in the history of the sport, I don't know any other driver that's ever had… or who's ever been so outspoken and showing real compassion for the world outside of this little world that we're living in and it's really great that he's utilizing his platform. I always just hope that with the things that he's doing, for example, that he inspires the other drivers to do something along, maybe, in their own lane. But we all need to come together in this world to have a positive impact, to spread love, to spread compassion, to raise awareness for a lot of the problems that are.. and there's obviously millions of problems that we need to address, but biodiversity for sure, is… when he's working with the bees here, raising awareness this weekend I think is a great, great way… just sparks a bit of interest and raise awareness for people to understand exactly what and how important they are in terms of our ecosystem.
Q: (Fred Ferret – L'Equipe) Charles, how has the victory of last week changed the mood in the team and did it change something in a way of behaving as teammates with the victory of Carlos for you?
CL: I didn't get the second question.
Q: (Fred Ferret – L'Equipe) The way you were being together to build that victory.
CL: OK. Well, of course, it gave a huge boost to the team especially after the first part of the season that we had. It was obviously a difficult one. To be honest, if you had asked me four, five races ago, I will have said that Red Bull will have won all races. So if there was one opportunity it was Singapore as they were probably not on top form. And the team has done an incredible job of being at the right opportunity, right up there. And Carlos did a great job too. So it's a big boost for the team and for the rest of the year, especially that it's been two or three races that we feel we are going in the right direction, that we are working in the right direction and to finally make this step and to win a race this year is a huge boost for the team. Then in terms of working with Carlos, I think we've always worked well and it was clear already from the Saturday night after qualifying, but probably even before qualifying that whoever was first – yeah, the second car will have to basically help the car in front. So this this was clear and yeah, we did a good job so I'm really happy that at least the team could win and it also motivates me and gives me an extra push in order to win one before the end of the season.
Q: (Jake Boxall-Legge – Autosport) Esteban and Valtteri, you both have seen teams around you in the Constructors' Championship last year making big steps, and you guys haven't. With regards to next year, are you guys confident that you've got the resources that your respective teams need to make similar jumps or is there still resource that both of you need back at base?
EO: Yeah, obviously we are a constructor team, so we hope to be able to improve in the future, that's our aim. We're not coming here just to be around and go backwards at all, that's not the mentality of the team in general. We want to push forward, we want to make progress, work on every aspect of our weekend, if it's the car, if it's the actions, the procedures on track. I've been quite a few years with this team. Every time we had an opportunity, we took it so we're constantly working and finding out what to do with the car and the aim in the future, obviously, is to progress and go towards the front.
VB: Yeah, we definitely haven't made the steps that we wanted from last year to this year. And yeah, it's clear some teams made big steps but I'm not concerned that we don't have the resources. I think this team has… now that I've been part of it, I've seen it has become a lot stronger in terms of how it operates at the factory, at the races. So there's been a bit of reconstructing of the team also happening lately which will hopefully show a bit more next year. So I'm confident that everyone is in this together and really trying to get back to where we want to be and even further. So full confidence in the team.
Q: (Scott Hunt – PA) Lewis, we all saw how disappointed George was at the end of last week. As a teammate and someone with obviously huge experience, do you go out of your way to speak to him, to support him or is it best to leave him to process that by himself?
LH: Ultimately it's for him to… he's a grown man, so it's for him to go through his own process but of course, I support him both internally… I messaged him, as we do when we've both had difficult weekends just to say, wishing you… you'll come back and just try to shine a bit of positivity because we all know what it's like when you have a difficult weekend.
Q: (Adam Cooper – Motosport.com) Oscar has just committed to McLaren for '26 which is obviously the first year of the new power unit regulations. I know '26 sounds like it's a long way away but are you guys starting to think about the engine situation across the teams in terms of positioning yourselves, getting yourselves into the best situation? I'm thinking what Lewis did when he committed to Mercedes for the hybrid year; obviously it paid off. And obviously, in the case of Checo and Valtteri, your current teams have got brand new suppliers.
SP: Yeah, we're obviously keeping an eye to see but it's all so hard to predict what's going to happen. I think we're all trying to get the best possible next contract we possibly can, where we think we're going to be most competitive at. But I think in my case, I've got another year of contract so I have no rush in that regard.
LH: I just signed my contract.
Q: Do you want to say anything on the change in '26?
LH: Don't really know much about it to be honest. But of course in the not too distant future, I'll be looking at my contract to 2030. Yeah.
EO: Yeah. It's quite vague at the moment. Still, I don't even know if the rules are completely fixed. I heard some drivers tested these new cars on the simulator like Red Bull. Yeah, we've tested it with our test drivers as well in the simulator and had the first look but as Checo said, you can't really know the future, expect what it will be. But I think things will still change. I think for long tracks on the energy management, it looks quite tricky at the moment. So yeah, we don't end up in situations where one car has 30 more kph than the others. There's still a lot of time to figure out everything and see how it works. So yeah, we'll see later.
CL: Yeah, I think as drivers it's very difficult to know exactly where every team is at. Obviously, focusing on myself and with Ferrari, I didn't have the chance yet to drive it on the simulator and as soon as it will be the case, then I'll be able to tell probably a bit more. But yeah, for now very difficult to have a clear picture of who is ahead in terms of development or whatsoever
VB: I heard Audi is going to be pretty strong in '26. That's the rumor! But yeah, of course, like everyone, there's so many question marks. I haven't done any simulator testing either with the latest numbers so it's still a bit far away but in the end, it will come quick and at least for Sauber, there's a clear plan what's happening and yeah, there's been lots of work done already for sure.