IndyCar: Palou takes home the championship hardware
Alex Palou was honored for his second NTT INDYCAR SERIES championship during the Victory Lap Celebration on Sept. 21st, which took place at the Gallagher Pavilion at Indianapolis Motor Speedway.
Palou dominated this season to earn another title to join his 2021 championship for Chip Ganassi Racing. He won a series-high five races in the No. 10 The American Legion Honda, with a total of 10 podium finishes in 17 races. Palou finished eighth or better in all 17 races this season and became the first INDYCAR SERIES driver to clinch the championship at least one race early since Sebastien Bourdais in 2007.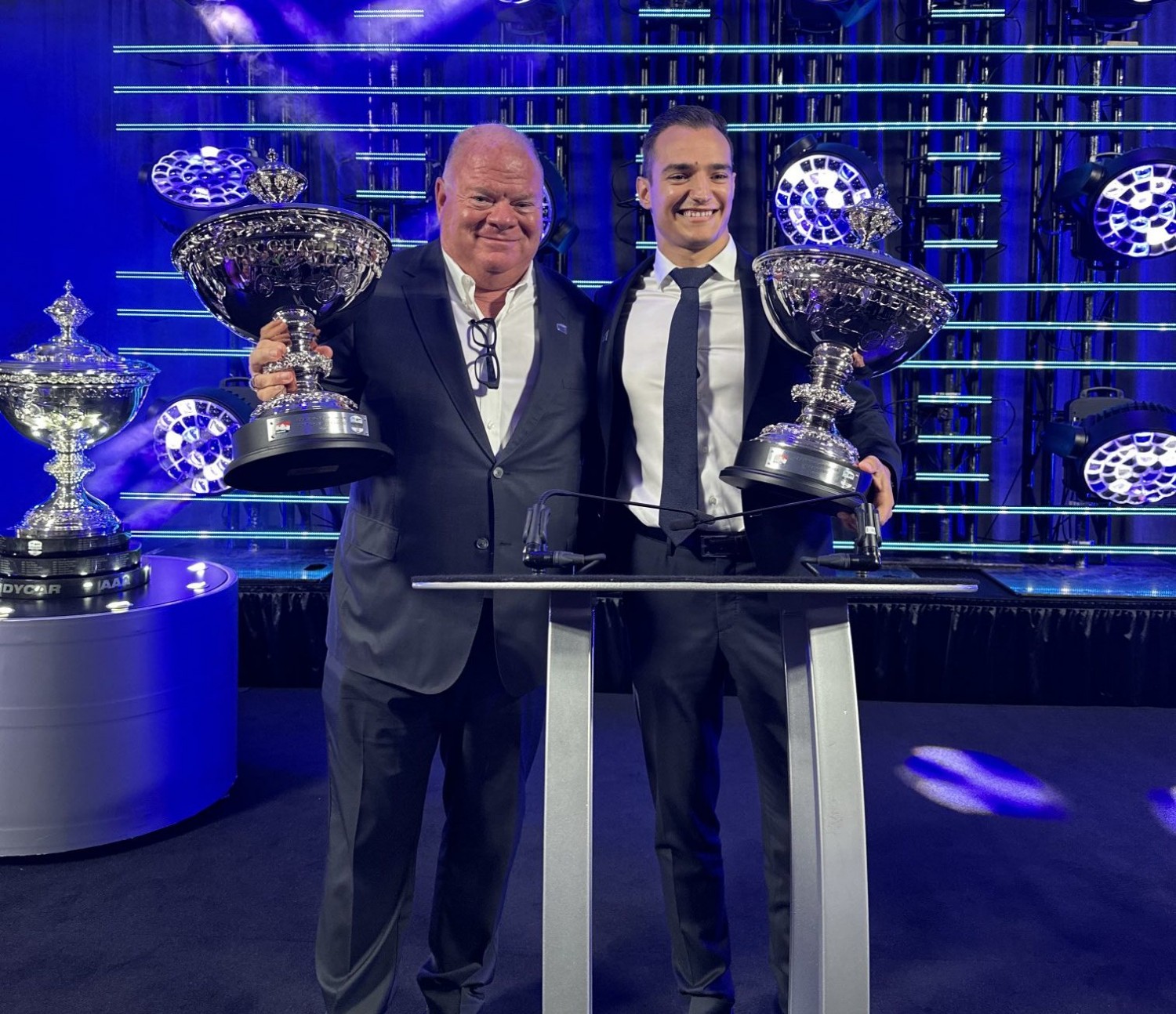 Spanish driver Palou won the Astor Challenge Cup for the title by 78 points over teammate and six-time series champion Scott Dixon, earning the 15th INDYCAR SERIES championship for Chip Ganassi Racing and the organization's third in the last four seasons.
Palou was one of six members of Chip Ganassi Racing to receive special honors at the ceremony, which took place at the Gallagher Pavilion at Indianapolis Motor Speedway.
Marcus Armstrong of New Zealand received the Rookie of the Year Award as the top-finishing first-year driver in the standings. Armstrong scored five top-10 finishes in just 12 starts in the No. 11 Ridgeline Lubricants Honda to surpass full-time rookie Agustin Canapino of Juncos Hollinger Racing by 34 points in the standings.
Team owner Chip Ganassi accepted the Championship Owner Award, and Palou's chief mechanic, Ricky Davis, was presented the Pennzoil Chief Mechanic Award. Additional season honors for the Ganassi team included the NTT INDYCAR SERIES Team Manager award to Barry Wanser and Blair Julian.
The awards haul was a reward for a dominant year by Indianapolis-based Chip Ganassi Racing. The team achieved the unprecedented feat of taking the top two spots in the driver standings and winning the Rookie of the Year title in one season.
While Palou's winning margin in the driver standings was the largest since 2016, the Manufacturers Award race came down to the final laps at the season finale Sept. 10 at WeatherTech Raceway Laguna Seca. Chevrolet edged Honda by just 16 points to win its second consecutive engine manufacturer title and eighth overall since it returned to the series in 2012.
Mark Stielow, General Motors director of motorsport competition engineering, accepted the award on behalf of the Chevrolet team.
A successful first season with a rebrand and Firestone sponsorship for INDYCAR's development series also was recognized at the Victory Lap Celebration, as Christian Rasmussen of HMD Motorsports was honored as 2023 INDY NXT by Firestone champion.
Rasmussen won a series-high five of the 14 races this season in the No. 6 HMD Motorsports with DCR entry. He beat Andretti Autosport's Hunter McElrea to the title by 65 points.
Danish driver Rasmussen's HMD teammate, Nolan Siegel, was named INDY NXT by Firestone Rookie of the Year. Siegel, from Palo Alto, California, finished third in the series standings with two victories