Rumor: Toyota linked with F1 return with McLaren or Sauber
(4th Update)
This rumor is downgraded to 'false' today.  Rumors Toyota could return to Formula 1 with McLaren were wide of the mark.
Recently, the Zak Brown-led team signed up a new development driver – Japanese Toyota sports car driver Ryo Hirakawa, who was flanked by Toyota racing officials for the announcement.
Hirakawa is trackside in Abu Dhabi this weekend. "I want to see how far I can go in Formula 1," he told as-web.jp.
However, McLaren's Toyota connection looks to have hit a roadblock. The Woking based team announced in Abu Dhabi that it will continue to be powered by customer Mercedes engines in Formula 1 until 2030.
"The kind of reassurance we get from a technical point of view, the operational standards, when we checked what was at stake for 2026, it made this decision quite simple for us," said team boss Andrea Stella.
It's also good news for Mercedes, as another of its F1 customers – Aston Martin – is moving to works Honda power for 2026.
"Working with strong customer teams has always been an important part of our motorsport strategy," Toto Wolff said when asked about the new McLaren deal.
"It gives us a clear competitive benchmark, accelerates our technical learning process and strengthens the entire F1 business case for Mercedes-Benz," the Mercedes team boss and co-owner added.
---
November 2, 2023
(GMM) It's been a week of wild rumors in Formula 1 – and the latest involves the name of a familiar Japanese carmaker.
However, it's not Honda – whose plan to stay on the grid after the end of its Red Bull collaboration in 2026 by switching to Aston Martin remains on track.
Rather, the name at the center of the new speculation is Toyota, who recently ramped up rumors of a F1 return with the signing of its Super Formula driver Ryo Hirakawa by McLaren.
According to the Finnish newspaper Iltalehti, Toyota is now being speculatively linked with Sauber – with rumors already suggesting the Swiss F1 team's Audi deal for 2026 may be in the thorny process of being called off.
"The end of Audi's F1 project would be a disaster for Sauber," said correspondent Juuso Taipale. "But Toyota is rumored to be their rescuer."
Taipale explains that Toyota might buy Sauber instead and then return to Formula 1 as a full works team for the first time since pulling out in 2009.
"Toyota would also supply power units to McLaren," the journalist added, although he admitted that it's just unsourced rumors and speculation for now.
But if Audi does cancel its Sauber buyout, Toyota rescuing the deal would be music to the ears of current Sauber-Alfa Romeo driver and Finn Valtteri Bottas.
The 34-year-old is already under contract for 2024, but he thinks he has "easily five more years" of Formula 1 left in his fuel tank.
"Some teams want young, new drivers," Bottas told Finnish journalist Oskari Saari's podcast this week. "Some teams want experience.
"At the moment, my number 1 goal is getting into Audi's project. It's a big car manufacturer, and they have big goals right from the start.
"It could be a really good opportunity for me to get closer to the top again," the former Mercedes driver added. "A big motivation and a big goal is to get closer to the top and back on the podium."
---
September 29, 2023
"At the moment, it's a clear no," Ex-F1 racer and current Toyota Gazoo Racing Europe vice chairman Kazuki Nakajima said regarding the rumors of Toyota returning to F1, as per Speedweek.com.
"This [Toyota entourage at Suzuka] is just about giving a driver the opportunity to get his foot in the F1 door.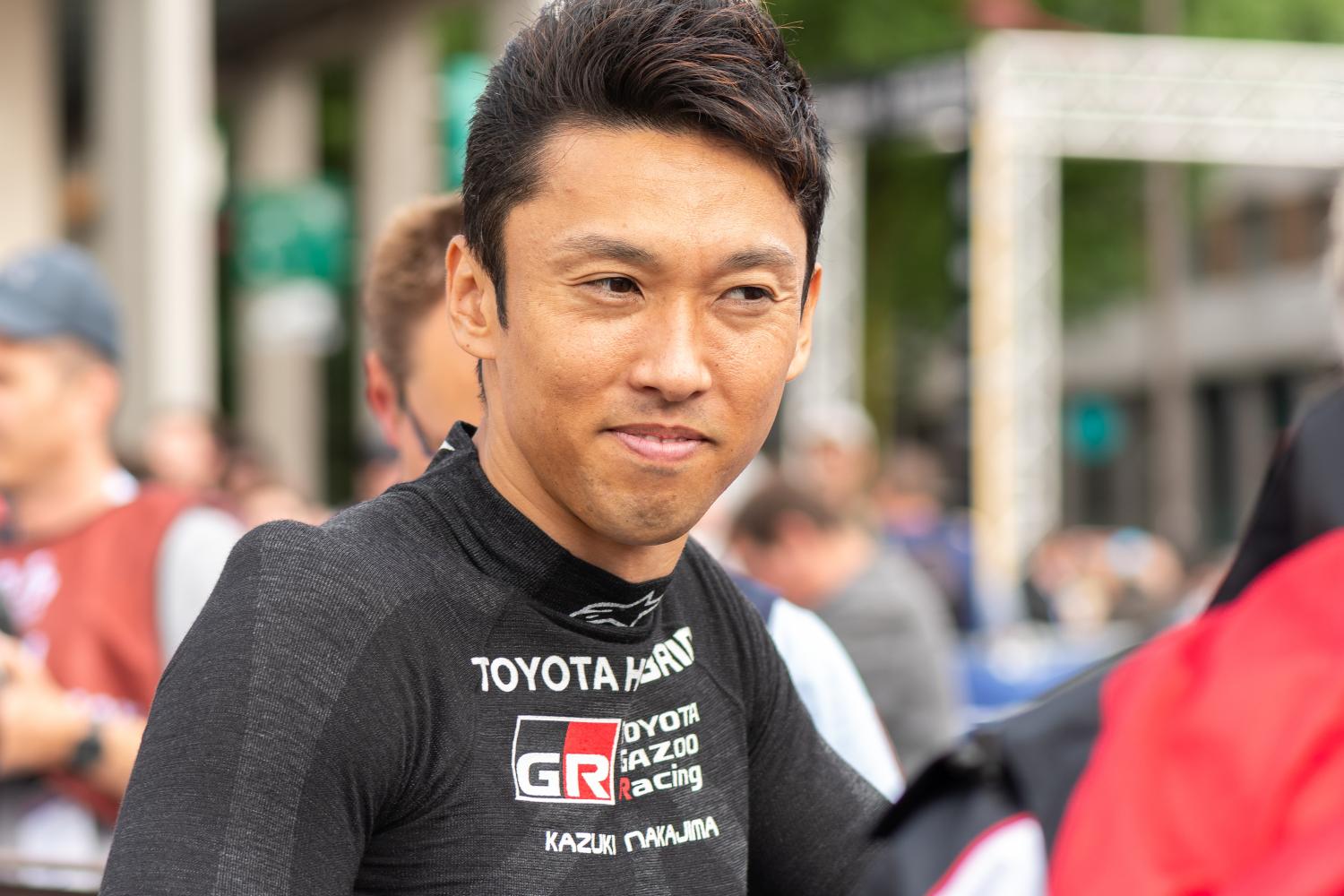 "But of course you can think about anything, and there are plenty of rumors. Who knows what the future holds.
"McLaren has been working with Toyota for some time, as part of work in the wind tunnel in Cologne," said Nakajima. "So the team is no stranger to us.
"The trigger for all this was an inquiry from the English [team]. And group boss Toyoda believes that you should never deny a driver a Formula 1 opportunity."
---
September 28, 2023
We are tempted to upgrade this rumor to 'strong' based on the following key Toyota motorsports people attending the Japanese GP at Suzuka – a track owned by competitor Honda.
–by Mark Cipolloni–
However, we will keep it as 'speculation' for now, but we have a hunch there is more to this than meets the eye.
Toyota Brass who attended the Japanese GP
Toyota chairman Akio Toyoda
Masaya Kaji, the head of the Gazoo Racing (GR) powertrain development division,
Jun Sato of the GR brand management division
Teppei Hojo, Toyota's general manager for motorsport strategy
Masato Hirai, President of Toyota Gazoo Racing Europe
Yuichiro Haruna, the project director of Toyota Gazoo World Rally Championship team
Kazuki Nakajima the vice chairman of Toyota Gazoo Racing Europe
Kamui Kobayashi, driver and team principal, Toyota Gazoo Racing Europe
In a nutshell, why would all the top Toyota motorsports brass attend the Japanese GP if Toyota is not eyeing F1 as an engine supplier?
Face it, all the other forms of motorsports Toyota participates in cannot compare to the global popularity and TV audience of F1
Is McLaren contemplating a switch to Toyota power in 2027?  Toyota has already missed the deadline to be an engine supplier for 2026 and will soon miss the deadline for 2027 if they don't act fast.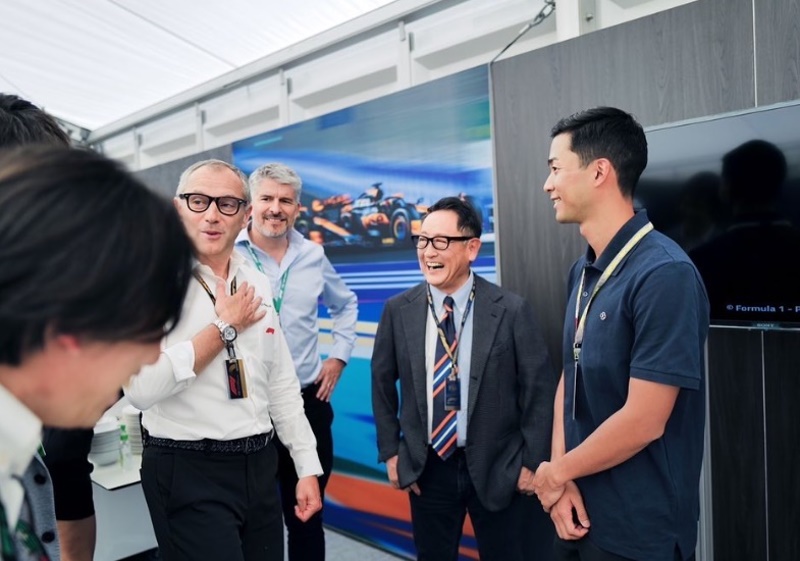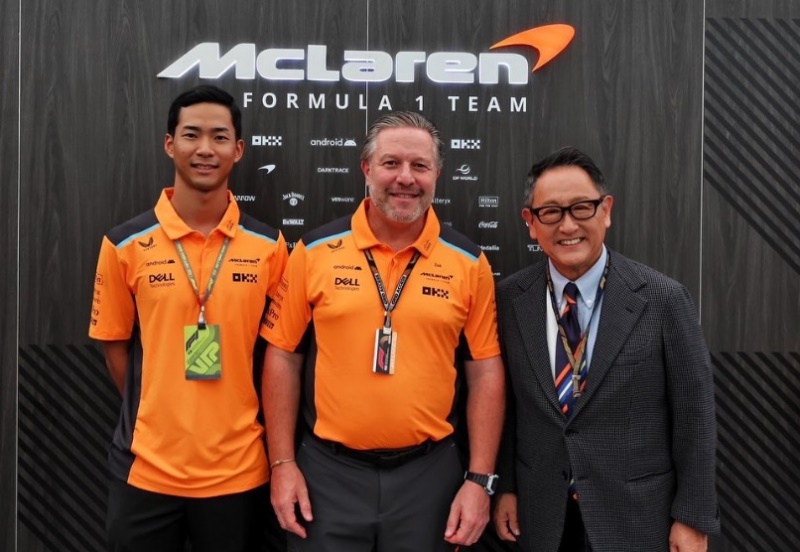 ---
September 23, 2023
(GMM) Wild new rumors at Suzuka suggest Toyota could be on the way back into Formula 1 and possibly with McLaren.
McLaren stunned the Japanese GP paddock this weekend by announcing out of the blue that Ryo Hirakawa will be the famous F1 team's reserve driver in 2024.
Hirakawa currently races for Toyota in the world endurance championship and Super Formula, winning Le Mans last year.
Fascinatingly, with Hirakawa at Suzuka is Akio Toyoda – chairman of Toyota Motor Corporation. And with him are several other Toyota officials.
One of them is former Williams-Toyota driver Kazuki Nakajima, who is now vice chairman of Toyota Gazoo Racing Europe.
Related: Toyota History in F1
When asked about the wild new Toyota-to-F1 rumors, Nakajima told as-web.jp: "I can't go into too much detail.
"It is true that we communicated with McLaren," said the former F1 driver. "They asked 'what kind of driver is Hirakawa? That's how the story started.
"As Morizo (Toyota chairman Toyoda) mentioned, we were able to realize the idea of drivers first. And as Hirakawa said, there is no doubt that the issue of reserve driver was a sudden development.
"When he actually drove the simulator, he showed something even better than expected. Things clicked together, and now it's coming to fruition," Nakajima added.
Toyota entered Formula 1 in 2002, pulling out as both a works team and engine supplier at the end of 2009 amid the global financial crisis
—
When Toyota was in F1 before as a team, not an engine supplier, never won a Grand Prix, their best finish being second, which they achieved five times.
Toyota drew criticism for their lack of success, as they never managed to win a Grand Prix with one of the sport's biggest budgets along with being the world's largest car manufacturer