NASCAR: Ryan Blaney wins Talladega crap shoot
Ryan Blaney on the inside held off fellow Ford driver Kevin Harvick on the outside to win the YellaWood 500 at Talladega NASCAR Cup race in a photo finish.
Any NASCAR plate race at Talladega is a total crap shoot and Sunday was no different as drivers were pushing, shoving, and spinning across the finish line with Blaney winning by 0.012s over Harvick.
With the win — Blaney's third at Talladega — he punched his ticket to the next round of the NASCAR Cup Series Playoffs. Blaney led eight laps but was out front in the final two laps to secure the win over Harvick, whose car was disqualified during post-race technical inspection for violating rules involving windshield fasteners. It's Blaney's second win of the season and the ninth of his career.
"I don't really know, pretty wild last restart, let alone last couple laps," Blaney said of the frantic finish. "Kinda lost momentum, then getting it back, got clear to the bottom to kind of get to the front row and drag race it out with Kevin (Harvick). It's so cool to win here three times at Talladega.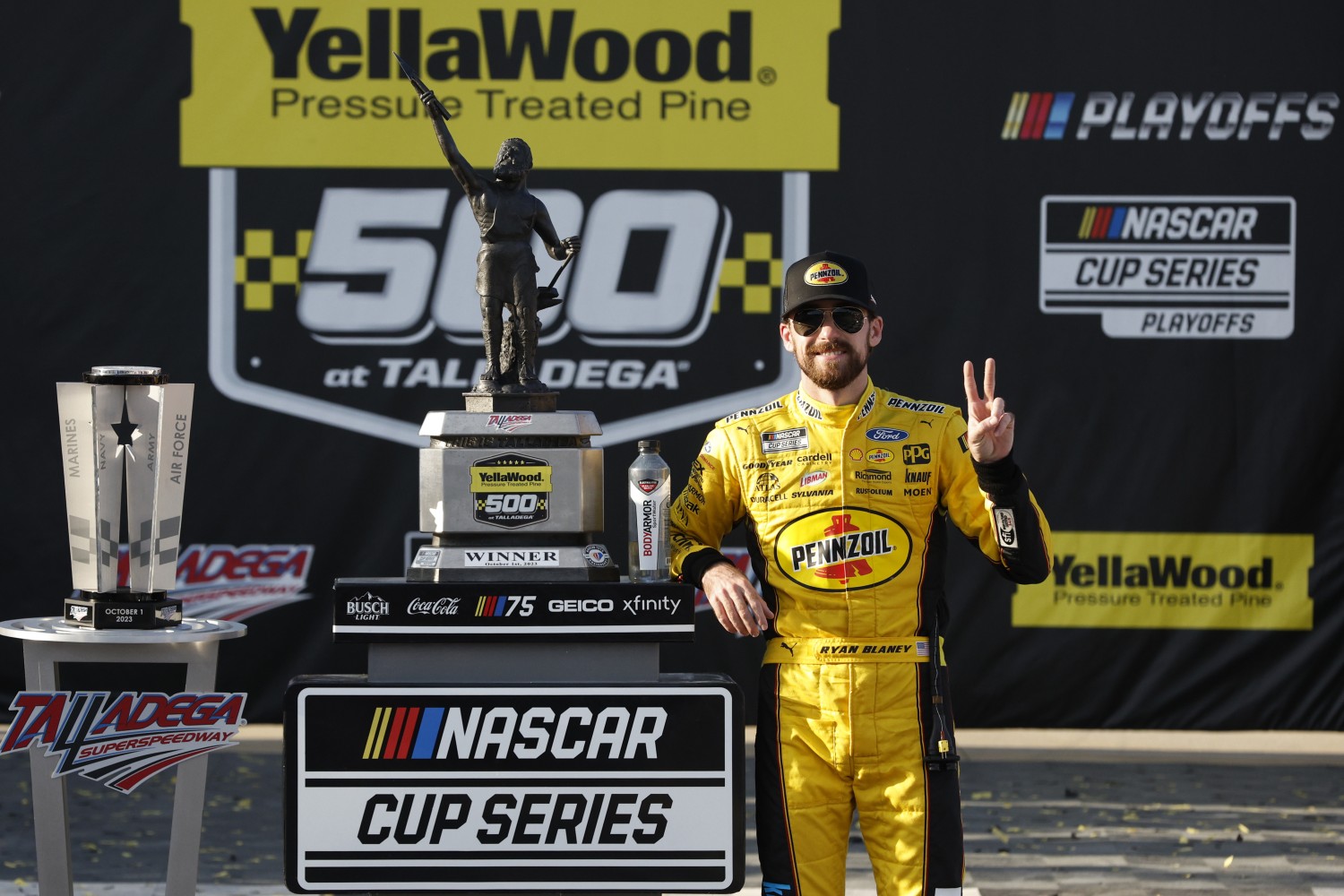 "I won it by more than I had the last couple years," Blaney said with a laugh. "You just don't know. You have to drag race to the line and hope you get help. William (Byron) gave me a pretty good shove on the bottom."
With Harvick's disqualification, playoff drivers Byron and Denny Hamlin finished second and third, respectively. Corey LaJoie was fourth for his third career top-five finish as he came across just ahead of a multicar accident with Austin Cindric, who finished fifth.
Justin Haley, Chase Elliott, Ryan Preece, Riley Herbst — making only his fourth career Cup Series start — and Daniel Suárez rounded out the top 10.
RYAN BLANEY BY INCHES. WHAT A FINISH. TALLADEGA, EVERYONE. pic.twitter.com/3HPeOvSm8X

— FOX: NASCAR (@NASCARONFOX) October 1, 2023
PHOTO FINISH at @Talladega!

Ryan @Blaney beats Kevin Harvick by 0.012 seconds. #NASCARPlayoffs pic.twitter.com/4UAx7T8NAK

— NASCAR on NBC (@NASCARonNBC) October 1, 2023
Note: Harvick's No. 4 Stewart-Haas Racing Ford was the only car found with an issue in post-race inspection, confirming Blaney as the event winner. Four cars will be taken to the NASCAR R&D Center for engine dynamometer testing: No. 24 (Hendrick), No. 11 (TRD), No. 31 (ECR) and No. 41 (RYE).
Winner's Quotes
Ryan Blaney
How did you regain that momentum after you lost it, and how did you get by Kevin Harvick and hold him off?
RYAN BLANEY: I don't really know. Pretty wild. Pretty wild last restart, but let alone last couple of laps. You know, kind of losing momentum, getting it back. Just getting clear to the bottom to kind of get to the front row and drag race it out with Kevin.
So really proud of the whole 12 group, man. Pennzoil, Menards, BODYARMOR, DEX Imaging, Advance Auto Parts, Worth, Dent Wizard, everybody who makes this possible. Winning three times here at Talladega, that's super cool.
I have to give a big thanks to Riley Herbst. He did a really good job there the last couple of restarts. He hasn't had a lot of Cup starts, but he did a great job of pushing me, so thanks to him. This is so cool.
Thank you, everybody, for coming out. This is so special, and I can't wait to have fun tonight.
If you ever question if NASCAR is a game of inches, that was 12/1000th of a second. What do you see behind the wheel when it's that close, Ryan?
RYAN BLANEY: I won it by more than I have the last couple years, so that one might have been about four feet. The others were about two.
Yeah, you just don't know. You just kind of drag race the line and hope you get help. William gave me a pretty good shove on the bottom. He kind of was kind of forced to, but yeah, I wasn't sure until Josh said something, so Josh did a fantastic job on the roof like always. This is such a special place to win at, so I cannot wait to go to victory lane.
There you go. And maybe the better part of all of this, Rick, they do not have to worry about the Roval next week. Team Penske and Ryan Blaney advance to the round of eight.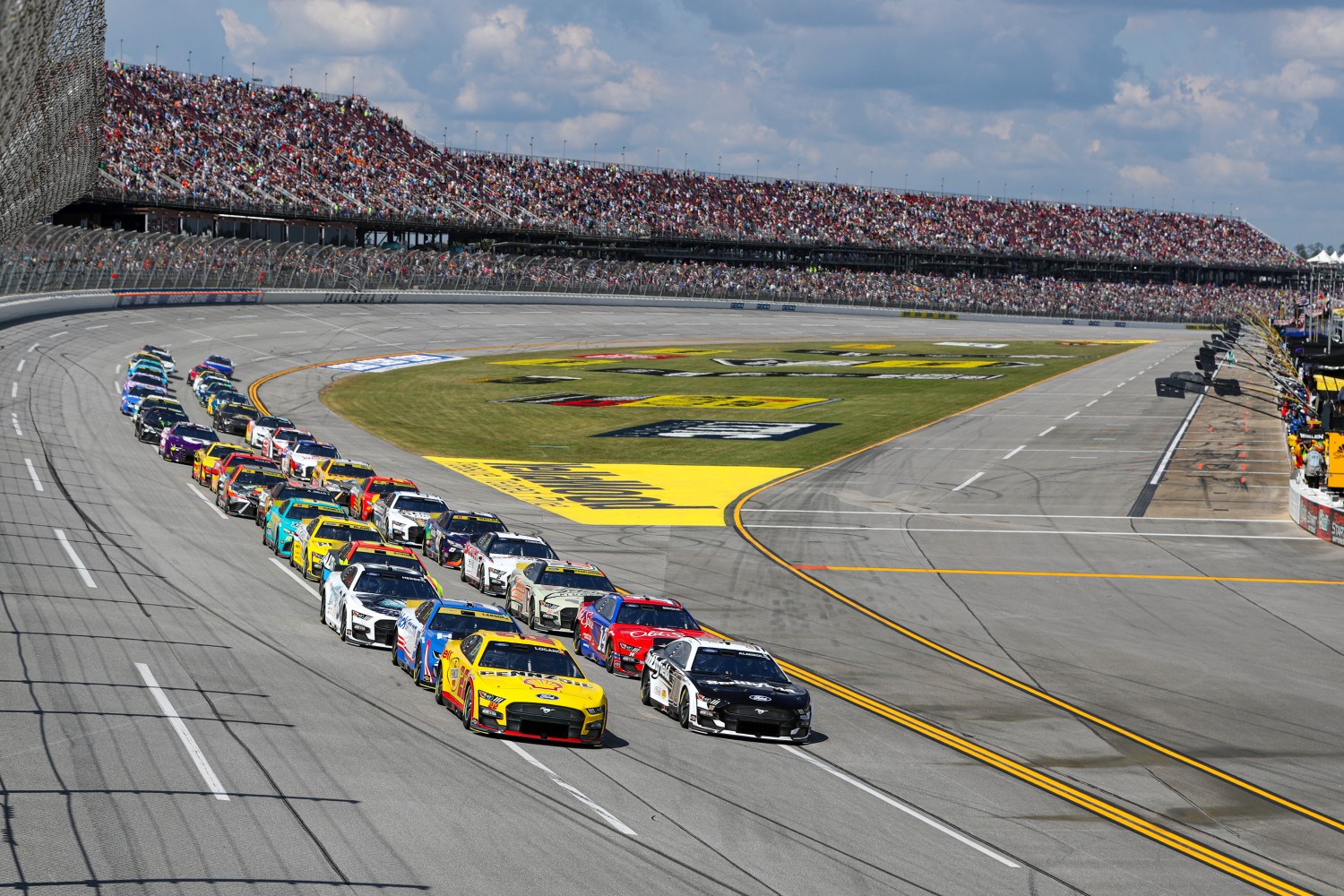 YellaWood 500 at Talladega Cup Race Results
| | | | | | | | |
| --- | --- | --- | --- | --- | --- | --- | --- |
| Fin | Str | No. | Driver | Team | Laps | Led | Status |
| 1 | 10 | 12 | Ryan Blaney (P) | Menards/Pennzoil Ford | 188 | 8 | Running |
| 2 | 8 | 24 | William Byron (P) | Axalta Chevrolet | 188 | 12 | Running |
| 3 | 12 | 11 | Denny Hamlin (P) | Mavis Tires & Brakes Toyota | 188 | 3 | Running |
| 4 | 36 | 7 | Corey LaJoie | Gainbridge Chevrolet | 188 | 0 | Running |
| 5 | 7 | 2 | Austin Cindric | Discount Tire Ford | 188 | 15 | Running |
| 6 | 30 | 31 | Justin Haley | Morris-Shea Bridge Co.  Inc. Chevrolet | 188 | 1 | Running |
| 7 | 23 | 9 | Chase Elliott (P) | LLumar Chevrolet | 188 | 8 | Running |
| 8 | 19 | 41 | Ryan Preece | Wonder Bread Ford | 188 | 8 | Running |
| 9 | 6 | 36 | * Riley Herbst(i) | Beast Unleashed White Haze Ford | 188 | 10 | Running |
| 10 | 28 | 99 | Daniel Suarez | Tootsies Orchid Lounge Chevrolet | 188 | 0 | Running |
| 11 | 34 | 13 | * Chandler Smith(i) | Quick Tie Products  Inc. Chevrolet | 188 | 0 | Running |
| 12 | 17 | 38 | Todd Gilliland | Georgia Peanuts Ford | 188 | 0 | Running |
| 13 | 3 | 14 | Chase Briscoe | Old Spice Ford | 188 | 0 | Running |
| 14 | 15 | 20 | Christopher Bell (P) | DEWALT Electrical Solutions Toyota | 188 | 2 | Running |
| 15 | 4 | 5 | Kyle Larson (P) | Valvoline/HendrickCars.com Chevrolet | 188 | 1 | Running |
| 16 | 13 | 45 | Tyler Reddick (P) | McDonald's Toyota | 188 | 2 | Running |
| 17 | 1 | 10 | Aric Almirola | Smithfield Ford | 188 | 7 | Running |
| 18 | 16 | 19 | Martin Truex  Jr. (P) | Bass Pro Shops Toyota | 188 | 0 | Running |
| 19 | 24 | 17 | Chris Buescher (P) | BuildSubmarines.com Ford | 188 | 3 | Running |
| 20 | 31 | 16 | AJ Allmendinger | Action Industries Chevrolet | 188 | 0 | Running |
| 21 | 18 | 34 | Michael McDowell | Love's Travel Stops Ford | 188 | 5 | Running |
| 22 | 35 | 47 | Ricky Stenhouse  Jr. | Sara Lee Artesano Bakery Bread Chevrolet | 188 | 14 | Running |
| 23 | 9 | 23 | Bubba Wallace (P) | Leidos Toyota | 188 | 3 | Running |
| 24 | 2 | 22 | Joey Logano | Shell Pennzoil Ford | 188 | 48 | Running |
| 25 | 25 | 8 | Kyle Busch (P) | X World Wallet Chevrolet | 188 | 2 | Running |
| 26 | 26 | 43 | Erik Jones | Allegiant Chevrolet | 188 | 4 | Running |
| 27 | 33 | 77 | Ty Dillon | Ferris Commercial Mowers Chevrolet | 188 | 2 | Running |
| 28 | 20 | 48 | Alex Bowman | Ally Chevrolet | 188 | 13 | Running |
| 29 | 37 | 78 | BJ McLeod(i) | Gunk Chevrolet | 187 | 0 | Running |
| 30 | 29 | 15 | Brennan Poole(i) | Finance Pro Plus Ford | 186 | 0 | Running |
| 31 | 21 | 21 | Harrison Burton | DEX Imaging Ford | 175 | 0 | Suspension |
| 32 | 5 | 6 | Brad Keselowski (P) | Solomon Plumbing Ford | 161 | 5 | Accident |
| 33 | 14 | 3 | Austin Dillon | Bass Pro Shops Chevrolet | 161 | 1 | Accident |
| 34 | 22 | 54 | Ty Gibbs # | Monster Energy Toyota | 161 | 0 | Accident |
| 35 | 38 | 42 | Carson Hocevar(i) | Sunseeker Resorts Chevrolet | 161 | 0 | Accident |
| 36 | 27 | 51 | JJ Yeley(i) | Biohaven/Jacob Co. Ford | 83 | 0 | Fuel Pump |
| 37 | 32 | 1 | Ross Chastain (P) | Worldwide Express Chevrolet | 59 | 0 | Accident |
| 38 | 11 | 4 | Kevin Harvick | Busch Light Camo Ford | 188 | 11 | Running |
# DENOTES ROOKIE
(I) NOT ELIGIBLE FOR POINTS
(*) REQUIRED TO QUALIFY ON TIME
LEADERS
| | | |
| --- | --- | --- |
| CAR | TIMES | LAPS |
| 12 | 4 | 8 |
| 4 | 4 | 11 |
| 24 | 4 | 12 |
| 11 | 1 | 3 |
| 2 | 7 | 15 |
| 9 | 4 | 8 |
| 31 | 1 | 1 |
| 41 | 1 | 8 |
| 36 | 5 | 10 |
| 5 | 1 | 1 |
| 20 | 1 | 2 |
| 45 | 2 | 2 |
| 10 | 5 | 8 |
| 17 | 2 | 3 |
| 34 | 4 | 5 |
| 47 | 4 | 14 |
| 23 | 1 | 3 |
| 22 | 7 | 48 |
| 8 | 1 | 2 |
| 43 | 2 | 4 |
| 77 | 1 | 2 |
| 48 | 6 | 13 |
| 6 | 2 | 5 |
| 3 | 1 | 1 |
LEAD CHANGES
| | | | |
| --- | --- | --- | --- |
| CAR | START | END | TOTAL |
| 10 | 0 | 0 | 1 |
| 22 | 1 | 5 | 5 |
| 10 | 6 | 6 | 1 |
| 22 | 7 | 18 | 12 |
| 24 | 19 | 19 | 1 |
| 22 | 20 | 22 | 3 |
| 41 | 23 | 30 | 8 |
| 47 | 31 | 38 | 8 |
| 77 | 39 | 40 | 2 |
| 20 | 41 | 42 | 2 |
| 2 | 43 | 48 | 6 |
| 47 | 49 | 50 | 2 |
| 2 | 51 | 51 | 1 |
| 47 | 52 | 53 | 2 |
| 2 | 54 | 55 | 2 |
| 47 | 56 | 57 | 2 |
| 2 | 58 | 59 | 2 |
| 12 | 60 | 61 | 2 |
| 36 | 62 | 62 | 1 |
| 12 | 63 | 65 | 3 |
| 9 | 66 | 67 | 2 |
| 12 | 68 | 68 | 1 |
| 9 | 69 | 72 | 4 |
| 48 | 73 | 73 | 1 |
| 2 | 74 | 74 | 1 |
| 48 | 75 | 76 | 2 |
| 2 | 77 | 78 | 2 |
| 43 | 79 | 79 | 1 |
| 48 | 80 | 81 | 2 |
| 2 | 82 | 82 | 1 |
| 43 | 83 | 85 | 3 |
| 34 | 86 | 87 | 2 |
| 36 | 88 | 88 | 1 |
| 34 | 89 | 89 | 1 |
| 36 | 90 | 91 | 2 |
| 34 | 92 | 92 | 1 |
| 36 | 93 | 94 | 2 |
| 45 | 95 | 95 | 1 |
| 36 | 96 | 99 | 4 |
| 45 | 100 | 100 | 1 |
| 34 | 101 | 101 | 1 |
| 11 | 102 | 104 | 3 |
| 8 | 105 | 106 | 2 |
| 3 | 107 | 107 | 1 |
| 6 | 108 | 110 | 3 |
| 22 | 111 | 115 | 5 |
| 24 | 116 | 119 | 4 |
| 6 | 120 | 121 | 2 |
| 31 | 122 | 122 | 1 |
| 22 | 123 | 132 | 10 |
| 5 | 133 | 133 | 1 |
| 22 | 134 | 143 | 10 |
| 17 | 144 | 145 | 2 |
| 22 | 146 | 148 | 3 |
| 24 | 149 | 153 | 5 |
| 23 | 154 | 156 | 3 |
| 24 | 157 | 158 | 2 |
| 10 | 159 | 160 | 2 |
| 4 | 161 | 164 | 4 |
| 17 | 165 | 165 | 1 |
| 10 | 166 | 168 | 3 |
| 48 | 169 | 169 | 1 |
| 10 | 170 | 170 | 1 |
| 48 | 171 | 176 | 6 |
| 4 | 177 | 178 | 2 |
| 48 | 179 | 179 | 1 |
| 9 | 180 | 180 | 1 |
| 4 | 181 | 182 | 2 |
| 9 | 183 | 183 | 1 |
| 4 | 184 | 186 | 3 |
| 12 | 187 | 188 | 2 |
CAUTIONS
#
LAP
BENEFICIARY
REASON
1
59
43
#1, 8, 20, 47 Incident Turn 3 / Stage 1 Conclusion
2
120
42
Stage 2 Conclusion
3
161
11
#3, 6, 14, 16, 17, 21, 42, 54 Incident Frontstretch [Red Flag: 9:57]
4
163
5
170
2
Debris On The Backstretch
6
188