F1: Verstappen to celebrate 3rd title after Qatar GP
(GMM) Max Verstappen promised to race sober after securing his third consecutive drivers' title in Saturday's sprint race in Qatar Saturday.
The dominant Dutchman finished second behind Oscar Piastri, but it was actually Verstappen's Red Bull teammate Sergio Perez who closed the deal with his latest crash.
Championship parties on Saturday night, therefore, had to be a little muted.
"Unfortunately, we still have to do some work on Checo's car so that it's ready for use again," Red Bull team boss Christian Horner said.
Horner, though, joked that some cans of Red Bull would be consumed at a small party, while Verstappen added to the joke that his drink of choice might be sparkling water.
Still, many predict that the 26-year-old may arrive to the circuit on Sunday with a hangover.
"I've never done that, but I don't think that will happen either," Verstappen laughed to Viaplay. "This one I have here just has Red Bull in it.
"It is also very hot here and I have been sweating a lot, so I don't think I need to drink much before I go to sleep."
He admitted that there will be some sort of party.
"We already won the constructors' and now the drivers' so we can celebrate a great season already," said Max.
"Maybe I will arrive at the circuit a little later tomorrow, but we will make it to the start."
Red Bull's Dr Helmut Marko said the race team has been restricted to a party in the hotel that will finish no later than 2am.
"Then the lights go off and the mechanics have to be fit tomorrow," he said. "But maybe they can find a back door somewhere," the 80-year-old smiled.
All that's left now is for Verstappen and Red Bull's rivals to wonder just how long this year's display of dominance can now extend into the future.
"I hope it will last a long time," Verstappen's manager Raymond Vermeulen said on Viaplay. "We will continue for a while anyway."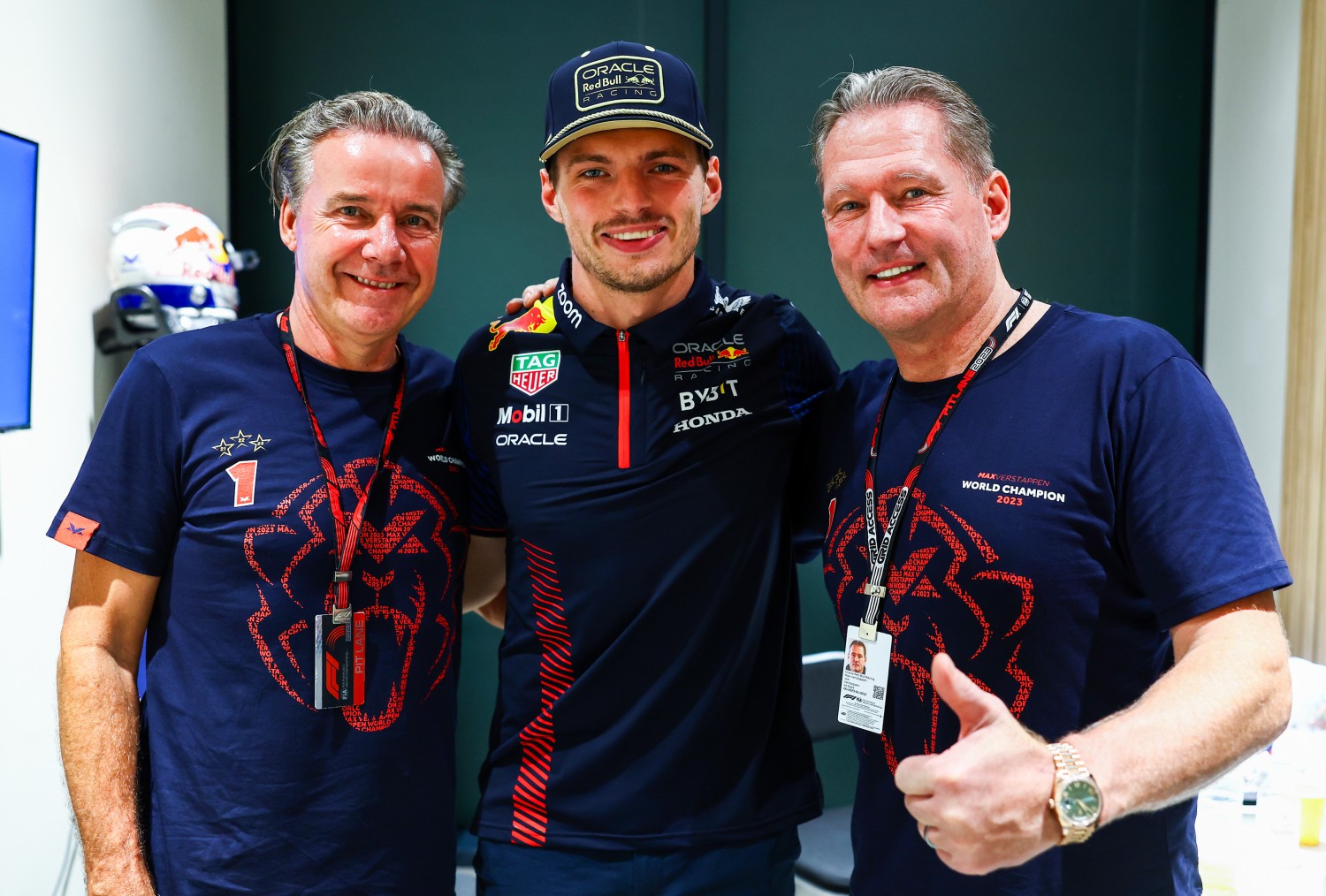 Indeed, Verstappen is under contract through 2028, and his title nemesis Lewis Hamilton predicted in Qatar: "This will be Max's decade."
The overall record for titles in F1 is jointly held by Hamilton and fellow seven time world champion Michael Schumacher.
"Max says the number of titles he ends up collecting is not important to him," former F1 driver Ralf Schumacher – Michael's brother – told Sky Deutschland.
"I could imagine that at some point he will draw a line under Formula 1 overnight and want to do something else," said the German. "But he's currently having a lot of fun with what he's doing."
Verstappen agrees.
"To be honest, I think it's more about how long I want to be here," he said on Saturday. "I've already achieved more than I could have even dreamed of.
"So I'm loving the moment. It's perfect. But for sure, at one point, you might want to do other stuff or race a bit less, absolutely.
"But not right now."
What is already clear is that Verstappen has set a foundation for one of the most prominent legacies in Formula 1 history – joining triple world champions like Ayrton Senna, Niki Lauda, Nelson Piquet and Sirs Jack Brabham and Jackie Stewart.
"I find that a tricky one because I'm not in Formula 1 to leave a legacy," said Verstappen. "I'm here to win and I'm here to try to do the best I can and try to enjoy the moment with the people who helped me achieve these things.
"But when you see that list, those names, you're like 'wow, it's incredible what these people achieved in their careers and now you're alongside them'. It is, of course, an amazing feeling," he said.
Marko, who brought Max to Formula 1 and Red Bull, thinks Verstappen can already claim to be on the level of Schumacher, Hamilton and Senna.
"I think you have to bring age into play," he said. "Max just turned 26 last Saturday, and he already has incredible records for his age.
"What's so fascinating is that he is still improving, and he achieves victories such a certain ease and confidence. That's why you can already compare him with the really big ones."