IMSA: Bourdais tops Petit Le Mans Thursday Practice
Sebastian Bourdais' lap of 1m09.671s in the No. 01 Ganassi Cadillac during Practice 2 was easily the fastest lap turned Thursday for Petit Le Mans.
Agusto Farfus came closest to matching Bourdais, placing the No. 24 BMW M Team RLL BMW M Hybrid V8 he shares with Philipp Eng and Marco Wittmann second at 1:10.103 (130.436 mph). Felipe Nasr (co-pilots Matt Campbell and defending Indy 500 winner Josef Newgarden) rounded out the top three at 1:10.138 (130.371 mph).
"Everybody was doing kind of a qualification simulation at the end of the session," Bourdais said. "It's the closest you're going to get to a clear-ish track, and the only time you get a bit of track evolution with rubber down, low fuel load and fresh tires. As far as we're concerned, that's pretty close to what we've got."
In Le Mans Prototype 2 (LMP2), Scott Huffaker was fastest in the No. 11 TDS Racing ORECA LMP2 07, which that leads the standings with full-season drivers Steven Thomas and Mikkel Jensen, at 1:13.357 (124.650 mph). Garett Grist (co-drivers Bijoy Garg and Dakota Dickerson) paced Le Mans Prototype 3 (LMP3), clocking 1:16.749 (119.141 mph) in the No. 30 Jr III Racing Ligier JS P320.
Antonio Garcia posted the fastest lap in the GTD PRO class during the first two practice sessions for Saturday's race, marking the beginning of the final weekend for factory-backed Corvette Racing in the WeatherTech Championship.
General Motors announced earlier this season that it would end Corvette Racing's factory sports car program and instead focus on customer teams, though Corvette Racing by Pratt Miller Motorsports will continue competing in GTD PRO next season. Motul Petit Le Mans marks the end of a 25-year effort that scored more than 110 victories in American sports car racing.
"I'm definitely going to go for the win," Garcia said of his plan for Saturday's 10-hour season finale. "I hope we have a chance; that's all I ask. Just to have a chance and then it's up to us if we can manage to win or not."
Garcia was clocked at 1:19.543 (114.956 mph) in the No. 3 Corvette Racing Chevrolet Corvette C8.R GTD he will co-drive with Jordan Taylor and Tommy Milner.
"I'm happy that I've been part of this project since Day 1," Garcia said. "… I'm happy that what we've built and developed has gone on to win so many big races and championships."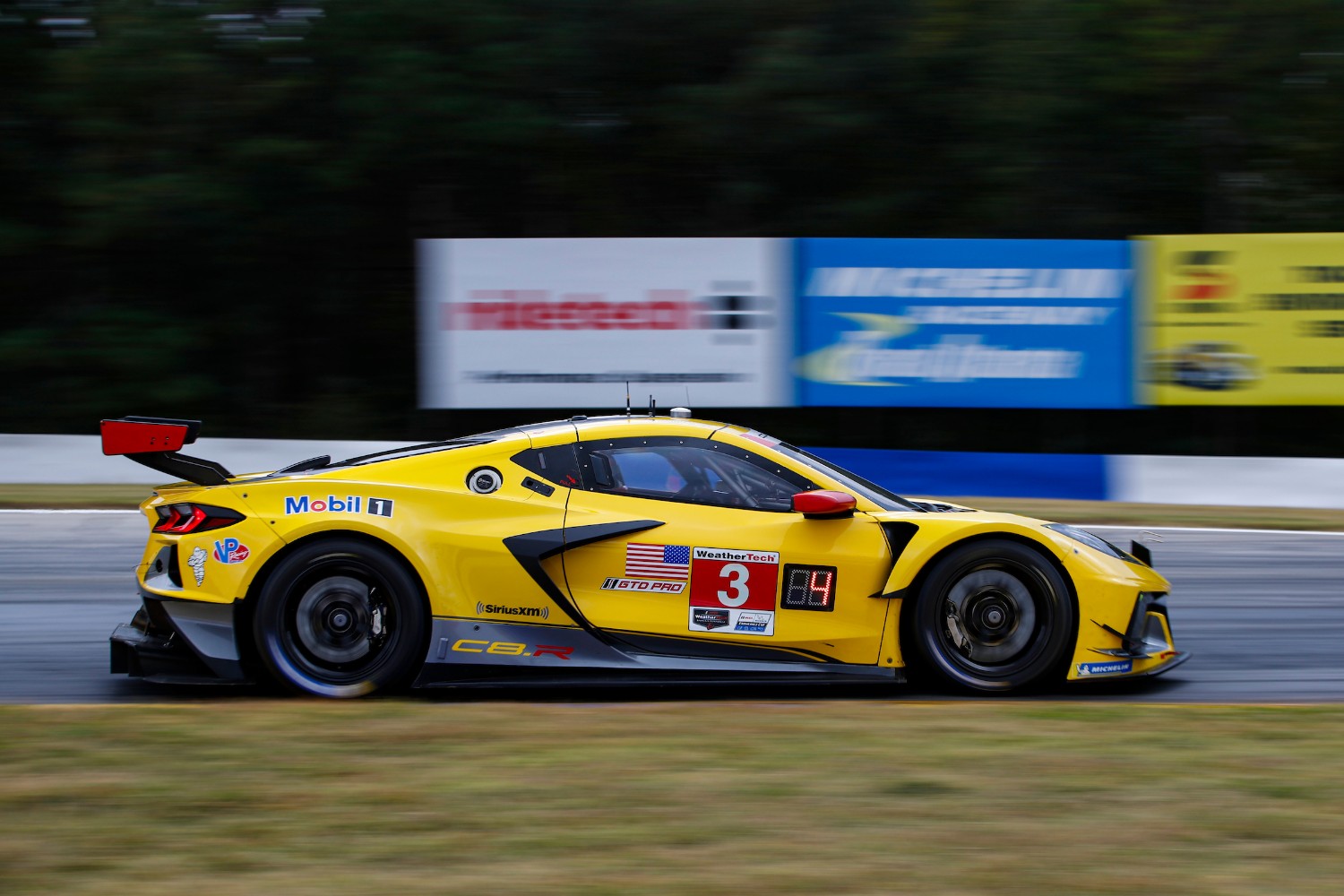 Practice 1 (Top-29)
Pos

PiC

No.

Class

Drivers

Team

Car

Time

Behind

1

1

01

GTP

S. Bourdais / R. van der Zande

S. Dixon

Cadillac Racing

Cadillac V-Series.R

1:11.674

+0.000

2

2

6

GTP

N. Tandy / M. Jaminet / L. Vanthoor

Porsche Penske Motorsports

Porsche 963

1:11.720

+0.046

3

3

7

GTP

M. Campbell / F. Nasr / J. Newgarden

Porsche Penske Motorsports

Porsche 963

1:11.907

+0.233

4

4

31

GTP

P. Derani / A. Sims / J. Aitken

Whelen Engineering Cadillac Racing

Cadillac V-Series.R

1:12.177

+0.503

5

5

24

GTP

P. Eng / M. Wittmann / A. Farfus

BMW M Team RLL

BMW M Hybrid V8

1:12.352

+0.678

6

6

60

GTP

T. Blomqvist / C. Braun

H. Castroneves

Meyer Shank Racing w/ Curb Agajanian

Acura ARX-06

1:12.521

+0.847

7

7

25

GTP

S. van der Linde / C. De Phillippi

N. Yelloly

BMW M Team RLL

BMW M Hybrid V8

1:12.535

+0.861

8

8

10

GTP

R. Taylor / F. Albuquerque

L. Deletraz

Konica Minolta Acura ARX-06

Acura ARX-06

1:12.653

+0.979

9

9

5

GTP

T. van der Helm / M. Rockenfeller

J. Button

JDC Miller MotorSports

Porsche 963

1:13.236

+1.562

10

1

04

LMP2

G. Kurtz / B. Hanley / N. Siegel

Crowdstrike Racing by APR

ORECA LMP2 07

1:13.919

+2.245

11

2

52

LMP2

B. Keating / P. Chatin / A. Quinn

PR1 Mathiasen Motorsports

ORECA LMP2 07

1:14.179

+2.505

12

3

11

LMP2

S. Thomas / M. Jensen / S. Huffaker

TDS Racing

ORECA LMP2 07

1:14.386

+2.712

13

4

88

LMP2

F. Perrodo / M. Vaxiviere / E. Collard

AF Corse

ORECA LMP2 07

1:14.553

+2.879

14

5

18

LMP2

D. Merriman / R. Dalziel

C. Rasmussen

Era Motorsport

ORECA LMP2 07

1:14.557

+2.883

15

6

20

LMP2

D. Andersen / E. Jones / A. Fjordbach

High Class Racing

ORECA LMP2 07

1:14.852

+3.178

16

7

35

LMP2

J. Falb / G. van der Garde / J. Pierson

TDS Racing

ORECA LMP2 07

1:15.152

+3.478

17

8

8

LMP2

A. Balogh / S. McLaughlin / K. Simpson

Tower Motorsports

ORECA LMP2 07

1:15.354

+3.680

18

10

59

GTP

H. Tincknell / G. Bruni / N. Jani

Proton Competition

Porsche 963

1:15.479

+3.805

19

1

30

LMP3

D. Dickerson / B. Garg / G. Grist

Jr III Racing

Ligier JS P320

1:16.732

+5.058

20

2

13

LMP3

O. Fidani / M. Bell / L. Kern

AWA

Duqueine D08

1:17.771

+6.097

21

3

36

LMP3

J. Andretti / G. Chaves / G. van Berlo

Andretti Autosport

Ligier JS P320

1:17.851

+6.177

22

4

85

LMP3

T. Bechtolsheimer / D. Goldburg

R. Lindh

JDC Miller MotorSports

Duqueine D08

1:18.648

+6.974

23

5

17

LMP3

A. Mantella / W. Boyd / N. Varrone

AWA

Duqueine D08

1:18.834

+7.160

24

1

79

GTDPRO

D. Juncadella / J. Gounon / M. Engel

WeatherTech Racing

Mercedes-AMG GT3

1:20.279

+8.605

25

1

97

GTD B

B. Auberlen / C. Hull / T. Merrill

Turner Motorsport

BMW M4 GT3

1:20.290

+8.616

26

2

16

GTD B

R. Hardwick / Z. Robichon / J. Heylen

Wright Motorsports

Porsche 911 GT3 R (992)

1:20.419

+8.745

27

2

63

GTDPRO

M. Bortolotti / J. Pepper / F. Perera

Iron Lynx

Lamborghini Huracan GT3 EVO2

1:20.427

+8.753

28

3

1

GTD

B. Sellers / M. Snow / C. Lewis

Paul Miller Racing

BMW M4 GT3

1:20.591

+8.917

29

4

27

GTD B

R. De Angelis / M. Sorensen / I. James

Heart of Racing Team

Aston Martin Vantage GT3

1:20.695

+9.021
Practice 2
Pos

PiC

No.

Class

Drivers

Team

Car

Time

Behind

1

1

01

GTP

S. Bourdais / R. van der Zande

S. Dixon

Cadillac Racing

Cadillac V-Series.R

1:09.671

+0.000

2

2

24

GTP

P. Eng / M. Wittmann / A. Farfus

BMW M Team RLL

BMW M Hybrid V8

1:10.103

+0.432

3

3

7

GTP

M. Campbell / F. Nasr / J. Newgarden

Porsche Penske Motorsports

Porsche 963

1:10.138

+0.467

4

4

10

GTP

R. Taylor / F. Albuquerque

L. Deletraz

Konica Minolta Acura ARX-06

Acura ARX-06

1:10.160

+0.489

5

5

60

GTP

T. Blomqvist / C. Braun

H. Castroneves

Meyer Shank Racing w/ Curb Agajanian

Acura ARX-06

1:10.213

+0.542

6

6

25

GTP

S. van der Linde / C. De Phillippi

N. Yelloly

BMW M Team RLL

BMW M Hybrid V8

1:10.283

+0.612

7

7

31

GTP

P. Derani / A. Sims / J. Aitken

Whelen Engineering Cadillac Racing

Cadillac V-Series.R

1:10.334

+0.663

8

8

6

GTP

N. Tandy / M. Jaminet / L. Vanthoor

Porsche Penske Motorsports

Porsche 963

1:10.818

+1.147

9

9

59

GTP

H. Tincknell / G. Bruni / N. Jani

Proton Competition

Porsche 963

1:11.067

+1.396

10

10

5

GTP

T. van der Helm / M. Rockenfeller

J. Button

JDC Miller MotorSports

Porsche 963

1:11.675

+2.004

11

1

11

LMP2

S. Thomas / M. Jensen / S. Huffaker

TDS Racing

ORECA LMP2 07

1:13.357

+3.686

12

2

52

LMP2

B. Keating / P. Chatin / A. Quinn

PR1 Mathiasen Motorsports

ORECA LMP2 07

1:13.557

+3.886

13

3

04

LMP2

G. Kurtz / B. Hanley / N. Siegel

Crowdstrike Racing by APR

ORECA LMP2 07

1:13.768

+4.097

14

4

18

LMP2

D. Merriman / R. Dalziel

C. Rasmussen

Era Motorsport

ORECA LMP2 07

1:13.882

+4.211

15

5

35

LMP2

J. Falb / G. van der Garde / J. Pierson

TDS Racing

ORECA LMP2 07

1:14.096

+4.425

16

6

20

LMP2

D. Andersen / E. Jones / A. Fjordbach

High Class Racing

ORECA LMP2 07

1:14.110

+4.439

17

7

8

LMP2

A. Balogh / S. McLaughlin / K. Simpson

Tower Motorsports

ORECA LMP2 07

1:14.287

+4.616

18

8

88

LMP2

F. Perrodo / M. Vaxiviere / E. Collard

AF Corse

ORECA LMP2 07

1:15.091

+5.420

19

1

30

LMP3

D. Dickerson / B. Garg / G. Grist

Jr III Racing

Ligier JS P320

1:16.749

+7.078

20

2

74

LMP3

G. Robinson / F. Fraga / J. Burdon

Riley

Ligier JS P320

1:16.952

+7.281

21

3

36

LMP3

J. Andretti / G. Chaves / G. van Berlo

Andretti Autosport

Ligier JS P320

1:17.109

+7.438

22

4

17

LMP3

A. Mantella / W. Boyd / N. Varrone

AWA

Duqueine D08

1:17.251

+7.580

23

5

38

LMP3

B. Thienes / J. Woolridge / C. Shields

Performance Tech Motorsports

Ligier JS P320

1:17.643

+7.972

24

6

13

LMP3

O. Fidani / M. Bell / L. Kern

AWA

Duqueine D08

1:17.656

+7.985

25

7

85

LMP3

T. Bechtolsheimer / D. Goldburg

R. Lindh

JDC Miller MotorSports

Duqueine D08

1:17.950

+8.279

26

1

3

GTDPRO

A. Garcia / J. Taylor / T. Milner

Corvette Racing

Chevrolet Corvette C8.R GTD

1:19.543

+9.872

27

2

62

GTDPRO

A. Pier Guidi / D. Serra / D. Rigon

Risi Competizione

Ferrari 296 GT3

1:19.725

+10.054

28

1

1

GTD

B. Sellers / M. Snow / C. Lewis

Paul Miller Racing

BMW M4 GT3

1:19.731

+10.060

29

3

14

GTDPRO

Hawksworth / B. Barnicoat

Kirkwood

Vasser Sullivan

Lexus RC F GT3

1:19.740

+10.069

30

2

12

GTD

F. Montecalvo / A. Telitz

P. Thompson

Vasser Sullivan

Lexus RC F GT3

1:19.800

+10.129

31

4

9

GTDPRO

K. Bachler / P. Pilet / K. Estre

Pfaff Motorsports

Porsche 911 GT3 R (992)

1:19.946

+10.275

32

3

32

GTD

M. Skeen / M. Grenier / K. Koch

Team Korthoff Motorsports

Mercedes-AMG GT3

1:19.947

+10.276

33

4

57

GTD

R. Ward / P. Ellis / I. Dontje

Winward Racing

Mercedes-AMG GT3

1:19.988

+10.317

34

5

63

GTDPRO

M. Bortolotti / J. Pepper / F. Perera

Iron Lynx

Lamborghini Huracan GT3 EVO2

1:20.024

+10.353

35

5

78

GTD

M. Goikhberg / L. Spinelli / P. Liddy

Forte Racing Powered by USRT

Lamborghini Huracan GT3 EVO2

1:20.208

+10.537

36

6

23

GTDPRO

R. Gunn / A. Riberas / D. Pittard

Heart of Racing Team

Aston Martin Vantage GT3

1:20.399

+10.728

37

7

79

GTDPRO

D. Juncadella / J. Gounon / M. Engel

WeatherTech Racing

Mercedes-AMG GT3

1:20.525

+10.854

38

6

83

GTD

R. Frey / M. Gatting / D. Pin

Iron Dames

Lamborghini Huracan GT3 EVO2

1:20.548

+10.877

39

7

96

GTD

P. Gallagher / R. Foley / M. Dinan

Turner Motorsport

BMW M4 GT3

1:20.591

+10.920

40

8

70

GTD B

B. Iribe / F. Schandorff / O. Millroy

Inception Racing

McLaren 720S GT3 EVO

1:20.608

+10.937

41

9

92

GTD B

D. Brule / A. Udell / J. Andlauer

Kellymoss with Riley

Porsche 911 GT3 R (992)

1:20.641

+10.970

42

8

61

GTDPRO

S. Mann / M. Molina / J. Calado

Af Corse

Ferrari 296 GT3

1:20.641

+10.970

43

10

16

GTD B

R. Hardwick / Z. Robichon / J. Heylen

Wright Motorsports

Porsche 911 GT3 R (992)

1:20.661

+10.990

44

11

27

GTD B

R. De Angelis / M. Sorensen / I. James

Heart of Racing Team

Aston Martin Vantage GT3

1:20.780

+11.109

45

12

97

GTD B

B. Auberlen / C. Hull / T. Merrill

Turner Motorsport

BMW M4 GT3

1:20.813

+11.142

46

13

93

GTD

A. Harrison / D. Formal / K. Marcelli

Racers Edge Motorsports with WTR

Acura NSX GT3

1:20.847

+11.176

47

14

77

GTD B

A. Brynjolfsson / T. Hindman / M. Root

Wright Motorsports

Porsche 911 GT3 R (992)

1:20.868

+11.197

48

15

66

GTD B

S. Monk / K. Legge / M. Miller

Gradient Racing

Acura NSX GT3

1:21.011

+11.340

49

16

80

GTD B

P. Hyett / S. Priaulx / G. Jeannette

AO Racing

Porsche 911 GT3 R (992)

1:21.253

+11.582

50

17

023

GTD B

O. Triarsi / C. Scardina / A. Rovera

Triarsi Competizione

Ferrari 296 GT3

1:21.369

+11.698

51

18

44

GTD B

J. Potter / A. Lally / S. Pumpelly

Magnus Racing

Aston Martin Vantage GT3

1:21.968

+12.297

52

8

33

LMP3

J. Barbosa

Sean Creech Motorsport

Ligier JS P320

53

19

47

GTD B

R. Lacorte / G. Sernagiotto / A. Fuoco

CETILAR RACING

Ferrari 296 GT3
Practice 3 (Top-29 Night Practice)
Pos

PiC

No.

Class

Drivers

Team

Car

Time

Behind

1

1

10

GTP

R. Taylor / F. Albuquerque

L. Deletraz

Konica Minolta Acura ARX-06

Acura ARX-06

1:11.296

+0.000

2

2

60

GTP

T. Blomqvist / C. Braun

H. Castroneves

Meyer Shank Racing w/ Curb Agajanian

Acura ARX-06

1:11.299

+0.003

3

3

7

GTP

M. Campbell / F. Nasr / J. Newgarden

Porsche Penske Motorsports

Porsche 963

1:11.372

+0.076

4

4

31

GTP

P. Derani / A. Sims / J. Aitken

Whelen Engineering Cadillac Racing

Cadillac V-Series.R

1:11.612

+0.316

5

5

6

GTP

N. Tandy / M. Jaminet / L. Vanthoor

Porsche Penske Motorsports

Porsche 963

1:11.787

+0.491

6

6

01

GTP

S. Bourdais / R. van der Zande

S. Dixon

Cadillac Racing

Cadillac V-Series.R

1:11.799

+0.503

7

7

25

GTP

S. van der Linde / C. De Phillippi

N. Yelloly

BMW M Team RLL

BMW M Hybrid V8

1:12.119

+0.823

8

8

59

GTP

H. Tincknell / G. Bruni / N. Jani

Proton Competition

Porsche 963

1:12.212

+0.916

9

9

24

GTP

P. Eng / M. Wittmann / A. Farfus

BMW M Team RLL

BMW M Hybrid V8

1:12.213

+0.917

10

10

5

GTP

T. van der Helm / M. Rockenfeller

J. Button

JDC Miller MotorSports

Porsche 963

1:12.556

+1.260

11

1

11

LMP2

S. Thomas / M. Jensen / S. Huffaker

TDS Racing

ORECA LMP2 07

1:12.833

+1.537

12

2

52

LMP2

B. Keating / P. Chatin / A. Quinn

PR1 Mathiasen Motorsports

ORECA LMP2 07

1:13.180

+1.884

13

3

18

LMP2

D. Merriman / R. Dalziel

C. Rasmussen

Era Motorsport

ORECA LMP2 07

1:13.299

+2.003

14

4

8

LMP2

A. Balogh / S. McLaughlin / K. Simpson

Tower Motorsports

ORECA LMP2 07

1:13.350

+2.054

15

5

04

LMP2

G. Kurtz / B. Hanley / N. Siegel

Crowdstrike Racing by APR

ORECA LMP2 07

1:13.494

+2.198

16

6

35

LMP2

J. Falb / G. van der Garde / J. Pierson

TDS Racing

ORECA LMP2 07

1:13.839

+2.543

17

7

88

LMP2

F. Perrodo / M. Vaxiviere / E. Collard

AF Corse

ORECA LMP2 07

1:14.311

+3.015

18

8

20

LMP2

D. Andersen / E. Jones / A. Fjordbach

High Class Racing

ORECA LMP2 07

1:14.558

+3.262

19

1

17

LMP3

A. Mantella / W. Boyd / N. Varrone

AWA

Duqueine D08

1:16.846

+5.550

20

2

36

LMP3

J. Andretti / G. Chaves / G. van Berlo

Andretti Autosport

Ligier JS P320

1:16.992

+5.696

21

3

30

LMP3

D. Dickerson / B. Garg / G. Grist

Jr III Racing

Ligier JS P320

1:17.015

+5.719

22

4

13

LMP3

O. Fidani / M. Bell / L. Kern

AWA

Duqueine D08

1:17.266

+5.970

23

5

74

LMP3

G. Robinson / F. Fraga / J. Burdon

Riley

Ligier JS P320

1:17.474

+6.178

24

6

38

LMP3

B. Thienes / J. Woolridge / C. Shields

Performance Tech Motorsports

Ligier JS P320

1:17.649

+6.353

25

7

85

LMP3

T. Bechtolsheimer / D. Goldburg

R. Lindh

JDC Miller MotorSports

Duqueine D08

1:18.131

+6.835

26

1

63

GTDPRO

M. Bortolotti / J. Pepper / F. Perera

Iron Lynx

Lamborghini Huracan GT3 EVO2

1:19.803

+8.507

27

1

97

GTD B

B. Auberlen / C. Hull / T. Merrill

Turner Motorsport

BMW M4 GT3

1:19.898

+8.602

28

2

92

GTD B

D. Brule / A. Udell / J. Andlauer

Kellymoss with Riley

Porsche 911 GT3 R (992)

1:20.016

+8.720

29

2

79

GTDPRO

D. Juncadella / J. Gounon / M. Engel

WeatherTech Racing

Mercedes-AMG GT3

1:20.192

+8.896